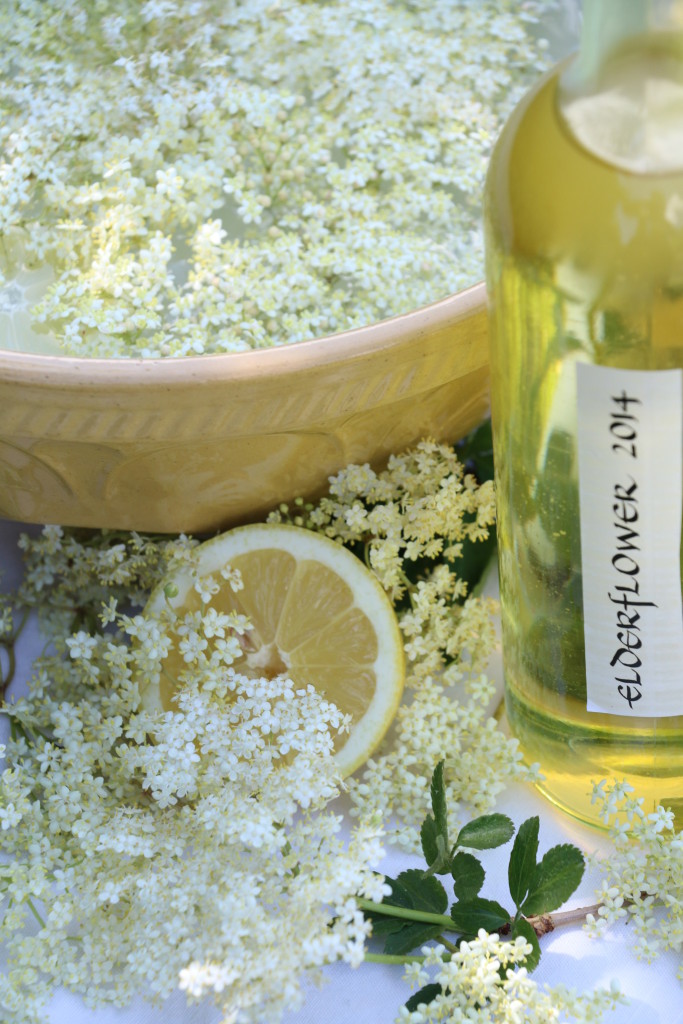 There's just time to make one more batch of elderflower cordial and champagne, with their inimitable fragrance of English summer – floral, yet also a little wild and very slightly musty. Nothing drinkable is more evocative of our hedgerows and country lanes in their summer dress, those lacy plates of blossom so touchingly delicate, yet strong enough to survive almost everywhere. Elderflower is another reminder, should we need it, of how something common can be very special.
The "champagne" does really bubble if you cork it tightly enough, and makes a delightful drink in two weeks' time, ready for the dog days. The cordial too makes a beautiful drink, as well as a delicious flavouring for the icing on a lemon drizzle cake (recipe below); and our neighbour, Gwenneth, uses hers to add a lift to fresh fruit salads and in gooseberry jam, adding a spoonful just before jarring. It is also an essential ingredient in my Midsummer Night's Eve potion, with rose lemonade.
The essential thing is to gather the blossom on a dry day, when the flowers are just coming out of bud and have the pollen still on them. Check their smell. If they have that deliciously pleasing elderflower scent, they are good for this purpose. Don't use any that are beginning to brown and give off a heavy musty smell. And be careful to pick from bushes away from traffic fumes.
Skip to recipes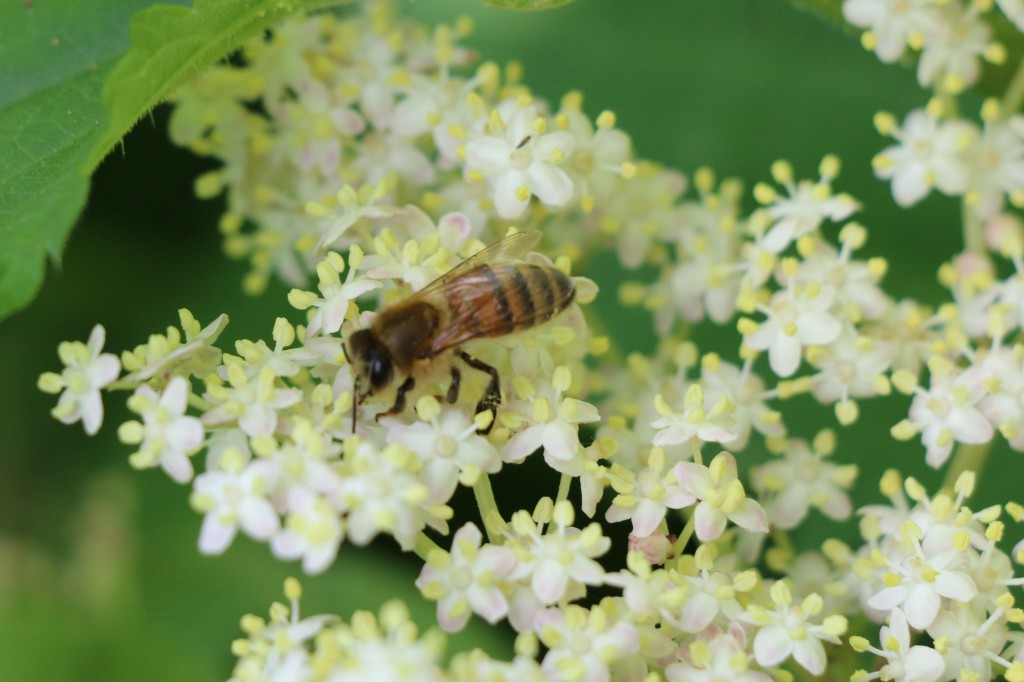 RECIPES
I. Elderflower Champagne
(makes about 4.5 litres)
This is my mother-in-law Joy's recipe, and I have always found it scrumptious and reliable, providing I've used bottles that seal very tightly. Those with "swing-tops" (built-in handles with stoppers) lock tightly enough to produce a good bubbly drink. You can also use a corker and sealer (available in chemist and hardware shops, and from beer brewing suppliers). I have found that screw tops don't hold the seal well enough, which means the elderflower champagne will not "fizz". If you use corks, you do need to seal them with a heat sealer or they may explode their tops (something I can vouch for from experience).
 Ingredients
4 very large heads of elderflower, or 8-12 smaller heads
570 g (1 1/4 pounds)  sugar (caster or granulated)
1 UK gallon water (1 US gallon plus 3 cups: i.e.,19 cups)
Juice and thinly sliced peel of one lemon
2 tablespoons white wine vinegar
 Directions
Strip the flowers off the stems, collecting all the pollen with them, and checking carefully for insects. Set aside flowers and discard the stems.
Combine the flowers with all other ingredients in a large bowl, stir to dissolve the sugar, cover and leave to steep in a cool place for 24-36 hours.
Sterilise your bottles, a fine sieve (strainer), ladle, funnel and piece of muslin large enough for your strainer.
Strain the mixture and pour it into sterilised bottles using a funnel. Seal the bottles very tightly (using either bottles with built-in hinged stoppers, or by corking and heat-sealing with a wrapper).
Let ferment in the bottles for at least two weeks, or up to several months.
Store in a cool place, and serve well chilled.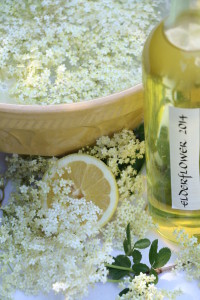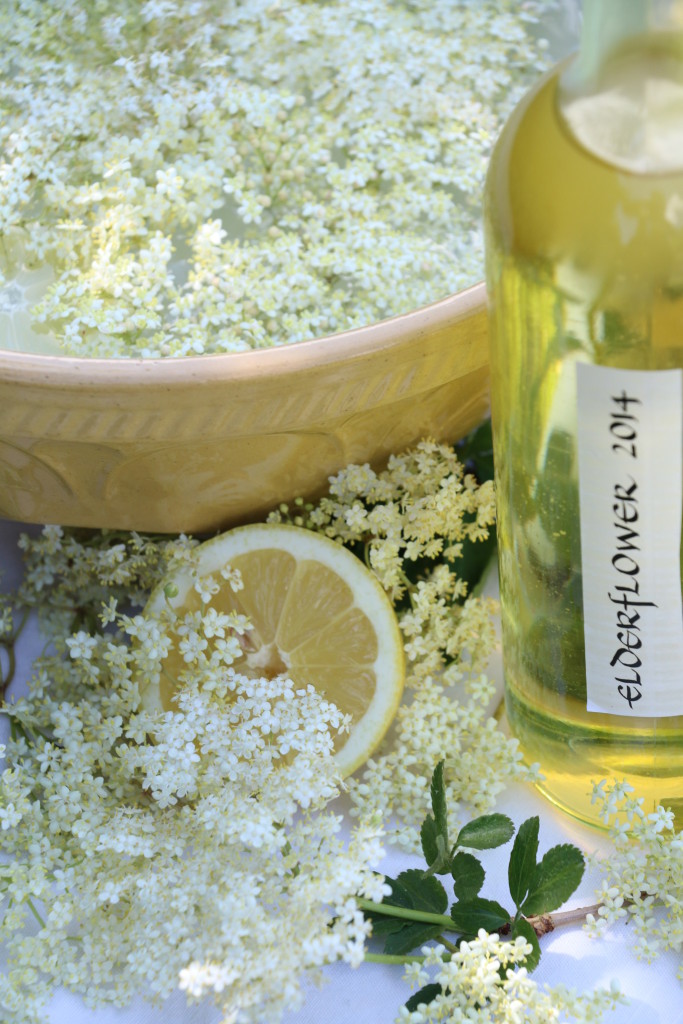 II. Elderflower cordial
(Enough to fill two litre bottles)
Cordial doesn't require the tighter seal of the elderflower champagne, so is easier to make, and you can dilute it with sparkling water for a fizzy drink. It will keep for up to a year if you add the citric acid and store it in a cool place. If you don't use the citric acid, use it within three days, or freeze it in smaller bottles to use throughout the year.
You may find that a mould appears at the neck after some time, but this should be perfectly safe and can be strained out or removed with a clean kitchen towel.
If you object to the amount of sugar in the cordial, you can cut down to half for a sharper drink and keep the mixture frozen, to bring out year-round. Anyone who likes it sweeter can stir in some honey, for another floral note.
Ingredients
10 very large heads elderflowers, or 20-30 smaller heads
1 kilo (2 lbs 3 oz, or 5 cups granulated sugar)
1.5 litres (6 US cups) water
4 lemons, sliced thinly
30 g citric (tartaric) acid (optional)
 Directions
Strip the flowers off the stems, collecting all the pollen with them, and checking carefully for insects. Set aside flowers and discard the stems.
Heat the sugar and water together slowly, and bring to the boil when the sugar has dissolved completely and no crystals are detectable.
Boil hard for one minute, then remove the pan from the heat and immediately stir in the elderflowers, sliced lemons, and citric/tartaric acid, if using.
Cover and let the mixture steep for 24-36 hours.
The next day, sterilise your bottles and tops, as well as a fine sieve (strainer), ladle, funnel and piece of muslin large enough for your sieve.
Strain the mixture through the sieve lined with the muslin, and decant into sterilised bottles.
Seal with a cork or sterilised screw top and store in a cool place for up to one year.
To serve, dilute to taste. I usually use a ratio of about one part cordial to three parts water (about 30 ml or 1 oz, for a long glass with ice and water).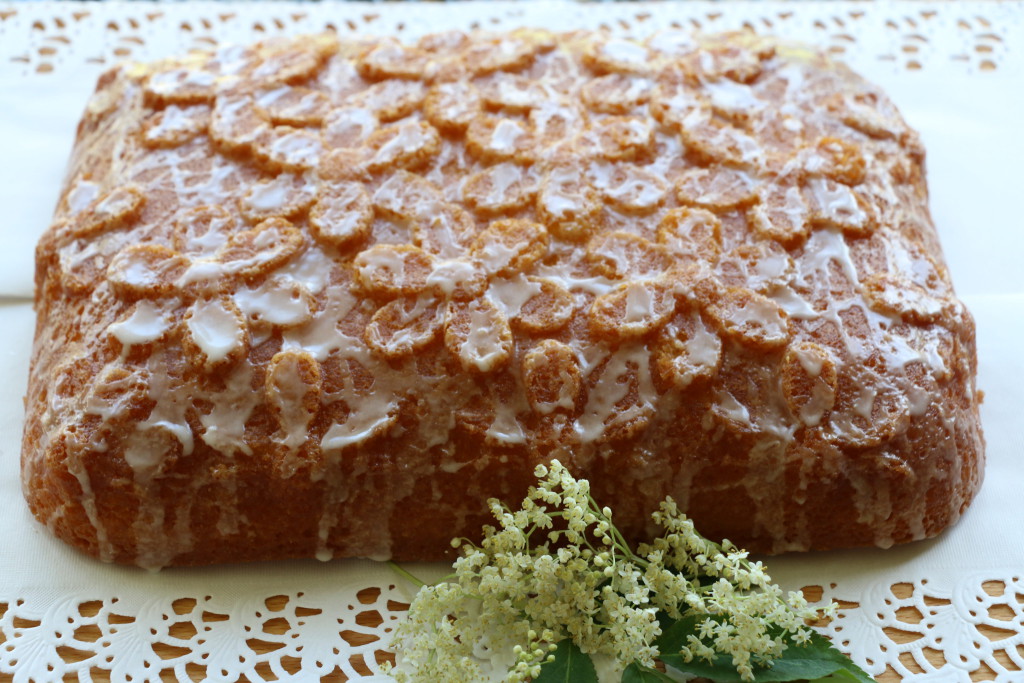 III. Lemon drizzle cake with elderflower
Adapted with changes from William Sonoma Kitchen citrus loaf recipe
Serves 8-10; makes one 2-pound loaf cake or one tray bake measuring 34.5 x24 x4 cm (13×9 inch)
This can be made without the elderflower cordial as a deliciously zingy lemon-only drizzle cake. Simply use equal quantities sugar and lemon juice for the drizzle*. I have had many people tell me it's the best lemon drizzle they've had.
The lemon extract is optional, but it adds flavour and is worth getting if you like lemon desserts. Don't use more than ½ teaspoon, though, as it's powerful.
Ingredients
For the cake:
140 g (9 tablespoons, or 4 oz plus 1 tablespoon) unsalted butter, softened
125 g (4 oz plus 1 teaspoon) cream cheese or soft cheese, softened
350 g (1 ¾ cups) caster (granulated) sugar for cake
3 large eggs
214 g (1 2/3 cups, sifted before measuring) cake flour or "00" flour
¼ teaspoon salt
1/8 teaspoon baking powder (no more – this small amount is enough for this cake)
2 tablespoons freshly squeezed lemon juice
Finely grated zest of 1 lemon
1 teaspoon vanilla extract
½ teaspoon real lemon extract (optional)
For the drizzle:
The juice of 2 more lemons, to yield 100 ml** freshly squeezed and strained lemon juice
45 ml (3 tablespoons) elderflower cordial
65 g (1/3 cup) granulated sugar
*use 100 ml lemon juice (**between 1/4 and 1/3 cup) and 100 g (1/2 cup) sugar for a lemon-only drizzle
Directions
Position oven rack in the lower third of oven and heat oven to 165C/325F'. Butter and flour your pan.
Cream butter and cream cheese until completely smooth.
Add sugar in three or four goes and beat until light and fluffy, about 5 minutes.
Add eggs one at a time and mix in after each addition.
Add lemon juice, vanilla, and lemon oil, and beat just to mix.
Incorporate flour in 3 additions, mixing to a smooth batter.
Fold in the lemon zest (don't beat with mixers or the zest will collect on the beaters).
Spoon the batter into your pan, and level the middle, pushing a little extra into the corners and along the sides where it tends to sink. Bake about 70 minutes (test after 60), or until a tester comes out clean and the cake is golden on top. Cool upright in the pan for 10 minutes.
Prepare drizzle while cake is almost finished baking: combine juice, cordial and sugar, and stir well until nearly dissolved (does not have to dissolve completely).
While cake is still cooling in the pan, apply drizzle to the top. Turn it out when the 15 minutes are up and apply the rest to all sides, applying as many coats as you can to every surface until you run out. Let cool completely before slicing and store airtight.
The cake lasts up to five days and can be frozen. Wrap well and defrost still in its wrappings, so the condensation will stay outside.