Cambridge Magazine
.  It includes recipes for a lightly curried Salmon Egg Gratin that's a do-ahead boon for lunch, brunch, dinner or as part of a holiday buffet; plus a whimsical and light-as-a-feather gluten-free Chocolate Roulade with Ginger Cream, decorated with homemade meringue mushrooms and chocolate leaves.]
For a holiday, the festive season requires quite a bit of graft.  We expect a lot of our kitchens at this time of year.  I do love the rituals of holiday cooking, and am in my element when putting on a festive culinary performance, but even enthusiastic cooks need a few survival strategies to avoid seasonal burnout and those Bridget Jones moments.
What I like most is proceeding in a mindful state, calmly mixing the Christmas cake in a state of nostalgic bliss weeks in advance, and scrubbing the parsnips on the morning of the feast with appreciation of the farmer who has grown them, a background of sublime carols setting the mood while the bird does its thing in the oven …   not using every pot and pan in the kitchen in a frenzy of flour and goose fat and finding I have no counter space left as I'm stirring the gravy and trying not to overcook the sprouts while hoping everyone hasn't filled up on treats and oh, no, we can't find the carving knife, and why am I serving Christmas dinner still in my spattered apron with my hair in knots?
It always comes right, though, in one fashion or another, and the important thing is spending time together, feeling some continuity with our own memories and with each other and the new directions we want to take.   I do also love those moments after the dinner is eaten and the dishes are washed when we relax together and visit at leisure — when the serious story-telling gets into its stride, and the serious silliness, too (once it was the adults competing to see who could make the plastic dinosaurs out of the kids' Christmas crackers look most realistic).
Some cherished traditions from my childhood holidays live on mostly now in memory – the cinnamon rolls with orange frosting we had on Christmas morning haven't happened for a while;  and the homemade pizza my mother made on Christmas Eve when we decorated the tree has been replaced by a Norwegian spread of salmon, herring and akavit.  She would also bake fanciful Christmas cookies with us – cut-out santas and bells, chocolate-vanilla checkerboards, red and green pinwheels, powdery snowballs, jelly thumbprints…  Some years we would take them to a 'cookie exchange' where everyone would swap, bringing home a marvellous assortment – a lovely tradition I wish would catch on here.
The stunning Dobosh torte my mother makes is still something I do, along with my mother-in-law's Christmas fruitcake with homemade marzipan, which she taught me to make when I came to England.  The chocolate Yule log with its surprise 'mushrooms' is something I really love to make, as it invariably charms adults and children alike with its wonderful taste and for the whimsy of pretending to be something it's not.  The Yule log is also rich in symbolism and history.  Our cake versions echo the real Yule log's pagan origins of celebrating the fire that brought warmth, food and security to the darkest winter days.
Food is at the centre of the season's celebrations, and when we work in the kitchen or sit at the table, we are engaging in something that binds us not only to those we know best and hold most dear, but to times and places and people we have never seen.  Our own family traditions, whatever they are, draw so much from other culinary traditions, landscapes and human accomplishment – from the ingredients we use to the recipes we acquire and the eons of knowledge that have allowed us to survive, and to celebrate.  We are always blending cultures and time in a way unique to the moment.
I love that about the holidays…  They are emblematic of so much we are and wish to be.  They embrace the range of human history and emotion, magnifying it all, good and bad, sad and happy, yet stretching towards what is most life-giving and generous:  the belly laughs, the sharing, the impulse to extend our blessings to others.  Despite all the demands and noise of our to-do-list culture, there is beauty and meaning in these times we set aside – quiet stillness, and energy.  Yes, it's all a bit chaotic, but we really couldn't have it any other way.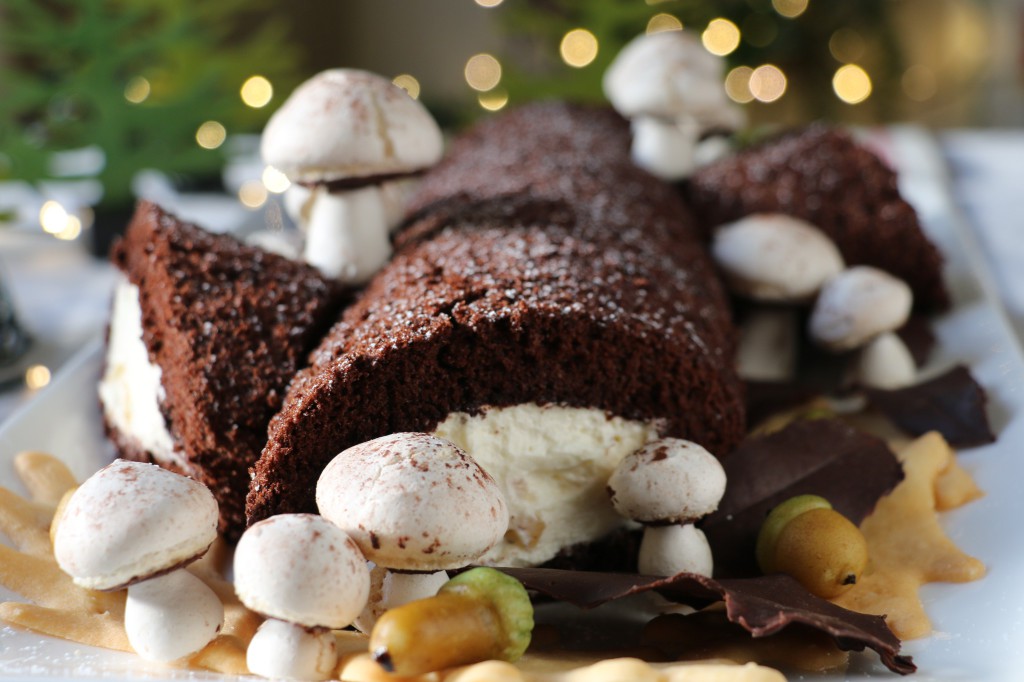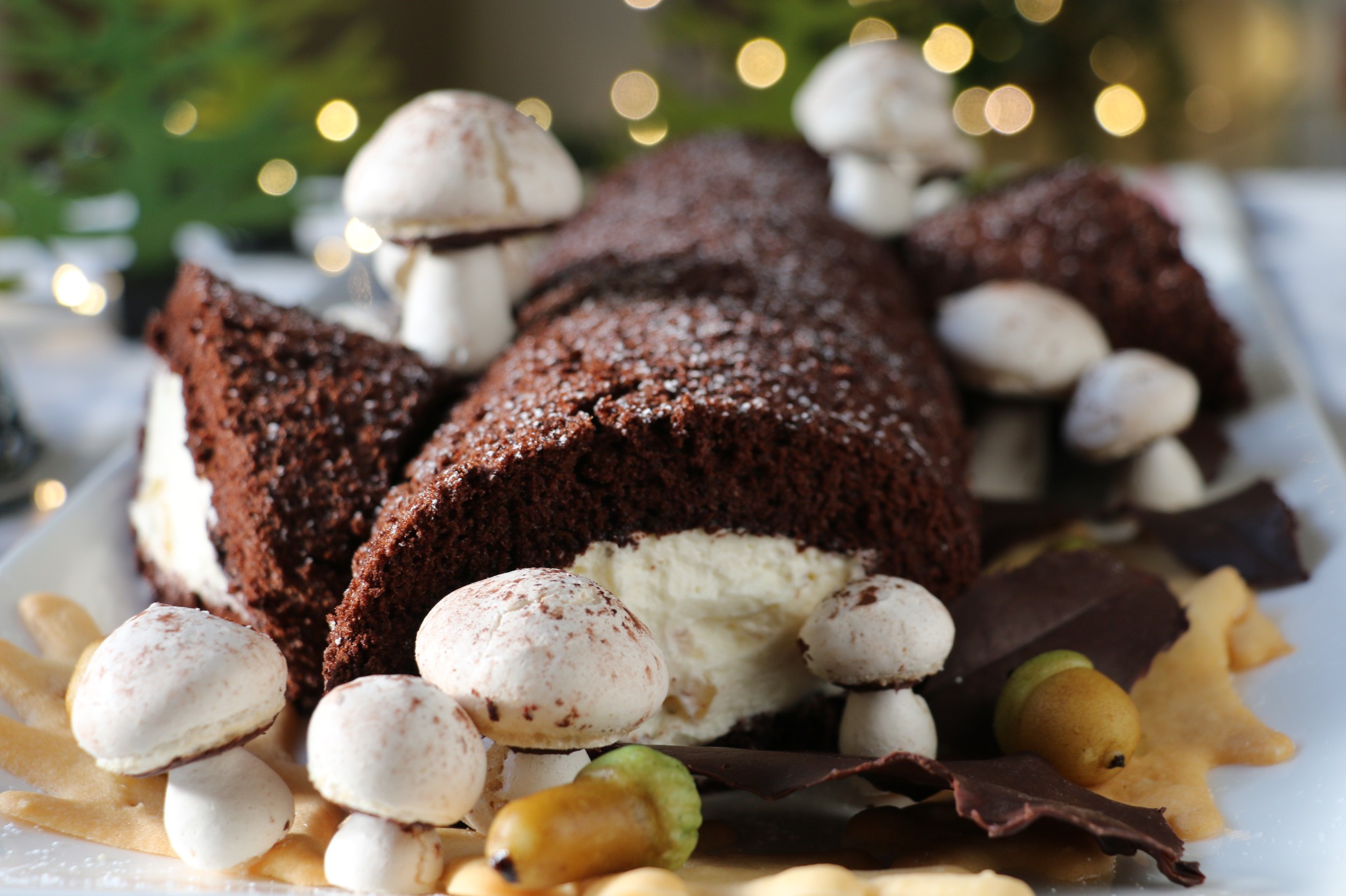 RECIPES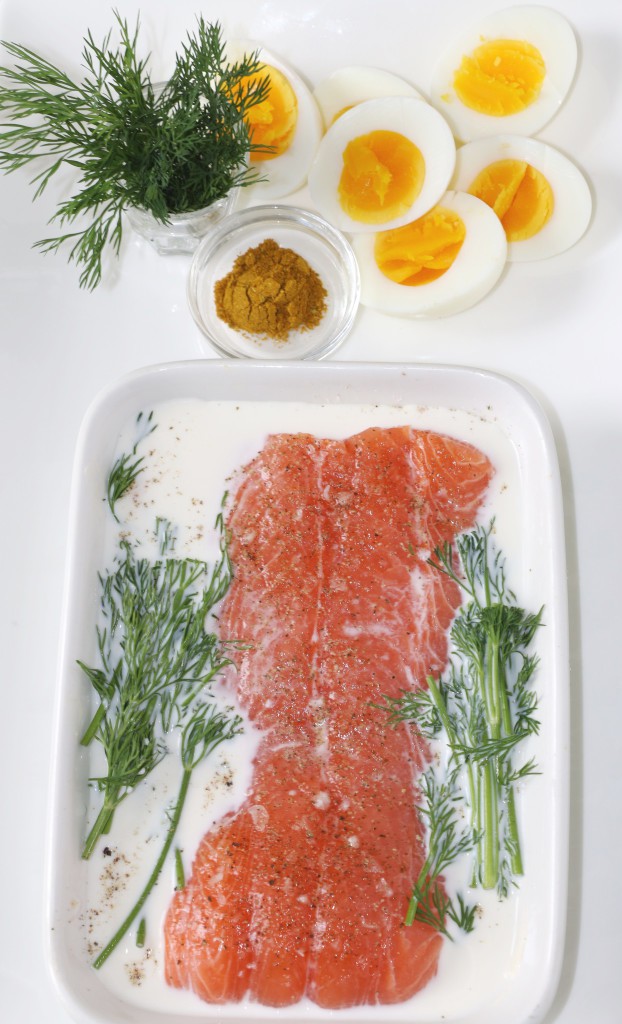 Do-ahead salmon & egg gratin 
Serves 4-6 
This is a delicious, reliable and versatile dish that works for brunch, lunch, dinner or as part of a festive buffet. It's an absolute boon for assembling a day-ahead, ready to pop in the oven. Lightly curried, it also has subtle tastes of wine and fresh dill, so is light, yet creamy.  It's easy and very more-ish (and even easier with leftover cooked salmon).
I often serve it with plain rice and salad with a lemon vinaigrette: watercress, shaved celery and pomegranate seeds are great for colour and crunch at this time of year.
Ingredients:
500g (a little over 1 pound) salmon fillet (skin on is fine)
500ml (2 cups) whole milk, heated (plus a little extra in reserve)
Stalks from a small bunch of dill, plus 2 teaspoons finely minced fronds
60g (4 tablespoons or 2 ounces) unsalted butter
1 medium-large onion, finely chopped
2 teaspoons mild curry powder
45g (3 level tablespoons) plain flour
80-100ml (about 1/3 cup) dry vermouth or white wine
4 not-quite-hard boiled eggs, sliced or chopped
About ½ teaspoon sea salt and ¼ teaspoon freshly ground pepper for the sauce
80g-100g (about 3 ounces) grated gruyère or other melting cheese
Optional: 10g (2 tablespoons) coarse dried bread crumbs
Heat oven to 200C/gas mark 6/400F.  Lightly butter a casserole dish that has at least a 1.7 litre (7-cup) capacity.
Poach the salmon:  In a separate small baking dish, poach the salmon for 7-10 minutes in the hot milk with the dill stalks, until just set.  The fish should be pink in the centre as it will cook further in the gratin. Drain and reserve the cooking milk; top it up to 500ml (2 cups) with fresh milk if needed.  Remove any skin and flake the salmon into bite-sized pieces, checking for bones.  (Alternatively, use leftover cooked salmon.)
Make the sauce:  In a medium saucepan, sauté the onion gently in the butter until translucent, about 5 minutes.  Add the curry powder and cook for 1 minute longer, stirring so it doesn't scorch.  Stir in the flour, and cook for 3-5 minutes or until lightly golden and somewhat sandy.  Add the vermouth or wine, stirring vigorously to create a smooth paste.  Gradually whisk in the reserved warm milk, stirring constantly to make a smooth sauce (if there are lumps, just keep whisking).  Stir the sauce over medium-low heat frequently for about 10 minutes until it is gently bubbling and thick enough to coat a spoon.  Remove the sauce from the heat and mix in the chopped dill and the ½ teaspoon salt and ¼ teaspoon pepper.  Taste for seasoning.
Lightly season the salmon and eggs, and gently fold them into the sauce.  Transfer the mixture into the buttered casserole dish and top with the cheese and with the bread crumbs, if using.  Prepare ahead to this point and refrigerate, or proceed to bake for 20-30 minutes until bubbling around the edges, hot in the centre and lightly golden.  Serve hot.  (If assembling the day before, bring it out of the fridge 30 minutes before cooking and give it 35-45 minutes in the oven, or until done.)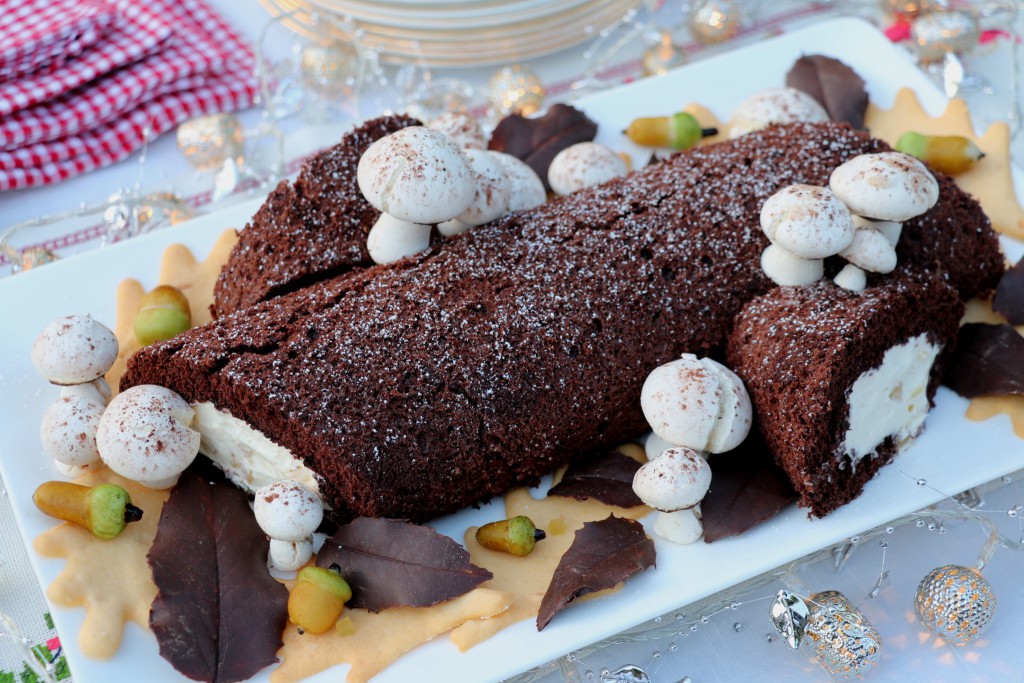 Chocolate Yule log with ginger cream and meringue mushrooms
Adapted from Michel Roux Desserts
Serves 6-8 
 This is the lightest and most chocolatey roulade I know – and it happens to be gluten free as it uses potato flour (available in health food shops and some supermarkets).  If you're not keen on ginger, fill it with raspberries or raspberry jam and cream, or with sweetened chestnut purée folded into the cream.
Go all-out with the festive decoration – it's a fun activity for helpers – or keep it elegantly simple.  The chocolate leaves are easy and the whimsical meringue mushrooms aren't too technical either, though you will need a piping bag and a large plain round tip.  The decorations can be made several days ahead, and the roulade can be filled, decorated and refrigerated the day before serving.
Ingredients:
For the roulade:
4 large eggs
175g (1½ cup sifted) icing sugar / confectioner's sugar
50g sifted dark cocoa powder (½ cup sifted before measuring)
15g (1 level tablespoon) potato flour (yes, only 15g)
pinch of salt
For the filling:
250ml (1 cup) whipping or double / heavy cream
2 tablespoons syrup from a jar of preserved ginger for the cream filling, plus extra syrup for moistening the cake if you wish
4 whole pieces of jarred preserved ginger, finely chopped or grated with a microplane if you want the ginger to disappear into the cream
Directions:
Heat the oven to 200C/gas mark 6/400F.  Butter a Swiss roll or baking tin measuring about 26x30x3cm (10x11x1 inches) and line with parchment.  Butter and flour the parchment (using gluten-free flour for a wholly gluten-free cake).
Using an electric mixer, beat the eggs and icing sugar (confectioners' sugar) until the mixture is very thick and folds back on itself in a ribbon when lifted off the beaters, about 6-8 minutes.  Mix the cocoa, salt and potato flour in a small bowl and then sift it evenly over the egg ribbon.  Fold everything together gently with a large silicone spatula or spoon, just until the dry ingredients are evenly incorporated.  Take your time and don't over-mix, or the mixture will lose volume.
Carefully spread the mixture into the prepared pan and bake for 8-10 minutes, until the cake feels set when lightly pressed in the centre.  It should retain a very slight impression of your fingertips, but not feel soft.
Cool for 5 minutes in the pan;  and while the cake is still warm, invert it onto a fresh sheet of parchment and remove the pan and baking parchment liner.  Let the cake cool completely and trim off any dry edges.  Using a pastry brush, lightly paint the inside of the cake with syrup from the jar of preserved ginger if you wish, or sprinkle on some drops as evenly as possible.
Whip the cream with the ginger syrup until it holds a shape but is still creamy (it's worth watching carefully so you don't overwhip — it should just mound).  Spread it onto the cooled cake, going not quite to the edges.  Sprinkle on the chopped preserved ginger.
Roll the cake from the longer side, using the parchment to help keep it tight enough, until you have an even roll that meets in the middle with the seam underneath (rolling it this direction gives you length to cut the other 'branches').  Use the parchment to wrap it snugly and refrigerate for 2-3 hours to firm.  Unwrap the roulade onto a serving plate.  Slicing on the diagonal, take a small piece off both ends (make both cuts in the same direction).  Position the wedges to look like branches off the log.  Decorate as you wish, and refrigerate.
The 'caps' and 'stalks' are piped separately and assembled after baking.
Ingredients:
2 large egg whites, room temperature
115g (½ cup plus 1 level tablespoon) caster sugar
1 teaspoon vanilla extract
1 teaspoon cocoa to sieve over
Roughly 30g (1 ounce) dark chocolate, melted (see chocolate leaves instructions, below)
Directions:
Heat the oven to a low 130C/gas mark 1/250F.  Line a tray with baking parchment secured with some meringue.
Beat the egg whites on medium speed to the soft peak stage – still floppy but opaque and beginning to expand.  Gradually add the sugar while still beating, then the vanilla, and increase speed until the mixture is very stiff, voluminous and glossy.
Fit a pastry bag with a plain round tip, and turn the top down to make it easier to fill.  With a large spoon or spatula, fill the bag no more than half full at a time with the meringue and twist it securely closed.  Pipe the caps:  hold the bag upright, not on a slant, and almost touching the tip to the baking sheet, squeeze the bag gently to extrude a small dollop of meringue onto the lined baking sheet.  Avoid pulling the bag up while still piping; rather, stop first and then pull up with a quick circular motion.  Flatten any points with a wet finger, and lightly sift over some cocoa.  For the stalks:  When piping these, touch down on the sheet only briefly and do continue to apply pressure to the pastry bag as you lift it, to create an upright column.  Bake the tops and stalks until hard, about 20-30 minutes depending on size.  Turn off the oven and let them cool in place with the door well ajar.
To assemble, use a skewer or similar to poke a small hole on the underside of each mushroom cap.  Paint the underside with melted chocolate.  Take a stalk, dip it lightly into more chocolate, and stick it into place in the cap.  If the assembled mushroom isn't quite level, you can use a fine grater to shave off the bottoms of the stalks.  Store airtight.
A 100g bar of dark chocolate is enough for a good quantity of meringue mushrooms and chocolate leaves.
Ingredients:
Roughly 70g (about 2½ ounces) dark chocolate
Some sturdy non-poisonous leaves, washed and dried (e.g., bay, rose, mint and holly (note: holly berries are poisonous)

Directions:
Melt the chocolate in the microwave for 30-60 seconds or in a pan over hot water, and stir until smooth. Don't overheat or it can scorch.
Using a brush or clean finger, apply the melted chocolate to the underside of the leaves; don't make it very thin, or the chocolate will be too fragile.  Set them chocolate-side-up until completely firm (about an hour). Keep them away from heat.  Starting at the stem end, carefully peel the leaf away from the chocolate – don't pull on the chocolate itself or it could break.  Store in a cool, dry place.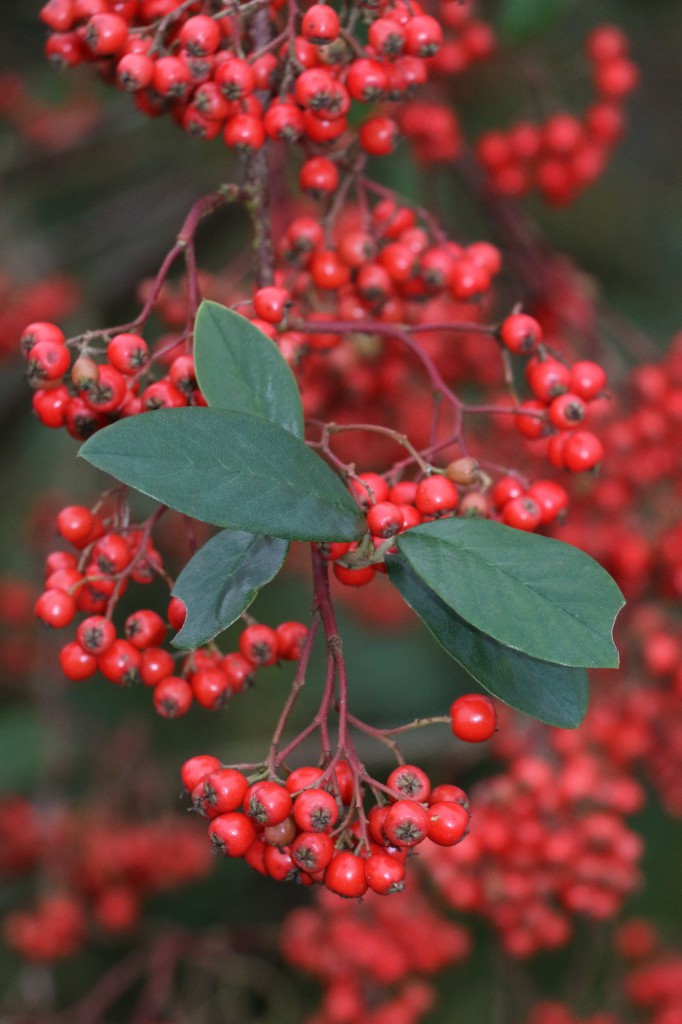 Other holiday recipes on Crumbs on the Table: