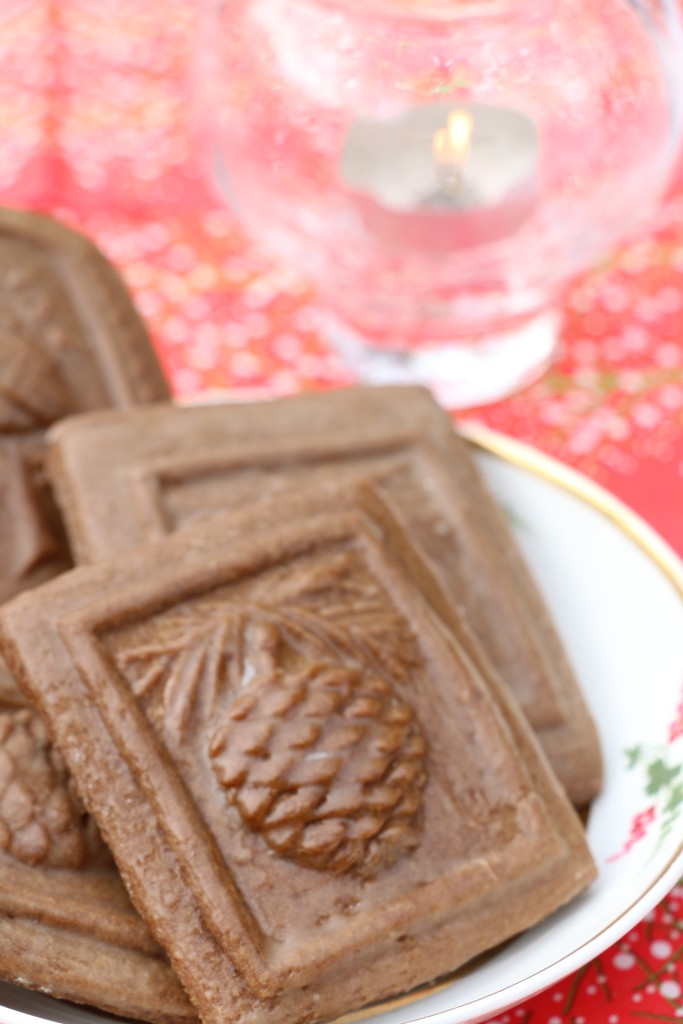 I'm re-thinking my holiday checklist, and perfection isn't on it.
It is mid-December and there is so much to do — cards, presents, tree, the turkey, the cake — and that's not even considering work and day-to-day survival in the meantime. The only way to get it all done is to call in sick for the next two weeks and tell everyone at home they can't eat again until Christmas. Hmmm… Time for a re-think?
All most of us really want is time with those we care to be with, and a few nice celebrations without breaking the bank, ourselves, or anyone else (maybe with luck we can also stretch to a nap).
As for the culinary side, indulgence is a fine thing, but an unrelenting diet of rich food throughout the holidays isn't as much fun as it promises to be, so my choices for at least some of the feasting this season involve lean game and refreshing salads. For tradition and nostalgia, there is gingerbread. There must  be gingerbread.
Partridge and pears make a festive combination that brings charm to the plate (and a well-known Christmas song to mind). Partridge is to me the most delicious of all game birds and the most straightforward to cook. Available fresh until early February, this healthy local meat is more interesting than chicken and less gamey than pheasant. My favourite method of cooking these little birds is to butterfly them and bone the breasts to cook separately from the legs. Getting rid of the breast bones makes the partridge less fiddly to eat, and the breast meat — plump near the shoulders and thin near the legs — cooks evenly to a juicy succulence. Cooked this way, game birds (pheasant too) are brilliant in a main course salad — a great alternative to the roast dinner treatment.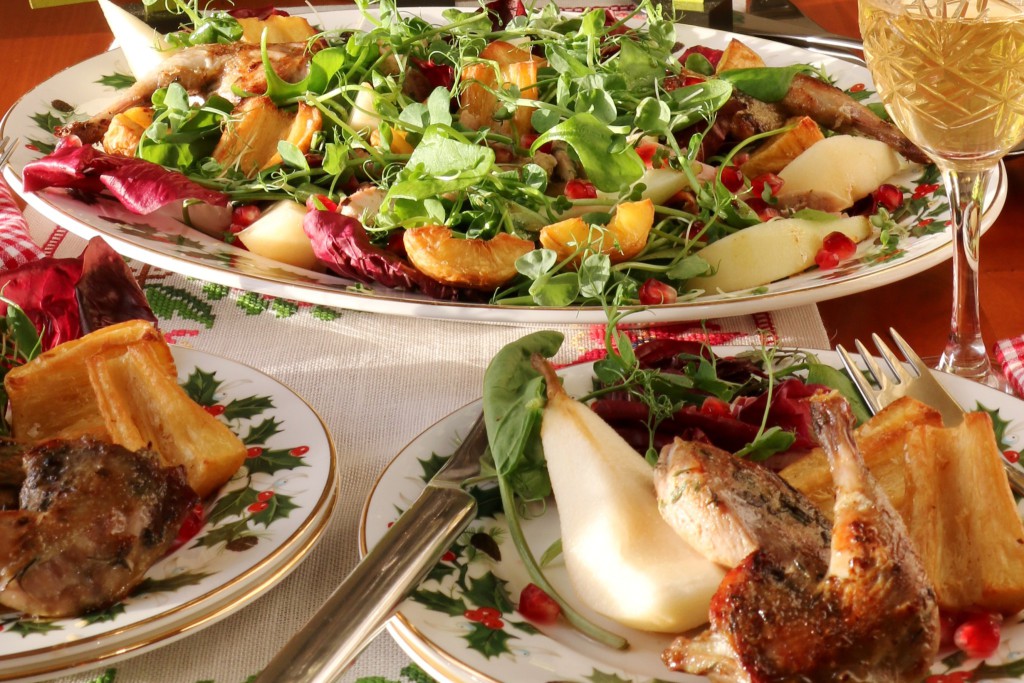 Salads are generally under-rated, it seems, and in winter they virtually disappear in preference to warming, steamy winter veg, without which a roast dinner just isn't. But a substantial salad on a winter's day is wholesome and invigorating with the beautiful greenery that's available, some of it locally grown. Spicy mustards, bitter endives and radicchios, delicate winter purslane and hardy lettuces are delightful in combination with ingredients both cooked and raw.
Gingerbread has a long tradition. In medieval Europe, the making of gingerbread using elaborately carved wooden moulds to commemorate high matters of state and church became a prestigious art. Professional gingerbread makers had their own sworn guild, with secret recipes and valuable moulds their most treasured possessions. As sugar and spices became more affordable, every European culture developed its variants of ginger biscuit art for the people, some intricately moulded and decorated (lebkuchen, springerle, pfeffernüsse, speculoos…), to be seen on colourful display to this day. In Britain there were moulded and shaped figures sold at fairs, tablet-style Lakeland gingerbread, the pale Ashbourne variety and Scottish block gingerbread, most of which survive still.
The tradition of baking gingerbread men grew with the manufacture of tin cookie cutters in the US in the 19th century, at the time when celebrating Christmas German-style was becoming popular there and in Britain, thanks to Albert and Victoria. This is when gingerbread became inextricably linked with Christmas, as it remains today.
I recall a gingerbread rocking horse bought with delight from a Christmas market in Vienna on a snowy night filled with scents of glühwein and the sound of bells. Today, the smell of gingerbread baking takes me back to that magical scene, back to childhood, and to times and places I've never known, connecting through a simple ritual to worlds beyond my own.
I'm re-writing my holiday list and perfection isn't on it. Wish me luck, Dear Reader, and you have my heartfelt wishes for same.
Holiday List
A brush of cold
A waft of spice
A warm hand
A whisper
A distant star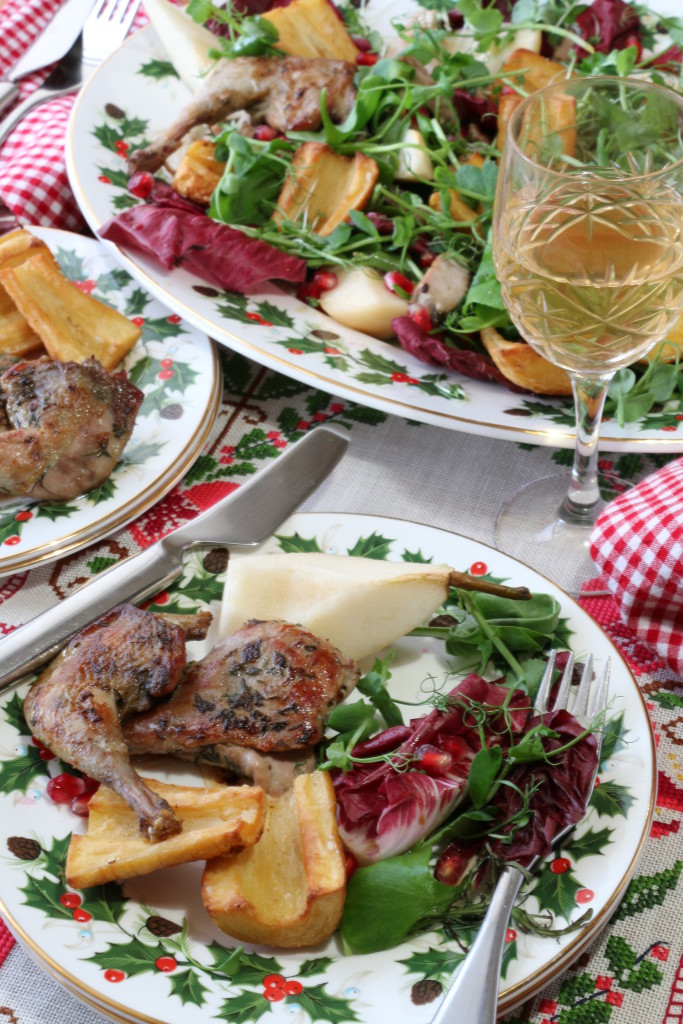 I. Partridge in a pear salad with parsnip and pomegranate
Serves 4 as a starter, 2 as a main
Cook it for less time than you'd imagine, and partridge is a beautifully moist and tender bird. It should be served with a definite blush of pink, not cooked all the way through as you would a chicken.
This makes a special starter, buffet dish or main-course-in-one and much can be done ahead. The birds can be jointed and marinated up to 24 hours in advance of cooking. The parsnips can be boiled and buttered a day ahead, ready for their 40 minutes' roasting. Wash and dry your lettuces ahead and refrigerate in a tightly-sealed plastic bag with some air, like a balloon, to cushion the leaves.
The partridge is served just warmer than room temperature, while the parsnips are hot from the oven, tucked into little gaps so their heat doesn't wilt the greenery. With the cool pear and the sweet sour pomegranate, this is a festive feast of flavours, textures and freshness most welcome in a season of rich foods.
For the partridges:
2 partridges
8-12 juniper berries, crushed and finely chopped
1 small clove garlic, minced
2 teaspoons fresh thyme leaves
1 level teaspoon sea salt and about 20 grinds of freshly ground pepper
2 tablespoons (30g) unsalted butter plus 1 tablespoon olive oil for browning partridges
Optional: a sprig of rosemary and 1 unpeeled garlic clove for the pan
For the parsnips:
3-4 parsnips, halved and cored (unpeeled unless they are grotty)
2-3 (30-45g) tablespoons unsalted butter
For the salad and dressing:
100g mixed lettuce leaves (eg radicchio, mustards, endives, watercress) washed and dried
1 punnet salad cress or a handful of pea shoots, alfalfa sprouts or micro-greens
1 ripe pear
2-3 tablespoons pomegranate seeds
1½ tablespoons cider vinegar
½ teaspoon honey
2 tablespoons extra virgin olive oil
2 tablespoons walnut oil (or substitute with olive oil)
Sea salt and pepper to taste
Joint and marinate the partridges: Joint each bird into two fully-boned breast fillets, and two partly-boned legs. a) Place the partridge breast-side down. With sturdy kitchen shears, cut down both sides of the backbone. It splays out a little at the tail-end; just follow its shape so you end up with a paddle-shaped piece of bone, which you can freeze for stock-making later. b) Cut off each leg. Keep the skins on, but trim off any excess bone where it was attached to the bird. c) Inside the chest cavity, firmly cut into the centre of the breastplate at the top-end and work down, cutting through to produce two equal-sized breast fillets. Remove their skins. Now bone the breasts completely with small sharp knife: cut closely against and around all the bones to remove them without leaving meat behind. d) Check all pieces for lead shot and bone fragments. e) Make the herb rub: combine the juniper berries, salt, pepper, thyme and garlic. Massage evenly into the partridge pieces. Allow at least an hour to absorb the rub and let the birds sit at room temperature for about an hour before cooking.
Prepare the parsnips: a) Heat oven to 200C/gas mark 7. b) Boil the parsnips for 3 minutes or until just tender; set aside to drain. c) Melt the butter in a roasting dish and roll the parsnips in the butter to coat them completely. d) Bake flat-side down for 20 minutes; baste with the butter and continue roasting for another 20 minutes while you cook the partridge. The parsnips should be a deep golden colour.
Cook the partridge: a) Over medium heat in a large frying pan, add the oil and butter and let it come to a gentle sizzle with the rosemary and garlic clove. b) Add the partridge pieces and cook for about 3 minutes per side, basting with the herby butter. Don't crowd the pan and don't move the partridge until the pieces have had time to caramelise. When done, they should be golden outside, still soft to the touch, and the juices should run pink, with pinkness also visible in the flesh. c) Set aside the breasts on a warmed plate to rest, covered with foil, for at least 10 minutes. d) Put the legs in the oven with the parsnips for about 10 minutes longer, then remove them to rest for a few minutes.
Make the salad dressing: a) Pour out excess oil from the pan you used to cook the partridge, but don't discard the herbs and browned bits. b) Add the cider vinegar to the hot pan to deglaze it, scraping up the caramelised bits into the liquid. c) Stir in the honey and let the vinegar come to a simmer again briefly, then strain it into a jug. d) Whisk in the walnut and olive oils and taste. Adjust the balance if needed with more oil, vinegar or seasoning.
Assemble the salad: a) Distribute salad leaves in a shallow layer onto a serving platter or individual plates. Reserve more fragile leaves to scatter on top. Make a few spaces for the hot parsnips so they don't wilt the greens. b) Thinly slice the partridge breasts (about 6 mm or ¼ inch) and roll the slices in the juices from the birds. Distribute the sliced breast meat and the legs over the salad greens. c) Poke the parsnips into the gaps in the salad so they are evenly distributed. d) Slice the pear into quarters and core. If the skin is tough, peel as well. Sprinkle with cider vinegar to prevent discolouration. If serving on individual plates, keep the pear in quarters; cut it into eighths if serving on a larger platter. Arrange the pear in a pleasing pattern with the parsnips and partridge. e) Sprinkle on the lighter salad leaves or pea shoots to add a little height and scatter over some snipped salad cress, alfalfa sprouts or micro-greens, and finally the pomegranate seeds. f) Drizzle on the dressing and serve.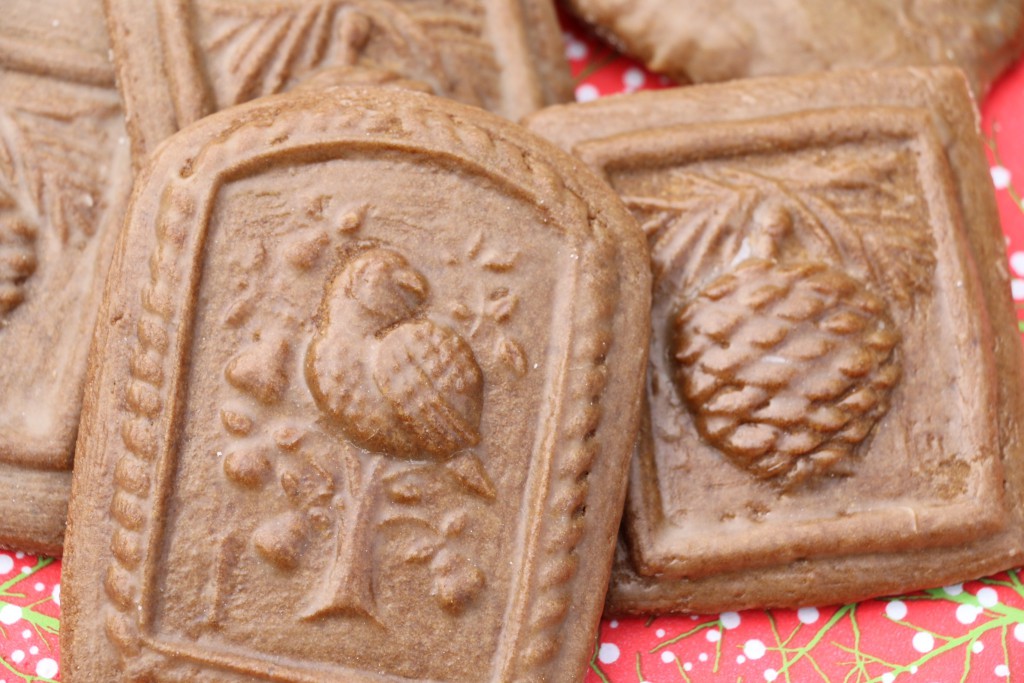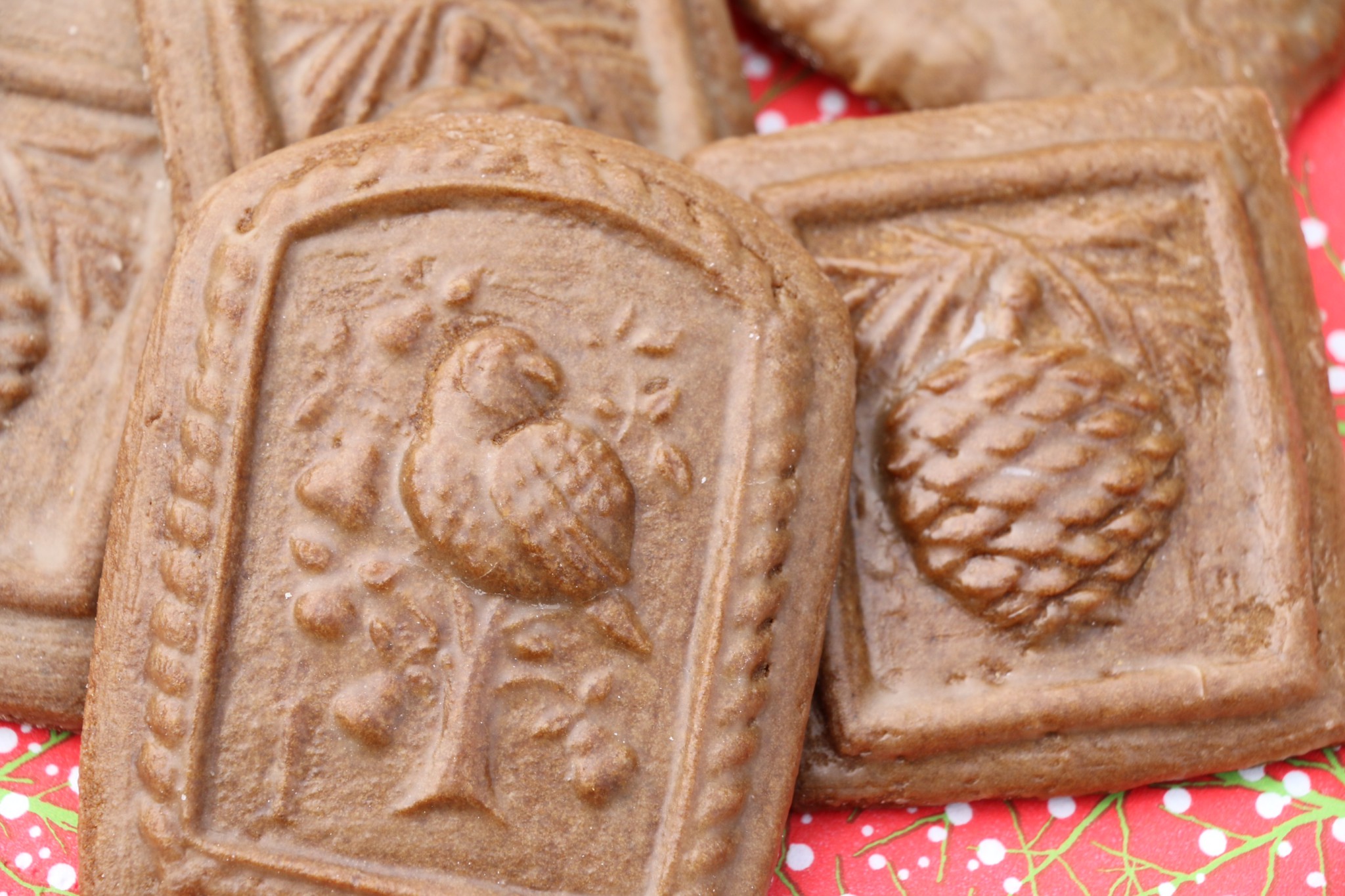 II. Old-fashioned gingerbread biscuits
Makes 2-3 dozen depending on size
(Adapted from Elizabeth Prueitt and Chad Robertson, Tartine; and from Emma Gardner, Poires au Chocolat)
This recipe is truly special, everything a fairytale gingerbread should be. The blend of spices, cocoa and pepper make it exceptionally delicious and fragrant — not too spicy or hot (I've tinkered a little), but complex and incredibly more-ish. The texture is soft and moist, but they can be baked harder for larger shapes or gingerbread houses. The shiny glaze is an easy, fun finishing touch that adds the perfect extra sweetness and keeps them for longer. They are at their best for a week to ten days, but will last a bit longer, just getting harder. This dough works beautifully with old-fashioned wooden moulds, or with biscuit cutters of any shape and size.
225g unsalted butter, room temperature
220g caster sugar
1 large egg
200g treacle
100g golden syrup
520g plain flour
4 teaspoons ground ginger
1 tablespoon cocoa powder
2 teaspoons ground cinnamon
1 teaspoon ground allspice
¼ teaspoon ground cloves
½ teaspoon finely ground black pepper
½ teaspoon (slightly rounded) fine sea salt
½ teaspoon baking soda
For the glaze: 115g icing sugar and 2 tablespoons water
Heat oven to 180C/gas mark 4; line baking sheets with parchment or foil.
Mix the dough: a) In a large bowl, cream the butter until loose. b) Add the sugar and beat until light and fluffy. c) Mix in the egg. d) Weigh in the treacle and golden syrup (put the bowl on the scale and add them directly) and mix until thoroughly incorporated, scraping down sides of the bowl and the beaters. Set aside. e) Measure all dry ingredients into another bowl and whisk or sift together to ensure they are completely mixed. f) Add the dry ingredients to the wet mixture in three goes, stirring and scraping well after each addition.
Chill the dough: Refrigerate until firm, about 3 hours or overnight. You can freeze the dough at this stage or keep it chilled for up to two days.
Roll and shape: a) Work with about a third of the dough at a time while the rest stays cold. Flour your work surface lightly and roll the dough about 6 mm (¼ inch) thick. If the dough sticks, dust your work surface with a little more flour. b) If using biscuit cutters, dust them with flour and press into the dough to cut. Transfer biscuits to the prepared baking tray, leaving about 3-5cm (1½ to 2 inches) between them as they will spread on baking. c) If using moulds, dust them well and also the top of the dough itself before pressing the mould in for a few seconds, applying even pressure all around. Carefully lift off the mould and cut around the image. Transfer to tray as described for cutters. d) Re-roll scraps, refrigerating if necessary, and try to limit the amount of flour used as the biscuits will taste better.
Bake: Bake for about 7 minutes, rotate the tray, and bake for another 2-5 minutes; timings will depend on the thickness and size of the biscuits. They should be set, but still slightly soft to touch, with no darker under-baked spots on the back.
Glaze: When the biscuits go in the oven, add the water to the icing sugar in a small bowl and stir until completely smooth. When the biscuits are about 1 minute out of the oven and still quite hot, brush on the glaze with a pastry brush. Transfer them to a cooling rack to cool completely and let the glaze set hard before storing airtight (or freezing them).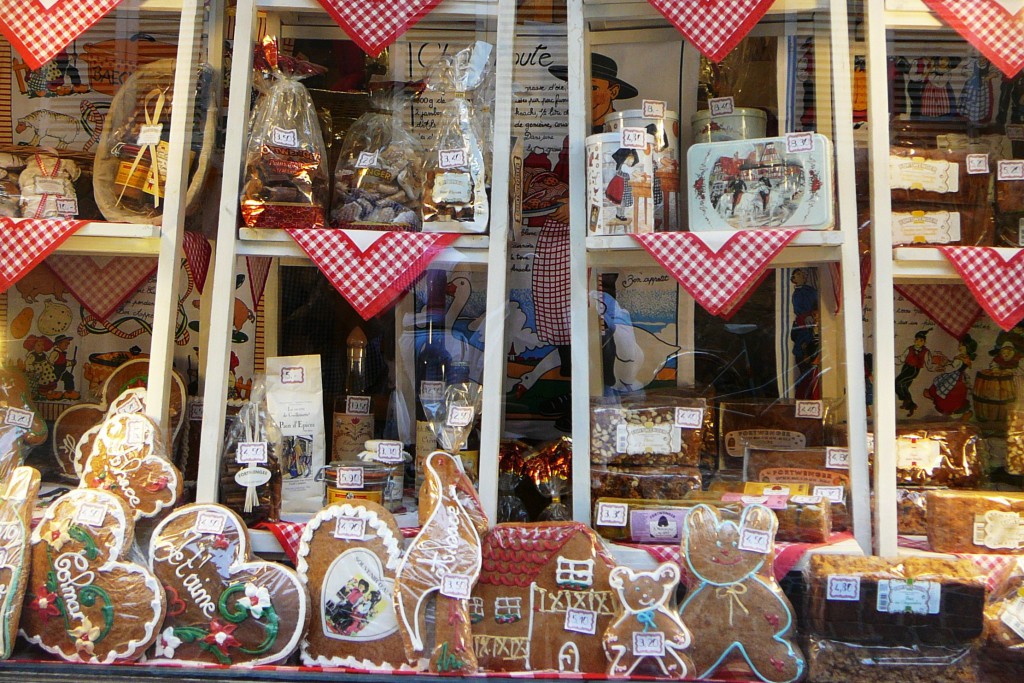 Gingerbread display in Colmar, Alsace.
[This article reflecting on food and the holidays was my fifth in a series of monthly food columns in
Weekend
(editor, Alice Ryan), the Saturday supplement of the
Cambridge News
.]