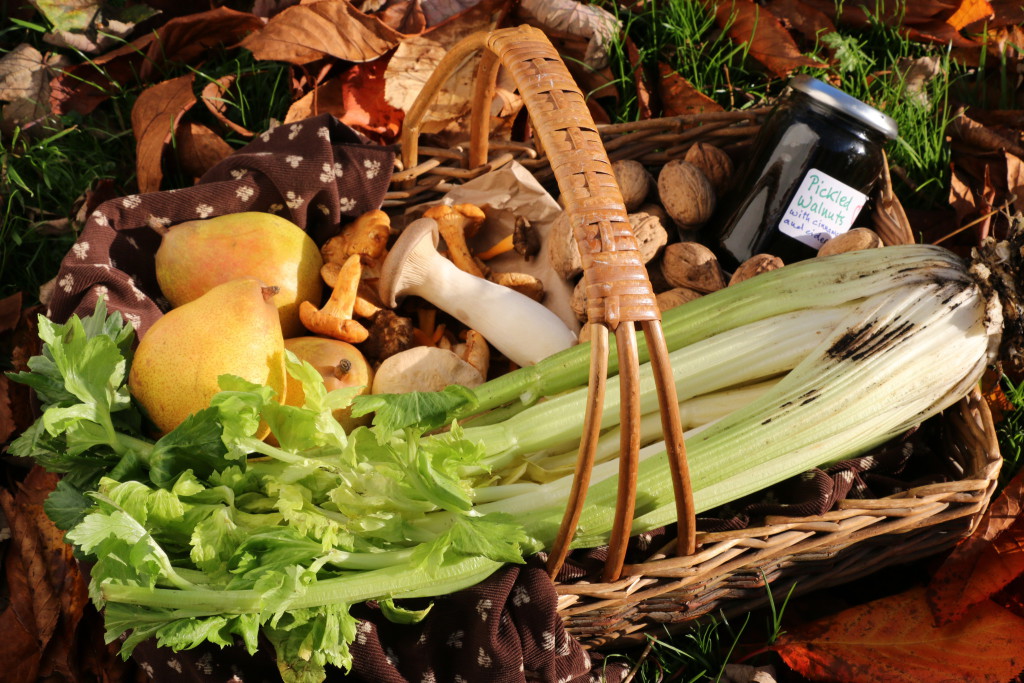 November is like the little girl in the nursery rhyme. When it's good, it's very good – but it also has its less endearing side. A country walk may be an ideal way to spend a weekend when November's at her best, but when she's got her pouty face on, I head to the kitchen for solace. Baking a batch of biscuits and putting on a slow-cooked casserole fills the house with warming scents and cheers up the inhabitants. A little cosiness indoors can save the day while November howls its tantrums outside.
Our local markets offer ample inspiration for November's kitchen projects. Home-grown pears are here, their perfect time as fleeting as leaf-fall, and so are walnuts, fresh as they come. Woodland mushrooms straight from a fairytale are on show for a little longer yet; and the shock-headed Fenland celery, tall as a toddler and black with the rich soil of the Fens, is a brief seasonal treasure worth seeking out, even if you have to carry it over your shoulder to get it home.
November is the height of the game season, and venison, pheasant or partridge at this time of year can be a revelation. My savoury recipe this month is for a venison casserole that showcases this wholesome meat at its most comforting and juicy. Low in saturated fats, with far fewer calories than beef and a third its cholesterol, venison is just as versatile and deserves more attention. We had lost the know-how we once had of this wild meat, but thankfully that is now changing. This casserole makes the most of the flavourful tougher cuts, using local ale and good stock to braise the meat to a melting tenderness and adding pickled walnuts for depth and sweet-sour brightness.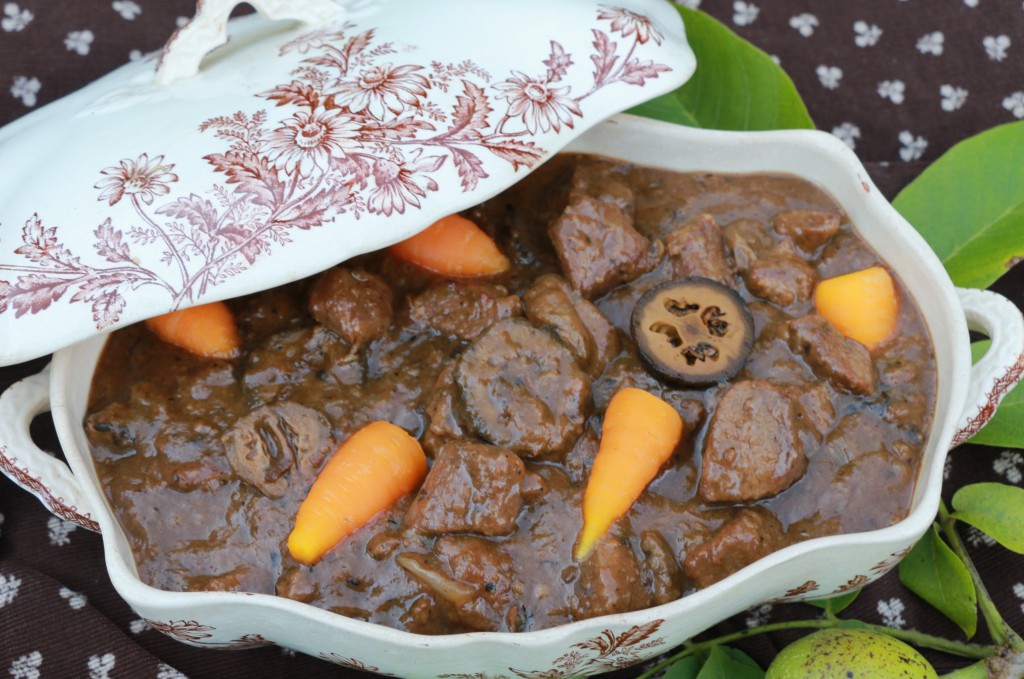 Walnuts are not just for Christmas. They are so sweet and plump right now, their tannins tamer than they are after longer storage, we should take full advantage. You may still see UK-grown 'wet walnuts', just-harvested mature nuts that still have their natural milkiness, delicious to eat and a boon to growers who must dry any nuts they can't sell wet to keep through the year until the new crop is harvested.
Most supermarket specimens come from California where the 'English walnut' (Juglans regia) is grown on an industrial scale. Prize beauties and oil come to our British markets from France, where walnuts are passionately valued; but British walnut production, once an important crop for its furniture-quality wood, is beginning to be revived for its edible seeds, and some of the tastiest walnuts you can buy right now are UK-grown.
Walnuts in their skins are rich in anti-oxidant and anti-inflammatory nutrients and have been shown to lower cholesterol. Thanks to our growing recognition of these health benefits and our interest in local foods, a few tenacious British growers are taking the long view and investing in walnut orchards. Clare Murray and Mathew Warwick from South Runcton, Kings Lynn, cultivate 80 trees on two acres and are on a mission to bring the home-grown walnut to an appreciative public. Dedham Vale Vineyard near Colchester has one of the few remaining mature walnut orchards in Britain and at 60 acres is also one of the largest. Planted in 1935, it may be the last to grow some of the old East Anglian varieties (Stutton Seedling, Bardwell, Stowlangtoft and Champion of Ixworth). Slow Food UK is also helping to champion the UK-grown walnut and its close cousin, the larger clawnut, so the tastes of these forgotten foods are revived and preserved.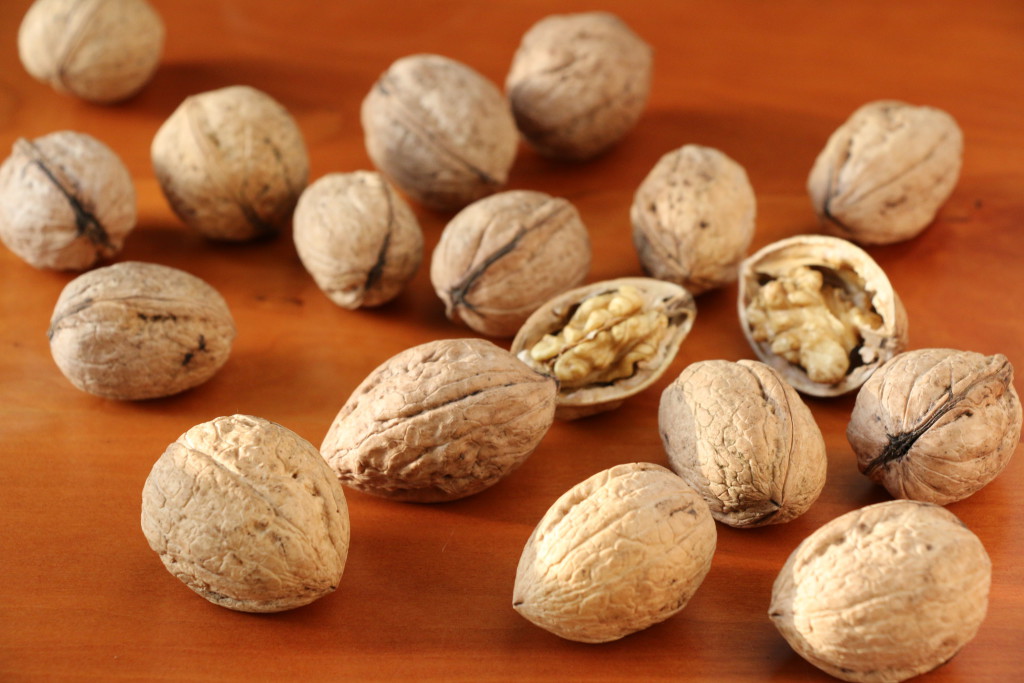 Try walnuts toasted in muesli, strewn on a salad, roasted with herbs, whizzed into pesto, added to crumbles, or baked with apples. Grilled with pear and stilton on toast, they make a fantastic rarebit. And there is baking beyond coffee and walnut or carrot cake, as good as those are: Baklava, Rugelach, Mexican wedding biscuits, cinnamon rolls, walnut pie, banana bread, brownies… Keep some walnuts on hand and you'll find they become indispensible.
One of my very favourite biscuit recipes puts the walnut on centre stage with maple syrup as supporting actor, a classic pairing from New England. Baking this biscuit will fill your kitchen with the irresistible fragrance of both. Children can have fun picking out the walnut halves and pressing them into place, a calming, contemplative little task.
With such warming, uplifting foods and the gentle activity of making them, November's moods needn't worry us at all. Howl away, wind and rain, and let the mists roll in.
RECIPES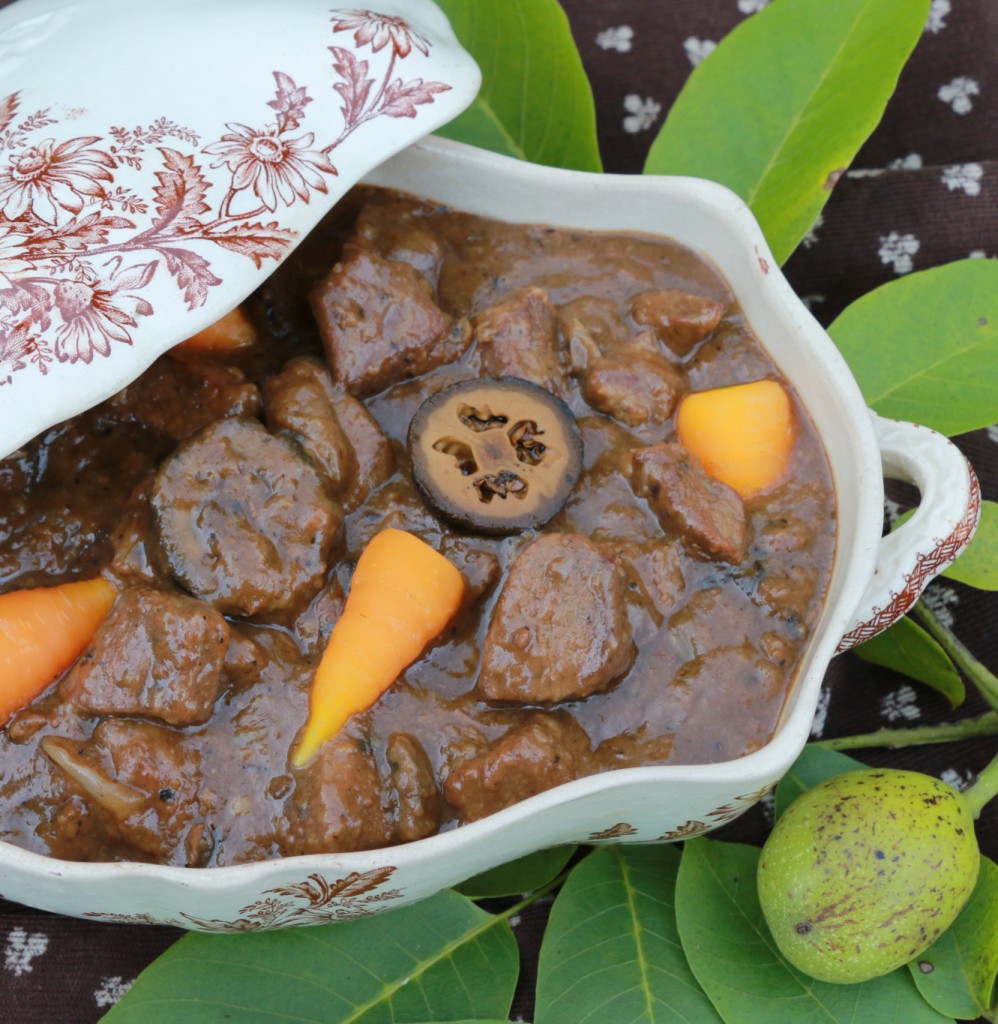 I. Braised venison casserole with ale and pickled walnuts
Serves 6                                                                
East Anglia is plentiful in wild venison, with peak availability from November through March. Look for it at farmer's markets or ask your local butcher.
There are three secrets to a tender, juicy braise: a low oven so the meat doesn't boil; patience with the browning; and ensuring your braising liquids are hot when the meat goes in so its juices don't leach into the sauce, leaving the meat dry.
Buttered carrots, sauteéd Fenland celery, and boiled potatoes or dumplings make lovely accompaniments. This dish freezes well or can be made the day ahead and refrigerated. It also makes an unbeatable venison pie filling, topped with your favourite short-crust pastry. This quantity makes enough for one deep 28.5cm (11in) oblong pie.
Ingredients:
1 kilo venison shoulder (or neck), cut into 3cm cubes
Sea salt and freshly ground pepper
4-5 tablespoons oil for browning
700g pickling onions or shallots (about 30), peeled, topped and tailed but left whole
500 ml medium-bodied ale (or substitute stock)
500 ml beef stock
170g pickled walnuts, cut into thirds (drained weight from a 390g jar)
1 tablespoon mushroom ketchup (or Worcestershire sauce): less if your stock is salty
A good bunch of fresh thyme and 2 bay leaves tied together
1-2 teaspoons cornflour to thicken
Directions:
Heat oven to 160C/gas mark 3.
Brown the venison: Pat dry the venison cubes with kitchen towel, and season them with salt and pepper. Over medium-high heat in a large casserole, add 2 tablespoons oil and brown the venison cubes in a single layer (reserve the remaining oil for topping up); you will probably have to do this in three batches. Don't crowd the pan, and don't move the venison cubes until they have had time to caramelise. Brown them on all sides, turning with tongs. Don't allow the bits on the bottom to burn, as you will use this 'fond' to flavour the casserole. If the venison produces liquid, turn the heat up to boil it off and turn down once it begins to brown again. Set each batch aside and don't wash the pan.
Brown the onions/shallots: In the same pan you've used to brown the venison, add a little more oil as needed and brown the onions or shallots until golden brown on top and bottom, about 10 minutes. Set aside, and again, don't wash the pan.
Prepare the braise: 1) Add the ale to the hot pan and bring to a quick boil while you scrape up all the caramelised bits from the bottom of the pan, incorporating them into the liquid. 2) Add the stock and bring it just to the boil. 3) Take the pan off the heat and add the thyme, bay and mushroom ketchup (or Worcestershire sauce). 4) Add the onions/shallots and venison and make sure the meat is just submerged in the braising liquids. 5) Cover the top of the casserole with foil, replace the lid tightly over the foil and place in the oven for 1½ hours.
Add the pickled walnuts and finish cooking the venison: 1) Check for tenderness of the meat with a skewer or fork. When done, you should be able to pierce it easily without resistance. 2) When the meat is very nearly tender, add the pickled walnuts, stirring them in carefully to minimise breakage. 3) If needed, replace the foil and lid and give the casserole more time in the oven; check at 20-minute intervals.
Thicken the casserole: When the meat is tender, carefully move the hot pan to the stovetop and take about a tablespoon of the juices and let them cool in a small cup. Add a teaspoon of cornflour to the cooled juices and stir to dissolve completely. Bring the casserole to a gentle simmer and stir in the cornflour 'slurry'. Simmer for one minute, stirring occasionally; it should be just thick enough to coat a spoon. Don't over-thicken, but if it is still thinner than you want, repeat the slurry process. Taste the finished dish for salt and pepper.
Adapted from recipes by Craig Claiborne and Nigel Slater
Makes 2 dozen
These are delicious and smell of maple and roasting walnuts when baking. They are 'refrigerator biscuits', so called as the soft dough is rolled into logs to be chilled before slicing and baking – easy and pretty. The dough can be kept for two days in the fridge or frozen. Give the frozen dough itself as gifts so friends can enjoy the maple walnut fragrances wafting through their own homes and eat the biscuits fresh from the oven.
I adore these with a little sea salt on top and freshly ground black or Indonesian long pepper. This makes for a very pleasing sweet-savoury balance and works beautifully as a sweeter addition to a cheese board. But it's hard to better them on a wet afternoon than with a cup of tea.
Ingredients:
225g unsalted butter, room temperature
60g light Muscovado sugar
50 ml real maple syrup (ideally dark amber)
120g walnut pieces for the biscuit dough, plus 24 walnut halves to garnish (approx 80g)
250g plain flour
½ teaspoon (level) sea salt (crumbled between your fingers so it's not too coarse)
Optional: Sea salt and freshly ground black pepper or Indonesian long pepper to sprinkle on top
Directions:
Heat oven to 180C/gas mark 4.
Chop the walnuts: In a food processor, pulse the walnut pieces until they are finely chopped; stop before they become at all oily.
Mix the dough: 1) Give the butter a quick mix in an electric mixer or by hand until loose and soft. 2) Add the Muscovado sugar in three goes and mix about 5-8 minutes longer until very fluffy and lighter in colour. 3) Trickle in the maple syrup and mix until well incorporated. 4) In a separate bowl, mix well together the flour, finely chopped walnuts and ½ teaspoon sea salt (a fork or whisk is best for this). 5) Gently fold the dry ingredients into the butter mixture by hand using a large spoon or silicone spatula. Make sure the dough is well mixed, but don't handle it more than necessary.
Roll and chill the dough: 1) Cut a 40-cm length of clingfilm and lay it flat. Spoon on the dough as evenly as possible, leaving some film free on each end to twist and seal. 2) Roll the clingfilm neatly over the dough so it's fully encased and roll back and forth to make an even log about 30cm long. Twist to seal. 3) Refrigerate on a tray until firm, about 40-60 minutes (alternatively, keep chilled up to two days or freeze).
Cut and bake: 1) Cut the log of chilled dough into half, then half again, so you have four pieces of equal length. Remove the wrapping and cut each piece into six biscuits, for a total of 24. Place them on a baking sheet lined with foil. 2) Lightly press a walnut half into each slice. 3) Bake for about 12-15 minutes until fragrant and just firm but not hard. They should be fully baked underneath, but will still look and feel slightly underdone on top. Cool on a rack. 4) Optional: sprinkle a teensy pinch of sea salt onto each biscuit when they come out of the oven, and finely grind over some pepper.
These are best on the day they are baked. Store airtight and refresh in a hot oven for about 5 minutes if they go soft after a couple of days.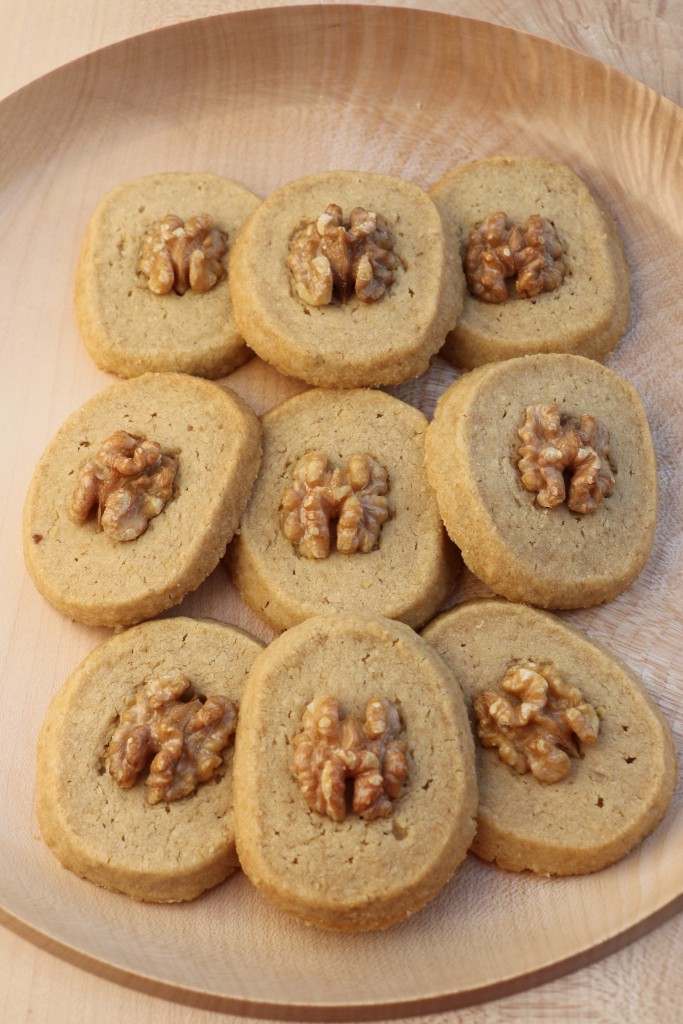 [This article celebrating November's wild venison and the UK-walnut harvest was my fourth in a series of monthly food columns in Weekend (editor, Alice Ryan), the Saturday supplement of the Cambridge News.]