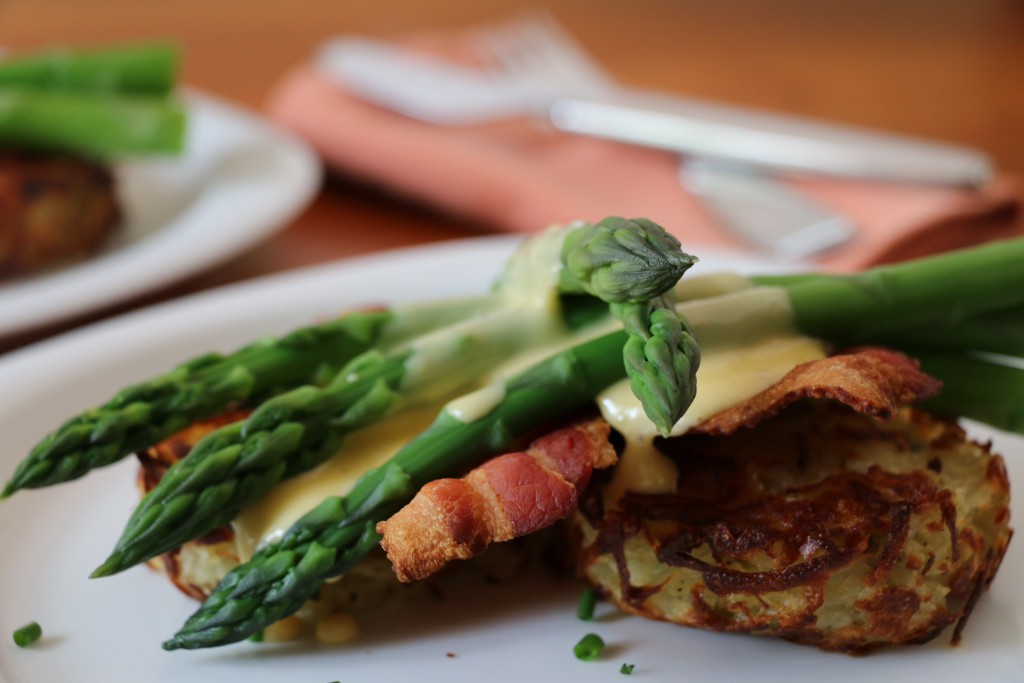 It's here! I returned from a week away to find my asparagus bed has leapt to attention and is at risk of growing into trees before I've had a harvest. It really is one of the "hurry up and wait" crops: you drum your fingers for weeks in impatience, then glance away and it's got ahead of you. Traitorous  asparagus. No tolerance at all for busy lives…
To rectify this near-catastrophe we are eating asparagus at every meal except breakfast – not exactly a hardship… My favourite method for cooking it is still simply to blanch and serve it hot with butter and salt, or in a room temperature salad, sliced into long "noodles" (see "Stalking wild asparagus").
But there are so many more choices, and I have lately fallen in love with stir-frying pieces with grated fresh ginger, garlic, sesame oil, soy sauce, a teeny bit of chilli, and a splash of mirin — fantastic with other Asian flavours with salmon, for example, and some sticky rice and spring onion.
One of my favourite brunch dishes features asparagus: a rosti potato with crispy bacon, two or three majestic spears, and a hollandaise (sometimes also a poached egg). It makes a lovely supper dish, too, or a starter for a fancy dinner party in the season.  The rosti are browned in the oven, leaving you time to attend to the hollandaise and blanching of the asparagus.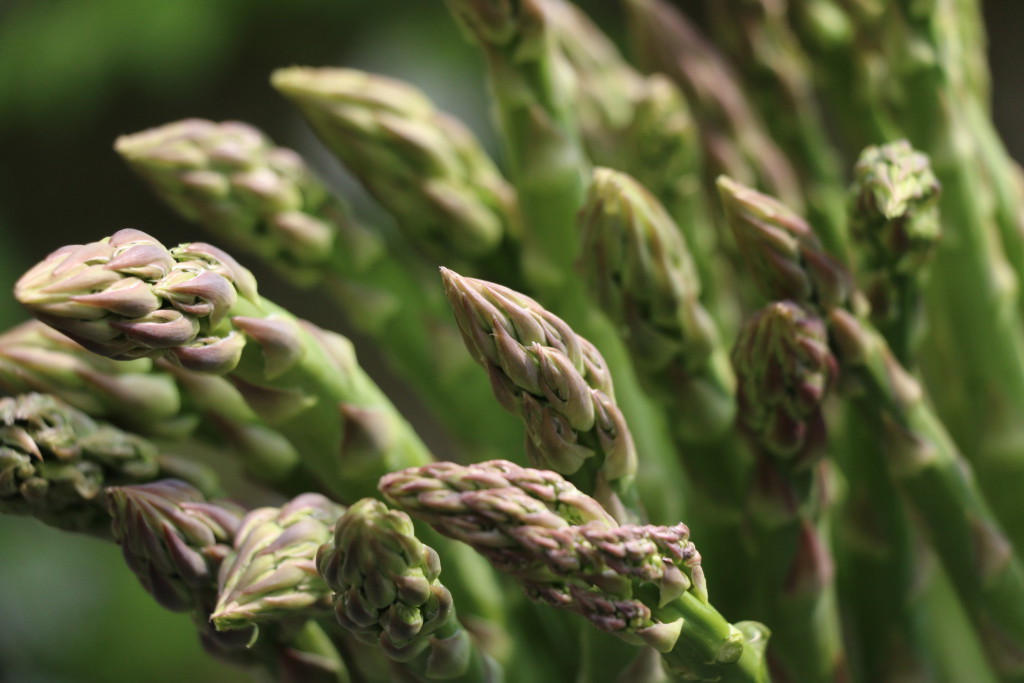 Easiest of all, and highly  recommended — especially when you are so tired that the prospect of cooking anything can send you to bed hungry — is this gem: roasted asparagus.
(Allow a handful of washed and trimmed spears per person, and enough oil to coat lightly — no need to drench.)
Throw some asparagus onto a shallow baking tray with a little olive oil, salt and pepper. Bung it in the oven at high heat (pre-heated to 225C/450F).
Set the timer for 15 minutes and head to the sofa for a rest.
When summoned by the buzzer you should find a tray of roasted asparagus, a little blackened in places and slightly shrivelled in others, but still intact and so concentrated in flavour and delicious you will feel instantly rejuvenated. (If needs be keep it in 5 minutes more and check with a skewer for tenderness.)
Eat as is, or with pasta and some parmesan, or a poached egg and toast.  But it's so good you could happily eat it on its own, standing at the kitchen counter and burning your fingers. If you have more style than I do when tired, you can plate it up sensibly with other things.  It is a terrific side dish, especially when you are also roasting something else already (some small chicken breasts, perhaps), though you just might find you ignore everything else on the plate, it's that good.
Asparagus with potato rosti, bacon and hollandaise
Serves two (scales easily to four or six)
If you have metal ring moulds (sometimes called "round forms"), it makes shaping the rosti very easy, but they're not at all essential.
 A note on the rosti: there are many variations on this original Swiss recipe, some calling for cooked potatoes, some raw, some waxy potatoes, some floury. Felicity Cloake has tested many methods and provides results in her Guardian article, "How to cook the perfect rosti".  I prefer using raw floury potatoes and I cook the rosti in the oven where they seem to cook through much better than they do on the stovetop, thus eliminating the uncooked "starchy" taste Felicity notes when the potatoes are not boiled first.
A note on the hollandaise: there are many methods for making this notoriously tricky sauce.  I prefer a one-step method that works something like a lemon curd recipe:  everything goes in the top of a double boiler and is cooked together over very very gentle heat, whisking all the while. With care it can be kept warm while you cook the asparagus — the secret to keeping it warm is not to have the pan too hot:  the ideal holding temperature is 63C or 145F, so well under boiling.

Ingredients
2 large floury potatoes such as Maris Piper, peeled but kept whole; keep in water to avoid discolouration
1 teaspoon salt and several grinds of black pepper
1 tablespoon fresh rosemary, thyme, chives, or spring onion, chopped fine
1 tablespoon olive oil for the roasting tray and more for the metal moulds, if using
8  rashers streaky bacon
12-16 medium spears asparagus, washed and trimmed
2 egg yolks
1 tablespoon lemon juice
a good pinch of salt and pepper
a teeny pinch of cayenne
125 g (1/2 cup or 1 stick) unsalted butter, cut into cubes
optional: 1 tablespoon warm water to add at the end if needed
optional:  a few more chives to garnish
Directions
1. Start by cooking the bacon until crisp, either under the grill, or in the oven at 200C/400F. It can be blotted on kitchen towel and set aside while you assemble the rest of the dish. (If you use the oven method, the bacon can go on a tray on the bottom shelf while the rosti is cooking on the top shelf, but watch the bacon as it will cook faster than the rosti.)
2. Make the rosti. Start by turning the oven to 225C or 425F. Oil a shallow baking tray and 4 metal forms, if using.  Pat the peeled whole potatoes dry and either coarsely grate them by hand or in a food processor; or cut them into very thin matchsticks using a mandoline. Put into a medium bowl and add the salt. Squeeze as much water out of the potatoes as you can.
3.  Add the finely chopped herbs and the pepper to the squeezed potato, and divide it into four. If using metal moulds, make sure they are greased inside and placed them on the oiled baking tray.  Fill somewhat loosely at first with the grated potato and then pat them down so they are even on top and of uniform height.  If not using moulds, shape the potato freestyle into patties as uniform in size as you can get them, and place onto the oiled baking tray. Add a brushing of olive oil to the tops of each rosti.
4.  Bake for about 20 minutes, remove tray from oven and run a sharp knife around each mould to loosen the partly-cooked rosti.  Carefully lift the moulds off each one and set moulds aside to wash. Flip each rosti with a spatula to brown the other side.  Continue baking for another 10-15 minutes until they are golden brown and crunchy on top and a skewer goes through easily.  Pat oil off on kitchen towel and keep warm in the oven.
5.  Once the rosti are in the oven, fill a large, shallow pan with about 10 cm (4 inches) of water for the asparagus, and place over high high to come to a rolling boil.
6.  Turn your attention to the hollandaise:  Put all ingredients in the top of a double boiler over gently simmering water, and whisk continuously.  The water should never boil and the bottom of the pan should not come into contact with the water.  Keep whisking, and run a rubber/silicone spatula along the bottom and sides frequently.  As the butter melts, it will emulsify and thicken to a foamy sauce.  Keep a close eye on the heat, and keep whisking and scraping without respite until you have a sauce of the consistency to pour. Remove the top of the double boiler from the bottom, add a bit of cold water into the saucepan to bring the temperature down to about blood heat, and return the top with the sauce back on top of the saucepan. You can now leave the sauce in the top unattended over low heat long enough to finish cooking the asparagus and assembling the dish, but keep your eye on it and give it a whisk every minute or so. (See below for what to do if the sauce "splits".)
7. To cook the asparagus:  get the water to a full rolling boil, and add the spears with a good measure of salt.  Start timing the cooking once the water comes back to the boil.  The spears will need about 3 minutes in the boiling water. A skewer should penetrate without a struggle; don't overcook.  Err on the side of a slight crunch, as the spears will continue to cook once removed from the water.  Drain into a colander or remove the spears with tongs and pat dry on kitchen towel.
8.  TO ASSEMBLE THE DISH:
Have ready two warmed plates
Put two rosti on each.
Criss-cross two rashers of crisp bacon over each rosti.
Drape equal amounts of asparagus over each rosti, on top of the bacon.
Drizzle a good spoonful of hollandaise over the asparagus on each portion.
Sprinkle with chives if you like.
IF THE HOLLANDAISE SAUCE SPLITS:  If the mixture gets too hot the butter will separate from the yolks and the sauce will curdle and "split".   If you see any sign of "oiliness" at any stage, take the top of the double boiler off the heat — should the signs of separation worsen, immediately add a teaspoon or two of iced water to the egg foam to cool it down, while continuing to whisk  vigorously.  If the sauce does split further, add another teaspoon or two of iced water, and keep whisking. If this fails to re-amalgamate the ingredients, you can still take corrective measures. To do this, remove the sauce from the heat and let it cool to lukewarm; remove as much melted butter as you can from the pan and spoon into a little jug.  Add a new egg yolk to the curdled egg left in the pan and whisk briskly with a bit more warm water.  This should start the emulsification process again.  You can then begin to add the melted butter, drop by drop, into the rescued egg, whisking as before.  Keep going until you use all or nearly all the butter, keeping a close eye on the heat and on any tendency to become oily again.  Stop before adding all the butter should this appear to be happening again.  You can strain out any remaining bits of curdled egg.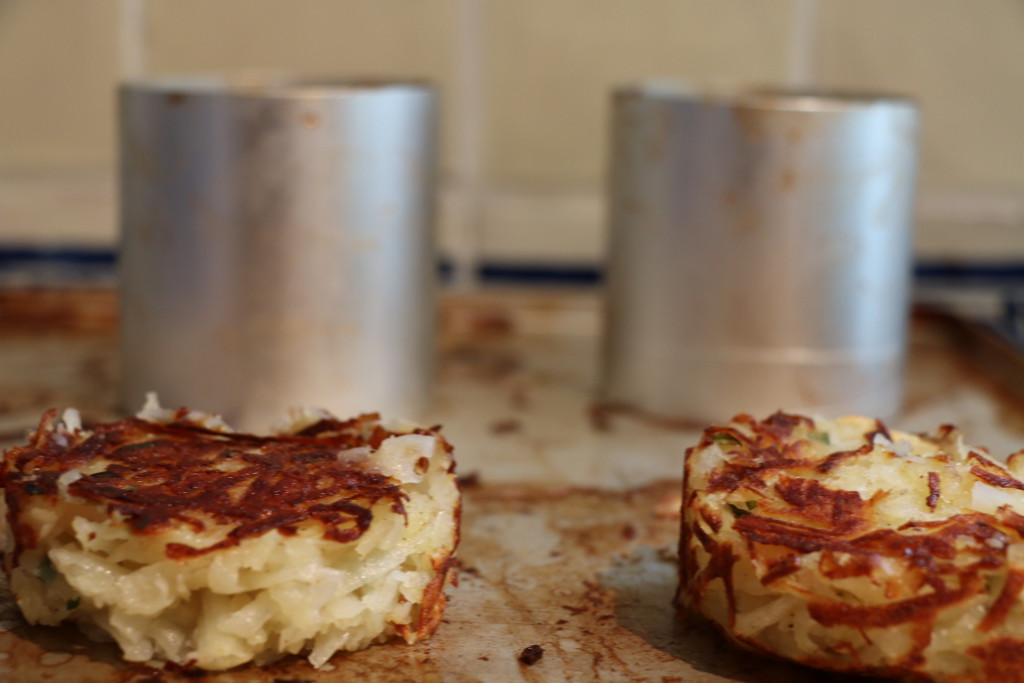 Links:
Felicity Cloake, "How to cook the perfect rosti" (13 October 2011).