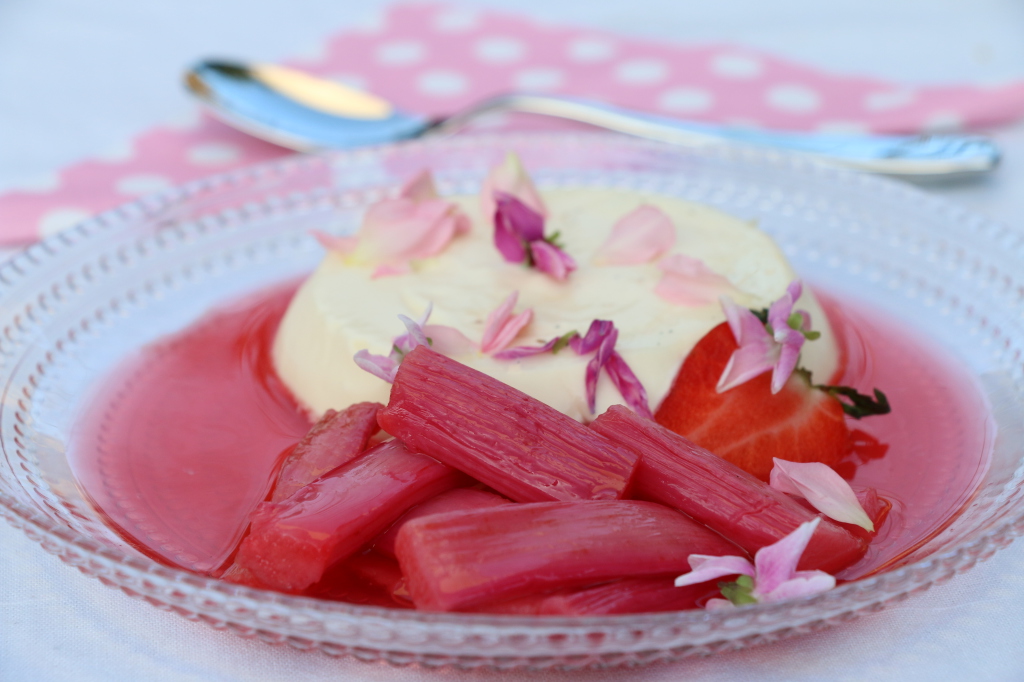 Our colder than usual March here in East Anglia was good for primroses and daffodils, but the rhubarb on my village allotment used it as an excuse to tarry in hibernation.  Where I would normally be harvesting the first stalks by now, I turn in impatience to some of the famous forced rhubarb from Yorkshire's rhubarb triangle, grown in warm, dark "caves", its stalks paler pink and more slender than the ones I grow exposed to the elements.
This Yorkshire rhubarb is renowned for being tender and delicate, ready just as the thought of spring begins to take hold in our hopes and before its more robust cousins grown in the open have begun to unfurl crinkled fan-like leaves from their plump crowns.  The forced variety is harvested by candlelight to prevent the stalks from absorbing light and becoming tough.  Blanching deprives the plant of the energy to keep producing, so forced rhubarb is a luxury, much like honeycomb – you harvest the "infrastructure", so have to start again… I can't help but think how difficult it must be for human eyes to pull all those stalks from the crowns fast enough in the dark for commercial harvest (never mind backs). Perhaps it suits night owls?
I think of all this as I scrub my dainty stalks, neatly trimmed of leaves for the shops. I wonder who gathered it, who drove it here, bringing me this little bit of Yorkshire? Who plants, and replants, all those crowns?
I recently heard a poignant story from a Yorkshire friend who regularly sees "wild" rhubarb growing all over the countryside on long walks into remote hills and dales.  Rhubarb, he tells me, is such a long-lived plant that its progeny have continued to thrive and reproduce, outliving the original human settlements where it once was a staple in country peoples' gardens.  If one looks closely in such spots, it appears, one may discover the ruins of a human dwelling, long lost to time, alongside the feral stands of leaf and stalk planted long ago by a cottage dweller.  I never knew…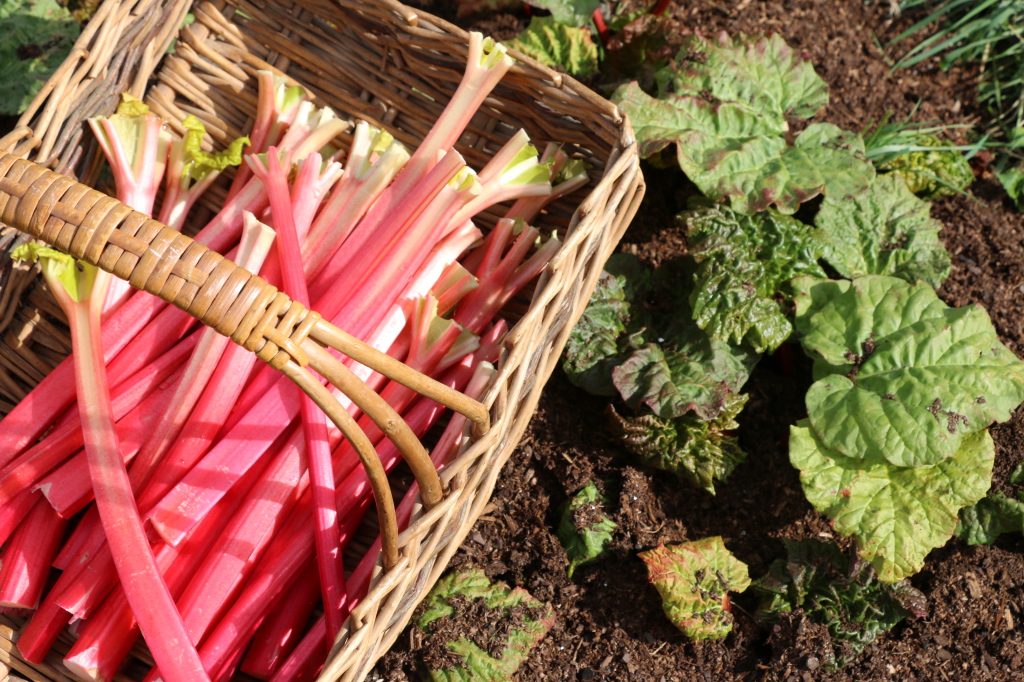 I do know my rhubarb is a forgiving thing, surviving the years when I've shamefully neglected my plot, and thriving in the years when I've manured and watered it. One plant, in the bumper years, can keep us going for two months, more or less, until the stalks become tough enough to ignore.
I never fail to appreciate the wonder of being able to grow a plant I knew first in English storybooks as a child. My first exposure to rhubarb was through the illustrations in Beatrix Potter's Peter Rabbit. I have no recollection of ever seeing the real thing before moving to England as an adult, with the exception of something so green and harsh with oxalic acid that when my Texas grandmother made a pie of it for my grandfather, who was said to love this exotic thing called rhubarb, no one else would eat it.  I recall feeling sure that it wasn't what he had in mind, that the dessicated stems my well-intentioned Grandmother found in a supermarket wouldn't measure up to the farm-grown rhubarb he'd had as a boy in upstate New York — and it probably didn't.  But who knows, maybe he did love that stringy green pie anyway, as an echo of the past, and something made for him, with love.
When I visited Beatrix Potter's famous Hill Top home in Cumbria with my sister, Amy, we saw to our delight a real stand of red and pink, leafy rhubarb growing in a little plot, complete with spade thrust into the earth at the same jaunty angle as the Peter Rabbit illustration. I wonder who cares for that specimen with such an eye to the book? Knowing what I now know about the longevity of rhubarb, I could almost fancy it being a descendant of the original that Peter Rabbit himself would have known! I hope whoever keeps it going for the pleasure of those like me gets as much from it as we did. I hope they harvest it for delicious pies and crumbles and compotes.
The first stalks are always special. My favourite way with rhubarb early in the season when it is most delicate, is simply to poach it in the oven until just soft but not mushy, with a little honey, by preference, or sugar, and to serve it au naturel.
The other way I love to serve it when young and delicate – and this is perfect for the forced variety – is with a vanilla panna cotta and a few strawberries. The cream of the panna cotta works beautifully when strawberries are included. Strawberries add extra colour, too, and sweetness. I use either strawberries frozen from the garden and add them directly from the freezer to bake with the rhubarb and some sugar; or fresh strawberries added to the still-warm juices of the rhubarb once it is cooked.  I like the ratio of 4 parts rhubarb to 1 part strawberry, but there are no rules to this, and you can please yourself.
As the season progresses and we can count on a steady supply, there are crumbles and pies and more varied compotes. When we get to the crumble, I switch to custard. And when it's time for the pie, out comes the vanilla ice cream. When we're eating rhubarb compotes twice a week or more, I sometimes use Demerara sugar instead of white, and add a little grated ginger or preserved ginger syrup, or a cube of frozen Seville orange juice I've saved from marmalade making for just that purpose. I also freeze a bit of rhubarb in the early weeks, before it gets too strong, so we can enjoy it in the depths of winter. Rhubarb tends to disintegrate more easily from frozen, but it's still very good as long as the stalks were tender when they went into the freezer.
When we have an outright glut, there is rhubarb jam, rhubarb curd, and juice for drinks and jellies. The juices can go in the freezer for late-summer lemonades and refreshing shrubs.
There is also a loaf of rhubarb tea bread, from the upstate New York family, and a rhubarb version of the classic upside-down cake, delicious when still warm from the oven.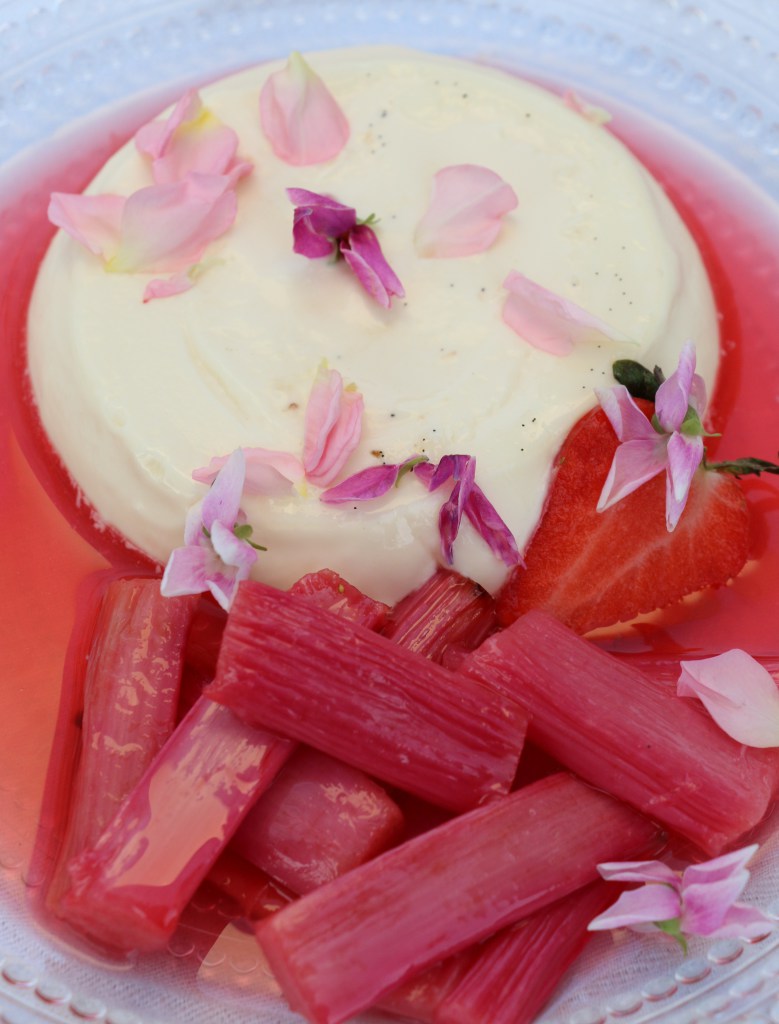 Recipes
To cook rhubarb for a compote:
My preferred method is to slice it and bake it gently in the oven, at 165 C (325F), so it is less likely to boil furiously to mush like it can on the stovetop.  It takes about 30-35 minutes, and you want it soft, but still intact.
[One pound of rhubarb, or 454 grams, will yield roughly 4 cups sliced, enough to serve 4-6.  For this amount of rhubarb, I generally use 5-6 tablespoons of sugar (about 70 g or thereabouts), or about 2 tablespoons honey.  Start with less sweetening, taste 20 minutes into the poaching, and add more if needs be.  The tartness of the rhubarb can depend on variety, its ripeness, and how far into the season it is.]
Slice rhubarb into chunky slices or long thinner ones, trying to keep the pieces of unform size and thickness. Place in an oven-safe dish or casserole.
Add enough water or orange juice to cover the bottom of the dish to a depth of about 1 cm (just less than half an inch).  Seville orange juice is lovely if you have frozen any; dilute with half water.  Blood oranges and navels are delicious, too, in which case you'll probably need the juice of 2 or 3 fruits for a pound of rhubarb.
Sweeten with either honey, white sugar, or Demerara sugar (or a mix). You'll need approximately one-sixth the weight of your rhubarb in sugar, or a little less than half that in honey.
If you like, add a few frozen strawberries (from frozen), to the raw rhubarb; or if using fresh strawberries, add them sliced after the rhubarb is cooked and let them soften slightly in the hot juices.*
Cover with foil or some crumpled, moistened parchment paper and bake in the oven until tender, but still intact, for about 20-30 minutes. Check with a skewer after 20 minutes.
Serve warm, room temperature or chilled, either plain, with custard or ice cream, or with the vanilla panna cotta below.
*As an alternative to strawberries, you could add a little fresh ginger, grated or in slices that can be picked around; or some preserved ginger syrup and one or two grated knobs of preserved ginger.
Vanilla Panna Cotta
Adapted from Alice Waters' The Art of Simple Food
I love to serve this creamy dessert with a variety of fruits; at this time of year it's rhubarb and strawberries.
The trick with panna cotta is to use just enough gelatin to set the cream (particularly if you intend to unmould it), but no more, as otherwise it can be unpleasantly stiff and rubbery.
The other key is not to boil the cream, but just bring it to under the boil so it doesn't become grainy.
A whole vanilla bean, cut lengthways and scraped of its seeds, and then added with the seeds to the cream to infuse, adds wonderful flavour.
Makes 8 servings
Ingredients
3 tablespoons cold water (*or 1 tablespoon vanilla extract and 2 tablespoons water if not using the vanilla bean)
2 ½ teaspoons, or 7 ½ g, powdered gelatin (this is just over half a packet); (for US cooks, use one .25 ounce package)
58 g caster sugar (1/4 cup plus 2 teaspoons)
1 whole vanilla bean (*or 1 tablespoon vanilla extract used with water to dissolve the gelatin
250 ml (1 cup) whole milk
750 ml (3 cups) heavy cream
Directions
Dissolve the gelatin by sprinkling it onto the cold water (or mixture of water and vanilla extract) in a small cup. Leave to dissolve while proceeding.
Lightly oil ramekins with a tasteless vegetable oil if you intend to unmould the panna cotta. You can also use shallow bowls for a pretty presentation that requires no unmoulding; in this case, oiling is not necessary.
Gently heat the cream and milk together with the vanilla pod, after scraping it of its beans and adding them to the mixture. Bring it to just under the boil; don't allow it to actually reach a boil. Remove from the heat.
Pour about one cup of the hot milk over the softened gelatine, stirring to dissolve completely, and then pour that over the rest of the milk/cream/vanilla bean mixture and leave to infuse about 15-20 minutes while the cream cools to a little above room temperature.
Remove the vanilla bean, squeezing to remove all the flavour, and pour the cream into the oiled ramekins or bowls. (Don't strain the mixture as you'll leave behind the vanilla seeds).
Cover and chill the panna cottas for several hours, or until the next day.
To unmould, immerse each ramekin for about 20 seconds into hot water, being careful not to get water into the panna cottas. Gently touch the surface and give it a little shake to loosen them and undo the airlock keeping the creams in their moulds. Turn the ramekins upside down onto your serving dishes and give a few more shakes to release the panna cotta from the mould. If necessary, turn it back upright again and run a sharp knife all around the inside edges; invert again, while again giving a gentle shake. They should come out intact with some wobble.
Surround with the rhubarb and strawberry compote and decorate with edible flowers if you wish. (If serving in bowls, spoon the compote on top of the panna cotta and strew with flowers).
Reference: Alice Waters' The Art of Simple Food. Clarkson Potter /Publishers, 2007.