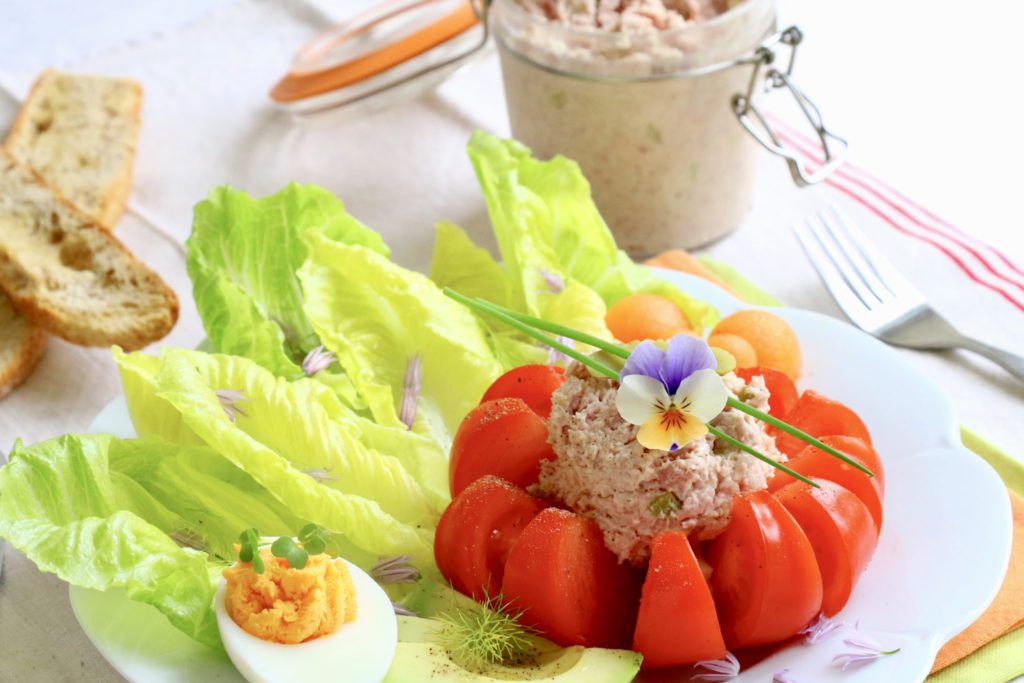 This may be England, but it's as hot here today as it ever got in a South Jersey summer in the days before air-conditioning.  On days when it was too hot to labour in the kitchen, my mother used to make a delicious ham filling for tomatoes, picked from the fields in front of our house in rural Mickleton.  I can still hear the whirring of the clunky old fan as she whipped up this simple but special salad that always cooled us down and cheered us up.  The combination of sweet, salty ham and a gorgeously ripe summer tomato is hard to beat.
Serve it with some salad and ripe melon – a lovely change from prosciutto and melon – or with peaches, nectarines or apricots.  The ham spread is also great as filling for closed sandwiches, and as a shortcut 'potted ham' for picnics – pack it into a wide-mouth jar for easy transport and spread on crunchy baguette crisps, which you can make up to three days ahead in the coolest part of the day.
Serves 4-6
Ingredients:
450g (1 pound) lean cooked ham that is free of all fat and gristle (cleaned weight)
130-150ml mayonnaise* (about ½ to ¾ cup, or 4½ to 5½ ounces)
2 tablespoons finely chopped gherkin (or pickle relish)
2 tablespoons finely chopped celery
1 tablespoon Dijon mustard
4-6 ripe, large beefsteak-type tomatoes
Sea salt and freshly ground pepper
Ripe melon, sliced, cubed or scooped into balls
Any other salad fixings and garnish you like: lettuce, avocado, devilled egg, chives/chive flowers…
Directions:
Chop the cleaned ham in a food processor, or by hand, to a medium-fine texture. Transfer to a medium-large bowl. Starting with the smaller amount of mayonnaise, mix it by hand into the chopped ham, along with the mustard, gherkin (or pickle relish) and celery.  Add the rest of the mayonnaise if you feel it needs it.  Aim for a spreadable consistency, but not too loose.  Check for seasoning and add a bit more mustard if needed.  Keep refrigerated until serving and eat within 2-3 days.
Core each tomato, and slice it lengthways into 8-12 wedges without cutting all the way through, so it stays intact.  Season well with salt and pepper.  Arrange each tomato on a plate with some salad and melon, and spoon some ham into the centre of each tomato (an ice-cream scoop is handy for this).
*Bought mayo is perfectly fine, but if you want to make your own, here's a wonderful and very easy recipe for homemade mayonnaise — just omit the herbs in this case.
 Baguette crisps
1 day-old baguette
olive oil to sprinkle
1 garlic clove, peeled and left whole
Cut the baguette into thirds crosswise.  Slice each third into 3 or 4 long slices.  Sprinkle one side of each slice lightly with olive oil. Bake on a tray at 180C/gas mark 4/350F until lightly browned on the edges and completely crisp, about 10-15 minutes. While still warm, lightly rub each crisp with the raw garlic clove (one light swipe in each direction; you won't use it all). Cool completely before packing.  Can be stored airtight for about 3 days. Crisp in a medium oven for 5 minutes if they get a little stale.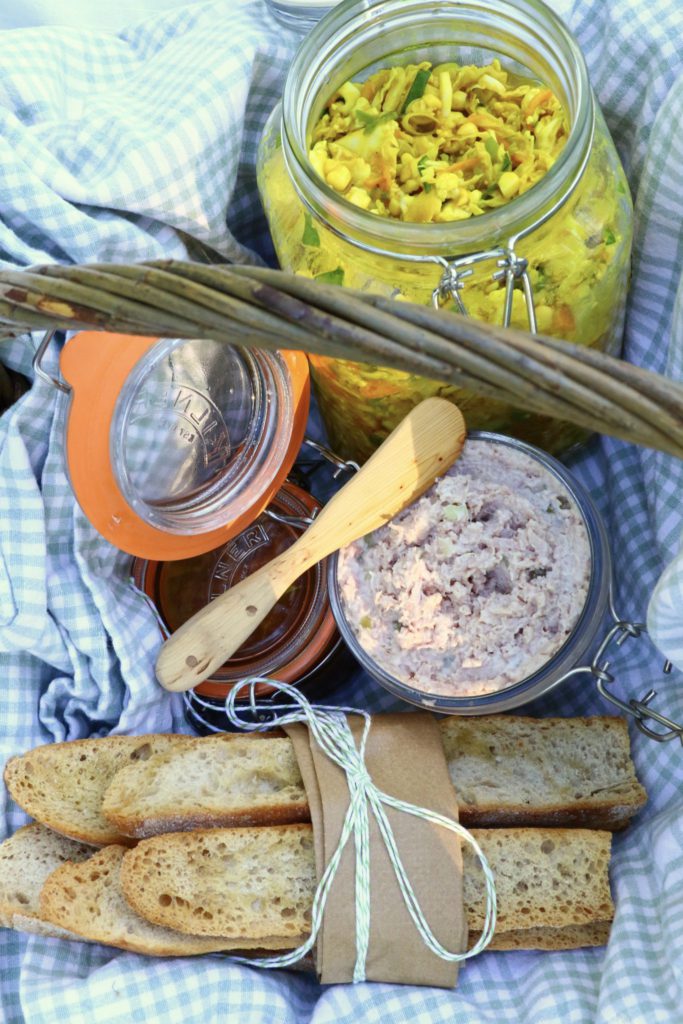 This ham spread makes a good picnic centrepiece with the baguette crisps and your favourite piccalilli or chutney. It also makes a great filling for sandwiches, including dainty tea sandwiches.
Read more about the tomato — its rise, fall and resurrection.