My English country garden is more abundant with the native, pale yellow primrose this year than I have ever known it.  Suddenly the insignificant volunteer seedlings I half-remember seeing in unpromising places have plumped into blooming clumps that demand attention, tenacious of life. This year's lingering cold is keeping them fresher than I've ever seen them, too, and more pristine. We've had just enough rain to keep them alert without blemishing the delicate petals, and they are impervious to the March winds that are buffeting the daffodils. Their delicate shades make the most charming company for the larger, brighter flowers, toning down the palette of our cottage garden into an early spring softness.  I feel I'm living in a pastoral dream this brief moment, however long it will last…
This preciously subtle wildflower, once so much more common, was also commonly used, as well as celebrated for its natural charm. There are countless stories in folklore of its associations with magic: brush them on your eyelids and you will see fairies, eat them and you will become invisible as a fairy, knock on the door of fairyland with a posy of primroses and you may enter…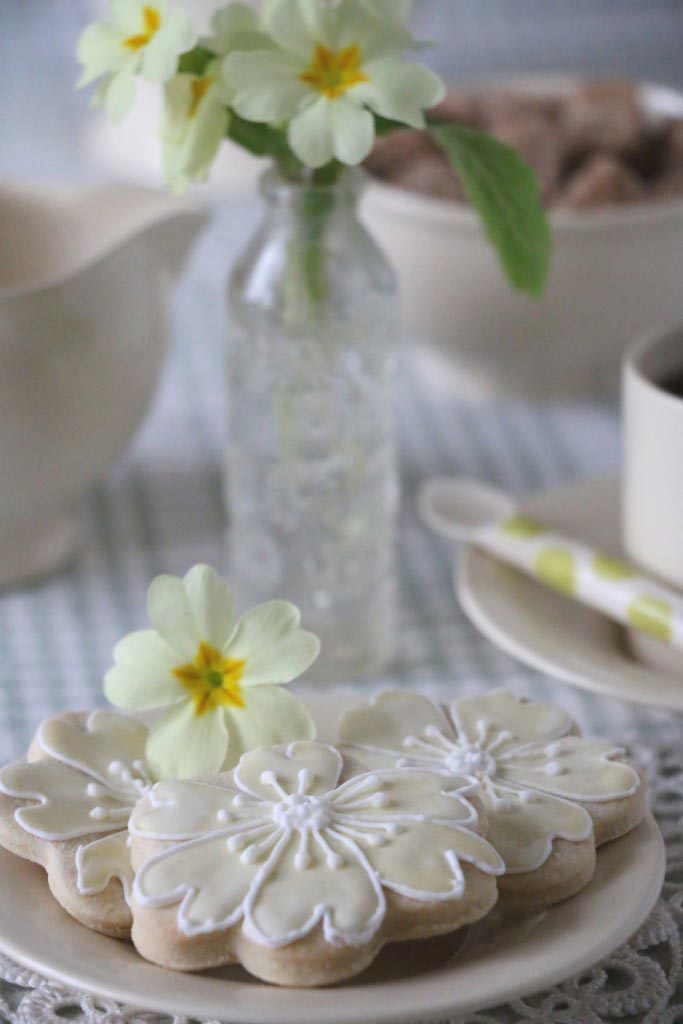 According to Pliny, Culpeper and modern herbalists, the primrose once had an important place in the treatment of arthritis, "nervousness", wounds, and other ills –"Primrose tea, drunk in the month of May, is famous for curing the phrensie…" (John Gerard writes in his Herbal, of 1597) — and an infusion of its flowers is still used as a treatment for insominia and headaches.
They are edible, this quintessential harbinger of spring, and have a delicate fragrance, most noticeable on a warm day. They taste of very little, but they have a bit of "chew" and softness that feels pleasingly gentle on the tongue, and they add prettiness to a salad or a cake or a pudding, as well as a bijou vase. They were used in ancient cookery too, the petals whole or dried and ground. The remarkable Mrs Maud Grieve mentions them in her 1931 tome, A Modern Herbal, as the chief ingredient in "Primrose Pottage" (a medieval term for a thick soup) and she also cites another old dish from the 17th century household herbal, A Plain Plantain, that was made with "rice, almonds, honey, saffron and ground primrose flowers." This could be cousin to today's Persian dishes that use rose petals with these other ingredients. What a reminder of the ingenuity and evolution that goes into what humans have put on their plates for millennia.
I've celebrated primroses in the kitchen three ways so far this year:  as a garnish for a classic crème renversée — egg custard with caramel; in a tender leaf salad with a delicate vinaigrette; and for whimsy, I've iced some buttery cookies to look like a primrose for my Easter tea table (within the limits of my cookie cutter, which gave it six petals instead of five. Please forgive the creative license, Mrs Grieve). One day, and hopefully this season, I'll try the primrose pottage.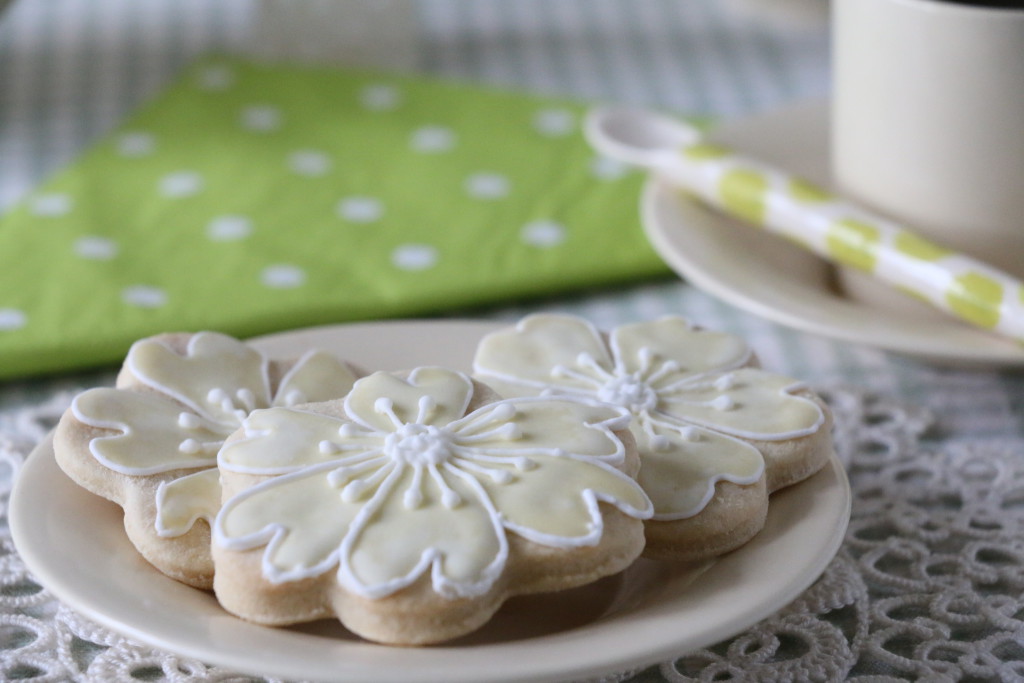 Reading:
Mrs Maud Grieve. A Modern Herbal: The Medicinal, Culinary, Cosmetic and Economic Properties, Cultivation and Folk-Lore of Herbs, Grasses, Fungi, Shrubs & Trees with Their Modern Scientific Uses; Volume II, 1931.
Susanna Avery, Russell George Alexander. S,. A Plain Plantain: country Wines, Dishes & Herbal Cures: From a 17th Century Household M.S. Receipt Book.  Domincis Press, 1922.
John Gerard, Herball, or Generall Historie of Plantes, first published 1597.
Crème renversée au caramel with primroses
Adapted from Julia Child
Serves 6-8
These unctuous custards are designed to be baked in individual ramekins that are first coated in liquid caramelised sugar and left a few minutes to set hard. They are then filled with the custard mixture and baked very gently in a bain-marie (water bath) at the unusually low temperature of 140C (300F). The best texture comes from gentle cooking, and being careful not to overcook.
You could also use one larger mould, but choose a shallow one that can be inverted and check carefully as it cooks, as it will need longer, depending on the shape you choose.
I sometimes add the Grand Marnier and kirsch, but it is also delicious with the vanilla bean alone. You can also make a fine caramel custard with vanilla extract if that's what you have.
Ingredients
For the caramel:
200 g (1 cup) caster sugar
¼ cup water
For the custard:
500 ml (2 cups) whole milk*
75 g (1/3 cup) caster sugar or vanilla sugar
1 vanilla bean or 1 teaspoon vanilla extract
3 whole eggs
3 egg yolks
1 tablespoon Grand Marnier
1 teaspoon kirsch
Heat the oven to 140C / 300 F.
1. First make the caramel for your ramekins: Combine the sugar and water in a small saucepan and let dissolve completely over medium-low heat. Wash down any crystals that form on the side with a wet pastry brush.
2. When the sugar has dissolved, raise the heat to medium and let it boil. At this point don't stir or it will crystallise instead of melting nicely. You want it to get to a nice amber colour, with a definite colour and smell of caramel, but without scorching, which will make it very bitter. Don't rush it by raising the heat, as this can cause uneven hot spots.
3. Watch it very carefully as it begins to turn colour: it burns faster than you can say "dammit" just at the point when you think it's perfect. You actually need to remove it from the heat just before you get to "perfect" as it will continue to cook and darken very quickly at that heat. You can also be guided by your nose. When it's perfectly amber it still smells sweet and caramel-like: when it's gone over it will smell scorched.
4. Once it's reached the right colour, act fast and pour the caramel carefully into your ramekins or other mould/s. Let it set hard while you make the custard mixture.
For the custard:
1. You'll save time in the oven if you heat the milk to just under a simmer (don't let it boil). This is also an opportunity to infuse the milk with a vanilla bean if you have one. Split the bean lengthways, and scrape out the seeds with the point of a knife and add the precious clump to the milk while it heats slowly, adding the pod itself for added flavour (you will remove it later). You can do this ahead and bring the heat of the milk up again when you are ready to proceed.
2. Add the sugar to the warm milk and stir well to dissolve.
3. Beat your eggs and egg yolks to loosen them well in a measuring pitcher or bowl; don't whisk hard as added air will cause bubbles, which are a bit of a nuisance on top of the custard. Very slowly add about half the hot milk to the beaten eggs to temper them. Then pour the eggs, now diluted with half the milk, back into the rest of the milk and give the mixture another good stir just to combine.
4. Add the Grand Marnier and kirsch if using, and/or the vanilla extract. Stir to mix.
5. Pour the custard into the caramel coated moulds and place them in a baking pan, which you will then fill with boiling water halfway the depth of the moulds.
6. Bake for 20-30 minutes, or even a little longer if you've started with colder milk. Check after 20 minutes. You are looking for a knife inserted in the centre to come out almost clean, but you want to catch it just at this stage without overcooking, to avoid spoiling the texture. Don't cook it long enough to puff or brown. You want it to set, but not colour much if at all, and for the top to remain flat.
7. Remove the ramekins carefully from the water bath (I find it easiest to use a spatula under one mould at a time). Let cool to room temperature and then refrigerate for about 6 hours.
8. Unmould onto dessert plates by running a knife around the edges first, and then gently shaking the custard upside down over the plate, letting gravity help you. The caramel will spill out into a nice sauce on top and down the sides of the custard. Don't be surprised if some of the caramel remains in the mould .  The longer it sits, the more it will dissolve. I increased the amount of caramel for this recipe to ensure there's a generous amount.   I would recommend keeping the plates smallish, so the sauce can gather impressively around the custards.
This can be made the day ahead.
(When it comes to washing up the moulds, I've found the lingering caramel responds best to  a long soak in hot water.)
*I have made this recipe with half cream and half milk, but I have found the texture to be smoother when I use all milk. The cream can be so rich the butter fat separates and leaves a slightly grainy texture, which is accentuated by cold.