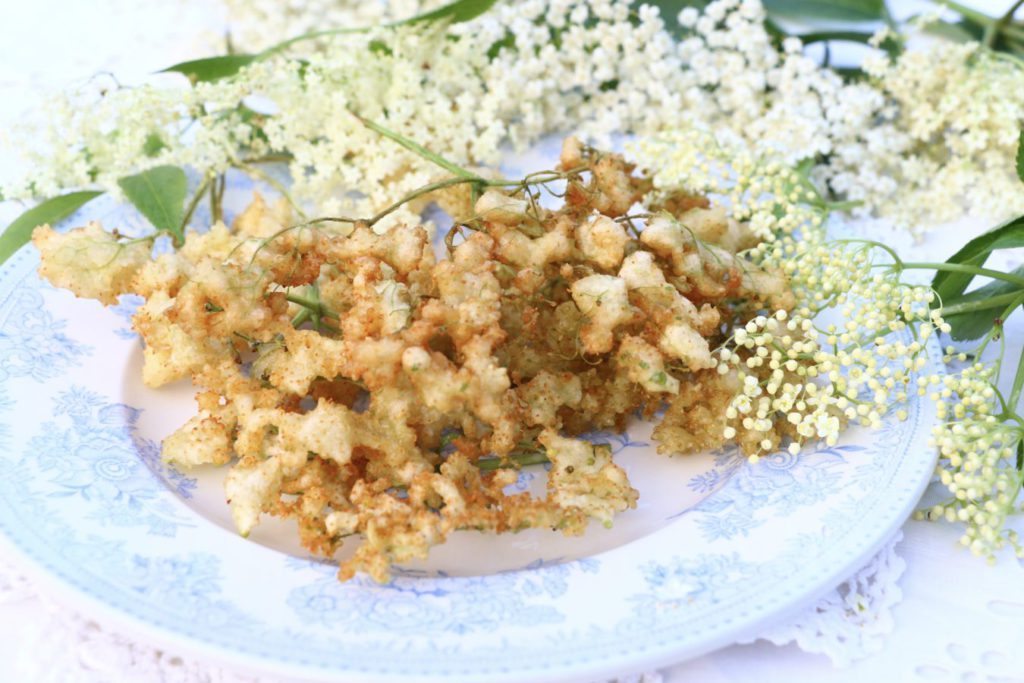 May is the best-behaved month in the British calendar, and this year it has been especially generous with cloudless blue skies:  quite dangerously so, as we risk growing accustomed to them.  The ubiquitous Sambucus nigra  is responding with a fine show, its lacy plates unspoiled (so far) by rain and wind.  The only downside to the prolonged sunshine is that the elderflower season may race by; so gather ye blossom while ye may for the rituals of making cordial, 'champagne', a lemon drizzle cake with elderflower, or these charming countryside fritters.
These floral fries are quintessentially British, but in the synchronous ways of our small world, I first tasted them in a beautiful pastoral setting in Le Marche, Italy, on a visit to a small family apiary and vineyard outside of Fano.  Signora Pace fried the acacia and elder flowers that grew in such abundance there, and served them under a buttercup-yellow awning to our utter delight.
"What do they taste of?", you ask.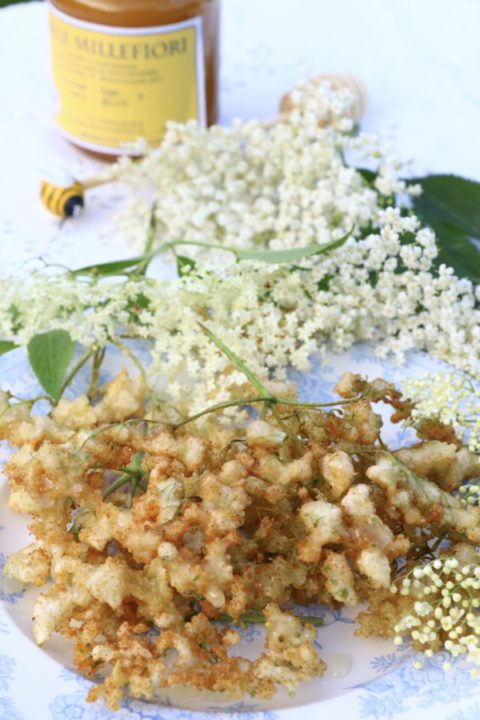 The Italian blossoms were given a savoury treatment and were surprisingly substantial for all their romantic associations.  They weren't particularly identifiable as elderflower, but they were delicious.  Their floral freshness gave them a clean taste, and they had an appealing contrast of textures — a herbaceous chew, and a softish near-crunch made delicate by the wispiness of that frothy, floral lace.  Ma Pace served them room-temperature, arranged on a large platter as part of our alfresco luncheon.  They were fritter-like, almost a vegetable pancake that could take on other flavours like chive, or spring onion, or wild garlic, or even some parmesan or ricotta.  The flowers were treated in that rural Italian context as a valued seasonal medium: plentiful, free to those prepared to gather them, a gift of the land to be transformed with a little labour and resourcefulness to a much-anticipated treat for the table.
When I've recreated them at home with elderflowers foraged from the hedgerows of our Cambridgeshire village, I've mostly given them a sweeter treatment.  I use a fizzy elderflower-flavoured liquid in the batter (either elderflower pressé, 'champagne', or cordial diluted with sparkling or soda water); and finish with a syrupy drizzle of undiluted elderflower cordial, or honey.  These touches amplify the subtle scent and flavour of the elderblossom.  The fizz aerates the batter, and the addition of beaten egg whites lightens it further, for extra crispness as the fritters fry.  The result is a delicate, and I think, lovely finish to a seasonal repast — a treat with real country charm.
Both savoury and sweet treatments are special, illuminating how versatile this natural food is, useful in blossom-form for so many delights before its ripe berries take on their autumnal role in jams and jellies, and strong country wines.  Gathering the flowers is a ritual that marks the transition from spring to almost-summer, and one to indulge in on a dry, sunny day, when that unmistakeable scent tells you where the bushes thrive.
The point of these dainty fritters is probably to hold onto the beauty of the day, to experience that ritual of picking, and cooking, and eating something of the wild, something of the moment.  And people do remember the occasion of eating these — not only for their lovely taste, but for the association with nature and its ephemeral seasons:  connections we once took for granted and probably miss more than we realise.
If drizzled with honey or elderflower cordial, you may want a fork to serve them, but somehow we always end up eating these with our fingers; they invite being picked up by the stem and nibbled, as though we are still foraging.  I like that.
Fried elderblossom
Serves approximately 4
As a guideline for calculating quantities, this assumes 3-4 average-sized flowerheads per person.
Pick flowerheads on a dry day just as they are coming into flower and smell very fresh, with no sign of browning.  Look for them away from roads and above the reach of dogs.  Use the flowerheads as soon after picking as possible, and keep them in a cool, shady place, as they wilt quickly.  Remove all leaves, but retain some of the stem that attaches to each flowerhead, to serve as a convenient handle for frying and eating.
The fried blossom can be held briefly in a low oven while you fry, but they are best served straight away, crisp from the oil, with just a little rest on kitchen towel to drain off the excess.  They will soften as they sit, but still taste good at room temperature.
Use a fizzy, slightly sweet elderflower liquid for the batter; e.g., elderflower pressé or 'champagne'.  Or if you buy a bottle of elderflower cordial (or make your own), you can use it both for the batter and the finishing syrup to drizzle over the fried blossoms on serving.  Dilute the cordial for the batter to the strength you would drink, using carbonated soda water or sparkling mineral water; the fizz lightens the batter.
If you want to make savoury fritters, use plain soda water.
Ingredients:
12-16 elderflower heads
130g plain / all-purpose flour (1 level cup, sifted before measuring)
¼ teaspoon cooking salt
200ml (a generous ¾ cup) fizzy elderflower pressé or elderflower 'champagne' — or use concentrated elderflower cordial diluted to taste with carbonated soda water or sparkling mineral water
2 egg whites
vegetable oil for frying to a depth of about 3cm (a little over one inch);  1 litre (just over 1 quart) is enough for a 20cm (8-inch) saucepan
undiluted elderflower cordial, or pourable honey, to serve
Directions:
Check the flowerheads for insects, but don't wash them.  A gentle shake should do it.
Prepare the batter: put the flour and salt in a medium bowl, and stir in the fizzy elderflower liquid of your choice until the batter is lump-free.
Beat the egg whites until they hold soft peaks; gently fold them into the batter until no white clumps remain, and the batter is light and airy.  Don't overfold.
Pour the frying oil to a depth of about 3cm (just over 1 inch) into a sturdy saucepan — it should be about one-third up the sides of the pan.  Carefully heat the oil to 175C (350F), or until it begins to shimmer, but not smoke.
Dip the flowerheads one at a time into the batter, and coat well.  Shake off the excess batter, or (as I prefer to do) use your fingertips to gently squeeze off the excess so you have a uniform, light coating; the flowers should not clump together, but retain some separateness.
Holding the battered flowerhead by the stem, carefully drop it into the hot oil, where it should instantly expand back into its flowerhead shape.  Cook for about 2 minutes until golden on top and bottom, turning once if necessary with tongs or a slotted spoon.  You can fry a few flowerheads at a time, but keep them from overlapping so they don't stick to each other.  Make sure to keep the oil to temperature, as otherwise the batter will absorb too much of it.
Lay some kitchen towel onto a drying rack and let the flowerheads drain in a single layer as they come out of the oil.  Serve as soon as you've finished frying.  You can keep the fritters warm in a very low oven if you need to.
Serve on individual plates or a communal platter, and pass some pourable honey or undiluted elderflower cordial to drizzle over the fritters at the table.