An aura of the pleasant life of days gone by seems to pervade the cooking of Le Marche, still unspoilt by modern whims of international fantasy, still based on the produce of the sea, the hills and the mountains. " Anna Del Conte, The Gastronomy of Italy
We've just come back from an unforgettable slow food weekend in the Le Marche area of Italy, centred around the pleasant coastal town of Fano, 30 minutes from Ancona airport.  Le Marche (pronounced 'Leh MARK-eh') is a region still fairly undiscovered by tourists, occupying the shapeliest curve on the calf of Italy's boot, about two-thirds up the country's eastern coast (its inhabitants consider themselves Northern Italians). It borders Emilia Romagna to the north, Umbria to the west, and Abruzzo to the south, and kisses the Adriatic Sea. Its roads are quiet and its landscape varied: hilly inland, and with a coastline that ranges from flat beaches to dramatic cliffs. When we were there in early May it was cool enough not to break a sweat, and the countryside was lushly green and fragrant with acacia blossom.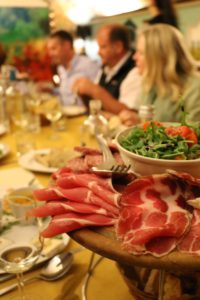 We went as part of a small group, and our three days in Fano and the surrounding countryside were colourful, convivial, generous and magical, with a varied programme of visits to remarkable artisanal producers, and a lot of sitting at long tables groaning with food of the kind we most like to eat.
This was the first time we've joined a tour (it's always seemed not our kind of thing); but this was a well-established trip organised by someone we trust, and we were in serious need of a getaway.  The very full itinerary over just two-and-a-half days (plus travel time) convinced us to give it a try, and we were rewarded by more than indulgent escapism (though that would have been enough). It enriched our lives to learn what we learned, meet the people we met — to spend time getting to know something of a place worth knowing, with someone who knows it well.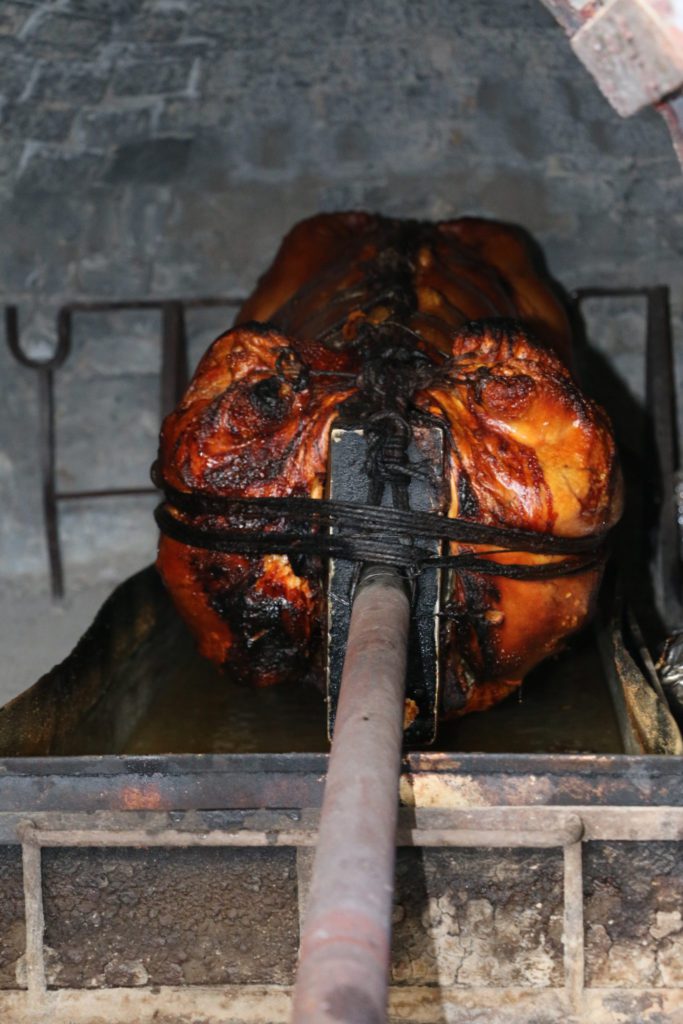 We had a horribly early start on a Thursday morning, but it meant that our two-hour flight transported us to Ancona early enough to make the most of the day.  Once organised with our transport, we stopped for a necessary coffee in the pretty seaside town of Senigalia, and were amazed again at the quality of caffeine one can procure in Italy for 80 cents.  Inside the caffeteria, locals leaned on a polished counter to partake of their mid-morning pick-me-ups, but we sun-starved Brits sat at the tables outdoors on the wide continental pavements, and took our first sips and deep breaths ….  Ah, we're here….
Rejuvenated, we carried on to our first proper stop, the one my companion and I had been anticipating through three days of pre-holiday fasting.  Porchetteria Patenta, just west of Pessaro, has been run by the same family for four generations.  Known for the best roast pork in the area, they are one of the few producers who still prepare their porchetta in the traditional way:  a 90-kilo cleaned pig carcass, freed of its backbone, head and feet, is stuffed with fennel and garlic, seasoned with salt and pepper, and wrapped tightly in willow around a hefty iron spit.  It's then slowly cooked overnight in the century-old wood-fired-oven to a juicy tenderness, and carved next day for people to enjoy at the modest tables on site, or to take away.
We relished our lunch of salami, prosciutto, the longed-for porchetta, breads baked in the same oven, and beakers of house-red, surrounded by old family photos in which we recognised our hosts' younger selves.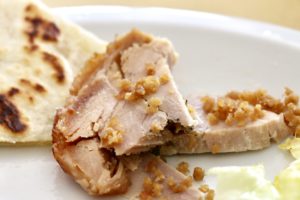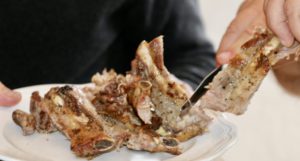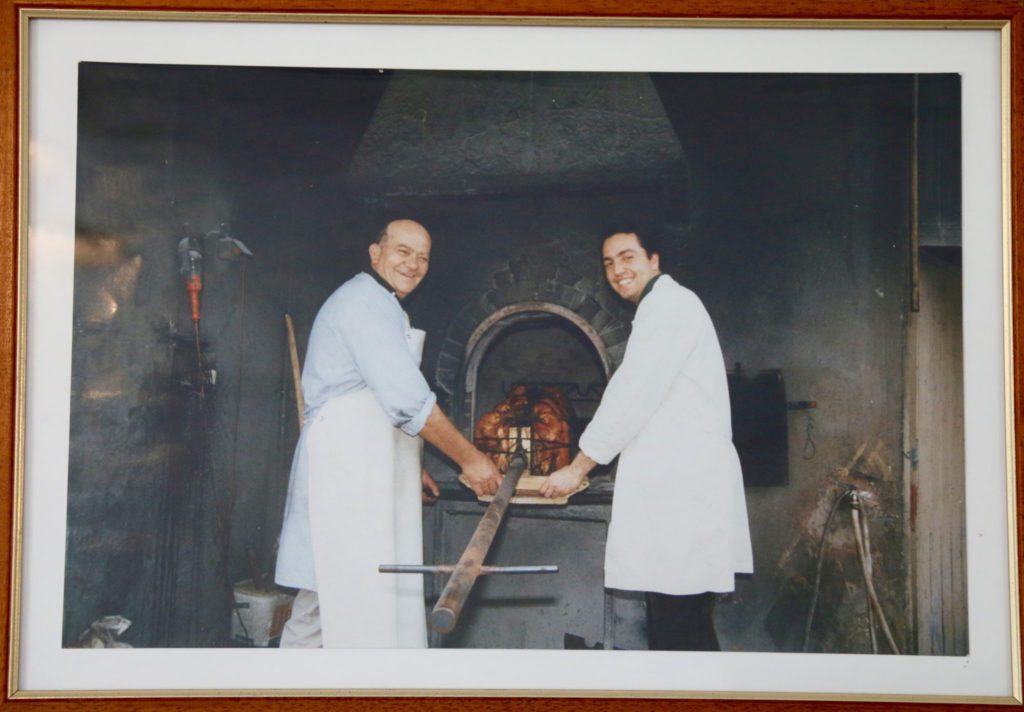 The older gent in the photo is Pieri Luigi, the original now-late owner of the Porchetteria Patenta, who developed the method still used today of slow-roasting the pig, wrapped in willow, in the cast-iron wood-burning oven in the yard behind the shop. Daughter Rosella and son-in-law Signore Cecchini (pictured right, in his younger days) now carry on the tradition, and showed us the process from oven-prep to table.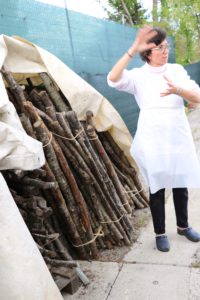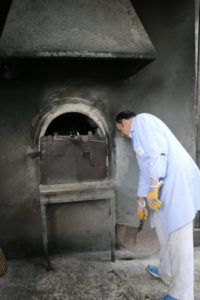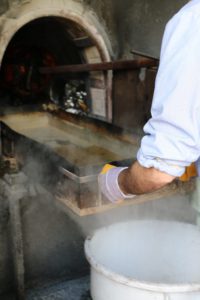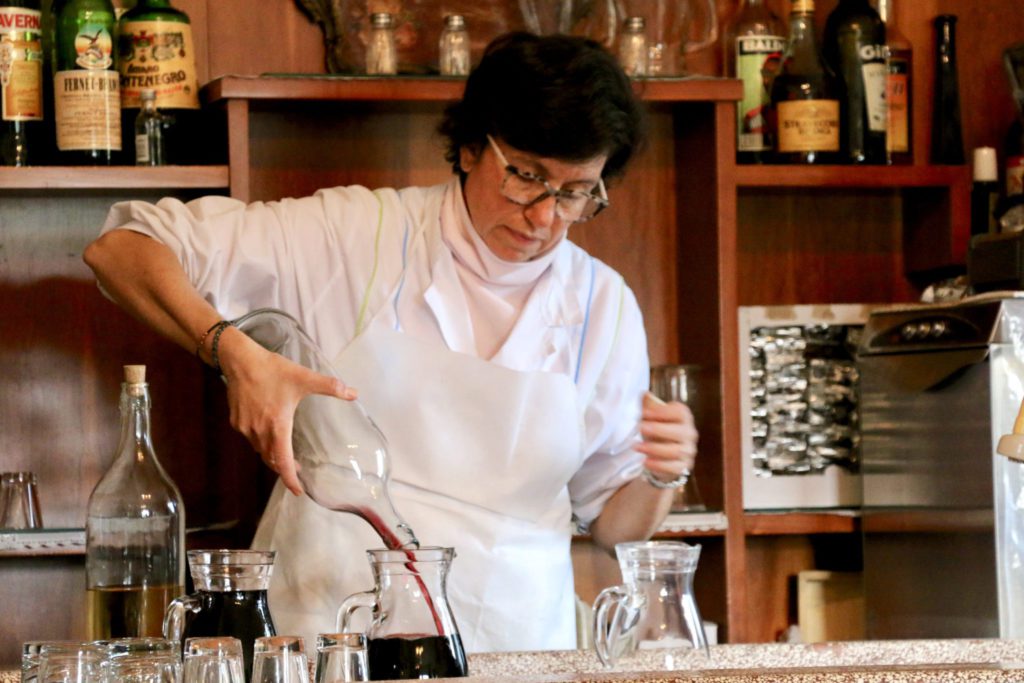 Rosella Cecchini pours our house wine and tells us the story of her family's business. Her grandfather, Pieri Luigi, born in 1902, started the porchetteria and a small-scale prosciutto production nearby, which Rosella and her husband now run to the same patented process (each prosciutto is stamped with the trademark of "PL Pieri Luigi").
The head and feet of the pig are cooked separately and used to make a kind of pork scratching crumb that is used as a table condiment, and is an essential ingredient in a local speciality bread called crescia coi graselli — a kind of focaccia, but crisper, as it's made with lard from the porchetta production instead of olive oil.  The porchetta and other house charcuterie were  exceptional, as we had expected, but the bread, using the rest of the animal, was a delightful surprise and one of the most delicious things we tasted on the trip.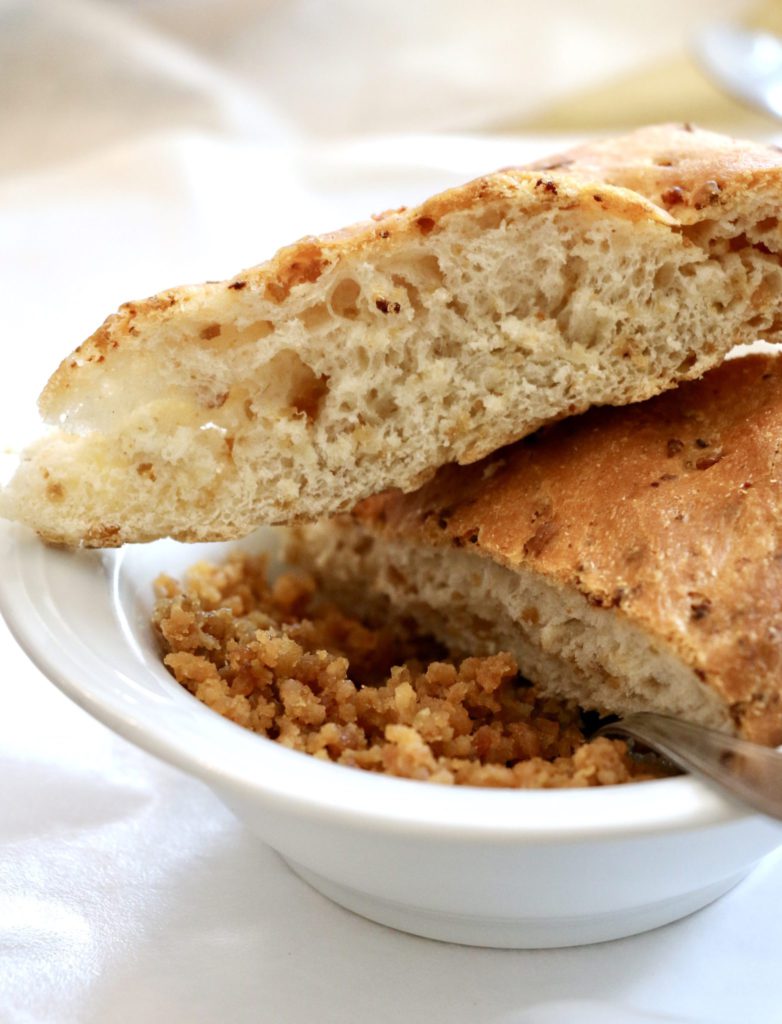 The Porchetteria Patenta is an unassuming building right on a B-road, and from the outside one would never guess it was a destination for which it is worth flying miles.  Once inside the facade, it's a charming step back in time: the oven outside in the yard with a stack of year-old wood nearby, the adjoining deli with its wall of sweet-smelling prosciutti made in the family's small unit just down the road, and the old-fashioned grocery with painted shelves, look like a quaint movie set.  We tasted a sense of timelessness here, and a deep respect for tradition.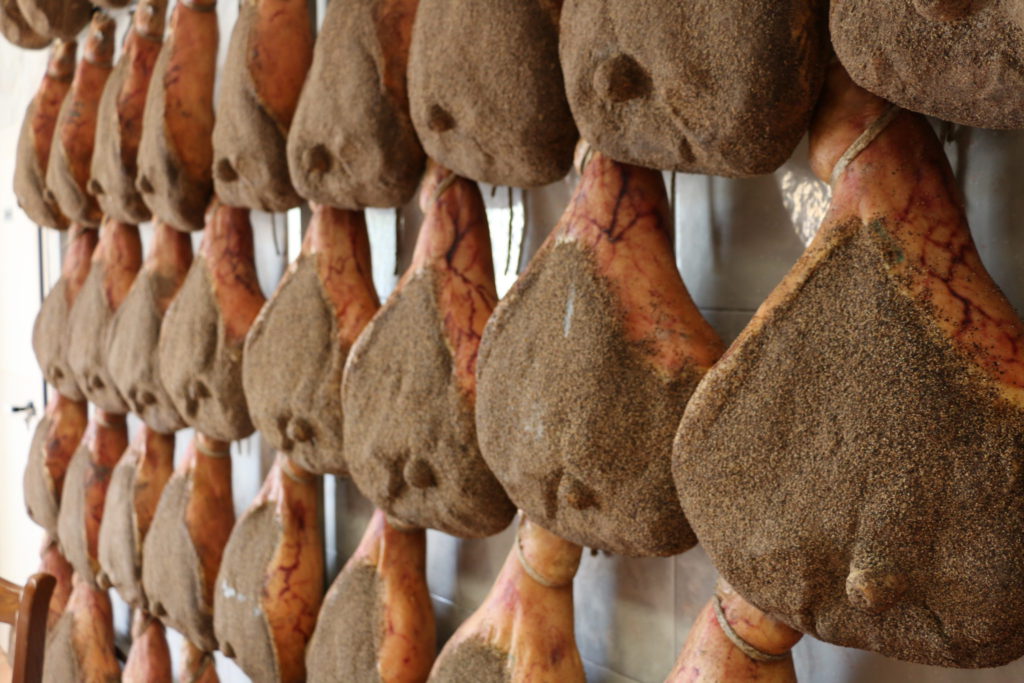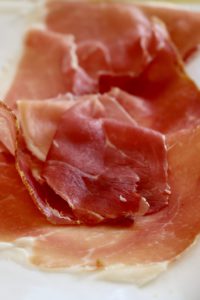 ◊ ◊ ◊ ◊ ◊ ◊ ◊ ◊ ◊ ◊ ◊ ◊ ◊ ◊ ◊ ◊ ◊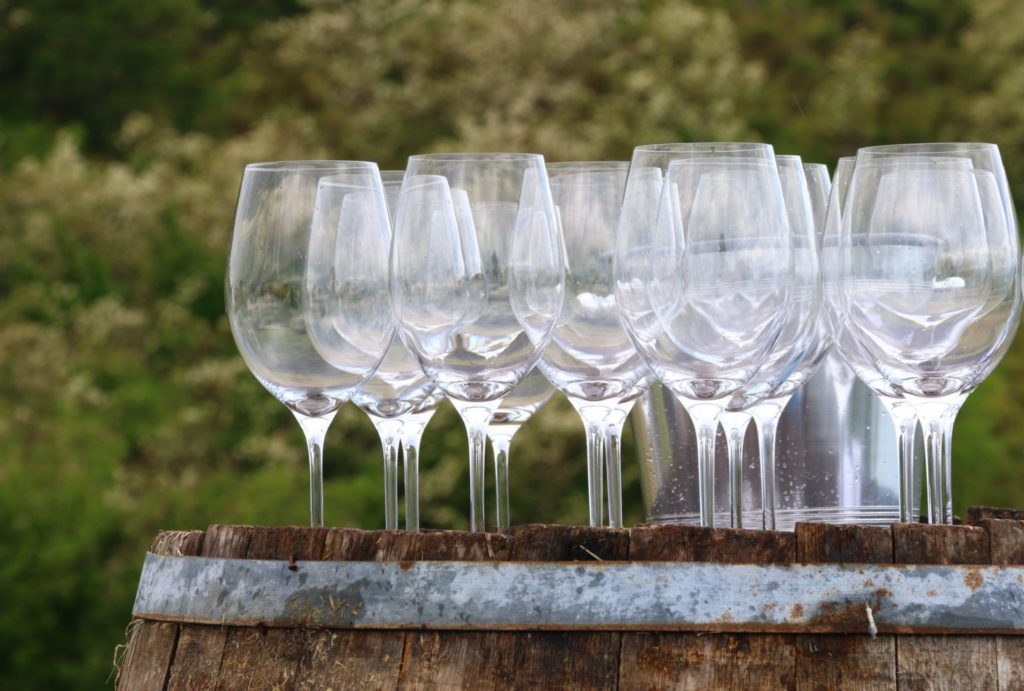 A beautiful drive through the foothills of the Apennine mountains then took us, full of porchetta, to the Mancini estate for a fine-wine-tasting on the cliffs of Focara, overlooking a turquoise sea, surrounded by wildflowers and vines in young leaf.  From a stunning landscape at the very north of Le Marche within the Natural Park of Mount San Bartolo, Luigi Mancini produces important wines from Pinot Noir grapes — a rarity in Italy, and a legacy from the days of Napoleonic occupation. Italy is normally too hot for this classic French grape and its soil too rocky, but the early-19th-century French administration took control of this cooler coastal area, with its unusual calcareous sandstone soil, to establish the grape of Burgundy.  Since 1861, five generations of the Mancini family have preserved it as it's adapted and evolved to become a local varietal.  So it is that Le Marche continues as the region of Italy that produces the best of this noble grape.
Signore Mancini grows other varieties as well: Sangiovese, Ancellotta, and Albanella, the local white grape exclusive to Pesaro.  His 30 hectares are mostly densely planted: 6,000 vines per hectare.  "The days of 1,000 per hectare are over", he says: "It's no longer viable to produce on this smaller scale".  He tells us, as we sit sipping from at least eight different bottles, that most Italian wines from the 1960s through the '80s were for "cheap calories", and had "confused identities" (with the exception of Piedmonte and Tuscany), unlike the French DOC wines of the time, or the luxury Italian-produced wines of today.
Most of these older vineyards are gone now, as most vineyards will last about 40 years — although the most precious can be renewed for a good sixty years. He says the best wines from his own vineyards come from the new vines:  "clones can be better".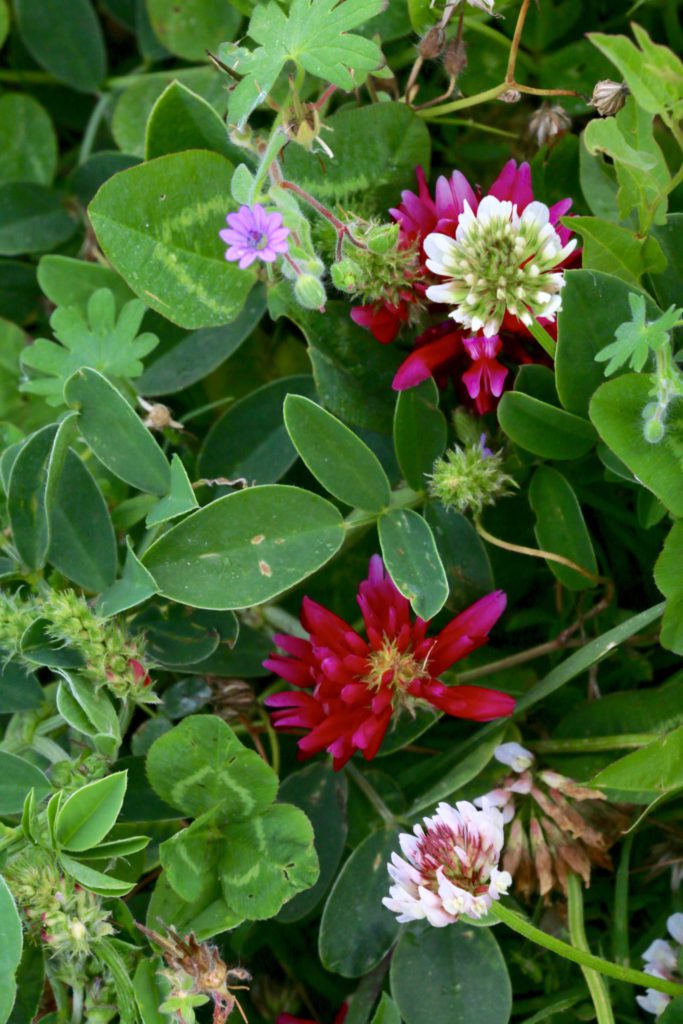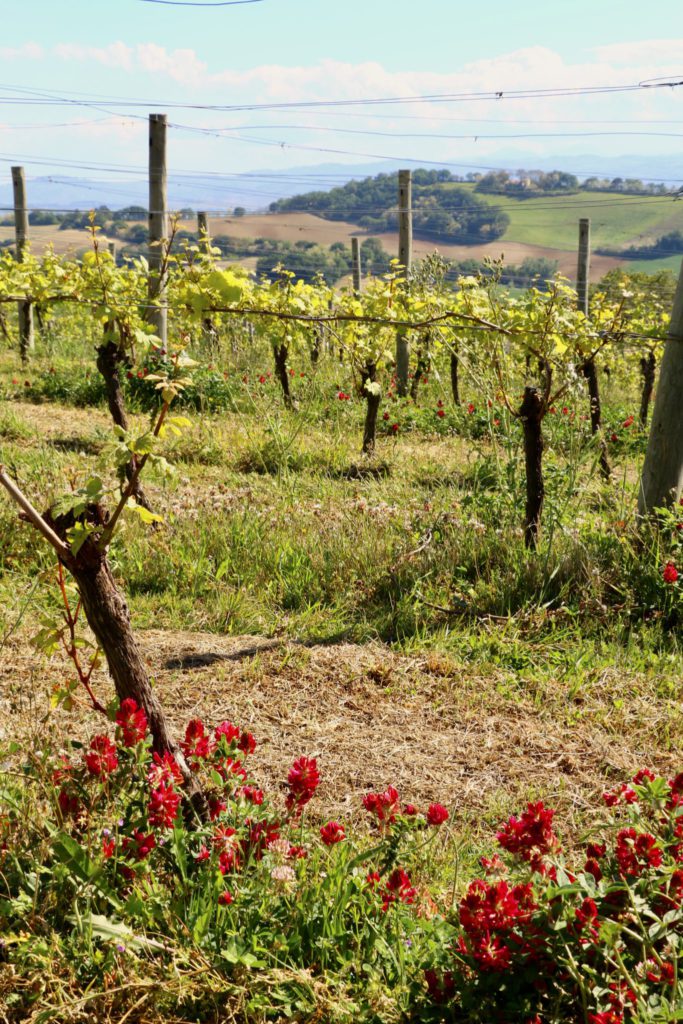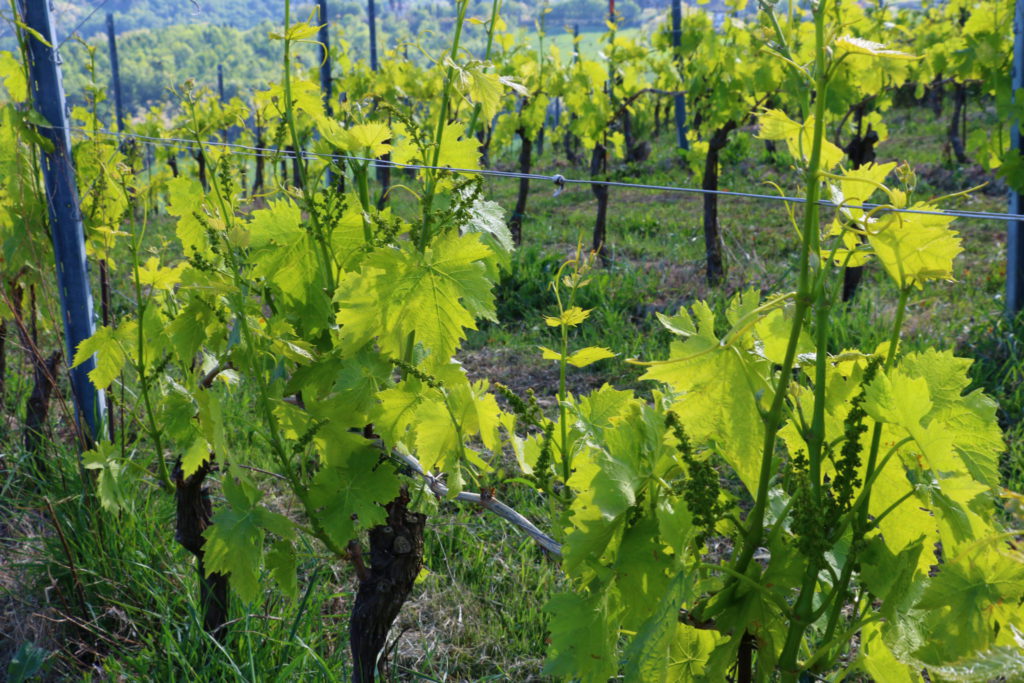 Signore Mancini honoured us by opening on this early May day the first bottle of sparkling from his vineyards.  It was nice to see the approval on his face at that first sip.  We unanimously agreed that it would have been judged a success, even had we not been sitting with a view to the sea, gentle sun at our backs.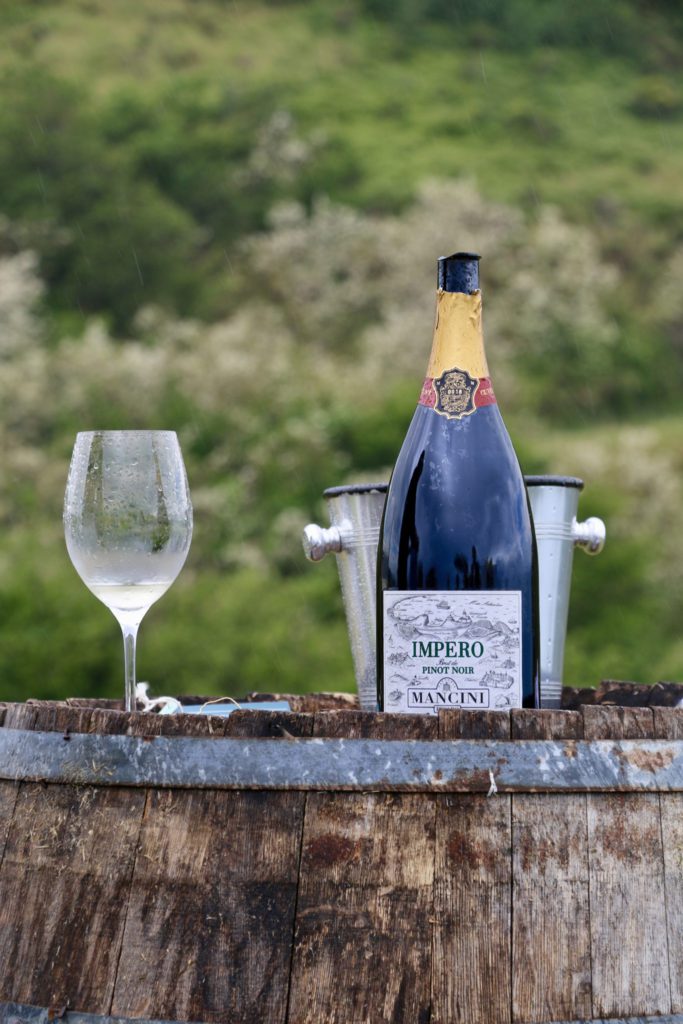 ◊ ◊ ◊ ◊ ◊ ◊ ◊ ◊ ◊ ◊ ◊ ◊ ◊ ◊ ◊ ◊ ◊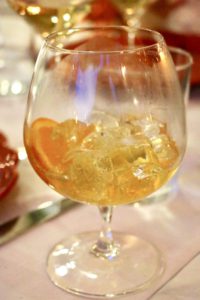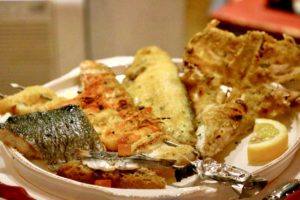 That evening, even after all that porchetta, we were treated to a mixed shoal of seafood fresh from the Adriatic, which we learned is quite different from the fish of the Mediterranean, a distinction in which local people take pride.  
Restaurant Cile's
 was charming — a mix of Scandi and Italian style.  The delightful menu included the best clam pasta dish we've ever had — it really did taste of the sea — and a delicious lemon panna cotta with a dusting of licorice, which we loved and are trying to duplicate at home. I'll share the recipe if I manage it.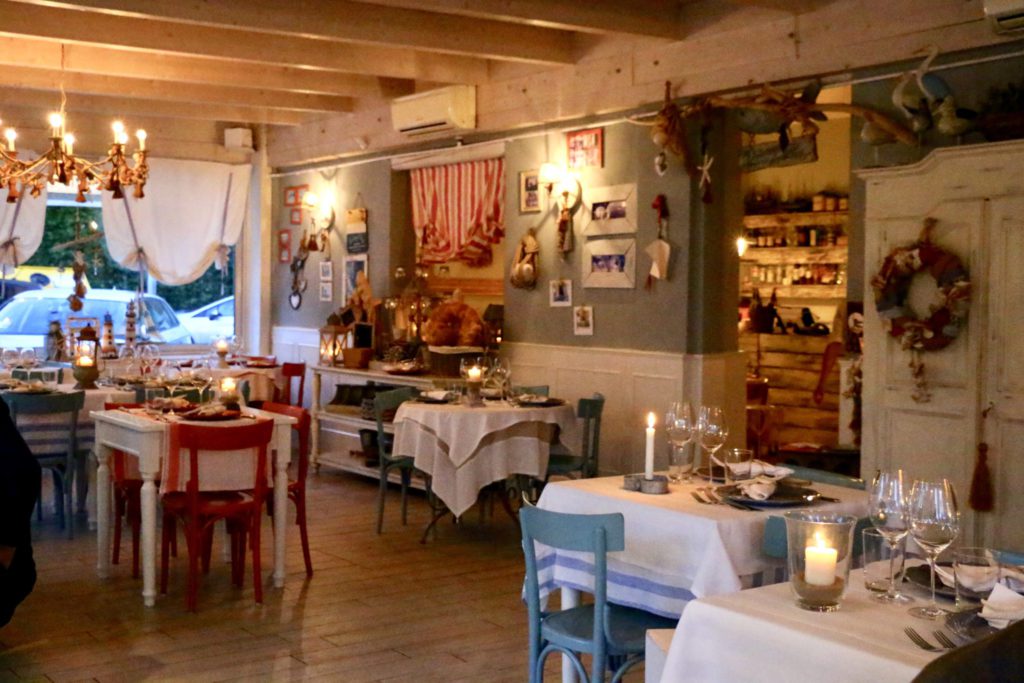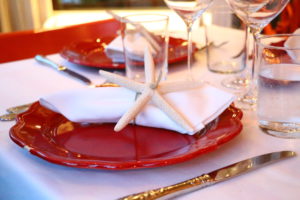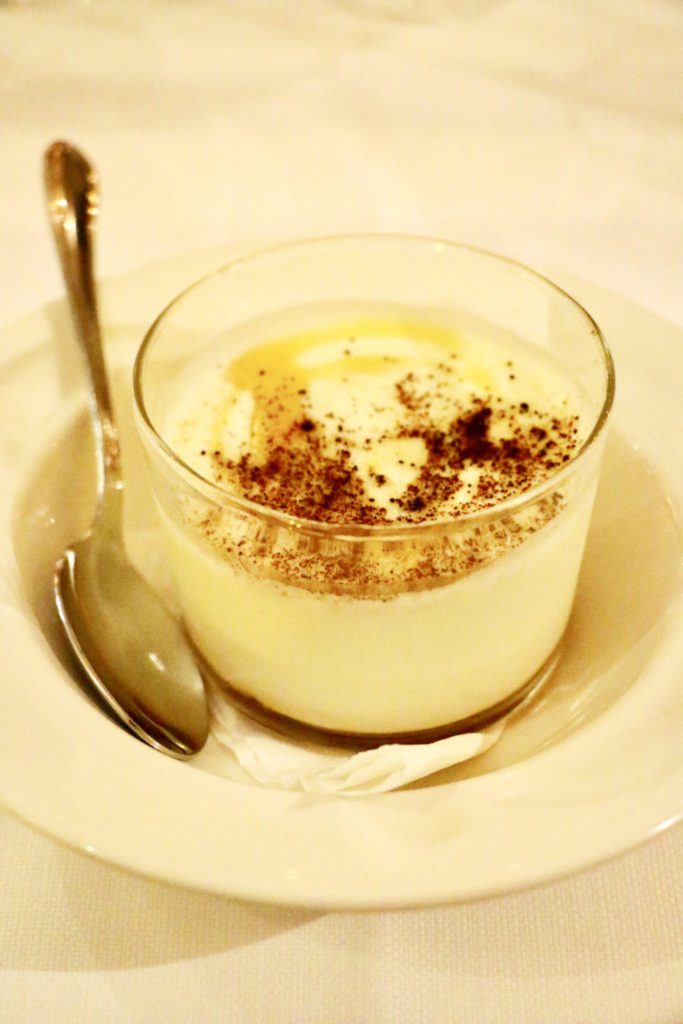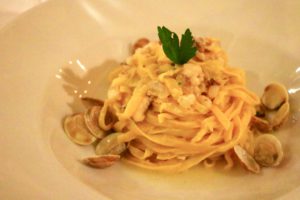 Closing our eyes that first night in a comfortable and characterful little apartment in one of Fano's
restored old palazzi,
with its balcony looking onto the local church and a garden full of citrus trees (and somewhat surreally, the neighbour's pet guinea pigs), we closed our eyes with visions of sun on a turquoise sea, not quite believing everything we had seen and tasted since leaving home that morning.
◊ ◊ ◊ ◊ ◊ ◊ ◊ ◊ ◊ ◊ ◊ ◊ ◊ ◊ ◊ ◊ ◊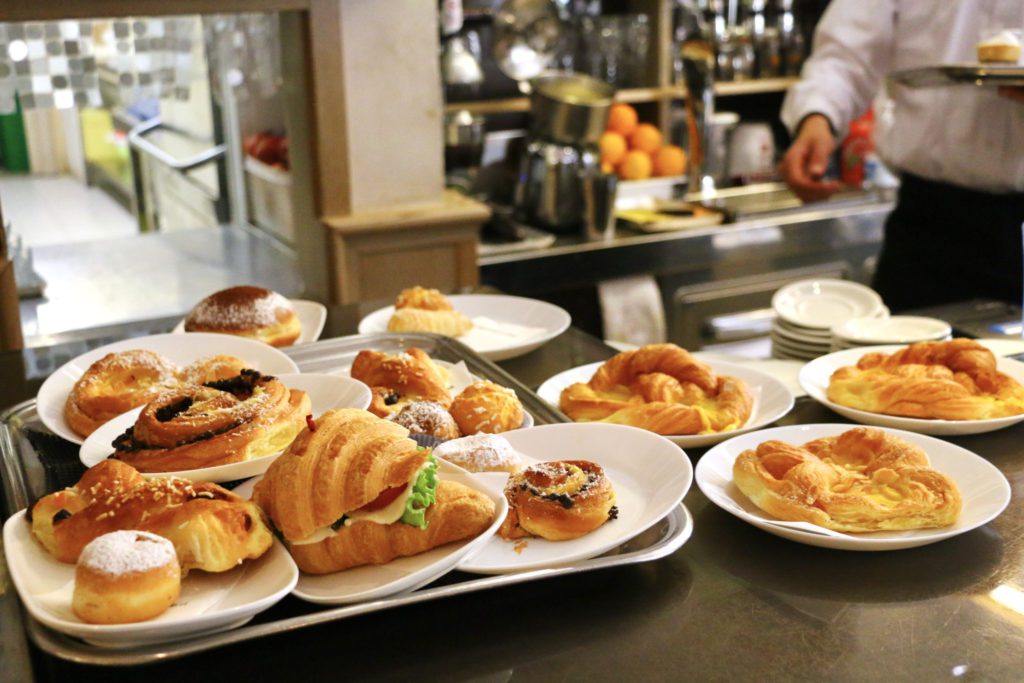 Day 2
Next day there were freshly squeezed orange spremuti, cappucini and excellent breakfast dolci from Caffè Centrale, to fortify us for a day of cookery demonstrations in Fano old town (my idea of a perfect holiday breakfast and a perfect day).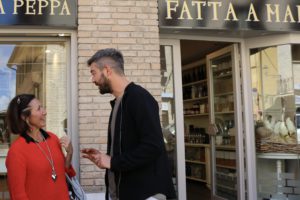 At Pasta dell Peppa, we were mesmerised by the rhythm of a master-artisan as she rolled pasta by hand with a long matarello in the window of the small shop that sells its fresh pasta to the public and supplies its own restaurant around the corner.  Luciana moved with such graceful economy, putting her whole body into it, like a dancer.  We watched with awe as, with one fluid movement she would gather the sheet of pasta around that long rolling pin, and use both hands to stretch the dough further along its length while also rolling it flat against the counter, so the pasta grew thinner and larger in graceful waves in mere moments, as seamlessly as the roll of the sea.  I will think of her the next time I roll my own pasta, and see if I can begin to capture something of that rhythm; but Luciana has been making pasta professionally for twenty years, every working day, and probably before that, too.  That is what it takes to be a true artisan who can work with hands at speed and produce such quality. Such mastery doesn't happen by watching.
She made long ribbons of tagliatelli, small parcels of spinach ravioli, and fiddliest of all, little cappelleti, or pasta 'hats' filled with veal and pork  — a speciality of the region, which her helper helped fill.  It looked like they enjoy their work, and working together.  The atmosphere was of relaxed concentration and satisfaction in work done well, work worth doing.  Again, there was such respect here for the skills that maintain traditions people value daily as part of what makes life worthwhile.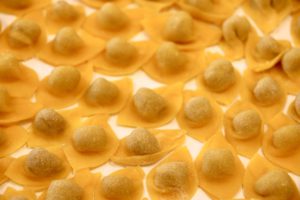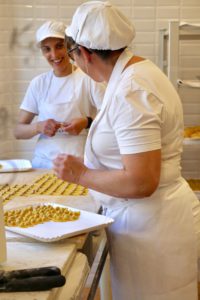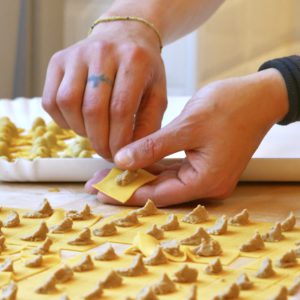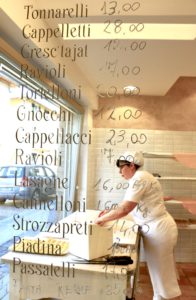 We tasted the results of our pasta demo at dinner that evening, where we were served nearly everything we had seen Luciana and her helper make that day (and then some), along with secondi piatti of veal and roasted rabbit — rabbit being another popular dish of Le Marche's countryside.  All were delicious.  The most popular pasta dish at our table was the tagliatelle with pork leg and beef ragu, which smelled as good as it tasted. My favourite was the gnochetti, small potato gnocchi served in a creamy sauce made with a local ewe's milk cheese and parmesan.  It was also a huge treat to try the long, thick 'passatelli'  —  'worms' made with bread crumbs bound with egg.  They were served to us in a sauce spiced with lemon and cloves (which we learned are called 'chiodi di garfano' in Italian, 'chiodi' being the word for 'nails').  Passatelli are often served with butter and truffle, or 'a brodo' (in a broth), which I imagine would be delicious, as they have quite a strong flavour and substantial texture.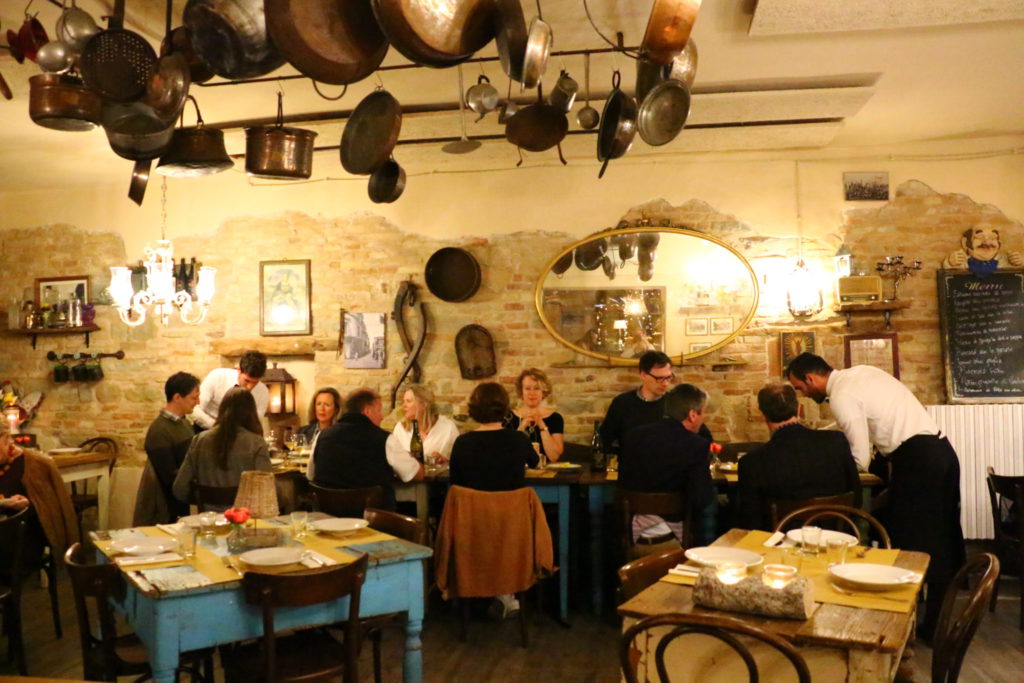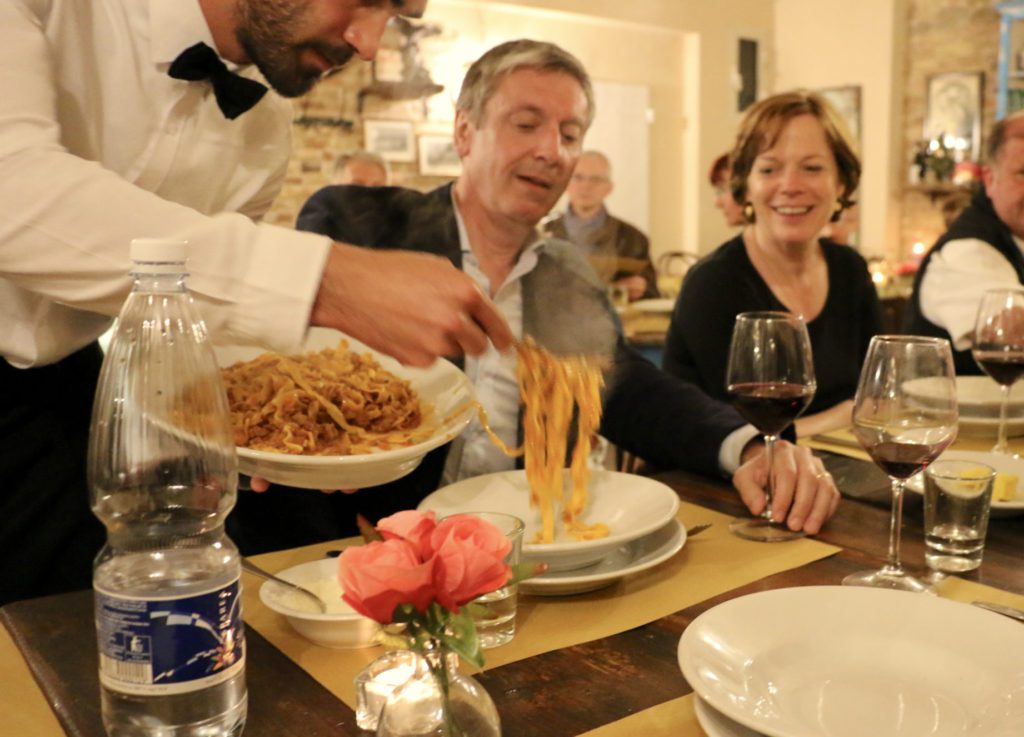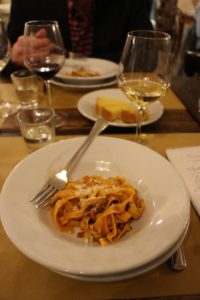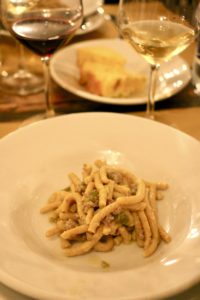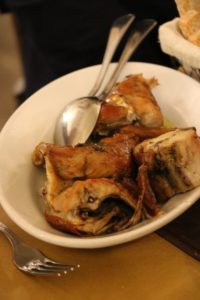 ◊ ◊ ◊ ◊ ◊ ◊ ◊ ◊ ◊ ◊ ◊ ◊ ◊ ◊ ◊ ◊ ◊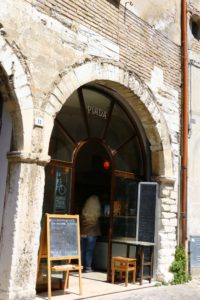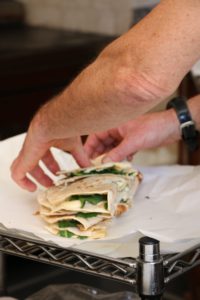 Between our pasta demo in the morning and our pasta feast that evening, we managed (I know, I know) a mini lunch of piadine — the local flatbread as flat as a tortilla, which (like a quesadilla) is filled with things like melted cheese, roasted vegetables or meat. Ours was from a small place in an old stone building where the proprietor makes his own bread dough from scratch, rolls it and cooks it on the hot stove in front of waiting eyes.  Even fast food here is as slow as it needs to be, to be really good. We shared one with melted mozzarella and rocket, very fresh-tasting and crisp — and like a lot of Italy's best food, requiring significant labor to create something deliciously, deceptively simple.
Then followed one of the most exciting things we did all weekend: a masterclass with the maker of the most exquisite gelato this side of heaven. Antonio is a perfectionist who takes a precise scientific method to the proportions for his gelati and sorbets, and a fresh eye for innovation as well as respect for tradition.  He and partner, Paola, make their gelati on the small premises of their Gellateria Artigianale Maki, in the old centre of Fano.  The dreamiest of the whole dreamy lot made that afternoon was, for me, the hazelnut — for which he uses nuts from Piedmont, some of the finest grown anywhere in the world.  I seek out nocciola gelato every time I get to Italy, sometimes more than once a day, and this was undoubtedly the best I've had.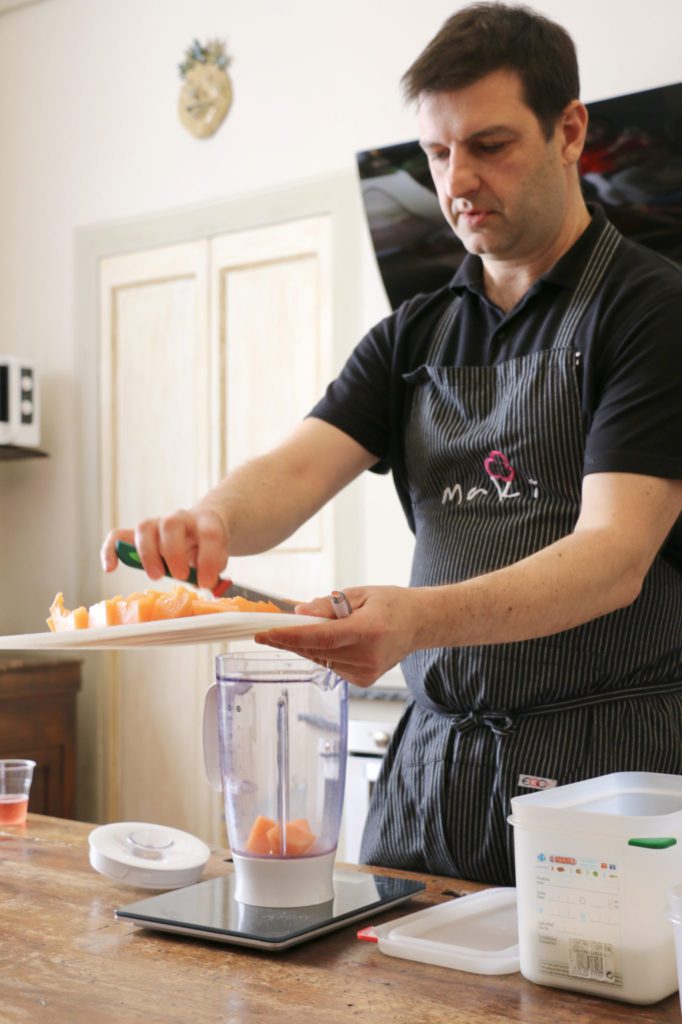 The melon sorbet was a close second, the taste of melon at its finest, which Antonio served with prosciutto ham; and his gorgonzola ice cream was also a revelation not just of flavour, but of how to use gelato within a meal. The perfect balance of sweet and savoury, served with walnuts and celery, the gorgonzola gelato could serve as a combination dessert and cheese course to end a meal, just as the melon sorbet and prosciutto could begin one.
◊ ◊ ◊ ◊ ◊ ◊ ◊ ◊ ◊ ◊ ◊ ◊ ◊ ◊ ◊ ◊ ◊
Day 3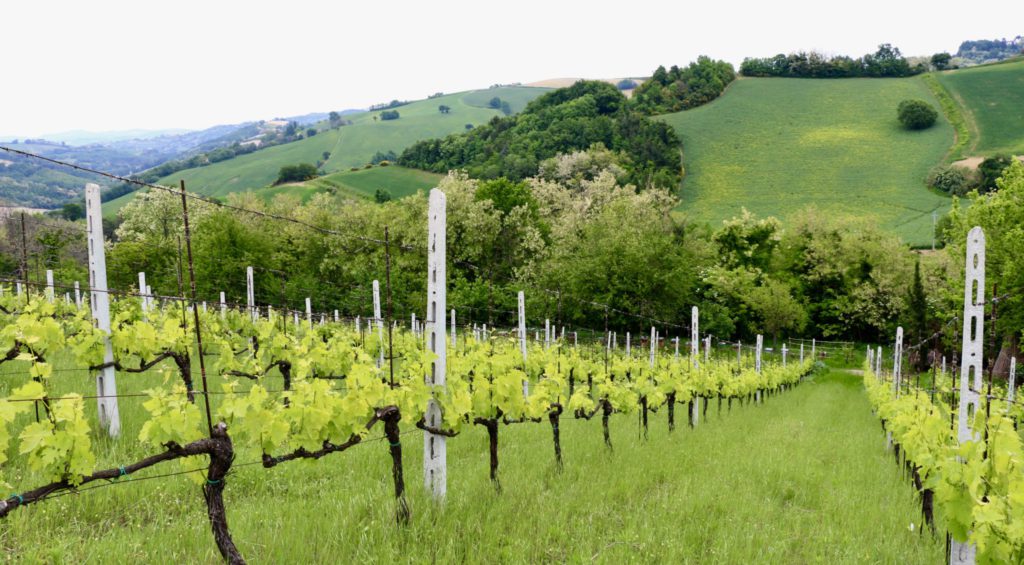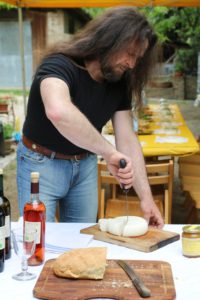 Perhaps the most wistfully, romantically special of all the special things we did was the gentle visit to the apiary and vineyards of the Paci family, the smallest producers we met, who make their living from the 15,000 litres of wine they produce every year from their 12 hectares. Giuseppe Paci does all the pruning himself, and also tends his 60 hives.  We were very touched by the care they took with our beautiful and leisurely lunch, served outside in the balmy warmth under a buttercup-yellow awning in the modest courtyard of their family home.
The hard work they are doing by themselves and by hand with the bees and grapes is humbling and inspiring.  I hope we never forget our walk on the slopes of Guiseppe's vineyard, a fine mist hitting our faces and the feel of the earth under our feet; nor the intoxicating scent of blossom as we entered their courtyard; nor the beauty of the acacia and elder flowers fried for us by Signora Luisa.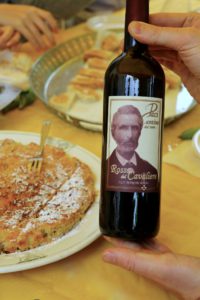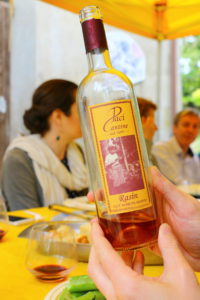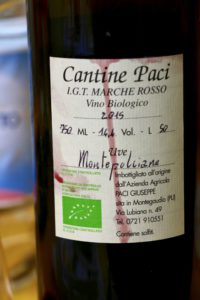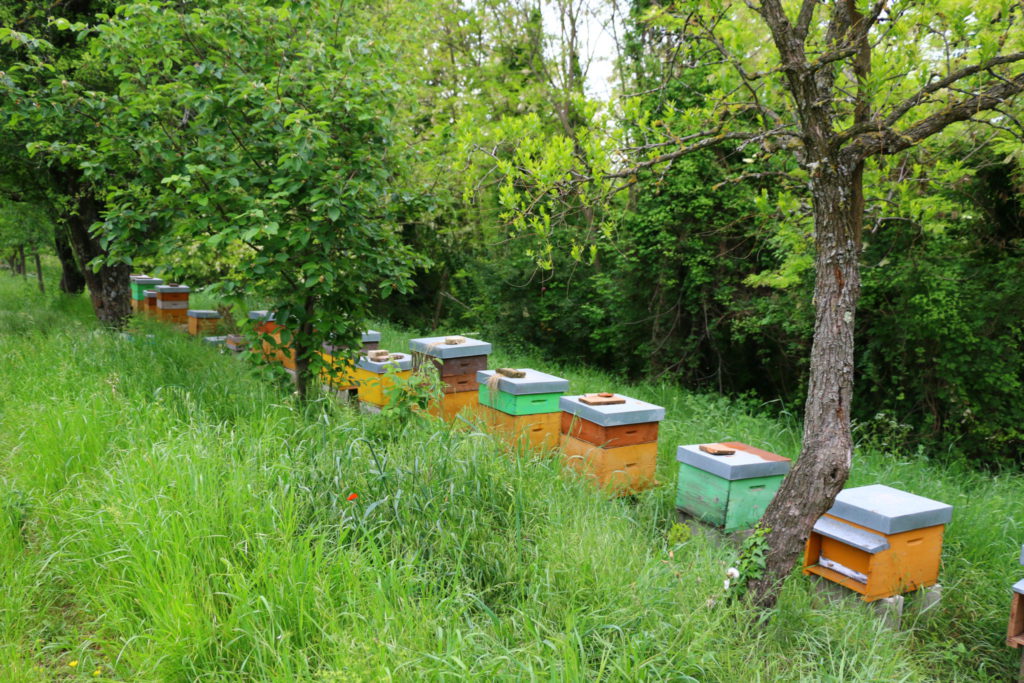 ◊ ◊ ◊ ◊ ◊ ◊ ◊ ◊ ◊ ◊ ◊ ◊ ◊ ◊ ◊ ◊ ◊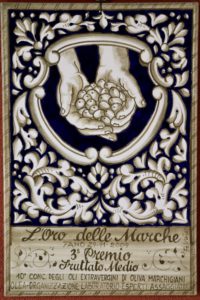 We also had an enlightening visit to the award-winning Conventino vineyard and producer of olive oil after our lunch with the Paci family, and tasted a variety of award-winning oils from five varieties of olive — Rosciola, Leccino, Ascolana tenera, Picholine, Raggiola — all with their own distinctive flavour, all pressed within 24 hours of harvest.  It was a learning experience to taste so many single-variety oils, as well as a well-balanced blend (which we didn't hesitate to bring home with us).  The Conventino basil, orange, lemon and clementine oils were made by including the flavouring ingredients in the pressing process, unlike the more common practice of adding them afterwards. This meant they had a greater intensity from the aromatics and a purity — no debris is left behind to cloud the flavour of the oil.
The two operations we visited that last afternoon could not have been more different: one state-of-the-art with plenty of science and investment, the other a small-scale family operation managed traditionally with generations of knowledge behind it and few hands, but both producing excellent products. It did impress on me even more clearly the often under-recognised dedication of the small-scale producer, and brought new meaning to the concept of a 'family business', where everyone in the family contributes their labour, and for whom life is that connection between family and work.
◊ ◊ ◊ ◊ ◊ ◊ ◊ ◊ ◊ ◊ ◊ ◊ ◊ ◊ ◊ ◊ ◊
Did I mention that we somehow found time to wander through the wonderful market in Fano that morning, on our way back from breakfast again at Caffè Centrale, and before heading into the countryside?
Fano's food market is one of the best I've seen in Italy.  Cheeses were in excellent condition, many local and handmade, and the produce was gorgeous.  Artichokes, interesting greens like dandelion and puntarella, and peas and fava beans were in season.  Anything local was marked as 'Nostrani' ('ours').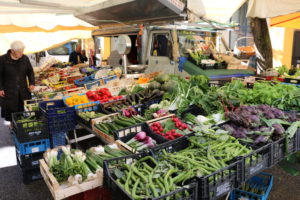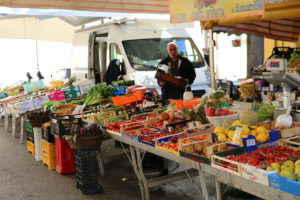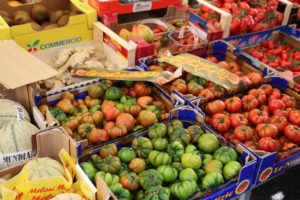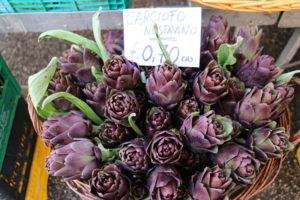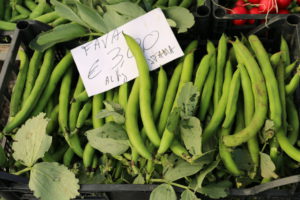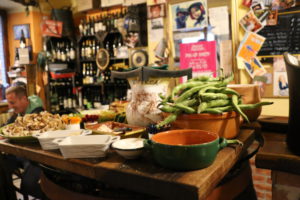 ◊ ◊ ◊ ◊ ◊ ◊ ◊ ◊ ◊ ◊ ◊ ◊ ◊ ◊ ◊ ◊ ◊
As wonderful as all the daytrips were to picturesque places in Le Marche reached by car, it would be enough to spend an easy weekend in Fano itself, eating gelato and pasta and fish, and walking it off along the pleasant streets and seaside promenade.  Judging from the furled umbrellas we saw along its city beach, Fano will be busy with sunbathers in a couple of weeks; but early in the season our walk was solitary and contemplative, and the place felt more like a particularly liveable hometown than a resort -- albeit a hometown with coffee and wine and food resources to beat many better known destinations.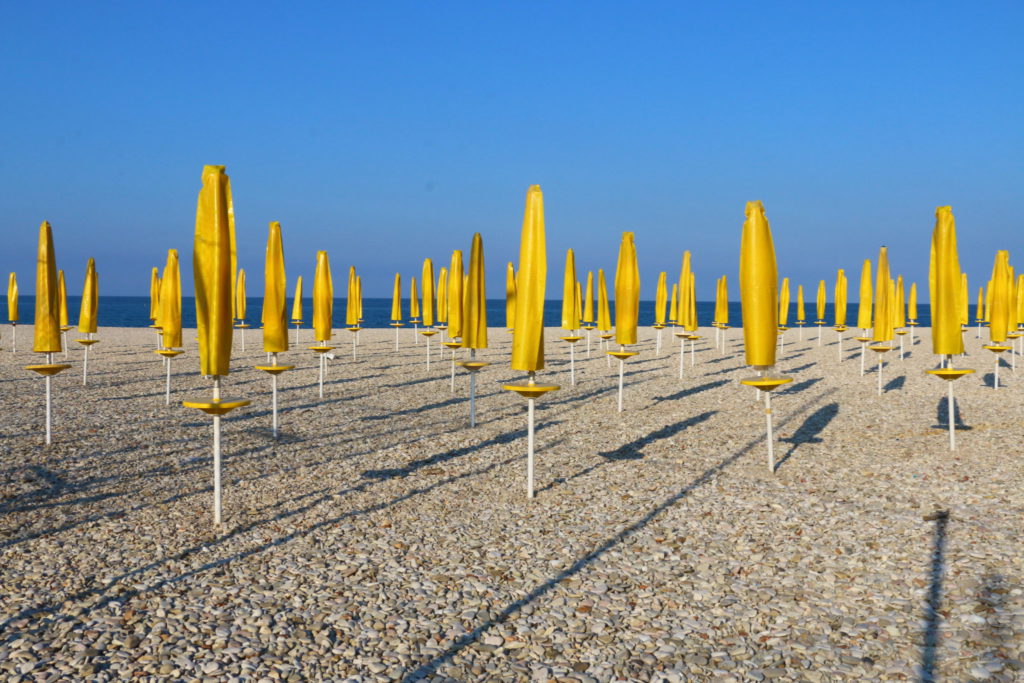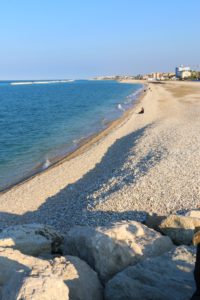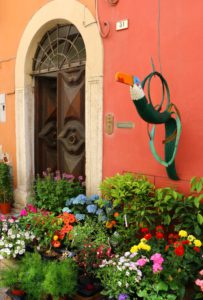 There may be something about a place that caters to the home crowd more than to tourists, that keeps its quality high?  Italians know and expect good, honest food and wine. Everything we had here, from the simple piadine, to the pastas and pastries, the porchetta and the fish, had a simple excellence, an authenticity, that hasn't yet been commercialised -- or so it seemed to me. Of course we had a discerning expert to guide us, and had we not found our way to the places we did, we may have been disappointed more than the once where we tried an unvetted place; but it seemed the general standard in Fano was honest and exceptionally good, especially considering the size of the place.
Another bonus worth mentioning:  if you or any of your travel companions has mobility concerns, Fano's old centre was a much more accessible town than most I've visited in Italy.  The town itself is on the level and has a well-maintained seaside promenade and quiet streets.  (We didn't hear or see a single Vespa and wondered if they were banned from the old town, but maybe it's just flat enough that people choose to go by bicycle instead -- there were a lot of them, and they were very stylish.)  You'll have to investigate the particulars of your trip carefully and not take my generalised impression as gospel, but it's definitely worth a closer look if you want an out-of-season destination that is easier than most to get around, has great food and drink options, a quieter pace, welcoming people, and some lovely seaside and rolling scenery.   Arrivederci, Le Marche....
Our trip was organised by Cambridge Cookery School, and we were two of 11 paying guests.  This was not a sponsored trip, and I have received no compensation for writing about it.  My account is offered out of enthusiasm to readers who may wish to explore this wonderful area of Italy for themselves.