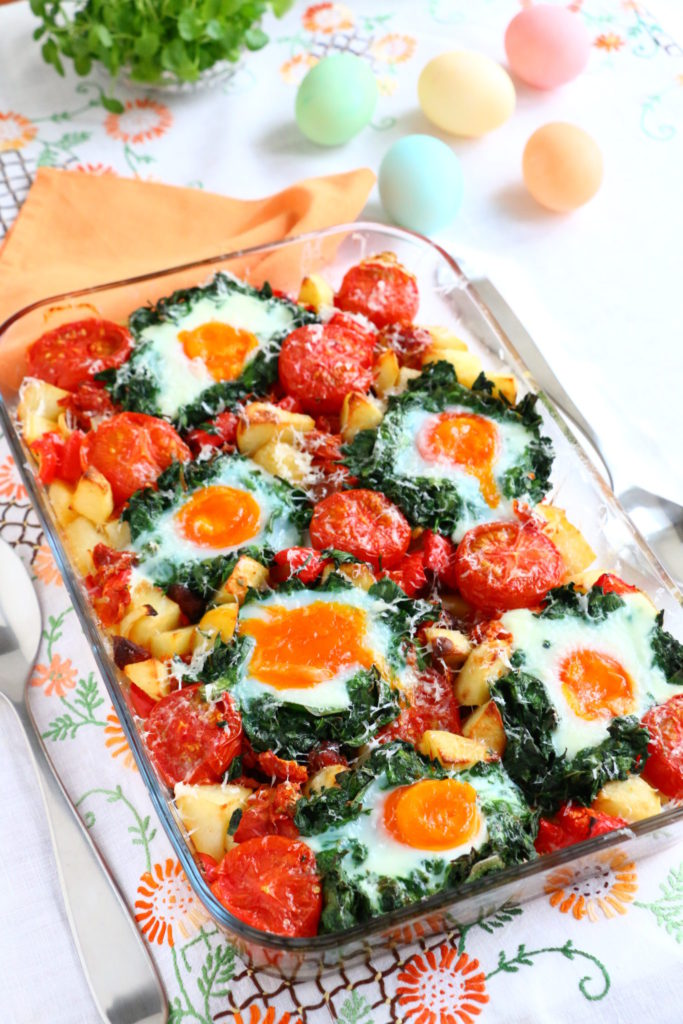 Easter brings out the child in me.  It was always the time when we five girls had a huge amount of fun with springtime ramblings, colouring Easter eggs, and of course waking up on Easter Sunday to our Easter baskets – no such thing in the States as chocolate eggs of the kind that represent Easter indulgence in England, where I've lived these many years past.
What I remember most from those baskets were delightfully detailed crystallised fondants in the shape of miniature hens, and hollow sugar-eggs with painted scenes set into them so little eyes could peer onto miniature gardens alive with frolicking bunnies and fluffy ducklings.  These treasures were Victorian in their sentimentality, but they were also charming, and it occurs to me that charm is something we don't see so much on our plates in these more sophisticated days.  We tend to get a little serious about our food now, and maybe not so light-hearted?
Perhaps that's one reason for the phenomenon, started in Japan, of 'miniature food' – artfully crafted fruits, vegetables, pastries, breads, cheeses and even full-course meals intricately shaped and detailed in polymer clay to fit in a doll's house.  And there's a new Japanese craze for cooking real, edible food on candle-fuelled miniature cookers, producing work of intricate detail designed to amaze and delight with its playful artifice.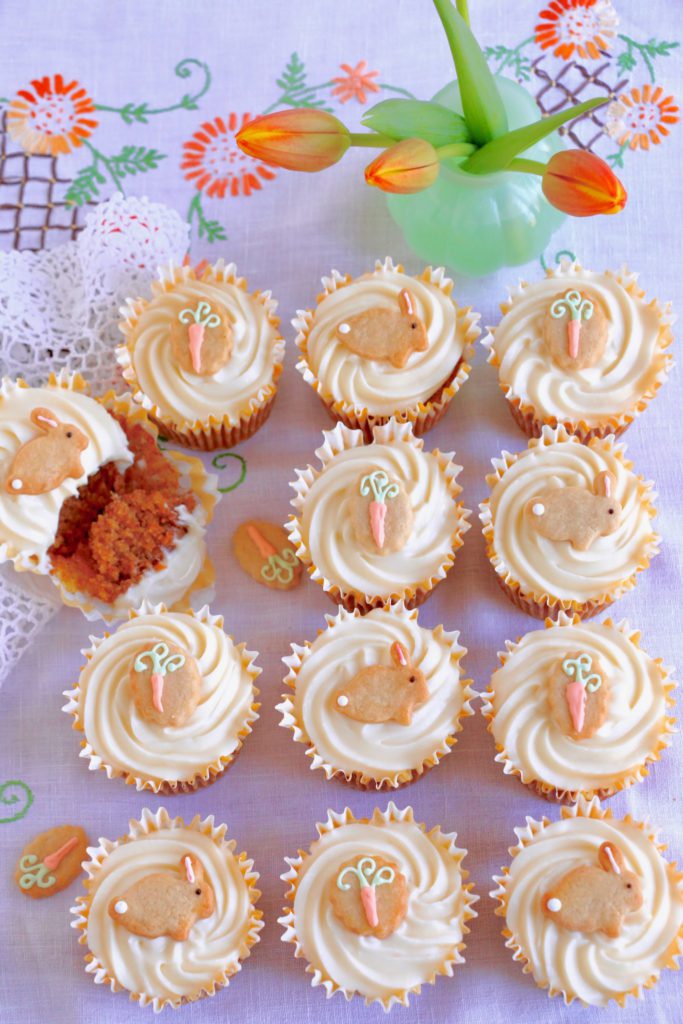 Well, if there's a time to play with our food, it's surely a holiday that coincides with a renewal of playfulness and energy in life itself – buds breaking, birds warbling, all those rambunctious lambs and, it has to be admitted, adorable ducklings…   Darn, they are  cute.
There's nothing wrong with a bit of cute, I say.  When I'm decorating cakes for an occasion that includes kids, I have the perfect excuse to make homemade cut-out biscuits for a bit of humourous whimsy that I think adults secretly like, too.  At Easter it's mini rabbits and ovals decorated with carrots to go on my favourite-recipe carrot cupcakes.  These miniatures taste good, are fun to make – kids love cutting out the cookies and decorating them – and the finished product looks as charmingly naive as a child's drawing.  It's all about having fun, defying the inner food snob, and being open to the little bit of magic that happens when you play.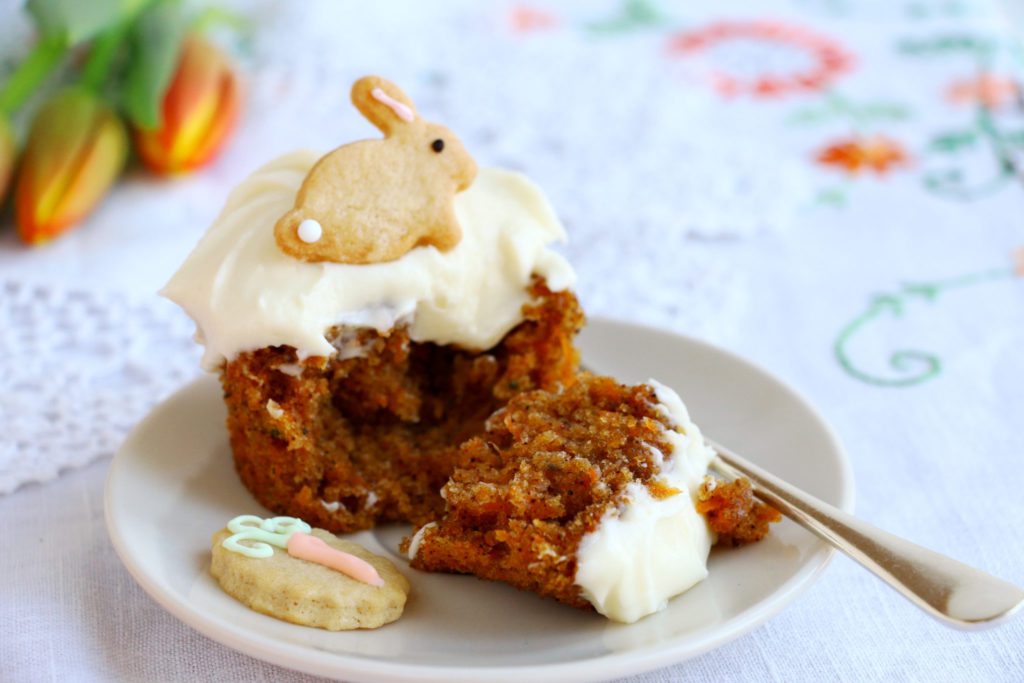 And speaking of play, I really like to have friends stay, at any time of year, but the one challenge of weekend guests is the breakfast.  As much as I love to cook, I find the timing requirements of cooking the conventional full English for more than two people in my small kitchen something of a burnt-toast nightmare.  Frankly, I would do away with breakfast altogether if I had my way, in preference for brunch – on the basis that the most important meal of the day should not be forced on anyone who is still asleep or wishing they were.
Though it's catching on here, Sunday brunch is still under-appreciated in the UK, which is a pity, as it may be the most wondrously luxurious meal of the week.  Here we do Sunday lunch better perhaps than anyone, but its attractions have rather overshadowed the decadent delights of brunch.  I suspect it's not just a preference for roast beef over breakfast foods, but also the prospect of grilling bacon, frying eggs, making toast, brewing tea or coffee, never mind dealing with tomatoes, mushrooms and bean options, all with precision timing.  Or maybe the British are more industrious early risers than we lazy Californians, for whom brunch is almost a birthright?
Being a night-owl, I've had to re-think this earliest kitchen shift and make it more fun.  Away with the short-order-cook mentality, and bring on the all-in-one-tray breakfast!  This tactic can help us enjoy our family's or house-guests' company even if we're not morning people.  It also opens up some exciting menu options, for breakfast food in itself is wondrous, even for those of us who feel it's wasted on the morning.  A delicious pan of breakfast potatoes, eggs, tomatoes and a few extras, is all the more inviting for being made without having to turn on the grill or fire up the frying pan.
Going out for brunch is hotting up as a trend in London, and there are places in Cambridgeshire where one can enjoy a decent stack of pancakes, good omelette and homefries, or corned beef hash, at an hour that a self-respecting hobbit would consider acceptable for second breakfast.  And maybe we will also begin to think of brunch more as a way to entertain.  There is something to be said for choosing Sunday brunch as an option to Sunday lunch to cook for friends and family – the late morning alternative offers all the pleasures of a good visit, with the bonus of leaving everyone free to play and eat cupcakes for the rest of the day.
I rest my case.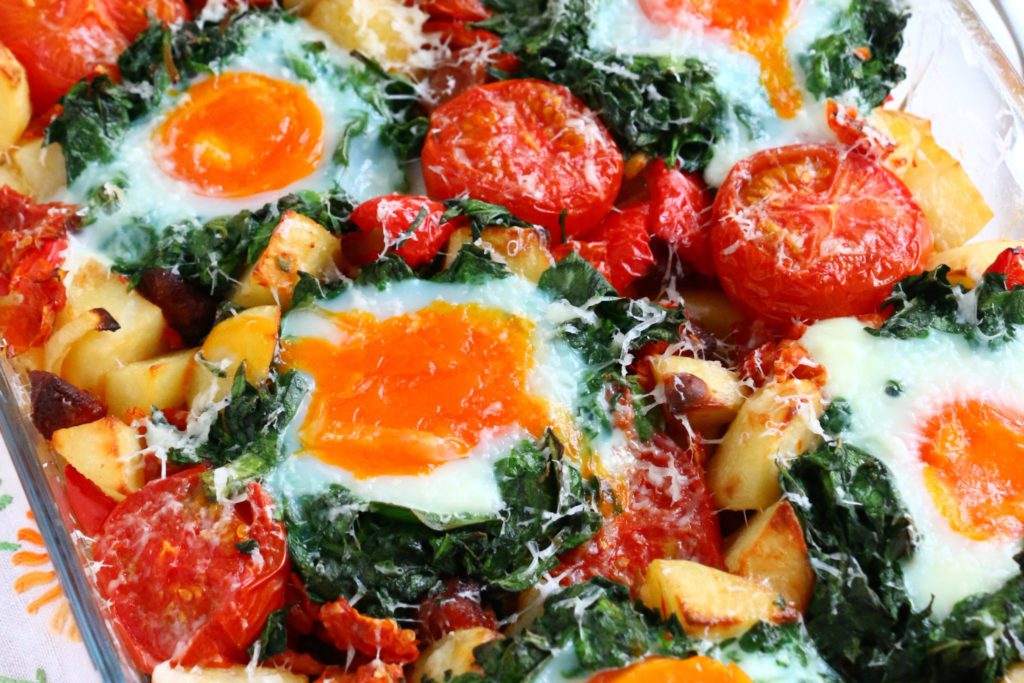 Baked eggs with chorizo, potato, tomato and spinach
Serves 6
This baked breakfast-in-one is cooked in one large roasting pan or oven-to-table dish.  It's a great foundation recipe that can be tailored however you like: lardons or sausage instead of chorizo, or vegetarian – and it's as good for mid-week dinner as for a lazy weekend morning.  The spinach needs to be wilted on the stovetop or in the microwave first, and each component is separately seasoned so the whole dish is full of flavour.
1 kilo (just over 2 pounds) potatoes (all-rounders), cut into 2.5cm (1 inch) pieces
200g (7 ounces) chorizo, skin removed, snipped into 1cm (½ inch) chunks
2 tablespoons olive oil
600g (about 1.3 pounds) fresh tomatoes, (about 12 medium, or 8 large)
¼ teaspoon cayenne pepper or hot paprika
½ teaspoon sugar
¼ teaspoon cooking salt
1 large sweet red pepper, cut into 2.5cm (1 inch) chunks
1 medium onion, cut into 2.5cm (1 inch) chunks
4 cloves garlic, finely chopped (or 2 teaspoons garlic powder)
1 tablespoon fresh thyme leaves
Optional: 1-2 hot chillies, finely minced
2-3 teaspoons sea salt and freshly ground pepper
400g (14 ounces) fresh spinach leaves, washed and large stems removed
About 125ml (½ cup) double cream
6 eggs
100-200g (4-7 ounces) manchego or other cheese, grated — as little or as much as you like
Heat the oven to 200C/400F.
Roast the chorizo pieces in a large roasting tin or oven-to-table dish for an initial 10 minutes to render out some of the spicy fat.
Dry the diced potatoes well (this will help them to brown).  Remove the hot pan from the oven, add the olive oil to the chorizo and its fat, and stir in the diced potato so every piece is well coated in the flavourful oils.  Salt and pepper the potatoes well, and roast them with the chorizo for an initial 25-30 minutes, or until they begin to turn golden-brown, stirring once or twice for even cooking.
Slice the tops off the tomatoes (or coarsely chop them if large).  Mix together the cayenne, sugar and cooking salt, and use to season the tomatoes.
Remove the pan from the oven, and stir in the chunks of sweet red pepper and onion, along with the chopped garlic (or garlic powder), fresh thyme, and any additional heat or seasoning you feel is needed (e.g., cayenne, fresh minced chilli, salt and pepper).  Tuck in the seasoned tomatoes, distributing evenly.  Roast everything in the pan for 10 more minutes.
Meanwhile, wilt the spinach until softened but still bright green, either by plunging it into boiling water for one minute, or by microwaving the bag for one minute if your spinach is pre-washed.  When cool enough to handle, use a clean kitchen cloth to squeeze excess moisture from the spinach.  Chop it well (otherwise stems can be difficult to eat) and place in a small saucepan with the cream, stir well, season to taste, and reheat just before cooking the eggs.
Remove the chorizo and potato mixture from the oven, and make six slight depressions in it to take the spinach and eggs.  Spoon some hot spinach into each depression, shaping it to create a 'nest'.  Crack an egg into each spinach nest, grate over the cheese (especially over the eggs to cushion them from the heat), and return the dish to the oven to cook for 10-12 minutes, or until the whites are set and the yolks are still wet. (The yolks have a tendency to cook more quickly than the whites and to be firmer than they appear, so re-heating the spinach helps the whites to cook at a similar rate.)  Serve straight away on warmed plates.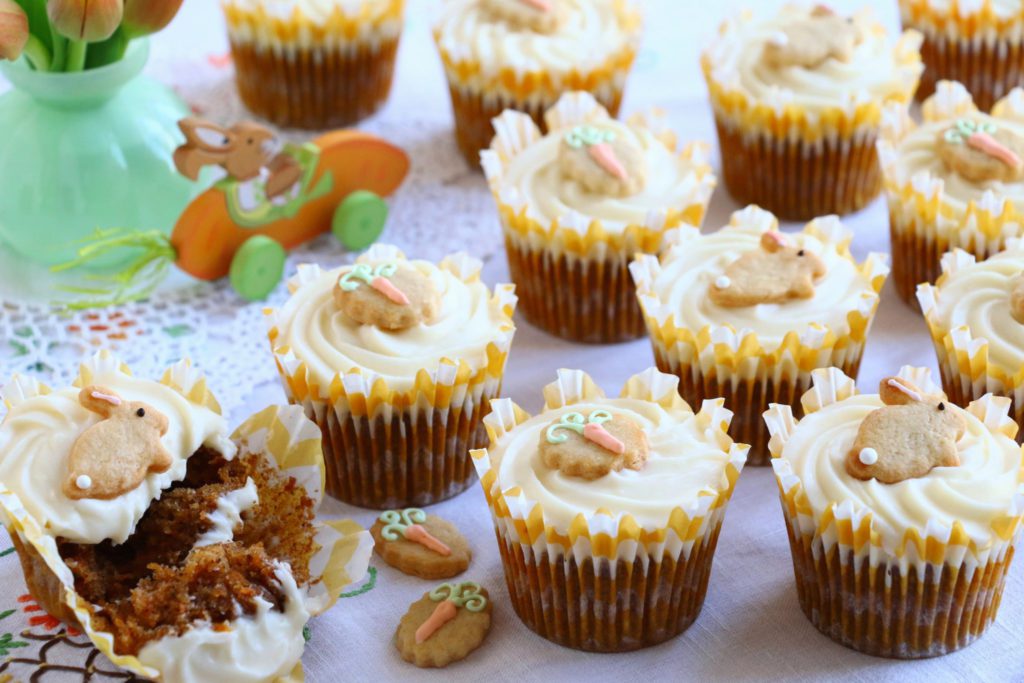 Carrot cupcakes with cream cheese icing and cookie decorations
Makes 24 cupcakes
Carrot cakes are so popular, and this one is a winner, shared over more years than I care to admit with a lot of happy people who've told me it's their favourite.  This recipe makes a finely-textured carrot cake rather than a chunky one, and it's well-spiced, moist and more-ish.  It can also make an impressive two- or three-layer cake (try decorating with walnuts, fresh fig and physalis).  For family occasions, you can't beat these charming cupcakes, decorated with whimsical (and quite delicious) all-butter cookies.
The finer you grate the carrot, the finer the texture of the cake.  For the icing, make sure the butter and cream cheese are at room temperature before mixing.  For the cut-out cookies, chill the dough for several hours; it can be made two days ahead and refrigerated, or frozen (the finished cookies can also be frozen).  Cookware shops will have an assortment of cookie-cutters.  To ice the cookies as shown with miniature carrots and bunny features, you'll also need a fine (number 1) piping tip and several piping bags (disposable are easy).
Ingredients:
For the cupcakes:
400g finely grated carrots (buy 500-550g without tops) — for US cooks, this is 3½ cups finely grated carrot, or 4 cups coarsely grated carrot, for which you'll need to start with 1 pound of unpeeled carrots, plus one extra average-sized carrot
400g (2 cups) caster sugar
4 large eggs
250ml (1 cup) vegetable oil
280g (2 cups

un

sifted) plain (all-purpose)  flour
1 level teaspoon cooking salt
2 level teaspoons bicarbonate of soda
1 level tablespoon ground cinnamon
¼ level teaspoon ground allspice
For the icing:
250g (8-9 ounces) full-fat cream cheese, softened, drained well and patted dry with kitchen towels
100g unsalted butter, softened (3.5 ounces, or just short of 1 stick)
500g sifted icing sugar (about 4 cups sifted confectioners' sugar, or about 1 pound)
1 teaspoon vanilla extract
115g unsalted butter, softened (4 ounces, or 1 stick)
200g (1 cup) caster sugar
1 large egg
290g plain flour (3 cups sifted before measuring)
¼ teaspoon cooking salt
½ teaspoon bicarbonate of soda
4 tablespoons vanilla extract (or substitute half with brandy or whole milk)
To ice the cookies: royal icing sugar, water and food colouring
 Directions:
For the cupcakes: Heat the oven to 180C/350F and line your muffin tins with paper cases; you'll need 24, but can bake the cupcakes in two or more batches.
Mix the sugar, eggs and vegetable oil in a large bowl until well combined, about 5 minutes with a mixer.  Add the grated carrot and mix well by hand, ensuring no clumps remain.
Sift together the dry ingredients for the cake and add to the carrot mixture in three goes, stirring just until combined.  You could transfer the resulting batter to a large pouring jug at this stage to make it easier to fill the muffin tins.
Fill the lined muffin tins about two-thirds full or a little less with the carrot cake batter.  Bake for 20-25 minutes, rotating the tins once for even baking.  They are done when the tops gently spring back when touched, and a skewer inserted in the centre comes out clean.  Cool completely on a rack before icing.
For the cream-cheese icing:  Beat the softened butter well in a large bowl until very fluffy, and then begin to mix in the softened and drained cream cheese by hand, alternately with some of the sifted icing sugar; avoid adding any excess liquid from the cream cheese.  Add all the icing (confectioners') sugar, mixing as you go, until the icing is smooth, and then mix in the vanilla.  Chill until using, and pipe or spoon the icing onto the cooled cupcakes.  (If decorating with the homemade cookies, put them on the cupcakes close to serving so they don't soften.) [More tips on cream cheese icing here.]
To mix the cookies: Beat the butter and sugar in a large bowl until light and fluffy, and then beat in the egg.  Sift together the dry ingredients and add them, alternately with the vanilla (or vanilla/brandy/milk), in three goes.  Mix just until well-incorporated.  Flatten into a disc, wrap in cling film and chill for several hours until firm enough to roll without sticking.
To cut and bake the cookies:  Heat the oven to 180C/350F and line two baking sheets with foil or parchment.  Roll about one-quarter of the dough at a time and keep the rest refrigerated, as it will be much easier to work when cold.  Roll thinly with the minimum amount of flour possible, or roll between two sheets of cling film, and cut using floured cutters.  Transfer to the baking sheets, leaving 4cm  or more (at least 1½ inches) between them to allow for spreading.  If the dough gets too warm to cut, chill it until manageable again.
To ice the cookies: Cool and decorate with icing coloured as you wish, made from royal icing sugar (which contains dried egg white for a hard set), and water according to proportions given on the packet.  The icing should be just loose enough to flow through the pastry tip at a manageable rate.
TIPS FOR ICING COOKIES:  Make up one batch of royal icing and divide into smaller pots, one for each colour; reserve some plain white in case you need to make adjustments.  To colour the icing, start with small amounts of food dye on a toothpick or similar: it doesn't take much.  Royal icing hardens quickly, so keep covered with cling film or a damp cloth.  Fill the pastry tube with icing, twist the top, hold the top out of the way, and apply gentle pressure to squeeze out the icing.  Practice on a plate first if you feel the need (kids might need some help) and have fun!  It's play!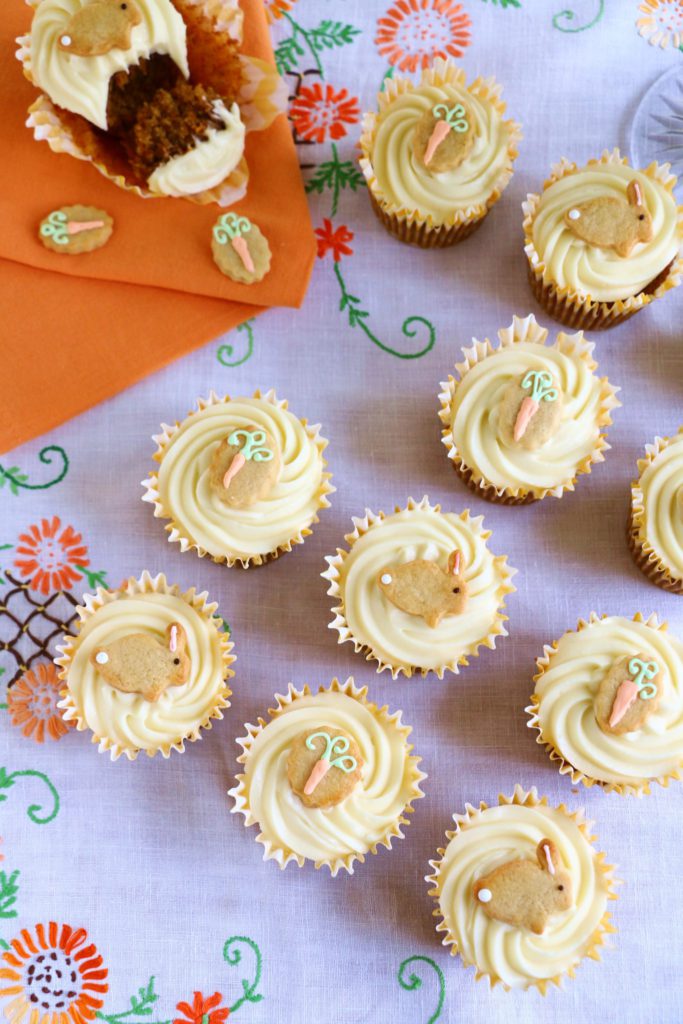 This article is published in the April 2017 edition of Cambridge Magazine, editor Alice Ryan.
For more cream cheese icing tips and another recipe on Crumbs on the Table, see:
For other Easter recipes and stories, see: