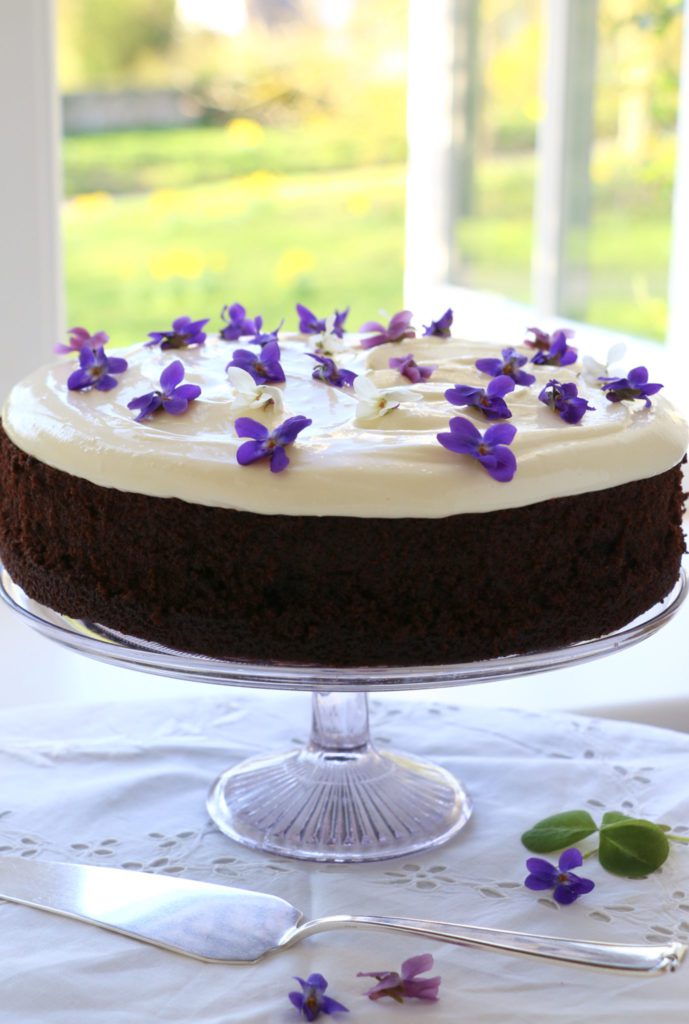 With a name like Donohue, it's considered almost obligatory that I would be partial to Irish stout.  I will raise a modest half-pint to St Patrick today, but bake it in the popular chocolate cake that bears its name, and I'm in there with gusto.
I've tested several recipes for chocolate Guinness cake in recent years, and the one from Hummingbird Bakery's Cake Days is the one I like best.  It really is irresistible with its contrasting cream cheese icing that mimics the foamy head on a pint of dark brew.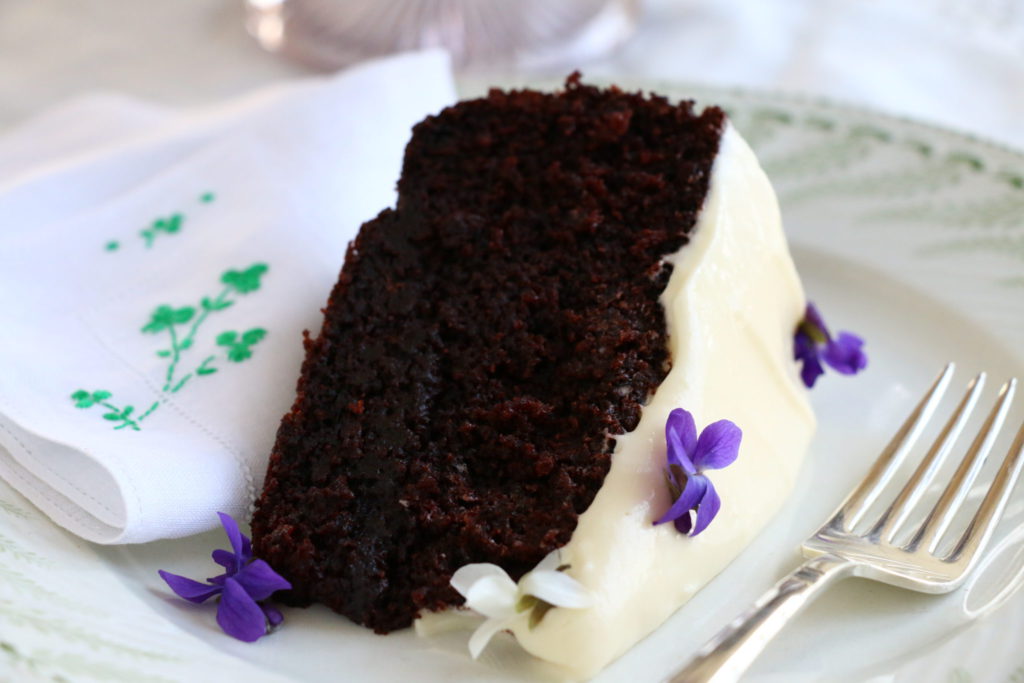 Some Guinness cakes are heavy and too wet, to my taste, a little gummy, even.  This one makes for a surprisingly light, though still moist cake.  It uses buttermilk instead of Nigella's richer sour cream; and the acidic cocoa, alcohol and buttermilk all provide excellent lift, in partnership with the bicarbonate of soda.  It's even lighter if you use soft '00' grade flour or cake flour.  Also use natural cocoa if you can, which is more acidic and rises better than alkalised Dutch-processed cocoa.
The Guinness intensifies the chocolate notes and lends moistness and a deep, tangy flavour, but is not detectable as stout, and there's no bitterness – just a complexity that keeps you coming back.  And did I tell you that the mouth-feel is seductive, too?  This is one of its principle charms –  something like the soft moustachey kiss you get from sipping a velvety pint.
There's no creaming of butter or melting of chocolate to contend with, and just one perfectly-deep cake layer with no icing on the sides, just the top.  I was surprised today by a delightful patch of violets blooming in the early spring sun, so I couldn't resist embellishing an otherwise masculine cake with this feminine touch.  With or without the decoration, it's almost too easy to make — and not just for St Patrick's Day.
Adapted from the recipe by Tarek Malouf, Hummingbird Bakery, in Cake Days (Harper Collins 2011)
Serves 12
Use a 23-cm (9-inch) springform or loose-base cake tin at least 7cm (2.5 inches) deep.
Cake ingredients:
250ml (1 fluid cup) Guinness
250g unsalted butter (9 ounces, or 2 sticks plus 1 tablespoon), cut into small pieces
80g cocoa powder (a scant 3 ounces, or 1 cup sifted before measuring)
400g (2 cups) caster sugar (US bakers, use superfine or regular granulated)
2 large or extra large eggs
1 teaspoon vanilla extract
140ml (5 fluid ounces, or ½ cup plus 1 tablespoon) buttermilk – or add 1 teaspoon white wine vinegar to whole milk to make up this amount
280g soft '00' or plain flour (2 cups plus 2 tablespoons cake or all-purpose flour sifted before measuring)
2 teaspoons bicarbonate of soda (baking soda)
½ teaspoon baking powder
½ teaspoon fine cooking salt
Cream cheese icing ingredients:
140g (5 ounces) full-fat cream cheese: softened, drained of any excess moisture, and pressed dry with kitchen towels*
60g (2 ounces or ½ stick) salted butter, softened
300g sifted icing sugar / confectioners' sugar (10 ounces or 3 cups sifted before measuring)
1 teaspoon vanilla extract
Optional decoration:
A sprinkling of cocoa powder
Edible flowers (eg, violets or violas)
Directions:
Heat the oven to 175C / gas mark 4 / 350F. Butter a deep, 23-cm / 9-inch round cake pan with a removable bottom, and line the bottom with parchment paper.
For the cake:

Heat the Guinness and butter together in a medium-large saucepan over gentle heat, just until the butter is melted; don't let it boil. Remove from the heat.
Measure the sugar into a mixing bowl and add the cocoa powder; mix the two together well, so no clumps of cocoa remain. Add the sugar and cocoa mixture to the warm Guinness and melted butter, and stir well until completely smooth.
In a separate bowl, beat the eggs lightly with the vanilla and buttermilk (or milk and vinegar), and add this mixture to the other liquids and mix again until well incorporated. If you like, transfer this liquid mixture to a large pouring jug to make it easier to add to the dry ingredients.
Sift the flour, salt, baking soda and baking powder together in a large mixing bowl, or the bowl of a standing mixer.
Add the liquid ingredients to the bowl of dry ingredients in a steady stream, mixing as you go, just until the mixture is well-blended and no lumps remain; don't overdo it or the cake will toughen. Scrape down the sides of the bowl a couple of times and make sure no thicker batter remains unmixed at the bottom of the bowl.
Pour the batter into the prepared baking pan and place on the centre of the rack in the pre-heated oven. The cake will take about 40 minutes in total. Rotate in the oven after 20 minutes to encourage even baking, and check for doneness after 35 minutes. The top should lightly spring back when gently pressed, and the sides should just be coming away from the sides of the pan.  A skewer inserted in the centre should come out clean.
Cool in the pan on a cooling rack for 15-20 minutes, until cool enough to release from the tin – remove the sides, using a sharp knife to loosen the edges first if needs be, but leave the cake on the metal base until completely cool.
When the cake is completely cool, invert it onto a cake plate so the flatter side is uppermost, and remove the metal base and the parchment liner. Top with the cream cheese icing (directions below).  Leave plain or decorate with a sprinkling of cocoa or edible flowers if you wish.

For the cream cheese icing: Using an electric mixture, beat the butter with a couple of tablespoons of the icing sugar until light and fluffy.  On low speed, gradually add the cream cheese* and beat until smooth.  Then add the remaining icing sugar, and continue to beat until well-blended, adding the vanilla towards the end.
*Tip:  If your cream cheese is very soft, drain off any excess water, and press it dry with several kitchen towels before adding it to the other ingredients.  Do this by taking a tablespoon or so at a time and pressing it into the paper towels to absorb as much wetness as possible. Otherwise, you may find it makes a thinner icing that doesn't stay put.  On this cake it doesn't matter if the icing runs a bit, but if you are icing the middle and sides of a cake, a thinner icing would prove troublesome.
If you do find that you have a looser icing that you want, instead of adding more icing sugar, which would detract from the cream cheese flavour, you could instead add a teaspoon of cornstarch/cornflour for every cup of icing sugar – a remedy recommended by Nigella. The cornflour isn't so detectable as to be objectionable, and the starch helps with stability.  I find, however, that draining the cream cheese and pressing it as dry as possible in some kitchen towels, avoids the need for corrective measures.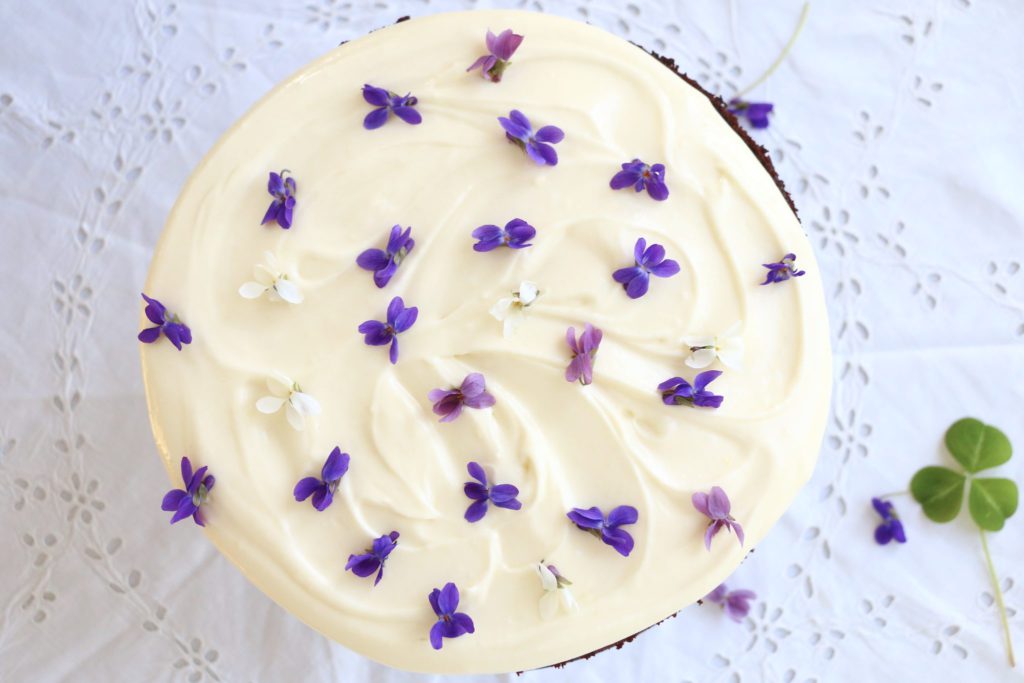 Other cake recipes on Crumbs on the Table: