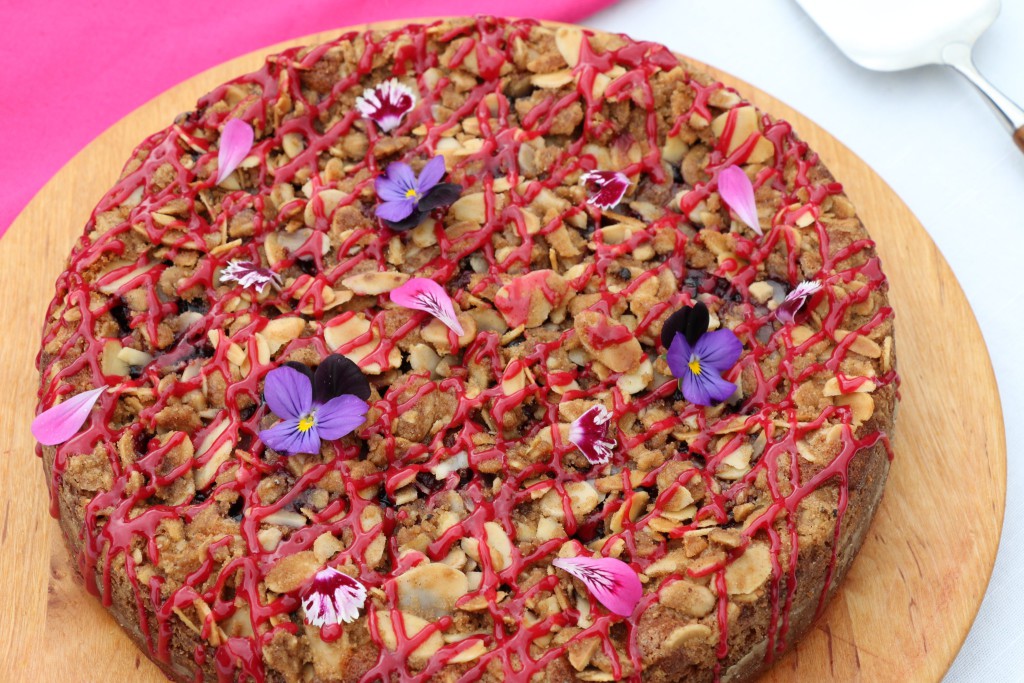 Blackcurrants can do things no other fruit can.  They are being championed as the neglected superfood, and their sharpness and intensity make them useful for adding some serious pucker-power to baked goods and fruit compotes or fruit salads — an interesting contrast to the sweet notes.  Skip to recipe.
I love them not least for the exotic romance of them, as until I came to England, I had never seen them.  I know they are grown in North America, so I'm not sure how I missed them.  I wish I had known them sooner, for these most intense of the soft fruits of summer are distinctive and marvellous in fruit squashes, summer puddings, crumbles, pies, tarts, jams, fools and mousses.  I think a magenta-coloured blackcurrant bavarois is one of the most exquisite creations there is, and I also love their tartness in pancakes with maple syrup.  Their leaves are also exquisitely fragrant, and can be used to flavour syrups and drinks, sorbets, custards and cakes — a practice that has largely been forgotten, but which is well worth bringing back.
In fact, it seems that blackcurrants in Britain have been overtaken by the relative newcomer, the blueberry, most of which are imported to the UK year 'round as a superfood (and which you could barely find in England at all when I moved here in 1987, when blackcurrants were still widely used in the kitchen and grown in English gardens).  One reason for the reverse in their fortunes may be that blackcurrants are typically not eaten without being sweetened — though that is changing — and they are considered less palatable raw — though that is being challenged, too: they are great in smoothies and juices with other things, and can be used like pomegranate in salads.
It's a great pity they have diminished in popularity, as they do so many jobs in the kitchen that nothing else does, and they are so good for us.  They are much higher than blueberries in vitamin C, and contain more antioxidants (the chemicals that can neutralise cancer-causing free radicals) and anthocyanins (the pigment that improves blood flow — good for brain and heart health).  Blackcurrants are even more of a nutritional superstar than the blueberry, but all edible berries are healthy for us and have different nutrient profiles as well as tastes, so eating a variety is good.
I grew up picking blueberries, and no summer is complete without making a nostalgic pie, but I have since learned to love blackcurrants for that very intensity and a uniquely earthy edge that makes them better than blueberries for many things. For me blackcurrants are more appealing than blueberries in something like a muffin or cake, as they hold their shape and colour better, and have a more pronounced flavour.  I would not choose to have blackcurrants in a pie or crumble on their own, as they can be very intense when untempered.  You usually see them paired with apple in pies and crumbles, and I also like to mix them with blueberries (1 part blackcurrants to 3 parts blueberries) to give the subtler blubes a boost.
Red, white and black currants together make a delicious fruit compote: cook two parts frozen red and white currants to one part blackcurrants, with a splash of water to cover the bottom of the pan, and enough sugar or honey to please your palette.  When softened sufficiently, thicken with a teaspoon or so of arrowroot dissolved in cold water, remove from the heat, and add a punnet of frozen raspberries to thaw in the residual heat.  It's absolutely wonderful chilled for breakfast, or served as a pudding with a little milk, cream or nothing.
The seeds of the blackcurrant are pronounced, so you must sieve them when cooked if you need a smooth purée, and otherwise appreciate the fibre —  the seeds won't interfere with enjoying them in a cake or a compote.
Currants are also one of the best fruits for freezing, which is a wonderful boon in winter when you need a boost (like peas, any berries frozen shortly after harvesting are more nutritious than fresh ones that have been around a while).  If you freeze your own fresh fruits, wash and dry them, and lay them out in a single layer on a tray in the freezer.  When they've frozen solid, gather them into a large plastic bag for storage, and they won't clump together.   You'll then be able to take only as many as you want at one time.
You can use frozen blackcurrants in this delicious cake, and won't notice any difference in the flavour or appearance.  Defrost them in the fridge or at room temperature, but not on the cooker, which would create too much juice.  If you use the microwave, set it on a gentle setting and don't defrost completely — just enough to separate them.  The fruits can be not-quite-fully-thawed when they go onto the top of the cake.
This blackcurrant streusel cake is adapted from the wonderful David Leibovitz, whose recipes are invariably spot-on.  I've used blackcurrants instead of the plums of his original spiced plum cake, and changed the topping from toffee to a drizzle of blackcurrant icing.  This cake has a lovely balance of sweet and tart, crunch and tenderness, fruit and cake.  It is the kind of cake you could have with morning coffee (what Americans call 'coffee cake' — a completely different thing to the British coffee walnut cake, which is flavoured with coffee); or of course any time you would have cake (and when would you not?).
David uses freshly ground cardamom seeds in his plum caramel version, and it really is a lovely enhancement if you don't mind removing the little seeds from the pods and grinding them in a spice mill or mortar and pestle.  If you don't want to add the cardamom at all,  that's fine too:  the cake will be delicious without.
Once you've made this cake, you'll want to make it with other fruit combinations.  I've made it with pear and a chocolate drizzle, and with apple and David's caramel topping, and they are wonderful, too — mellow and autumnal.  The blackcurrant is zippier, brighter, tarter, and that little bit more refreshing, I think, when you want something with a bit of tang.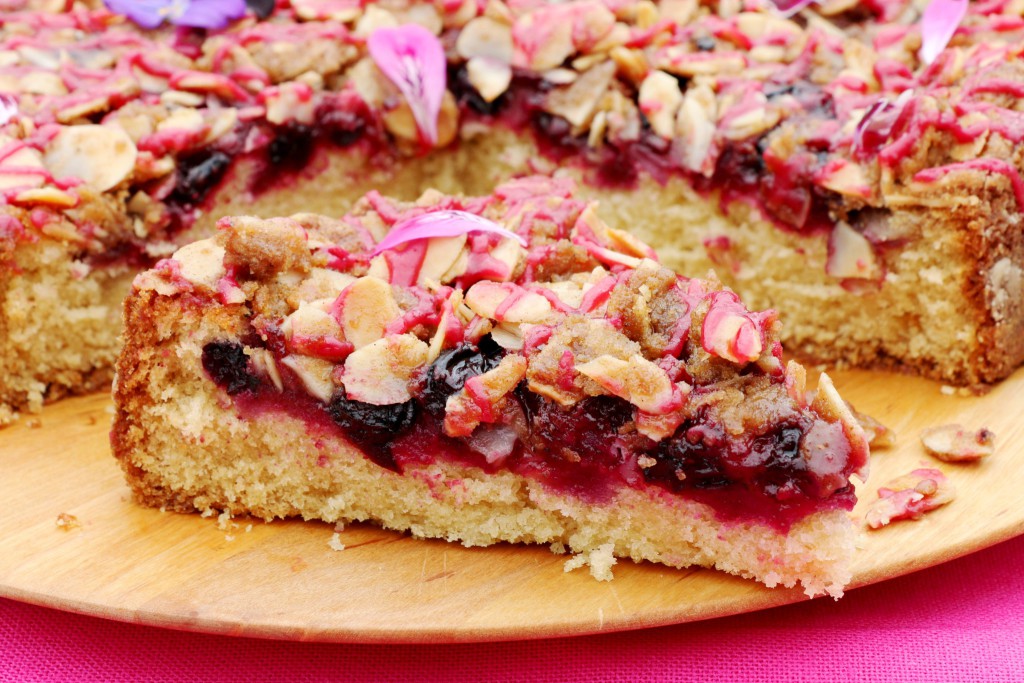 RECIPE
adapted from David Leibovitz
Makes one 23-cm (9-in) cake, serving 8-10
You will need a springform pan —  one with a removable bottom —  as the topping makes it difficult to invert the cake once it's baked.
Ingredients
Streusel topping:
85g (scant 1 cup) sliced almonds
2 tablespoons flour
60g (⅓ cup packed) unrefined Muscovado sugar (or light brown sugar)
½ teaspoon cinnamon
Optional:  ½ teaspoon ground cardamom (ideally freshly ground)
2 tablespoons melted butter
¼ teaspoon sea salt
Cake:
350g (12 ounces) blackcurrants (fresh or frozen and thawed) — plus a handful more for the icing, below*
115g (8 tablespoons, or 4 ounces) unsalted butter, room temperature
150g (¾ cup) golden caster sugar (or white sugar)
175g (1⅓ cup) plain flour, ideally soft "00" or cake flour
Optional:  ½ teaspoon ground cardamom (ideally freshly ground)
½ teaspoon baking powder
½ teaspoon baking soda
½ teaspoon salt
2 large eggs, room temperature
1 teaspoon vanilla
125ml (½ cup) buttermilk — or substitute 110ml milk with 1 tablespoon lemon juice added
Blackcurrant icing:
100g icing sugar (½ level cup, sifted before measuring)
*About 2 tablespoons blackcurrant juice, made from pressing a handful of blackcurrants through a sieve
Directions
Butter and flour the springform cake tin and heat the oven to 180C/350F.
Mix the streusel topping:  Combine all ingredients in a medium bowl and mix lightly with a spoon or your fingertips until you have a uniform mixture.  Be gentle with the almonds to avoid breakage.
Mix the cake batter:  Cream the butter and sugar until very light and fluffy, about 5-8 minutes with a mixer.
Add the eggs one at a time, beating just until well combined.  Add the freshly ground cardamom, if using, and the vanilla, and beat to combine (if using dried ground cardamom, add it to the dry ingredients).
Sift together the flour, salt, baking powder, baking soda, and ground cardamom if using.  Add half the dry ingredients to the butter and egg mixture, beating at low speed only to combine.  Scrape down the sides of the mixer to ensure all ingredients are incorporated.
Add the buttermilk (or milk and lemon juice mixture), and again, beat at low speed only to combine.  Scrape down the sides of the mixer again.
Add the remaining dry ingredients and give everything a final mix to ensure it's well-combined, but don't over-mix or the cake will be tough.
Spoon the mix into the prepared cake tin and spread with an offset spatula or a kitchen knife until smooth on top:  watch that the centre is not deeper than the sides.
Evenly distribute the blackcurrants on top of the smoothed cake batter.  Then evenly distribute the prepared almond mixture on top of the fruit.
Bake for 45 to 50 minutes or just until a tester inserted in the middle of the cake comes out clean and the top looks golden and set. There will be some juices from the fruit, which is how it should be, but there should be no wet batter clinging to the tester.  The top of the cake will also feel firm when you press it lightly.  You can cover the cake with foil if you find the almond topping is getting too brown.
When it's done, place the cake in its tin on a cooling rack, and after 10 minutes, run a knife carefully around the edge of the pan, release the outer ring, and remove it.  Let the cake cool completely before removing the bottom of the pan, and move it to a serving plate or cutting board.  This cake is best served at room temperature, cut with a serrated knife to get neatly through the almond topping.
While the cake is cooling, prepare the blackcurrant drizzle: squeeze a handful of blackcurrants through a sieve to obtain 2 tablespoons of strained juice.  Mix the juice into the sifted icing sugar and stir until smooth.  It should be of a pouring consistency, easily dropped in one continuous thin stream from a spoon.  Drizzle it over the cake when it is mostly or completely cooled — but not when too warm, as the icing will run.  Let the cake cool to room temperature and let the icing set.
Store at room temperature for up to 3 days.  I have found that this version of the cake does freeze well.  Wrap well, and thaw while still in its wrappings so the condensation will stay outside away from the cake.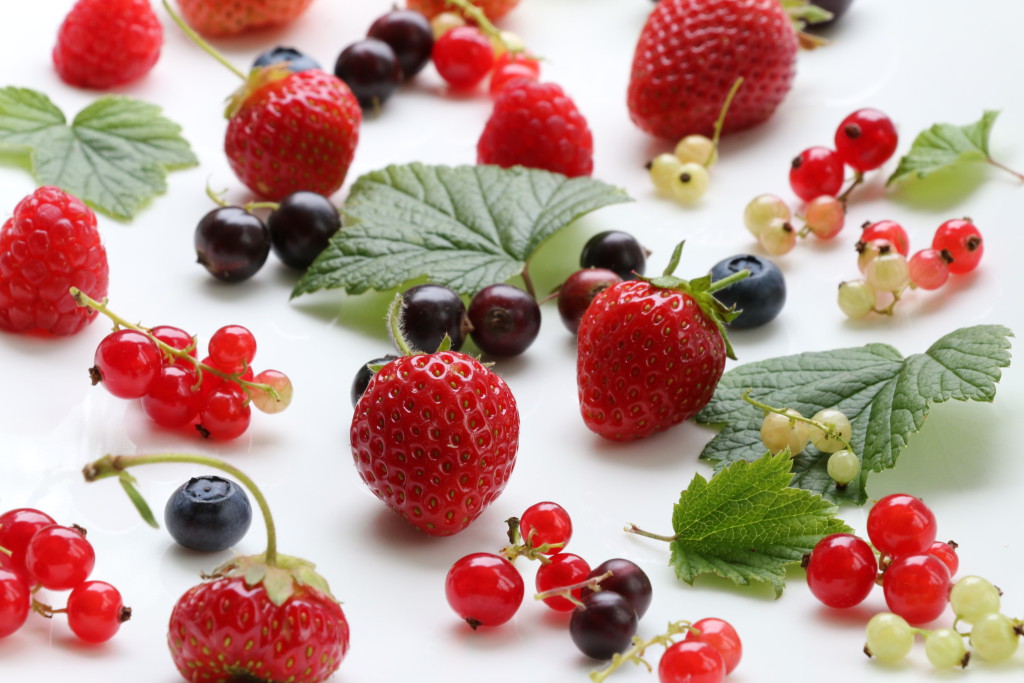 The soft fruits of British summer:  blackcurrants, blueberries, red currants, white currants, raspberries and strawberries.
More soft fruit recipes on Crumbs on the Table: