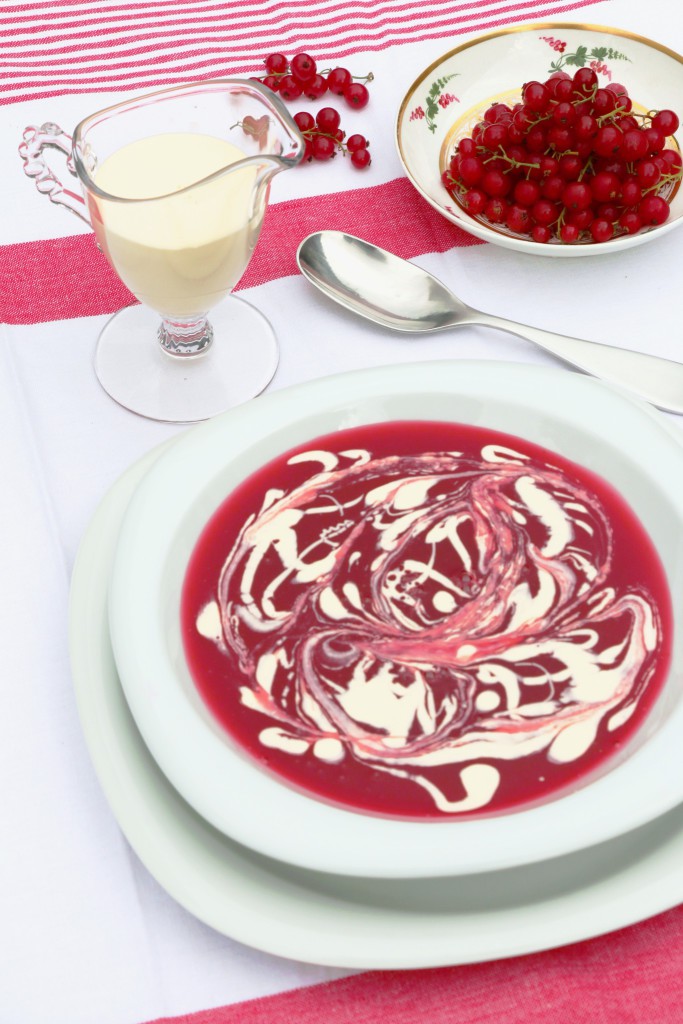 This Danish dessert is one of the most delicious and unpronounceable ways to use red currants I know.  I fell in love with it as a student in Denmark, where it is regarded as a national treasure. Pronouncing it was considered a test of ones accent as a student of the language, in that good-natured, self-mocking way of the Danes. I only tasted it again when I moved to England years later, long after I'd forgotten most of my Danish, but rødgrød med fløde  I remembered well — both for its exquisite taste of summer, and for the memories of my Danish host family's giggles at the table as I struggled to make those oddly gargled sounds.
In Denmark and elsewhere throughout Scandinavia, rødgrød it is often made with a combination of red fruits — red currants, raspberries and cherries — but it is also made with red currants alone, and this is how I normally make it now, as a perfect way to treat those beautiful fruits,  so gorgeously ruby-like on their long stalks.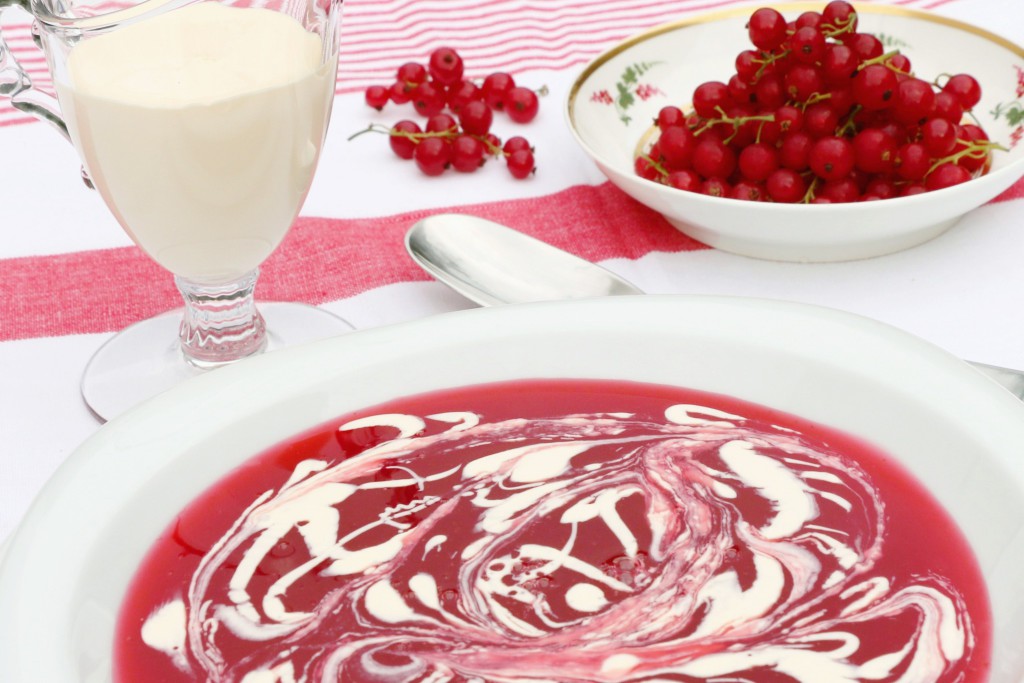 The currants are cooked enough to give up their juices, sieved to remove their seeds, sweetened, and then thickened lightly with arrowroot to make a perfectly clear and slightly thickened soup-like consistency — not very thick — just thick enough to provide a bit of body to the juices.  It is often served with cream on top, or milk, which I actually prefer as it doesn't overpower the fruit. It makes a wholesome pudding that can be dressed up fancy for an occasion, or served any time you're lucky enough to find the fruits.
It transpired by happy accident that rødgrød is a favourite of my acquired English family, who first had it in Denmark on holiday about the same time I was mispronouncing it in Copenhagen.  My mother-in-law, Joy, has made it for years from the prolific currant bushes in my father in law, Neal's, Derbyshire garden, and I am lucky enough to get enough to stash in the freezer for the odd special batch of rødgrød through the winter.
I really do rejoice when I manage to get enough fruits to make it, for it takes a good amount to make enough for four people — about the same quantity I would use to make a batch of jam.  The taste of this slightly thickened pudding is worth every little round berry, and I know of nothing more worthy of them. If you can't get enough red currants, supplement with cherries and/or raspberries in true Scandi style.
Rødgrød med fløde
1 kilo (around 2 pounds) red currants, rinsed clean and stripped off their stalks (or a mix of red currants, pitted and halved cherries, and raspberries, in roughly equal proportion)
250ml (1 cup) water
200-250g (1 to 1¼ cups) sugar, to taste
4 teaspoons arrowroot
4 teaspoons water
Put the currants (and other fruits if using), water and sugar in a large saucepan, and bring to a boil over medium heat. Let them simmer for 3-5 minutes until they lose their colour and juice (cherries will need a little longer). Set aside to cool.
Strain the cooked fruits to remove all the seeds and skins. Do this by setting a medium-coarse strainer over a bowl large enough to take the fruits. Put a large spoonful of the cooked fruits into the strainer at a time and press to extract as much of the juice and pulp as possible. You may find it helpful to stir and then press the fruits against the side of the strainer as you go, or even press with your fingers. Scoop out the spent fruit skins and seeds once they've given all they can, and discard as you go.  It will take a few minutes to finish the job.
You should get about 1 litre (around 4 cups) or seedless juice and pulp by the time you've finished.  Wash the saucepan, and then transfer the juice back to the saucepan. Taste it.  If you feel it needs more sugar, add a tablespoon at a time and stir to let it dissolve before you add more. (If it's sweeter than you like, add a slight squeeze of lemon juice.)
Bring the fruit juice back to the boil over medium-high heat, stirring occasionally. Before it boils, measure the arrowroot into a small cup and add 4 teaspoons of cool water to make a thickening 'slurry'; stir until smooth, and stir into the hot fruit juice. Bring quickly to the boil now, stirring all the while. As soon as it boils, the juice will become clear again and should be slightly thickened, just enough just to coat a spoon. It should not be thick or gloopy.  If it is still very thin, add another 1 teaspoon of arrowroot dissolved in another 1 teaspoon of water and repeat the boiling procedure.  It must boil to thicken and clarify.
Let the rødgrød cool to room temperature and then refrigerate for a few hours or overnight until chilled.  Serve with a little milk poured over the top, or some cream. Garnish with a string of red currants if you like, some halved cherries, or a few raspberries.