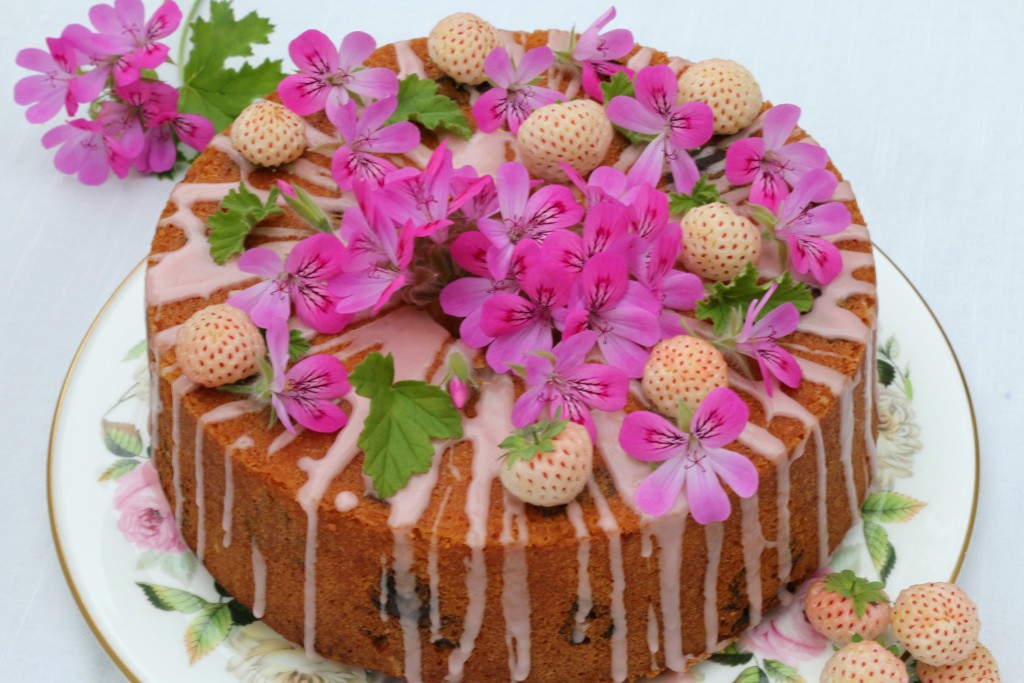 If you are a fan of the edible rose geranium, as I am, this is a beautiful cake with a herbal, floral note, supported by Cognac and the flavour of good butter and eggs.  The leaves of this scented pelargonium add prettiness and a complex flavour. Rose water in the batter, and in a simple drizzle icing, accentuates  it.
The original cake that inspired this one is Lindsey's Shere's Rose Geranium Pound Cake, published in Chez Panisse Desserts in 1985.  It makes a dense pound cake that lasts well and looks and tastes beautiful.
I have tinkered with the recipe, looking for a lighter sponge texture, and found the best results for me come from adding less flour than called for in the original.  I have opted after several experiments for the "weighed egg" approach taken to the classic Victoria sponge, where you start by weighing the eggs in their shells, and use the same weight in butter, sugar and flour.
As one would expect, this method makes a lighter cake, and it's lovely with Lindsey's flavourings.  The only drawback is that it doesn't last as long as the Chez Panisse original.  The heavier pound cake version lasts for several days, tasting even better on day two and three than it does the day it comes out of the oven.  This sponge variation is wonderful the day it is baked and tastes splendid for up to three or four days if well wrapped, but begins to dry out when a pound cake is still acceptably moist. (That doesn't matter much around here, as it never lasts that long.  I've had to hide some test cakes just to be sure.)
This year I've managed to grow some scented pelargoniums that flowered well for once, so as well as using the leaves, I've decorated the cake with the blossoms, which are also edible (Attar of Roses has subtle flowers and the most intensely rose flavour and scent; Pink Capitatum, shown here, has larger flowers and a good scent and flavour).
Their flowering coincided with some lovely pineberries, a white strawberry with a taste of pineapple (thus the name). Cultivated by Dutch fruit growers, they are reputed to have been found growing wild in South America.  They are sure to be fashionable, and the ones I tried tasted very good, too. Strawberry and rose are a heavenly match (see also "A Midsummer Night's Eve Potion").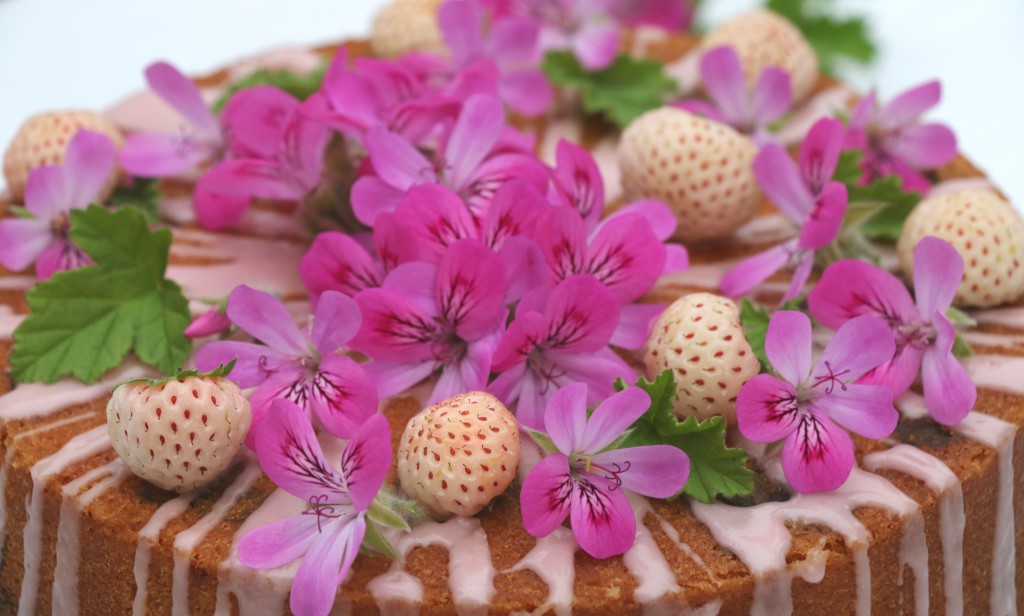 RECIPE
Rose geranium sponge cake with rose drizzle icing
(Adapted from Lindsey Remolif Shere, Chez Panisse Desserts, Random House, 1985)
Serves 10-12
Ingredients
For the cake:
5 large eggs, weighed in their shells [mine were 330g, about 11½ oz]
weight of the eggs in unsalted butter, softened
weight of the eggs in caster sugar or vanilla sugar (sugar flavoured with vanilla pod)
weight of the eggs in cake flour, or soft "00" flour
2 teaspoons baking powder
½ teaspoon cooking salt
2½ teaspoons rose water (if using stronger rose extract, reduce the amount to 1 teaspoon)
1 tablespoon Cognac
1 teaspoon vanilla extract
16-20 rose geranium leaves, rinsed well and dried
For the rose drizzle icing:
110 g (1 cup) icing sugar / confectioners' sugar
1/2 – 1 teaspoon rose water
1 tablespoon plus 2 teaspoons water
optional: edible rose geranium flowers to decorate
Directions
Have all ingredients room temperature. Heat oven to 160C/325F.  Butter and flour a 25cm/ 10-inch tube or bundt pan; or 23-cm/9-inch springform cake tin.
In a standing mixer or with a hand-held mixer cream the butter well, and gradually add the sugar. Beat until very light and fluffy 5-10 minutes, scraping the sides and bottom of the bowl to make sure the ingredients have been smoothly incorporated.
Add the eggs one at a time, beating well to mix, but don't overbeat or you could lose some of the air you've beaten in.
Add the vanilla, Cognac and rose water and beat until combined, but don't overbeat at this stage either, or the gluten strands in the flour will get tighter and the cake will toughen.
Whisk together all the dry ingredients in a bowl. Add to the batter in four goes with the beater on its lowest setting, just until mixed.
Arrange the rose geranium leaves in a pleasing pattern on the bottom of the buttered and floured cake tin, with their undersides facing up, as the cake will be turned upside down to serve. Place a few leaves on the sides of the cake tin, if you wish, placing them low enough down to be covered by the batter, and making sure their "good sides" also face outwards to show on the finished cake.
Carefully spoon the batter on top of the leaves to secure them in place, and level the batter evenly in the pan.  If you are using a tube or bundt pan, make a depression  in a circle all around the middle of the cake, as this is where it has a tendency to rise as it bakes. If using a springform pan, make a slight depression in the middle three inches of the cake for the same reason, to avoid the cake doming in the middle.
Bake for one hour to one hour and 15 minutes until the cake is just done.  A tester inserted in the centre will come out clean, and it will be golden on top and spring back to the touch.  Don't over bake.
Place on a rack until cool enough to turn out, and turn the cake upside down to ice.
Mix the icing sugar / confectioners' sugar, the water, and 1 teaspoon rose water and beat well until it is smooth.  Taste for the amount of rose flavour.  If needs be, add a little more.  Try out the consistency to see if it pours easily.  Add a tiny bit more water if necessary and stir well.  Drizzle the icing over the cake with a fork or small spoon and let set until firm, an hour or so.  Decorate with flowers, strawberries, pineberries, or nothing more.