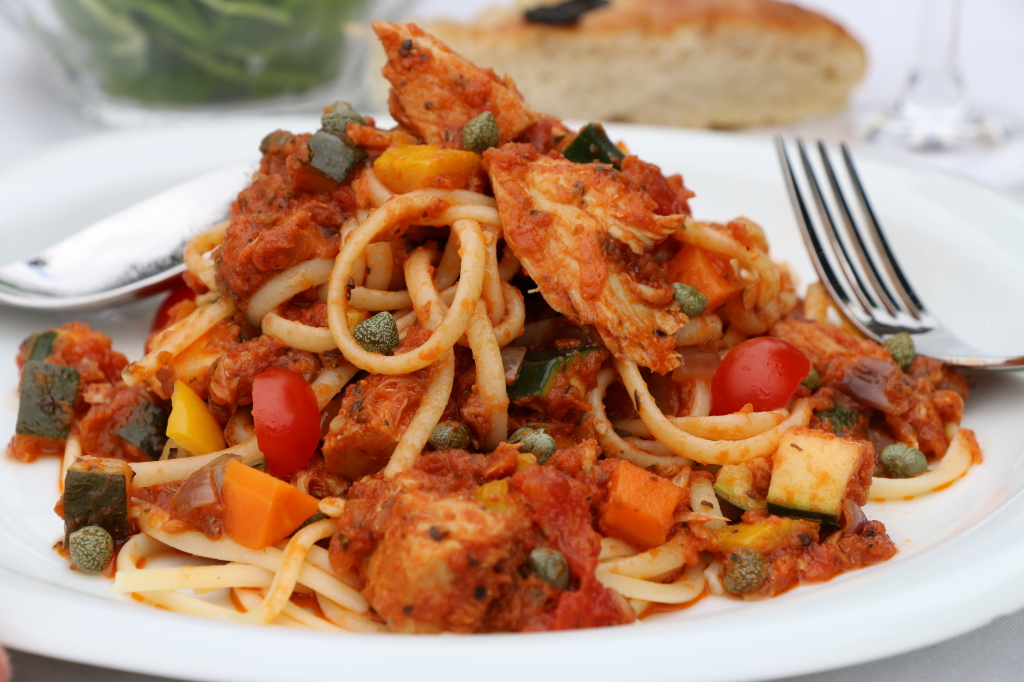 This is offered as a "transitional" recipe, as requested by my east coast family who still have winter weather to face on the second official day of spring.  
It's a comforting, richly flavoured sauce, quick to make, with a healthy crunch of vegetables that add freshness to the tomato base and protein hit of the fish.
This is a convenient and wholesome stand-by when weather keeps you indoors or work keeps you late.  Most of the ingredients are things you can keep on hand.  Sundried tomato paste adds body and great flavour if you have it.  If not, use 1-2 tablespoons of ordinary tomato paste (I wouldn't recommend more, as it can be bitter). Four or five anchovies add a depth of flavour and complex saltiness that accentuates the tuna without dominating.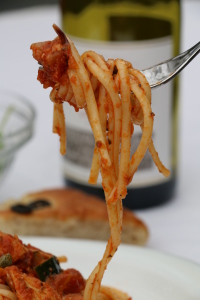 This is my husband David's recipe — one he made for my parents when they visited us in England a few years ago.  It was clearly a hit, as they've been asking us to write it down for a while. I have nailed down the measurements at last and tested the recipe, although it is quite adaptable and not something you need to be all that precise with (except to watch the salt).  For example, the amount of tuna may vary slightly depending on size of tins/cans/jars you have on hand. The proportions I've given here dress 500 grams (or one pound) of dried pasta.

Unlike a classic Neopolitan tomato "gravy", this sauce doesn't have to cook a long time — you cook the vegetable base as quickly as a 3-minute stir fry (you want to retain some crunch), add the rest of the ingredients to heat through, and you're there.  It takes about 15 minutes once you've chopped the vegetables.
One more tip: save a handful of diced courgette to add in the last minute of cooking, for colour and a contrast of textures – especially nice in winter when fresh basil is unavailable or uninspiring.
This easy-to-make meal-in-one is satisfying when it's cold outside, or when the courgettes (and basil) are fresh from the garden. It's both light enough, and gutsy enough, to work across the seasons.
Look for sustainably fished pole-and-line caught tuna.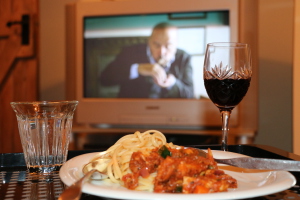 We last had this as a "TV dinner" with linguine,  enjoyed while watching Andrea Camilleri's food-loving Sicilian Inspector Montalbano.  We caught him here scoffing some of his housekeeper, Adelina's, famous cannoli.  Thank goodness we were eating Italian!
Recipe for tuna, anchovy and caper sauce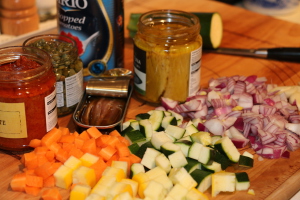 Put the water on to boil before you start chopping, and keep a little of the starchy, salted pasta water to add to the sauce when you dress the pasta: this traditional Italian practice helps the sauce to stick to the pasta and makes it silkier.
Salt your pasta water liberally once it has come to the boil (not before, as salted water takes longer to reach boiling point).  Taste the sauce for salt as you cook, as anchovies are salty on their own.
I also warm my serving plates or bowls by putting them in the oven on its lowest setting while everything is cooking.
Makes 4 servings — enough sauce to dress 500 grams / one pound dried pasta
Ingredients
2 tablespoons olive oil
1 medium red or white onion, diced
1 medium carrot, diced
1 medium courgette, diced (or half a yellow, and half a green courgette)
4 garlic cloves, minced or crushed
180-gram jar (or 6 oz) sundried tomato paste (or substitute 1-2 tablespoons regular tomato paste)
400-g (or 14 1/2 oz can) chopped tomatoes
4 or 5 anchovies in oil (if using the ones packed in salt, rinse well first and start with 3)
one 225 g jar,  OR two 150-g tins, tuna steak in oil (use water-packed if you prefer): North American cooks, use two 5-ounce  cans, or one 5-oz and one 3-oz can
2-3 tablespoons small (nonpareil) brined capers, drained (again, if using the ones in salt, soak and rinse well and use less)
1 tablespoon dried basil
1/2 teaspoon dried oregano
Salt and pepper to taste (start with a pinch and taste before adding more, as the anchovies are salty)
Directions
1. Heat the olive oil in a large saucepan and bring it up to high heat and add the diced onion, carrot and courgette, saving a handful of the latter to add towards the end.  Stir constantly to cook quickly without browning, and cook for about three minutes until the vegetables begin to soften but still have body.
2. Turn the heat down to medium and add the garlic and anchovies.  Keep stirring and cook for around 1 minute more until the anchovies have melted into the vegetables and the garlic becomes fragrant.  Don't allow the garlic to take on any colour.
3. Add the sundried tomato paste, the tinned tomatoes, the dried herbs, the tuna and the capers.  Season with salt and pepper, tasting for salt first as the anchovies will have added salt already. Bring the sauce to a simmer over medium heat, stirring frequently to prevent catching. Taste and correct seasoning with added capers, another anchovy, or herbs as needed.
4. Add the reserved handful of diced courgette about a minute before the pasta is ready.
5. To serve, add the cooked pasta to the sauce in the pan and mix well to coat.   Add a splash or two of reserved pasta water if the sauce feels too thick; this will make it stick better to the pasta and take on a silkier texture. Serve onto your warm plates/bowls.