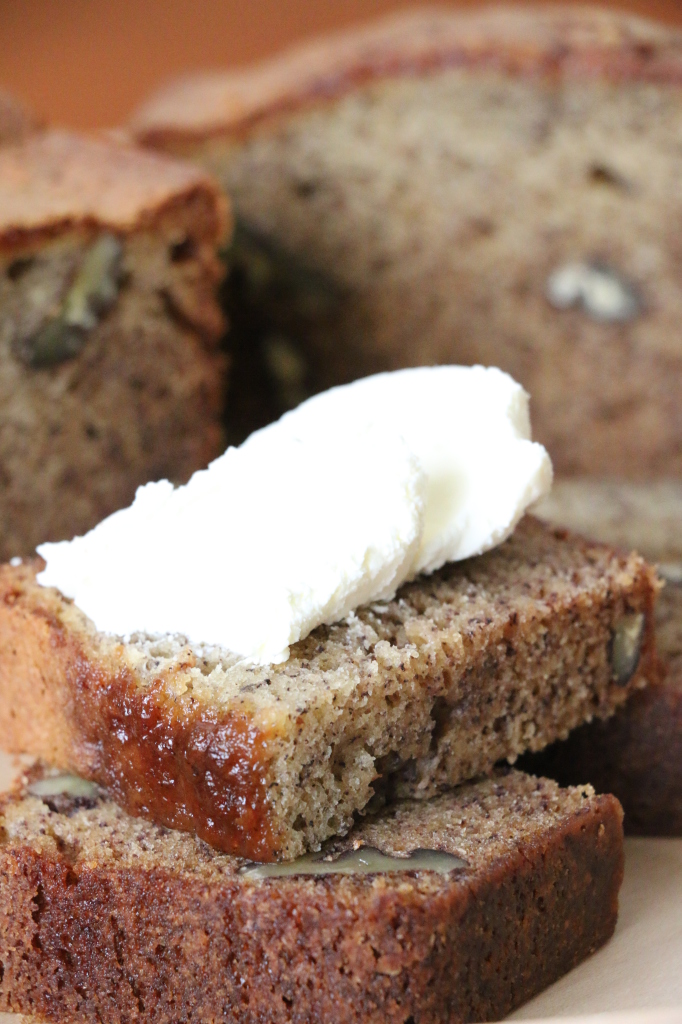 I got this recipe thanks to the minor misfortune of a good friend many years ago, and it remains my absolute favourite version of banana bread — gooey and moist and very banana-y.  It is worthy of my best Texas pecans when I want to add nuts (walnuts are good too), and it is easy to whip up when you have two or three ripe bananas.  It lasts well and is great plain or with an indulgent lashing of good cream cheese.
My friend and I still call it the "one good thing" banana bread, because the recipe was the one good thing to come from a short-lived relationship she had with a mid Westerner who shall remain nameless.  I visited her one famous summer when I was driving coast to coast back to California and she was staying with the guy, at his mother's home.  Let me just say that mother and son didn't spoil two houses, and my friend saw sense soon after.  Despite being unwelcoming in every other way, the mother made a loaf of this delicious bread and served it to us with cream cheese.  She even consented to share the recipe, so clearly wasn't that bad.
My friend and I agree that this banana bread legacy was definitely  worth the detour.
serves 8 – 10
Ingredients:
2 large or 3 medium bananas, very ripe, and mashed  (I use a total weight of 250-260 grams, if you want to be precise)
300 g caster sugar (1 1/2 cups granulated)
2 large eggs
125 ml (1/2 cup) tasteless vegetable oil
1 teaspoon real vanilla extract
225 g (1 3/4 cup) all-purpose flour or cake flour if you have it (for North American bakers, sift before measuring into cups)
1 teaspoon bicarbonate of soda (baking soda )
1/2 teaspoon salt
80 ml (1/4 cup plus 1 tablespoon) buttermilk [ or substitute milk with 1 teaspoon fresh lemon juice]
110-115 g (1 cup) chopped pecans or walnuts, optional
cream cheese to serve, optional
 Directions:
Heat oven to 160 C /  325 F.
Butter and flour a 2-lb loaf tin.
Mix sugar and eggs together with the mashed banana until smooth and frothy.  Give it about 5 minutes until the sugar is well-dissolved and the banana is smoothly incorporated.  This is easiest with a standing mixer, but you can do it by hand.
Add the vegetable oil in a slow, steady stream and then add the vanilla.
Combine the dry ingredients and mix in about half to the banana mixture.
Add all the buttermilk, then add the other half of dry ingredients, mixing just until incorporated. Don't over beat or you will develop the gluten and the banana bread will be tough.
Add nuts if using and mix by hand just until well distributed.
Pour the batter into the prepared pan and bake for about 1 hour and 10 minutes, rotating once after 35 minutes to bake evenly if needs be.  Check with a tester after one hour, as you may not need the extra ten minutes. You want the tester inserted in the centre to come out just clean, and for the sides to have just begun to come away from the pan.  Don't over bake.   If it is browning too quickly, cover with a piece of buttered parchment.
Cool in the pan for 15 minutes, then turn out and cool right side up on a rack so air can circulate underneath. It will get stickier and better as it settles. I often make this the day before I want to serve it.
 Wrap airtight and keep at room temperature for up to four days.  It freezes beautifully, too.  Double wrap for the freezer and defrost still in the packaging, so condensation stays on the outside.