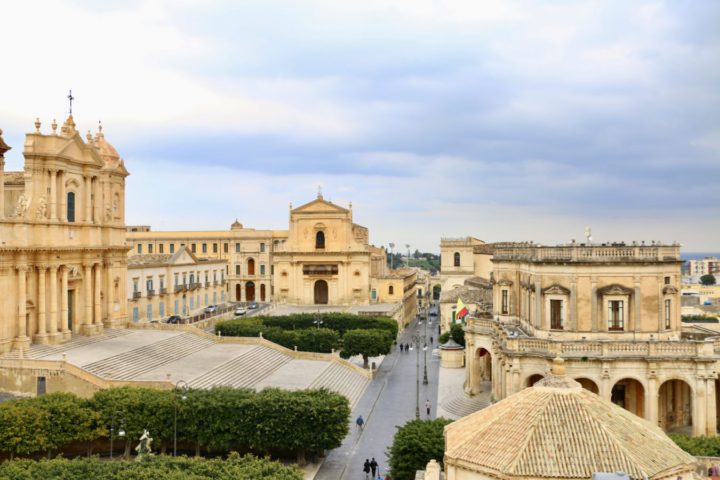 There is something about the south-eastern corner of Sicily that goes straight to the heart.  It is agricultural, abounding in vineyards, citrus and almond orchards, and olive groves. It is also wild, windswept, rugged and mountainous, with a coastline gentle in places, dramatic in others.  This varied landscape is populated with gracious Baroque towns and picturesque fishing villages.  Its immense variety is reflected in the culinary traditions of the area, which embrace both land and sea; and there is a way of life here that is fighting to preserve small farms and traditional methods of food production against a rising tide of agribusiness and mass tourism more evident in other parts of the island.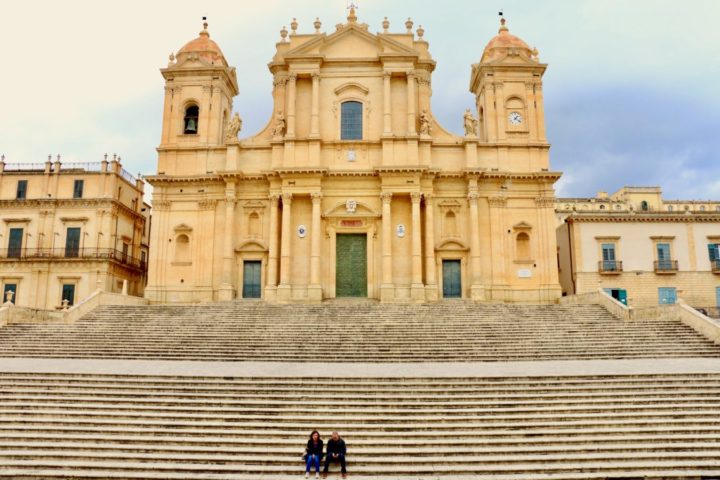 The town of Noto itself is a graceful gem, a Baroque beauty rebuilt on the southern slopes of the Hyblaean mountains in one intense period after a disastrous earthquake in 1693 left the original city, five miles north and higher up, in ruins.  The catastrophe brought forth beauty, however, in the work of three local architects who created a sumptuous unity and originality that belongs uniquely to this part of Sicily.  Quietly proud as they are of their city, local people still don't like to talk about earthquakes, we were told, and look to their local saint, Corrado, for protection. (He is so revered that Corrado is the most common name for boys born in Noto, and if a man is called Corrado, he is recognised throughout Sicily as a native of this town.)
Noto wears the signs of its historical wealth and importance with the modesty of a small town, where it's easy to walk everywhere and people know each other.  Its small streets and wide, open piazze are distinguished by ornate buildings in honey-coloured stone that transform at sunset into molten gold: grand yet warm, personal, approachable.  Its cathedral in the central square is stunning in proportion, its immense yet delicate flight of stairs beckoning gently, as though towards heaven.  Everywhere this soft, workable stone is animated by detail, some soaring and masterly, some as naively enchanting as illustrations from a children's story.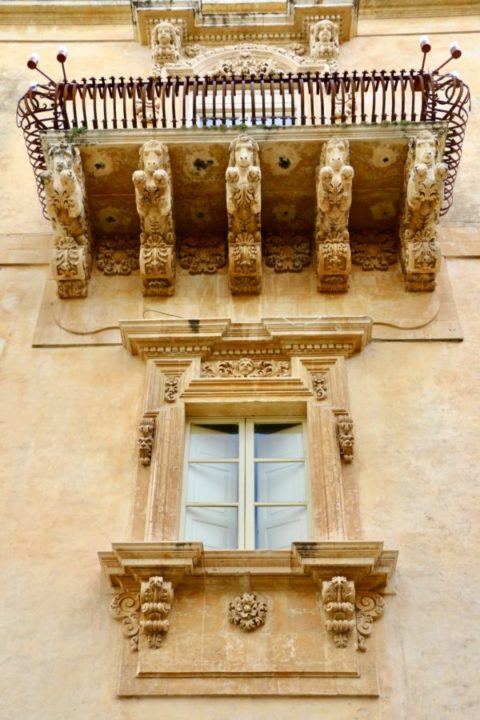 It's a thoroughly charming setting in which to dwell in a past where beauty was so valued, while absorbing the ordinary rhythms of today. Everywhere on the streets is the energy of life being lived: clashing church bells; notices of births and the anniversaries of deaths; the commerce and chatter of markets and small shops selling all that's necessary; cooking smells wafting from windows housing pots of herbs; laundry drying like bunting in alleyways; cats dashing along walls; a steady stream of scaled-down cars and toy-like trucks navigating the narrow streets; residents greeting each other with kisses and embraces. Such domestic vignettes are enacted against a backdrop of staggering artistry, all the more beautiful for its patina of age.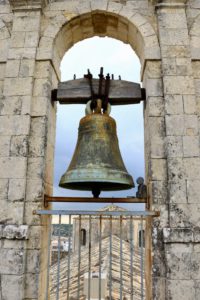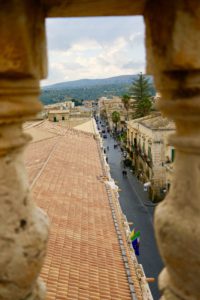 As part of a longer holiday in the Valley of Noto, we spent two days with a local guide. On the first of these we explored the city's food markets and cooked in a characterful home kitchen with Renée and her colleague, Deborah, a gifted young cook with the face of a Renaissance angel. We learned at their side how to make proper Sicilian caponata – that unctuously delicious dish of aubergine, peppers, celery, olives, garlic and capers that is given the sweet-sour treatment common to many Sicilian classics. It was the best I've ever had, so pure and full of sun, so life-giving; and the process of making it was a ritual of celebrating the glory of what grows here.  I've since re-created it at home in England to the delight of all who've tried it, and am grateful to be able to share here the recipe we learned from our teachers.
As if that caponata weren't enough, we also helped Deborah and Renée make the magnificent timballo di anelli di Sicilia al forno,  a dish of the Sicilian ring-shaped pasta called anelli, or annelleti, for 'little rings', baked in a round mould lined with sautéed slices of aubergine.  Timballo (timbale in French) is the word for 'drum' and serves as the name of both the finished dish and the mould it's baked in.  The cooked pasta rings are sauced with a chunky beef and pork ragu, enriched with diced caciocavallo cheese of the area, and because it was almost Easter, also with hard-boiled eggs.  The whole was baked and turned out to reveal a neat pasta cake in a glistening aubergine skin, revealing when cut a rich and fragrant interior.  It's a complicated dish meant for Sundays and celebrations, a dish with history.  Tasting it, made by home cooks in a Sicilian home kitchen full of family history, was a very special experience.
Of everything we prepared that evening, the simplest was all the more delicious for being simple: a refreshing salad of fresh-from-the-tree oranges and richly flavoured local olive oil, with the addition of a little spring onion.  It was as memorable in its way as the more elaborate dishes, and a delightful partner to them.
The market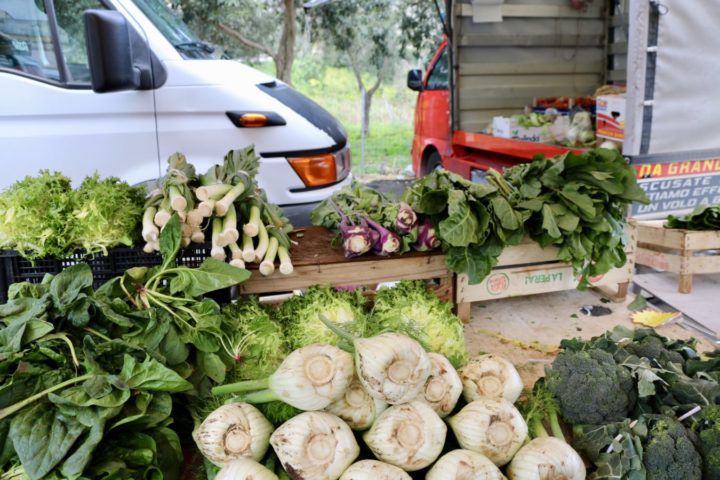 The Noto market was smaller than some, but of excellent quality and far more varied than one might expect in February (it still surprises me how much can be grown here, and how good it is, when northern Europe is still under snow).  It sits on the margin of a scrap of land that supports, with typical Sicilian resourcefulness, a few olive and orange trees, wild fennel and borage, and even some vines looking well-tended by someone, as no doubt they were.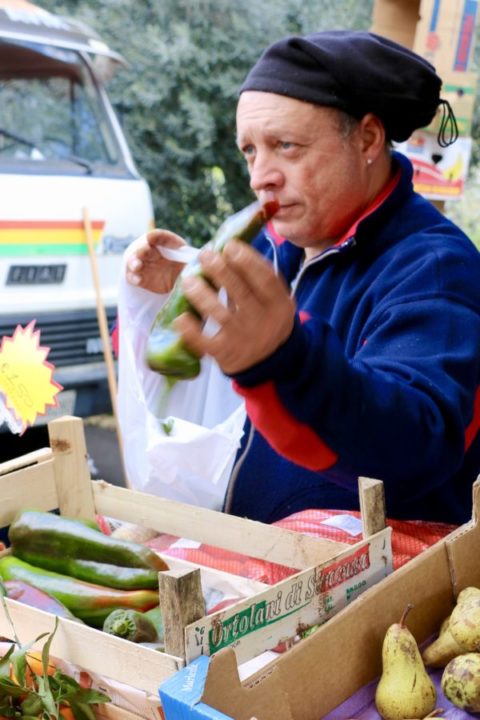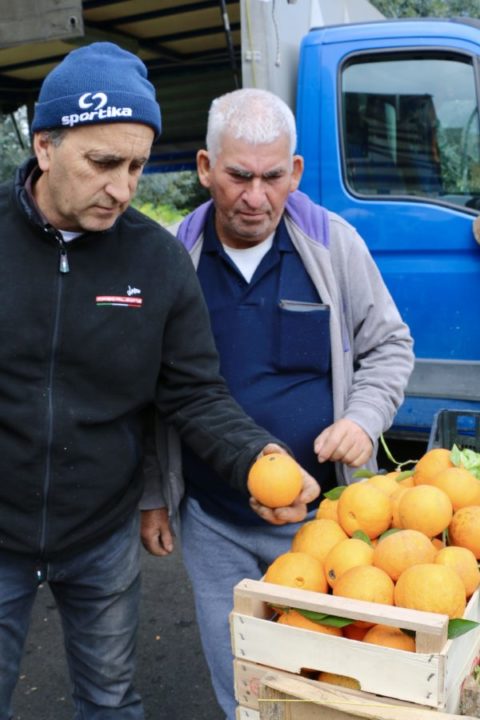 There were local walnuts and almonds, and pecans from Mount Etna; native lentils, and black rice; dried wild oregano with the most gorgeous fragrance; big round green Castlevetrano olives; interesting greens and bitter lettuces; excellent celery and huge bulbs of fennel; artichokes and enormous pumpkins; and oranges at the peak of their season, incredibly good.  The long, green peppers we chose for the caponata may have looked like any other pepper, but they were the most flavourful I have tasted.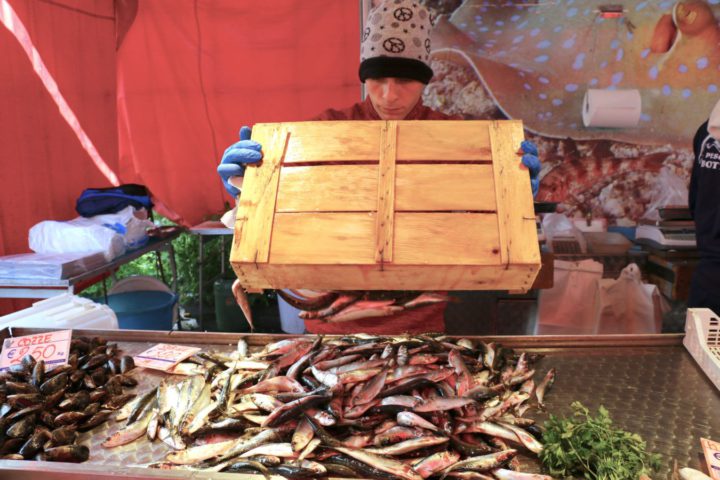 The fish matched the freshness, if not the variety, of Palermo markets: swordfish, sardines, and the 'neonata' or jelly-like, translucent baby whitebait used to make fish pancakes (Camilleri's Inspector Montalbano acknowledges a portion of such newborns 'a massacre' while tucking in with gusto). These are sold legally here on the grounds that the whitebait is a small fish when mature.  It isn't always clear whether these tiniest of fish are a mixed by-catch (e.g., immature sprats, sardines, mackerel, bass, squid and other species), so critics advocate outlawing them, while others argue it's wasteful not to eat them as they don't survive being put back.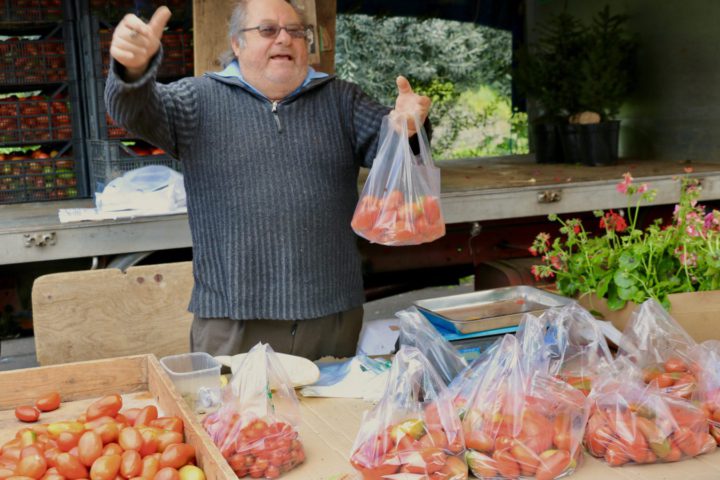 This was an animated and colourful market, boisterous with bonhomie and transactions amongst people who were clearly regulars. Shoppers consulted freely with vendors, and vendors were vocal with each other. A truckload of tomatoes were being sold by a performer who waved his cigar at his neighbours and jokingly warned me "they were so ugly they would break the camera". The brothers bantered back as we consulted them for help in choosing the sweetest oranges for our salad.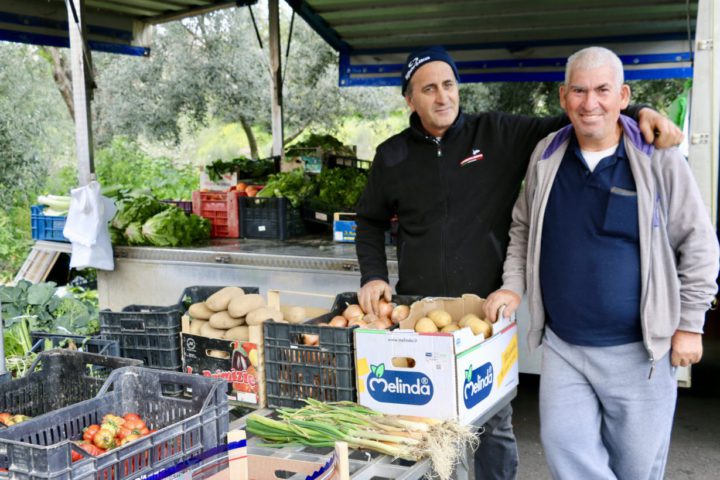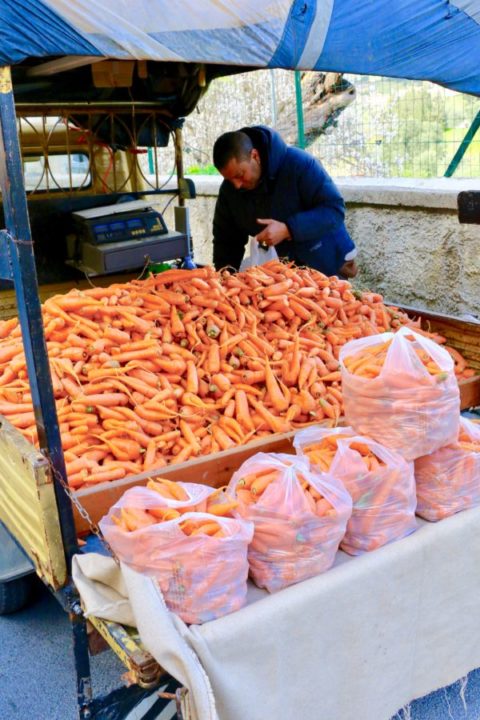 It seemed the best kind of local market, where one can procure just about everything one needs to cook good food from scratch, sometimes for a bargain.  Renée was tempted by a truckload of Istica carrots, noted for their sweetness. She filled her backpack with them for pennies a kilo and gave them away to friends and neighbours on our walk back to the kitchen (all of whom accepted with enthusiasm and the Sicilian double kiss).  It was on this walk that we spotted a number of Noto street-cats tucking into plates of pasta left for them by kind-hearted souls.  I've never seen a cat eat spaghetti anywhere else, and I have to say, I'm not sure this little one was too happy about it.  (I think the magnificent thug cat, probably dad, got all the meatballs.)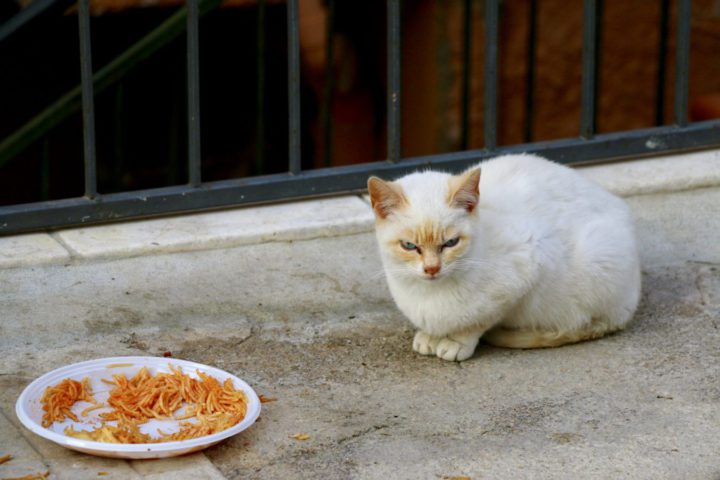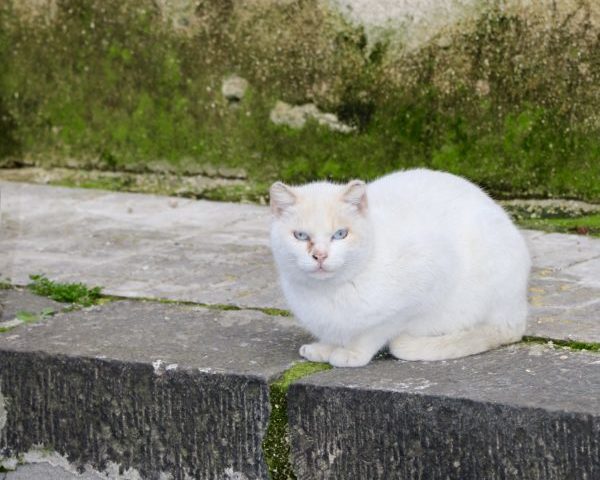 A little more about the food in Noto
Amongst Noto's many culinary treasures are simple places to enjoy the ubiquitous Sicilian cannoli, which newly crisp and filled with the freshest, milkiest sheep's milk ricotta of the island are heavenly confections bearing little resemblance in taste, at least, to those with which we are more familiar in the UK and US (which typically use the milder cow's milk ricotta and far more sugar).
There are so many other tempting little sweets, typically made of the native Sicilian almonds (or pistachio) and flavoured with its intensely perfumed citrus, that it's nearly impossible to go on holiday here without wearing a perpetual dusting of powdered sugar.  And it goes without saying that it's possible to sip a very good espresso (generally for about a euro) in any number of pasticceria and modest corner-bars: an oh-so-agreeable habit.
An historical landmark for all the above, dating from 1892, is Café Sicilia, where artists and philosophers once squandered their time, and which now attracts the cognoscenti of Sicilian dolci, locals of many vocations, and of course visiting caffeine and pastry junkies like us.  The pastry chef and owner, Corrado Assenza, represents the fourth generation of his family to run Café Sicilia. He is known throughout Sicily for his interpretations both traditional and innovative, and for his mission to save varieties of local almond, wild strawberry and other Sicilian tastes, from extinction.
We also stumbled across down-to-earth family-run businesses that specialise in particular Sicilian dishes like arancini – savouries made of saffron rice wrapped around a filling (typically ragu, cheese and peas), then patted into the shape of a dome using hands posed as for prayer (Palermo style), or rolled round between the palms (Noto style) to mimic the little orange for which they are named, then fried with a coating of egg and fine bread crumbs.  Their simplicity belies a tradition preserved through passion and love. One such place near the cathedral, which we learned later is considered the best for arancini in the city, typified the care bestowed on such 'fast foods' and the strong family ties so common in Sicily.  Andrea, who runs his modest premises with courtesy and quiet pride, credits his own talents as an arancini master to his late father, whose photo he keeps on the wall behind the till as a mark of respect, gratitude, and authenticity.
As for wine, we easily found small shops that sold bottles of good, gutsy local wines for a couple of euros, and one where we filled plastic litre bottles from large casks with an excellent local Nero D'Avola for less than the cost of a small glass in England.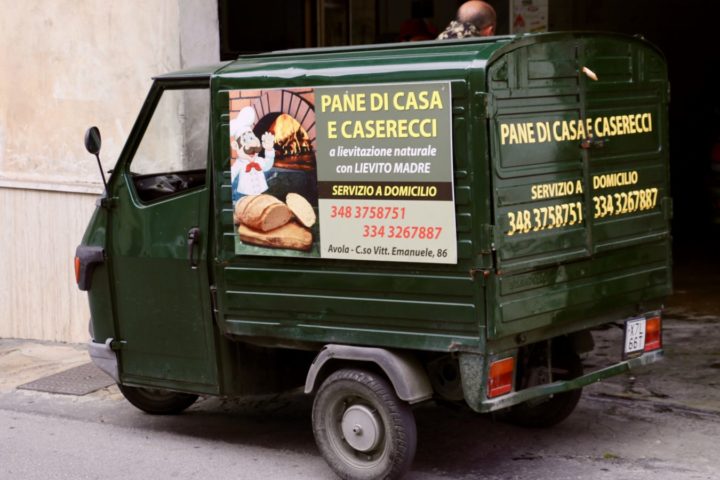 On cooking Sicilian food outside Sicily
I approach any discussion of Sicilian food with humility, and a pinch of trepidation, for I have barely scratched the surface of understanding it, so connected is it to this land and sea and its complex past, so deep is it in the bones of those who are born to it. When we recently asked a Sicilian friend what the food culture was like in Sicily now, some years after we first started travelling there, she told us: "Sometimes we eat foreign food, maybe Japanese, or sometimes Italian, but mostly we eat Sicilian."   We were, naively it seems in retrospect, far more surprised at the distinction she made between Sicilian and Italian food than we were to learn that Japanese food is gaining some popularity on the island.  Sicilians consider their landscape, history, culture, and therefore their food, unique to them and their place.
Every region of Italy can say the same of its heritage, with its regional dishes maintained with as much pride.  Whether they stay as exclusively regional in practice in an increasingly homogenous world, I would venture to say is less obvious.  Understanding this is, I suspect, a lifetime's undertaking, and like all the most important questions in life, may never be answered.  In the meantime, we have taken some of these wonderful Sicilian dishes into our own English/American kitchen and made them our own, as the impressions and memories we've accumulated of the island are ours. This is what human beings always have done: internalise the best they've experienced and try to make it last with whatever resources they have to hand.  If there is any cuisine that's all about assimilating different cultures into itself, it's Sicilian. I'm sure they would approve.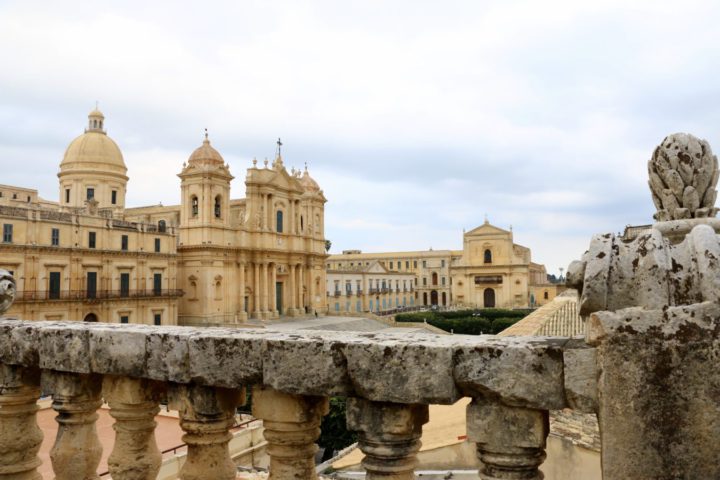 Acknowledgements:  Our trip was a private holiday paid for by ourselves. The comments on this blog are motivated by the quality of our experience and a wish to inspire others to visit this part of Sicily.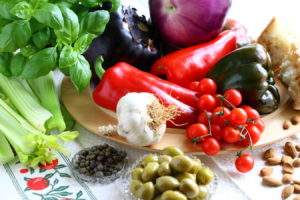 See also the recipe for Sicilian caponata, as learned with Deborah and Renée on this trip to Noto.
Suggested reading:
Mary Taylor Simeti, a New Yorker who settled in Sicily in 1962, she writes with scholarly and passionate knowledge about her adopted home, and offers many traditional recipes, every one of which is tempting, expertly researched, and clearly written. Her richly informative Sicilian Food is a treasure for anyone interested in the food and traditions of Sicily, as is her memoir, Bitter Almonds, which captures many rare insights into the traditional foods of the island. She also wrote a learned essay on the timballo in The Leopard.
Giuseppe Tomasi di Lampedusa,The Leopard. A masterpiece of 20thcentury literature that chronicles in gorgeously observant prose the changes in Sicilian life during the reunification of Italy under Garibaldi, from the perspective of a 19thcentury Sicilian aristocrat.
Andrea Camilleri's Inspector Montalbano series of novels (and television adaptations, in Italian with English subtitles). These are well-translated comedies of manners with beside-the-point plots and ridiculous sexual politics, romantic Sicilian locations, laugh-out-loud humour, charismatic characters, bags of atmosphere, and food.
Mario Giordano's unfolding Aunti Poldi series (two so far translated from German) makes fun, light reading, with ample descriptions of place and the humors of Sicilian life. Its 60-year-old sleuthing heroine, transplanted to Sicily from her native Germany, makes an agreeable change.
For other Italian travel stories on Crumbs on the Table, see also: