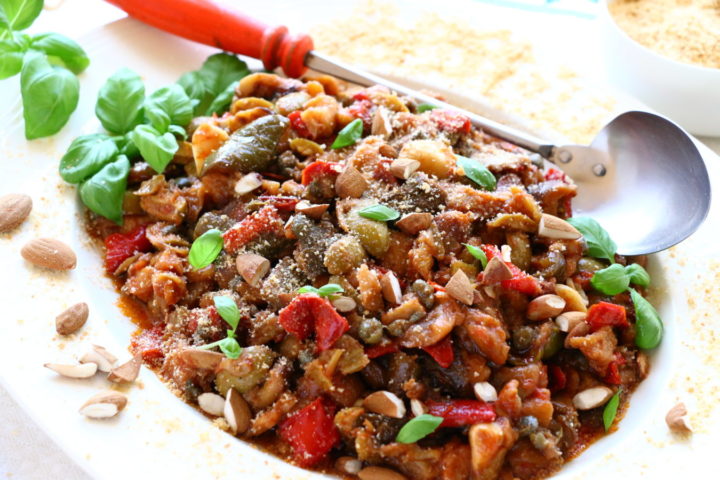 This is where I share the treasured recipe and insider tips for making traditional Sicilian caponata, as we learned it from two wonderful cooks in Noto, in the south-east of Sicily (read more here).  It's the real thing — exquisitely vibrant, sweet-sour, rich and silky — and one of the most difficult things in the world to stop eating. It slips down like velvet sunshine.
Making caponata is a labour of love and there is no point trying to rush it.  It is something to make when you want to get creative, with a glass of wine and something on the radio for company, or indeed with some willing hands to help. It is a tranquil (or sociable) process when you can approach it like that, and the results will amply reward you.
The individual components – aubergine, peppers, celery, olives, garlic and capers – should each retain their identity, but harmonise with the help of a little good tomato sauce – just enough to bind.  To achieve this, each vegetable is initially cooked separately. The olives and capers are also sauteéd, in their case with whole garlic cloves.  Everything is then cooked together for just long enough to unite them with the binding sauce, and with the vinegar and sugar mixture that produces the notable sweet-sour taste.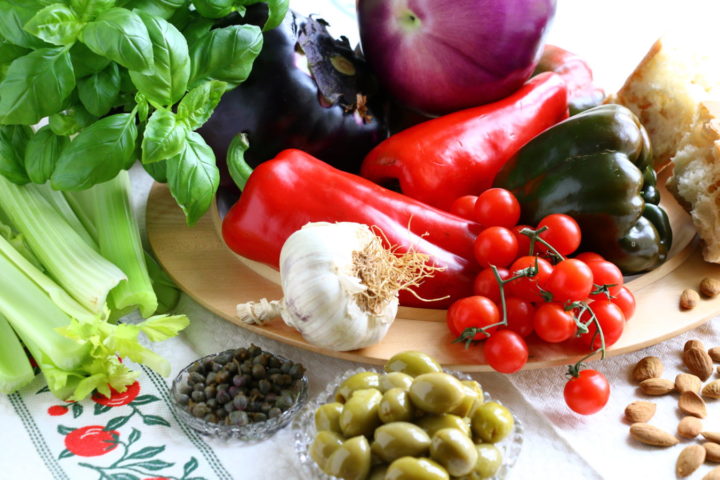 The art of making caponata is to cook each element with care, and to judge the sharpness of the vinegar so it's not harsh and dominating, the amount of sugar so it doesn't obscure the complexity of the vegetables, and the amount of salt from the olives and capers, so the balance is at perfect pitch.
Caponata is excellent freshly made, but gets even better as it mellows in the fridge for a day or two, and will keep for about a week due to the keeping qualities of the vinegar and sugar. In Sicily, caponata is often preserved in pressurised jars (this requires the extra steps necessary for longer storage) and kept as a pantry staple, to be brought out for occasions year 'round.  Mary Taylor Simetti, in her wonderful Sicilian Food, says it was originally a way of preserving vegetables for consumption at sea.
Caponata can be served warm, chilled or room temperature, as an antipasto on its own, or with salamis, cheeses and the like, as part of a spread. It is also beautiful with a piece of grilled fish or meat.
When we made it in Noto with Renée and Deborah, it was garnished with toasted, fine breadcrumbs, chopped Val di Noto almonds, and fresh basil leaves.  These garnishes add a lot: the basil adds freshness; the crumbs soak into the olive oil quite deliciously; and the crunchy roasted almonds add a contrast of texture and another flavour element that perfectly compliments the rest.
Recipe
Sicilian caponata
(Adapted from a traditional recipe as taught by our hosts, Renée and Deborah)
Serves 8-10 as an antipasto or side dish
Note:  'Aubergine' is 'eggplant' ('melanzane' in Italian).
You can scale this recipe up or down depending on the ingredients you have and how many people you want to serve.  We followed no written recipe in Sicily, but the proportions I observed (and subsequently replicated) were roughly 2 parts aubergine, 2 parts pepper, and 1 part celery – plus one-quarter-part a mix of olives, garlic and capers.  Quantities don't have to be exact (if you want to add more celery, for example, or have a little more aubergine to use up), but these ratios will give you an excellent balance of texture and flavour.
Ingredients
1 kilo (a generous 2 pounds) prepared aubergine (see directions)
1 kilo (a generous 2 pounds) prepared green and/or red sweet peppers (see directions); you'll need about 450g (about 1 pound) more to allow for removing stems and cores
500g (a little over 1 pound) prepared celery, weighed before blanching (see directions)
A large head of garlic, the cloves peeled and left whole
200g (1 cup) large green pitted olives, quartered
About 60-70g (scant ½ cup) drained capers, soaked and rinsed 3 or 4 times if salted
About 250ml (1 cup) olive oil, or use half olive oil and half another vegetable oil
About 250-300ml (1 – 1¼ cup) tomato sauce or passata
About 125ml (½ cup) white wine vinegar, or to taste — you may not need all of this
3 tablespoons white sugar, or to taste
Sea salt for preparing the aubergine, and extra for seasoning the dish if needed
To garnish
A handful of fresh basil leaves
A handful of freshly toasted fine breadcrumbs (see directions to make from scratch)
150-200g (around ¾ cup) whole almonds, roasted and coarsely chopped, preferably unskinned (see directions for roasting)
Directions
Prepare the raw aubergine:

Trim off the coarse tops and bottoms of the aubergine, and remove about half of the peel, in alternate strips, using a vegetable peeler. This gives a good mix of textures.  Cut the aubergine into bite-sized pieces, about 3 cm square (a little over 1 inch). Lightly salt the pieces, mixing them through, and place in a large colander to drain.  Weigh down the pieces by placing a plate and a few heavy tins on top of them to press out the liquid.  This helps the aubergine to absorb less oil, and also flavours it.  Leave the aubergine to drain while you prepare the other vegetables.  It's good to give it 40-60 minutes.

Prepare and blanch the celery:

Put a medium saucepan of water on to boil, and have ready a basin full of cold or iced water.
String each stalk of celery by trimming off the tops and bottoms and grabbing the strings as you trim, pulling to remove. Any strings you miss when trimming the tops of the stalks can be captured as you trim the bottoms (you don't have to get all of the strings, but it makes for a silky texture if you can manage to remove most of them). Discard the strings and the pale yellow leaves (freeze the latter for stock or use in a salad).  Cut each trimmed and de-stringed stalk of celery crosswise into pieces about 1 cm thick (about 1/3 inch).
When you have prepped 500g (1 generous pound) of celery, check that the saucepan of water has reached a vigorous boil, salt it, and plunge in the pieces to blanch for about one minute, or until the celery is tender but not soft; it should still hold its shape and have some texture, but not be crunchy. You may need a little longer. When tender, drain the celery and plunge it into the cold water to stop the cooking; drain it and keep it under running cold water to make sure it cools down quickly. When it is no longer warm, leave it to drain again thoroughly while you continue with the other ingredients.

Prepare the peppers:

Wash and dry them, and cut them in half from top to bottom. This makes it easy to snap off the stems with your hands and pull out the cores with their seeds and bulky white membranes. Tap the halves to remove any stubborn seeds and use a small knife to trim off any significant white pith left behind.  Cut into bite-sized pieces about the same size as the aubergine pieces (3 cm square, or a little over 1 inch) and set aside.

Begin cooking the separate ingredients:

In a large sauté pan, heat a tablespoon or so of the oil over medium heat and add the peeled garlic cloves. Cook for about two minutes until they begin to soften, turning them occasionally.  Add the rinsed capers and chopped olives.  Continue cooking, stirring as needed, until the garlic is tender or almost tender, but don't let it turn darker than pale golden.  Remove to a large bowl for now, and don't clean the pan.
Add more oil to the sauté pan and cook the peppers over medium heat until they soften and have taken on a little colour, but still retain their shape. This could take about 20 minutes and is worth taking time over, as you don't want to scorch the pan.  Once tender, add the peppers to the garlic, capers and olives in the large bowl; and again, don't wash the pan.
Proceed in the same way with the celery, ensuring it is patted as dry as possible first. Add a little more oil to the sauté pan, and increase the heat slightly, stirring occasionally until the celery, too, takes on a little colour.  As it is already tender from being blanched, it will need less time: about 5-10 minutes.  Once done, add it to the bowl with the peppers, garlic, capers and olives.
When ready to cook the aubergine, dry it well with kitchen towels. You will need to fry the pieces in a single layer, in two or three batches. Add a bit more oil to the pan for every batch, and reduce the heat if necessary to avoid scorching the aubergine.  It should colour to a golden brown on all sides and become completely tender, but not mushy. Remove the first batches to the bowl with the other cooked ingredients.

Combine the ingredients and cook with the tomato sauce:

When the final batch of aubergine is cooked, add to it all the cooked ingredients you've set aside in the bowl, and give everything a gentle stir in the sauté pan to combine. Now add just enough tomato sauce to bring the vegetables together into a cohesive whole, with a slightly loose, slightly saucy texture. The sauce shouldn't dominate or drown the vegetables, but act as a medium to unify them.  Let everything simmer gently together for about 5-10 minutes until it is nicely melded; but the individual elements should remain distinguishable — it should not collapse into a mushy stew. Remove the caponata from the heat and proceed with the final seasonings.

Add the sweet-sour element:

Mix the 3 tablespoons of sugar with the vinegar in a measuring jug, and stir until the sugar dissolves. Add about half of this liquid to the cooked vegetables, keeping the rest aside for now – you may not need it all.  Taste the vegetables and add more of the sweet-sour liquid as needed, proceeding a little at a time and tasting with each addition before adding more.  If you feel it needs more sugar, you can add it straight to the vegetables if you don't also need more vinegar, but do add it gradually and allow time for it to dissolve before tasting.  When tasting, it's a good idea to sample a little of everything in the dish to help judge the balance of salt, sweet and acid.  You're looking for a lift from the vinegar, and a subtle sweetness from the sugar, but neither should dominate the vegetables. Also taste for salt; there should be quite a bit already from the aubergine, capers and olives, but add a little more if you need it. When you're happy with the balance of the caponata, decant it into a dish for serving right away, or let it cool to room temperature and allow it to mellow in the fridge for a day or two.
Serve garnished with a light sprinkling of toasted breadcrumbs, then the toasted almonds, and finally a scattering of fresh basil leaves (see below).
 To make the garnishes  
Start with fresh breadcrumbs made by cubing some crustless bread and whizzing it in a food processor until it's as fine as you can get. In a 175C/350F oven, arrange the crumbs in a shallow layer on a baking tray, and toast until light golden-brown, mixing them through a couple of times for even browning; this takes about 5-8 minutes.  Cool them completely and crush them finer with a rolling pin if needed; or pulse in a clean food processor.  Stored airtight, they should last for about a week.
In a 175C/350F oven, toast the almonds in a single layer on a baking tray, stirring a time or two, until they smell fragrant and are crisp, but not too dark in the centre; this takes about 10-15 minutes. Allow to cool completely, and then coarsely chop them. Set aside until serving; or store airtight, where they should stay crunchy for at least a week.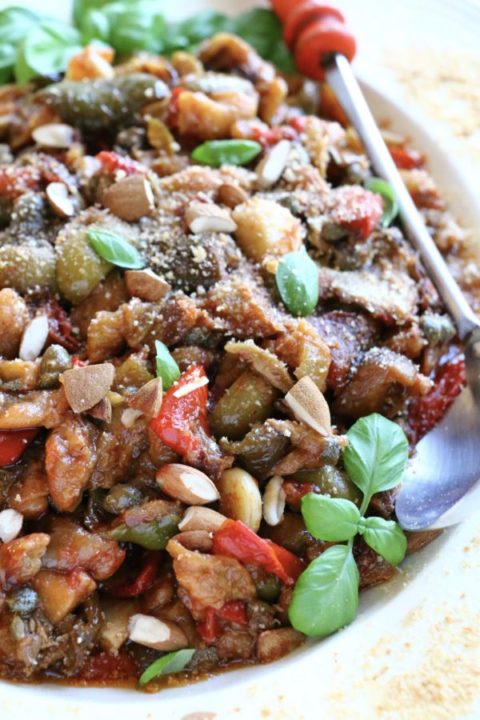 Other Sicily stories and aubergine recipes on Crumbs on the Table: