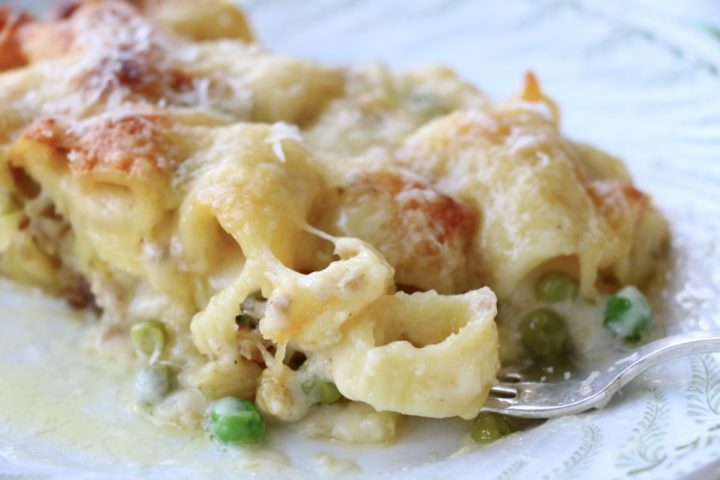 This luscious baked pasta dish was served to us as a primo piatto  ('first plate' or first course) on our summer holiday in Umbria.  Pasta al forno bianca con salsiccia e piselli  is rigatoni dressed with a parmesan-rich white-sauce flavoured with the excellent sausage of the region and lightened with peas.
We fell in love with it, and upon our return to England set out to recreate it.  Fellow tasters agree:  it's delicious.  Wonderfully creamy without being heavy, it's light enough for a summer's evening, yet substantial enough for a warming winter meal.   The textures, as much as the tastes, are heavenly:  creamy sauce, bite from the pasta, pop from the peas, a crumble of sausage every other mouthful, and the crunch of burnished cheese on top.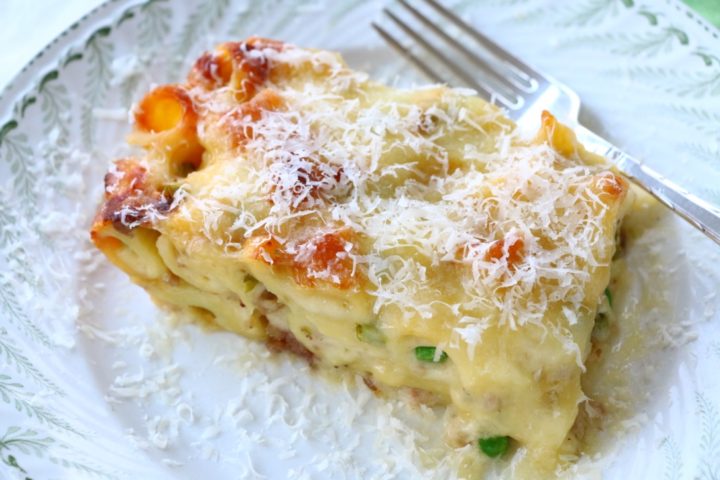 The sausage element acts more as a flavouring agent than a hearty ingredient in its own right, lending its important qualities, but without dominating the cheese sauce and pasta; and the peas are just as important as the sausage in that wonderful Italian way where vegetables are never relegated to low-status, however 'ordinary'.
We've mostly enjoyed this lovely dish as a meal in itself with nothing more than a salad, but have also served it as presented to us in Umbria, in modest starter-portions followed by a simply grilled piece of meat or fish.  This Italian way of enjoying pasta as a 'first plate' is a nice way to have a little of what you fancy without as many calories.  Being a baked (al forno ) pasta dish makes it brilliantly convenient to make ahead, as well.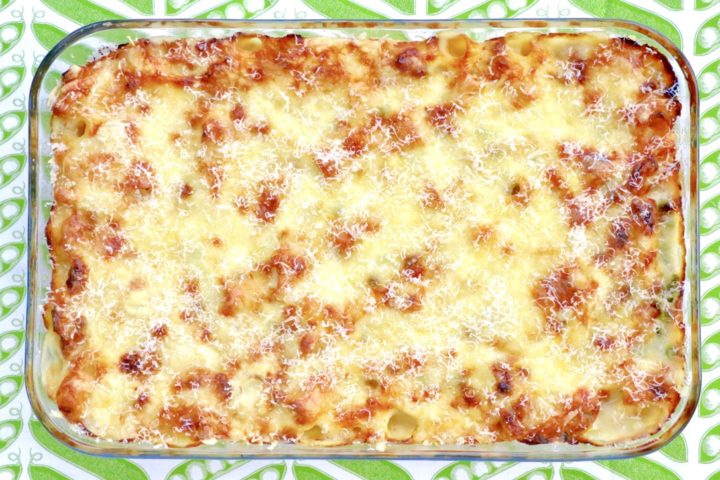 This is a dish of few ingredients, where each contributes just the right amount of drama.  In typical Italian fashion, the quality of each, and its localness, is what makes it: "what grows together goes together".   The pork of Umbria is some of the best in Italy; and quality peas, along with other legumes such as chickpeas, lentils and fava beans, have been grown in the region's fields for centuries.  I can appreciate this tried and true combination of flavours all the more for seeing how they evolved together in the landscape; and I'm delighted to discover an Umbrian dish that's so easy to replicate at home with our own good ingredients.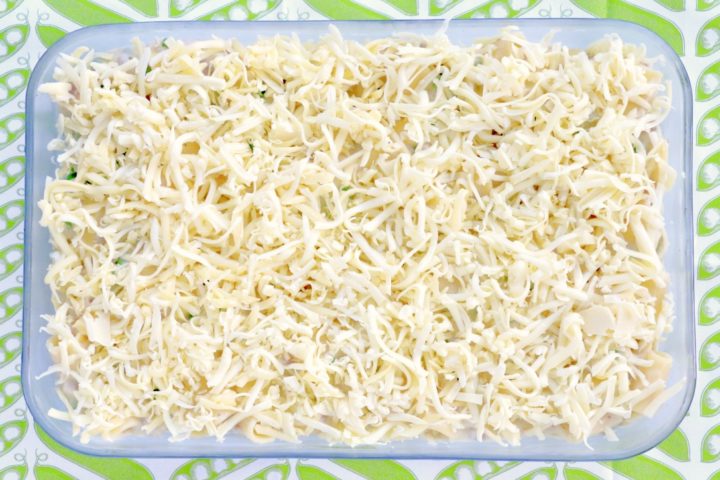 My efforts to recreate this dish went through several refinements to get the best proportion of white-sauce to pasta, and to approximate the flavours of Umbrian sausage when it's not to hand.  I'm really pleased with the result.  It tastes just as good as the one that was cooked for us in Umbria, and it stays saucey and moist if you want to assemble it a day ahead — or should you wish to freeze portions to pull out for dinner on a busy week-night (some recipes leave you with a too-dry, stodgy dish next day or after freezing).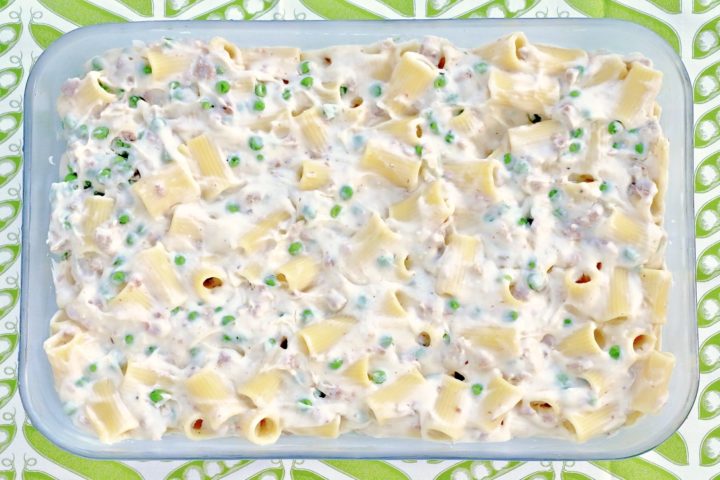 In the sausage department, I found that adding some freshly crushed fennel seed to a good English sausage worked well; so if you can't find a genuine Italian sausage, buy one with fennel, or add the fennel seed yourself to a plainer sausage (or one with compatible herbs).  Note that this recipe calls for raw sausage that has to be cooked (salsiccia  in Italian), not cured ready-to-eat charcuterie meats (though you could of course experiment with them for a different effect).  Ham would also work in this dish along with the peas.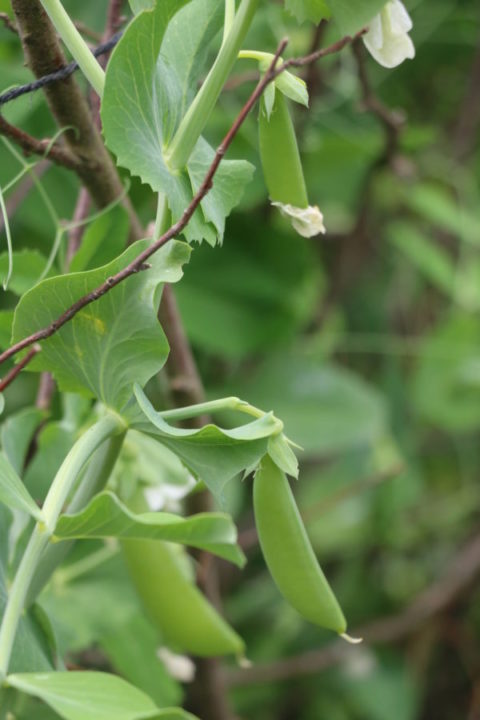 We saw on menus throughout Umbria the same combination of sausage and peas in a 'lasagne bianca', a white-sauced lasagne using the usual long noodles instead of rigatoni.  That was lovely, too; but having tried both, we agree that the bite-sized rigatoni for us has the edge for pleasing mouthfeel in this creamy sauce (and it's even easier for the cook than having to work with layers).
The classic white-sauce or béchamel  — 'besciamella' in Italian —  stands its ground in Umbrian cuisine with the more familiar tomato sauces.  I've learned that it's more common in dishes throughout Italy than I'd realised, which I suppose shouldn't have come as a surprise since Italy is, after all, one of the world's top producers of dairy (think of their range of cheeses).  In fact, béchamel is claimed by some to have originated in Italy well before being adopted by the French when Catherine de Medici married Henry II of France in the mid-1600s.  It may be thanks to this useful 'binding sauce', made simply of milk simmered with a roux of cooked butter and flour, that the concept of baked pasta dishes like this one and countless others, including lasagne, evolved.
Most of Italy's cow's milk comes from the north, but Umbria, land-locked in the centre of the country, has a long tradition of dairy, too, though not always from a cow.  It's especially known for pecorino, made from ewe's milk and eaten both fresh and aged; and there are also traditional cow's milk and goat's milk cheeses.
One magical day when we were en route  to the mountain high-grounds after truffle-hunting in the forest below,  we chanced to meet a shepherd, a New Zealander as it happens, who had stayed for good after visiting a cousin whose family farmed there.  He was tending a flock of 250 sheep in the Umbrian mountains instead of the 50,000 he'd been used to in his home country.  His small flock, resting in the shade of the few trees at that altitude, was typical of many in the area, we learned, milked for cheese-making.  The cows we had seen grazing in the lower meadows were bred for their meat, rather than dairy.  In Britain, it would have been the other way around.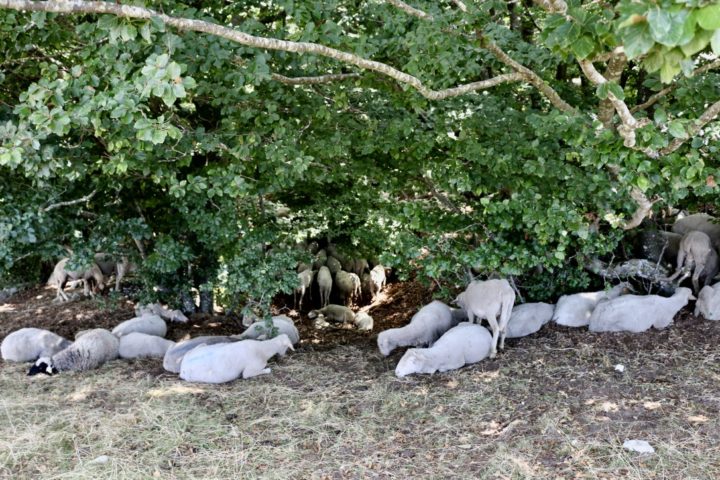 We'd had another chance encounter, and an astonishing one, on that off-road drive with our hosts across golden suede grassland, when on a ridge above us appeared a startling cloud of white goats and the biggest, whitest dogs we've ever seen.  The animals sped past faster than we could take in, but with the most graceful choreography: the dogs moving in their instinctive dance to guard their charges, the goats nimbly navigating with every appearance of trust.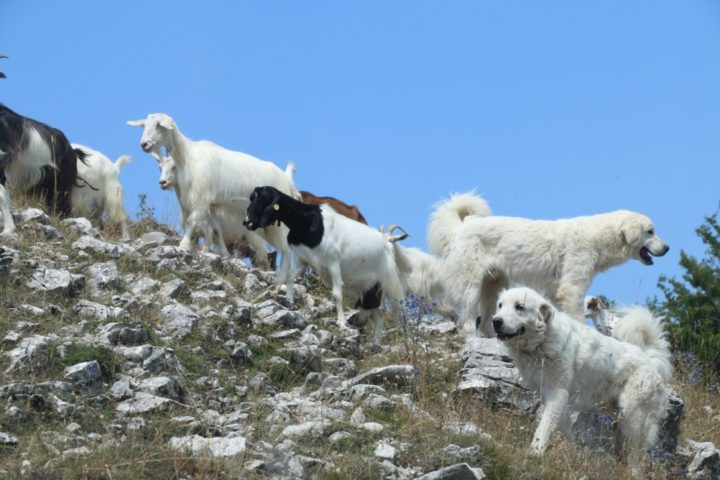 It was a breath-taking moment.  That vision of those brilliantly white animals moving with such energy against a deep-blue sky — the sound of their bells and bleats and hooves on rock, the fleeting smells as they drew past, the cooperative intelligence in the movement of the dogs — was a wonder of nature we were blessed to witness.  We later learned that these magnificent canines were of the ancient breed called Mastino Abruzzese, the 'lion dog', used for centuries to protect herd animals from the wolves that run wild in the forests of Umbria even now, after being re-introduced in the 1970s.  Wolves, the shepherd told us, could decimate the family's sheep in a night, and these gentle-seeming dogs would fight to the death to protect their flock.  Knowing this makes me see country cheeses in a new light.
*    *    *    *    *
I am always humbled when travelling in Italy by what I learn about the produce that makes it to our plates, much of it so familiar, and the reverence with which these ingredients are held in the locales where they are produced.  I wish more of us, from our leaders to us ordinary citizens, would come to appreciate our own local produce as much as the Italians do theirs, and the effort it takes to make our food chains work, local and global.  All the steps it takes to grow, harvest, husband, transport, trade and cook with the ingredients we mostly take for granted are miracles in their way of natural and human resources.
I love that a simple, rustic dish like this one can bring such pleasure to those who share it; that it has links with places we may never see and people we may never know, but with whom we share the same instincts of caring and love when we sit down at a table together to enjoy it.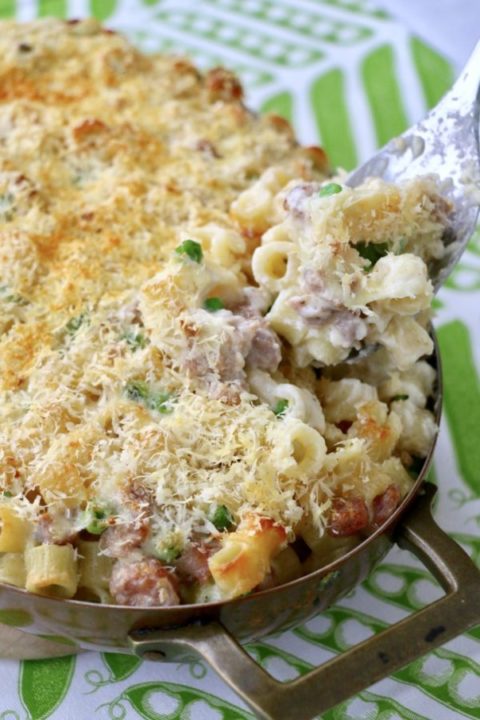 Recipe
Serves 8 as a main course, and 12 as a first course 
Serve this in the Italian fashion in smaller portions as a first course, followed by meat or fish;  or serve it as a stand-alone main course with a green salad on the side.
If you want to forego the meat, some sautéed mushrooms in the same ratio as the peas makes a lovely vegetarian version.
The age of the parmesan will make a difference to how much you need to flavour the sauce.  Well-aged cheese is drier, lighter in weight by volume, and more concentrated in taste, so it will add more flavour (and salt) than an equivalent amount of younger cheese.  You could also use grana padano or of course, an aged Umbrian pecorino.
Use a melting cheese for the top of the pasta dish:  Italian fontina, French gruyère, Swiss Raclette, or a good buffalo mozzarella, are all good.
Save a cup of the cooking water from the pasta to add to the sauce if needed.
*For convenience, US cooks may want to know they can use 1 pound of dried rigatoni, which is a little less than the 500g called for in UK measurements; the difference is modest enough not to require adjusting the other ingredients.
 To flavour the milk for the white sauce
1.6 litres (1,600 ml) or 7 US cups (3 pints plus 1 cup) whole milk
1 medium onion, cut in half and each half studded with 2 cloves (total of 4 cloves)
4 garlic cloves, crushed
2 dried or 3 fresh bay leaves
Optional: any parmesan rinds you happen to have, to flavour the milk
To cook the white sauce
130g butter (4.5 ounces, or 9 tablespoons, or 1 stick plus 1 tablespoon)
130g flour (1 level cup, sifted before measuring)
1-2 level teaspoons flaky sea salt (like Maldon)
¼ teaspoon freshly grated nutmeg

100-200g (3 – 6 ounces, or 1 to 2 slightly rounded cups)

freshly grated parmesan: the more aged it is, the less you'll need
optional: a pinch of cayenne pepper
To assemble the dish
500g dried rigatoni or other tubular or spiral pasta (1 pound and 2 ounces: US cooks can use 1 pound only if more convenient*)
Salt for cooking the pasta
300g (10.5 ounces) Italian sausage meat, to yield 200g (7 ounces) cooked

To substitute mushrooms for sausage:  use 450g (1 pound) of raw mushrooms to yield 200g (2 cups) of sautéed mushrooms; plus 1 tablespoon of butter and a squeeze of fresh lemon juice

Optional: 1 teaspoon crushed fennel seed for the sausage
200g (2 cups) frozen small peas / petit pois (use from frozen)
225-300g (8 to 10.5 ounces, or about 2 cups shredded) Italian fontina, gruyère, raclette, or other melting-cheese for baking
Additional grated parmesan for serving
Directions
The first step is to warm and flavour the milk for the béchamel. In a large (3-quart) saucepan, heat the milk over medium heat with the halved onion studded with cloves, the crushed garlic cloves, the bay leaves, and any parmesan cheese rinds if you happen to have them.  Bring the milk to just under a simmer – don't let it boil – and then remove from the heat to infuse while you turn your attention to cooking the sausage and roux.
Cook the sausage: crumble the sausage in a frying or sauté pan over medium low heat:  you don't need to brown the meat, just cook it through.  Stir and continue to break up the sausage meat as it cooks, until it has the consistency of cooked minced beef.  You could keep it in larger pieces if you prefer, but the usual is to keep the sausage bits fairly small:  it works more as a flavouring agent in the dish than hefty chunks of meat.
If using mushrooms instead of sausage, slice them just over half a centimetre or ¼-inch thick, and sauté them in a large pan with a tablespoon of butter over medium-high heat, stirring often, until they give up their juices and begin to take on some colour.  Salt and pepper them to taste, and squeeze over a little lemon juice if you like to brighten the flavour.  Set aside.
Cook the roux:  In a separate large saucepan over medium heat, melt the butter and flour together, stirring occasionally, and cook for about 10 minutes to eliminate the raw flour taste.  It will start to look and smell 'cooked' as the flour dries and gets sandier.   (It makes life easier if the pan for the roux is large enough to add the pasta and other ingredients directly to the sauce when the time comes.)
Once you reach this stage with the roux, strain the flavoured milk through a sieve into the saucepan with the roux, and discard the onion (you can transfer the bay leaves to the milk).  Add the milk gradually at first and whisk vigorously; the roux will tighten with the first addition and you will need to add more quickly.   Keep whisking until you've added all the milk and the sauce is smooth and getting thicker.  Add the first teaspoon of sea salt and a grating of nutmeg, to taste.
Turn the heat to medium low and gently simmer the sauce (with just an occasional bubble) for 10 to 20 minutes (the longer the better); whisk it frequently and scrape the bottom and sides of the pan to ensure the sauce doesn't scorch and stays smooth as it continues to thicken.  You want the sauce to be thick enough for a clean trail to remain on a spoon as you draw your finger through it (Madeleine Kamman called this the 'Red Sea effect').
Once the white sauce has thickened to this stage, turn the heat off under the pan and add an initial 100g (3.5 ounces) of grated parmesan, whisking again until smooth.  Taste the sauce and add as much of the remaining parmesan as it takes to make a well-flavoured cheese sauce that pleases your palette.  Make the final addition of sea salt to taste.  I usually need another full teaspoon, but if your parmesan is well-aged and very salty, you may not need any more.  Now add any additional nutmeg if you feel the sauce needs it, some freshly ground black pepper to taste, and a pinch of cayenne pepper if using.  Be guided by your tastebuds and add in increments, tasting as you go.  Set the sauce aside once you're happy with the flavour, in readiness for assembly.
Lightly butter a 25 x 33 x 8 cm (10 x 13 x 3 inch) or similar oven-to-table dish and set aside. Heat the oven to 200C/400F.
Boil the pasta:  If you plan to bake and eat the dish immediately, cook the pasta in plenty of well-salted boiling water to the degree of doneness you prefer, following the instructions on your packet.  Test a bite one minute before it's due to be done.  When it is, immediately drain the pasta, and keep aside about half a cup of the cooking water.
If you are making this dish ahead of time to chill for some hours or overnight to bake later,

cook the pasta for a little less time,

until you see a thin line of uncooked pasta in the centre of your test-bite.  (As the dish sits overnight it will continue to absorb the sauce and become softer; and it will cook further when you come to bake the pasta.)  When it's reached this stage, immediately drain the pasta, and keep aside about half a cup of the cooking water.
While the boiled pasta is still warm, add it to the finished white sauce, and then add the cooked sausage and still-frozen peas.  Mix gently with a large spoon until it's well combined.  If it seems too thick, add a spoonful of the pasta cooking-water and stir through again; add a little more if needed to make the sauce silky, but not thin, while retaining a good flavour (taste a bite with the pasta).  The sauce should coat each bite of pasta completely and with a moderately thick viscosity, but without being at all gluey.  Taste and add any additional seasoning if you feel it needs it. (The final topping of cheese will add more saltiness, so bear this in mind.)
Decant the pasta mixture into the lightly buttered baking dish, and even it out in the pan;  don't compress it too much, as this could make it a bit too solid in texture.  Top the pasta mixture evenly with the grated melting-cheese.
Bake the pasta:  If you are assembling the dish straight away with hot pasta and warm sauce, it will take

about 30-40 minutes

in the oven to heat through to the centre, and for the cheese to melt and begin to turn temptingly golden in patches.  Rotate the pan in the oven halfway through for even browning, and test the temperature by inserting a knife in the centre; it should be too hot to touch comfortably.
If you are baking it straight from the fridge it will need

about 1 hour 10 minutes, to 1 hour 20 minutes,

and you may need to cover the top loosely with lightly buttered parchment paper or foil to prevent the cheese from over-browning.  It's important for food safety to make sure the middle of the dish is very hot.  You can test this by inserting a knife in the middle; it should be too hot to touch comfortably. (If you have an instant-read thermometer, the internal temperature should read  

74C / 165F

, according to the UK's Food Standards Agency and the US Department of Agriculture.)
Let the finished dish rest for about 5 minutes before serving with a sprinkle of parmesan on top, and more served at the table.
If you wish to freeze portions, allow the dish to cool enough to cut into neat portions, wrap them individually in parchment paper, and freeze in a plastic freezer-bag so you can retrieve the number of servings you want.  Reheat in the microwave either once thawed or from frozen, making sure each portion is very hot to the centre (see #14, above).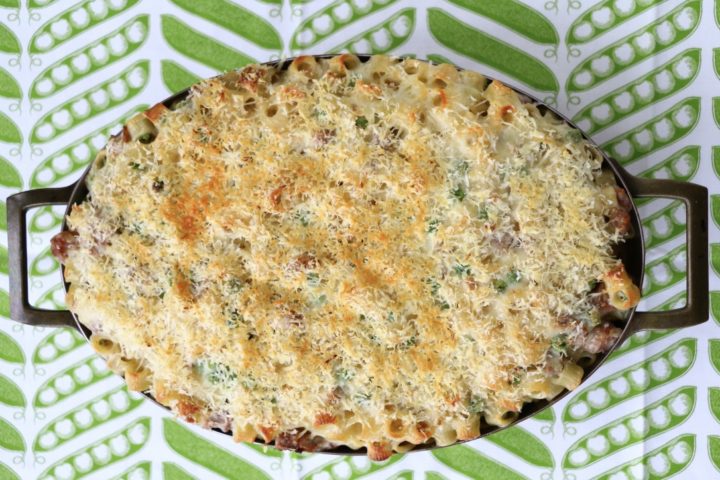 More pasta recipes on Crumbs on the Table 
More casserole recipes 
More Italian stories and recipes