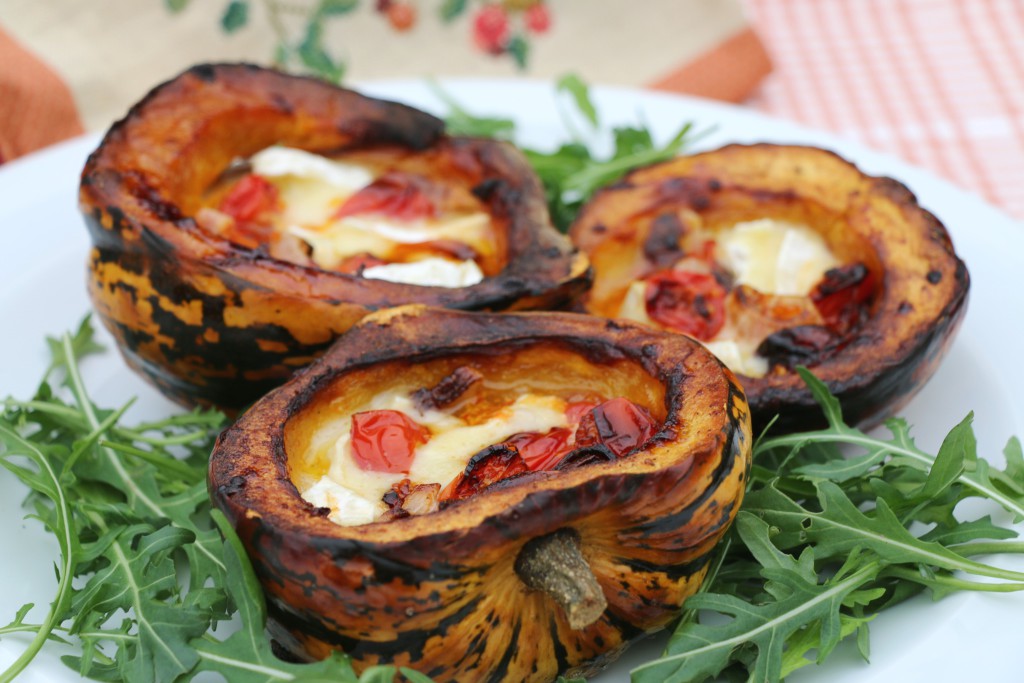 My recent experiments with Henri Toulouse-Lautrec's pumpkin gratin led me to this shortcut version that makes use of the same winning combination of winter squash, tomato and onion. For a main-course meatless meal, or a lovely starter, add some camembert or brie just as the baked squash halves come out of the oven. The cheese will melt while you gather your forks and uncork the wine. You'll want to celebrate cooking something that's so delicious and yet so easy and wholesome.
I'm pleased with this chance discovery. It's cheered me up on these latterly rainy days and it's ideal for those pressed for time who still want to eat well.  The squashes take an hour to bake, but only about 10 minutes to prepare, so you can pop them into the oven and carry on with something else knowing there's a satisfying hot meal underway.  It requires only halving the squashes and scooping out their seeds (5 minutes), adding a knob of butter and some salt and pepper, and then layering in some halved cherry tomatoes and sliced raw onion (another 5 minutes). All it needs is some rocket or lettuce on the side and you have a well-rounded comfort meal that will delight vegetarians and carnivores alike.
The juiciness of the tomato adds welcome moisture to the squash and another texture and taste; the sweetness and slight crunch of the onions adds a dimension that balances the whole dish.  I've made these with just the tomato and onions and they are as delicious that way as they are adorned with the cheese.  A little camembert or brie adds a rich creaminess and makes them more of a meal-in-one.  Use any melting cheese you like, and don't feel you need to add a lot:  just a little tucked into the tomatoes and onions when they emerge from the oven is enough.  The slight charring you get from the high heat makes these little filled boats taste wonderfully smoky and sweet, and cuts the richness.
They would make a beautiful side dish for a roast chicken or joint of pork.  I like them most of all as a luscious starter or meal in their own right, the well of the squash full of goodies.  Either way, they are soft, juicy and tempting when you want something substantial and hot, tasting of autumn and just as colourful.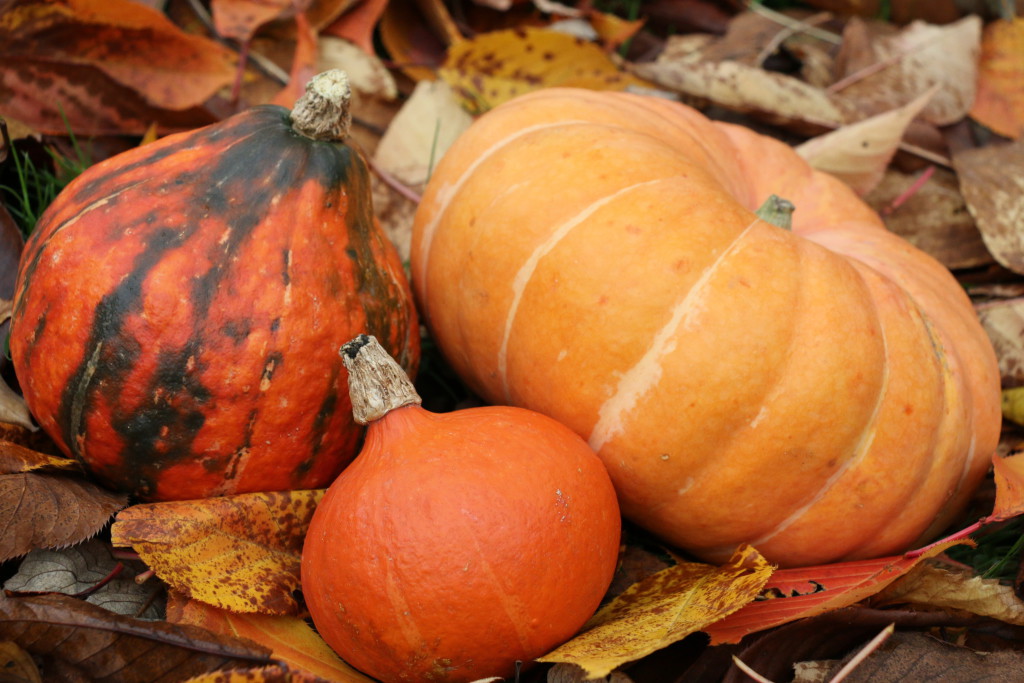 The smaller Harlequin or Sweet Dumpling acorn-family squashes are all perfect for a single serving main course, sliced in half lengthwise; or give the same treatment to a small Red Kuri (onion squash). With any smaller squash, you could also cut off their tops as you would a Halloween Jack-O'-Lantern and stuff them whole, roasting the lids separately for a bit less time to pop back on at serving for a bit of drama.  If using larger specimens, cut them into halves or quarters.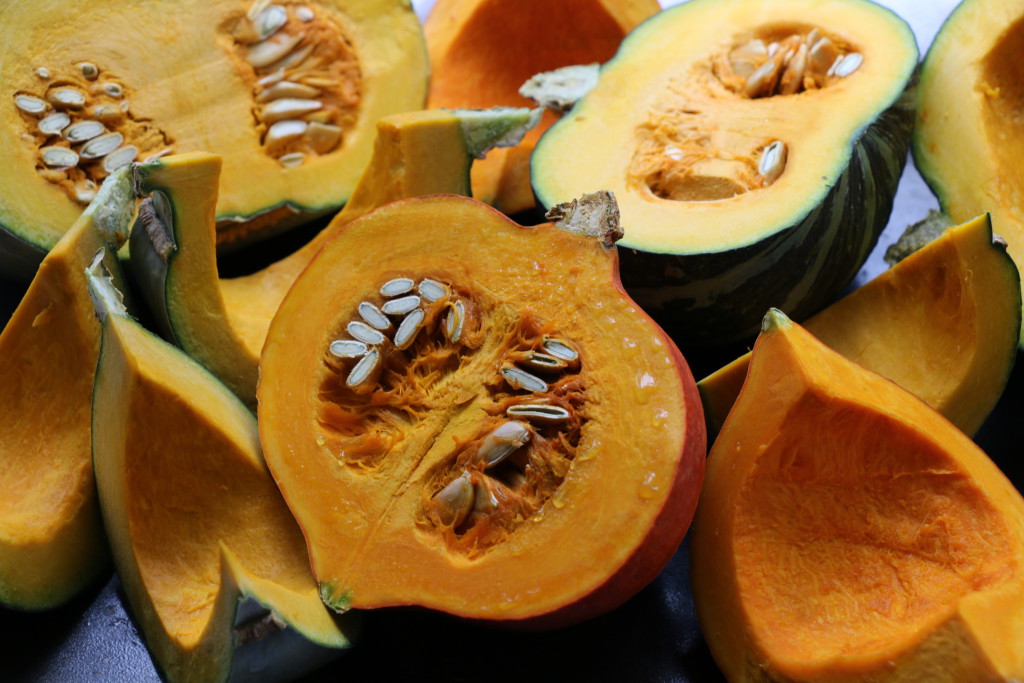 RECIPES
Baked winter squash with tomato, onion and camembert
Depending on size, each squash serves two people as a side dish or one person as a main course
Ingredients:
to serve two people as a side dish
1 whole squash, halved lengthwise from stem end to base and cleaned of seeds and fibres (see "hints on preparing squash* below)
About 2 tablespoons unsalted butter (or olive oil) — 1 for each squash half — plus a little more for the pan
Sea salt and freshly ground pepper
About 12-15 cherry tomatoes (or more for larger squash), halved and seasoned with salt and pepper
About half a medium onion, sliced about ¼ inch thick and separated into rings (cut larger ones to fit)
Optional: about 60g (2 ounces) camembert or brie in about 6 pieces, 3 for each squash half
Directions:
Heat oven to 200C/400F.  Put the cleaned squashes on a lightly buttered or oiled baking tray.
Add a good knob of butter (or olive oil) to the well of each squash and season with sea salt and freshly ground black pepper.
Arrange the halved cherry tomatoes and onion slices in the wells on top of the butter, mounding them up as much as you can, as they will melt down as the squashes roast.
Bake at 200-210C (400-425F) on a baking tray for 20 minutes; rotate them once in the oven to encourage even browning, and at the same time, baste the exposed top edge of the squash with the butter and juices from the well, which by this time will have been released by the tomatoes and onions. Continue to cook for another 20 minutes, basting again if needed.
Check after 40 minutes to see if the squashes are fully baked.  You want them to be completely soft all the way through, yet still holding their shape, and slightly charred without being burnt or dried out.  A skewer through the thickest part of the squash will tell you if they are ready.  This is important, as you want to be able to eat all the way to the skin.
Add the cheese if using when the squashes have finished baking: cut one slice of camembert or brie or whatever other cheese you like for each half, and cut that slice into about three smaller pieces.  Tuck them into the cavity with the tomatoes and onions, where they will quickly melt and mingle deliciously into the hot tomatoes, onion and squash. Serve hot.
Preparing winter squash
To cut winter squash (including pumpkins)

Wash the squash well before cutting it to remove all caked-on soil. Make sure it's dry, as the knife can slip if the surface is still wet.
Squashes can be hefty and thick-skinned, so take care. Work on a level surface, giving yourself plenty of space. Use a large, sharp knife. Find the flattest surface of your squash and lay it flat against a stable chopping surface.  If the squash isn't level, carefully carve off a small amount of the skin to encourage it to sit or lie flat. Study the curves and crevices of the squash for a moment and decide where you want to cut.  Apply the knife lightly at first to the surface of the squash until you've got some purchase into the skin.  Then gently but firmly apply a steady pressure downwards, pressing with your weight behind you so the knife cuts through the skin safely.  Don't try to "surprise" your squash with the knife, or the blade may bounce off.
De-seeding the squash
When you have halved (or topped) your squash, take a sturdy spoon and scrape out the seeds and the loose, stringy fibres, being careful not to scrape away good flesh as you go.  You want a nice, tight, clean inner well with no fibres to spoil the texture.
If you are cubing a butternut squash, don't halve it: cut it into three or four large rings that sit flat.  Peel each piece cutting from top to bottom. Then cut the peeled piece into cubes of whatever size you wish.
Roasting winter squash with herbs and other vegetables
All of the squashes (including pumpkins, members of the winter squash family) are at their most flavourful baked, their flavours concentrated to a smooth, smoky richness and sweetness. They are rich in beta-carotene and antioxidants, they have anti-inflammatory properties, and they are a valuable source of slow-release carbohydrate, making them good for regulating blood sugar (according to Dr Sarah Raven, a butternut squash has a glycaemic index of about half that of a peeled potato). As well as serving as a healthy and easy vegetable side-dish, roasted squashes can be made into fantastic soups, risottos, and vegetable lasagnes. Larger squashes and pumpkins roasted until soft, yet intact, make festive edible containers for soup.
High-heat roasting is a wonderful technique for many other vegetables in company with squash, from cauliflower and courgettes, to peppers, onions and halved garlic heads.  Throw everything into a roasting tray together, cut into chunks large enough to allow for shrinkage in the hot oven, and small enough to make a good mix.  Lubricate the mix with some olive oil and add any herbs you want (thyme, rosemary and sage are all good), whole sprigs or individual leaves. Massage everything together on a large baking tray (shallow is best as it discourages the vegetables from steaming) and season well with sea salt and freshly ground black pepper. Roast in a very hot oven (200 to 225 C / 400-450F ) for about 40 minutes until all the components are cooked through and slightly charred in places.  Turn the baking tray once or twice to cook evenly, and give everything a stir while you're at it.  You can also make wonderful sandwiches with these roasted vegetables. Try them on a baguette with either hummus, or salami and goat cheese.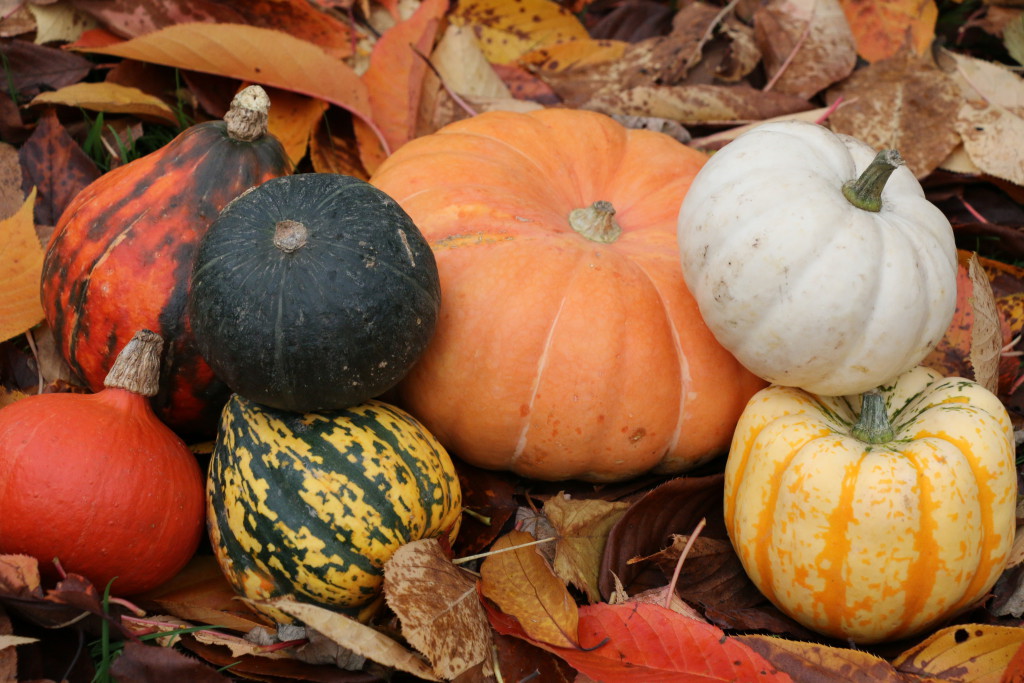 Squash identity parade: Sweetheart (white); Harlequin (yellow striped); Acorn (green and yellow); Haddaiko or Red Kuri (pointed red-orange also known as onion squash); an unidentified member of the Red Kuri or Hubbard family (large red and green stripe); Kabocha (dark blue-green); Rouge Vif d' Etampes (large French variety "Cinderella pumpkin": the one probably used by Toulouse-Lautrec for his pumpkin gratin).
References:
Sarah Raven writing in Country Living, October 2015: "Sarah Raven's Superfoods: squash".