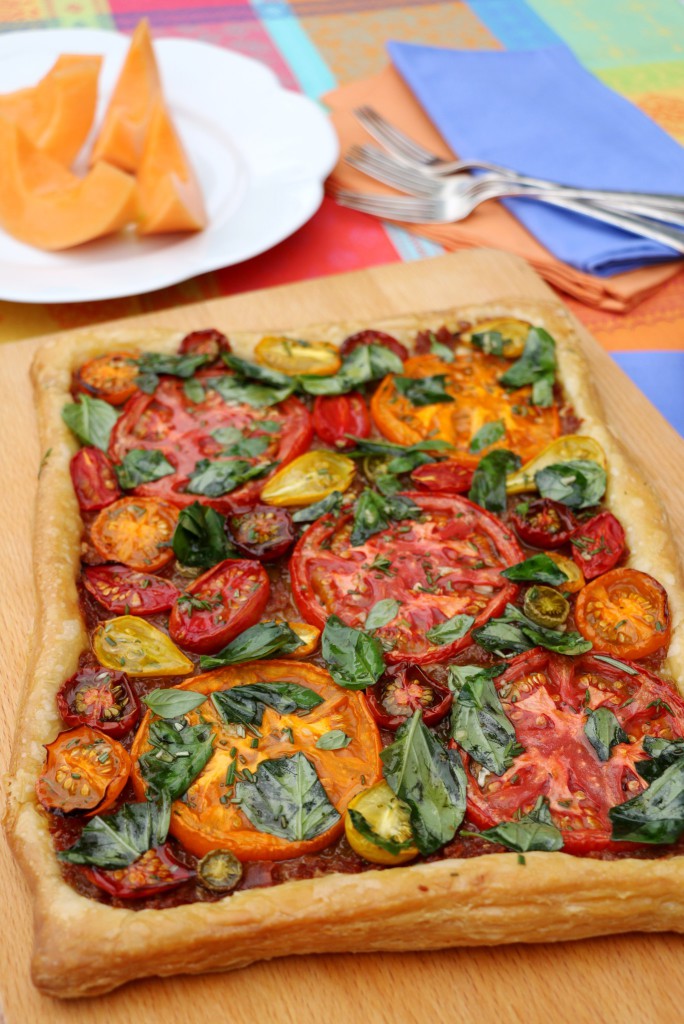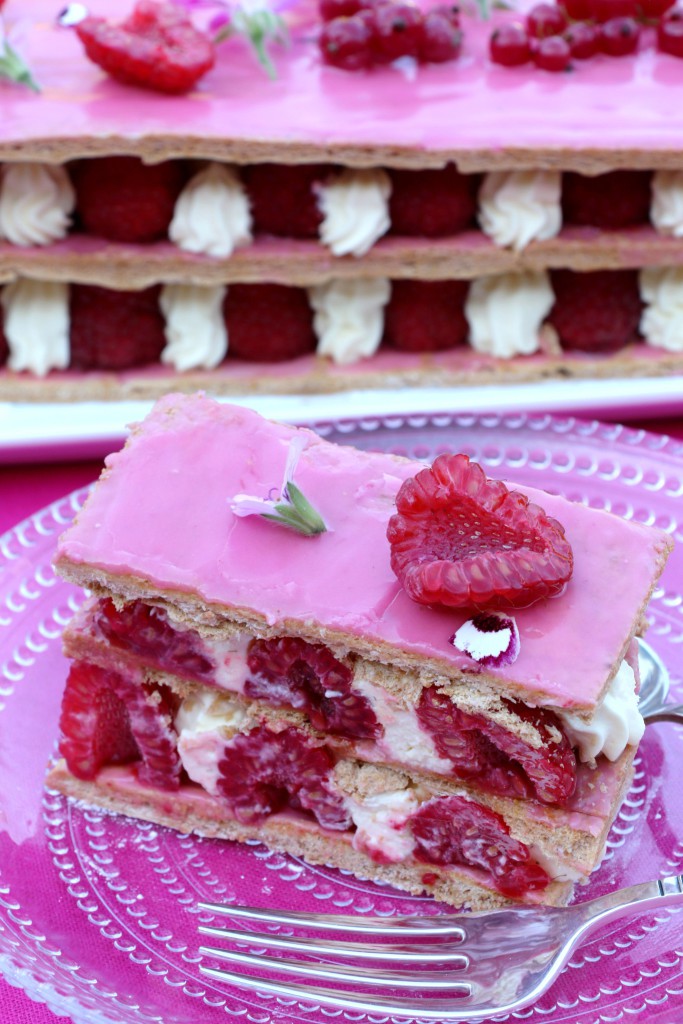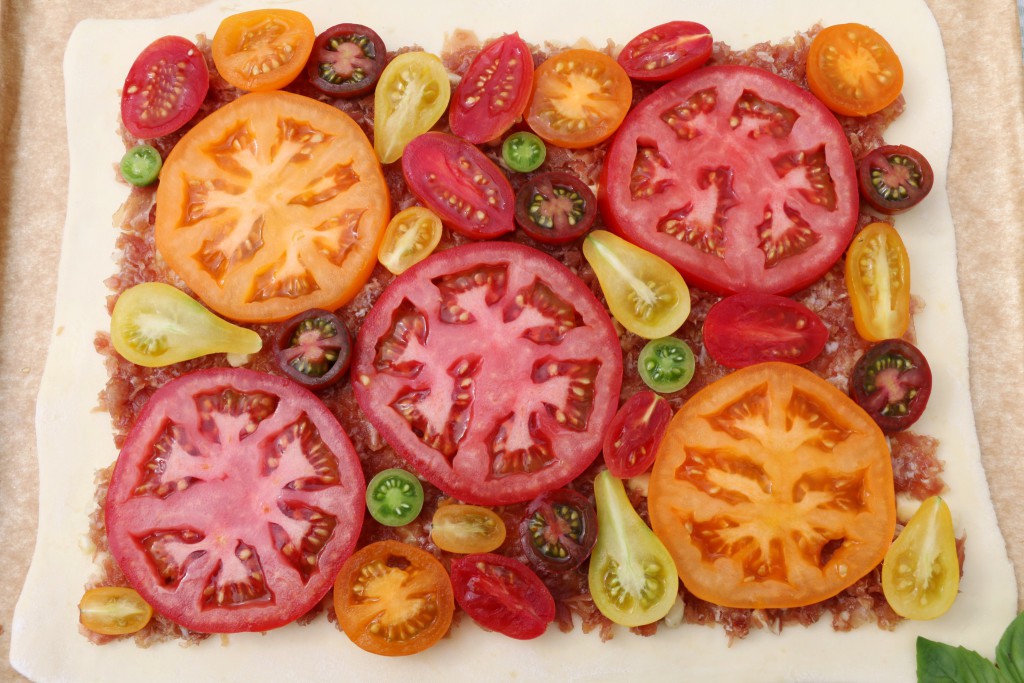 Summer has come good after all. This is the time when fast food is fresh food: when a few choice tomatoes and some good olive oil can make a meal; when a perfect slice of melon can make your eyes open wide; and a simple salad eaten outdoors can tune you in to life's radiant beauty. All is forgiven with a bit of sun.
We are blessed in Cambridgeshire with some locally grown produce to rival the flavours of the Mediterranean. I don't know of anyone here growing melons or olives, but we do have fantastic courgettes, aubergines, and some splendid tomatoes, and they are all worth making the centrepiece of a meal.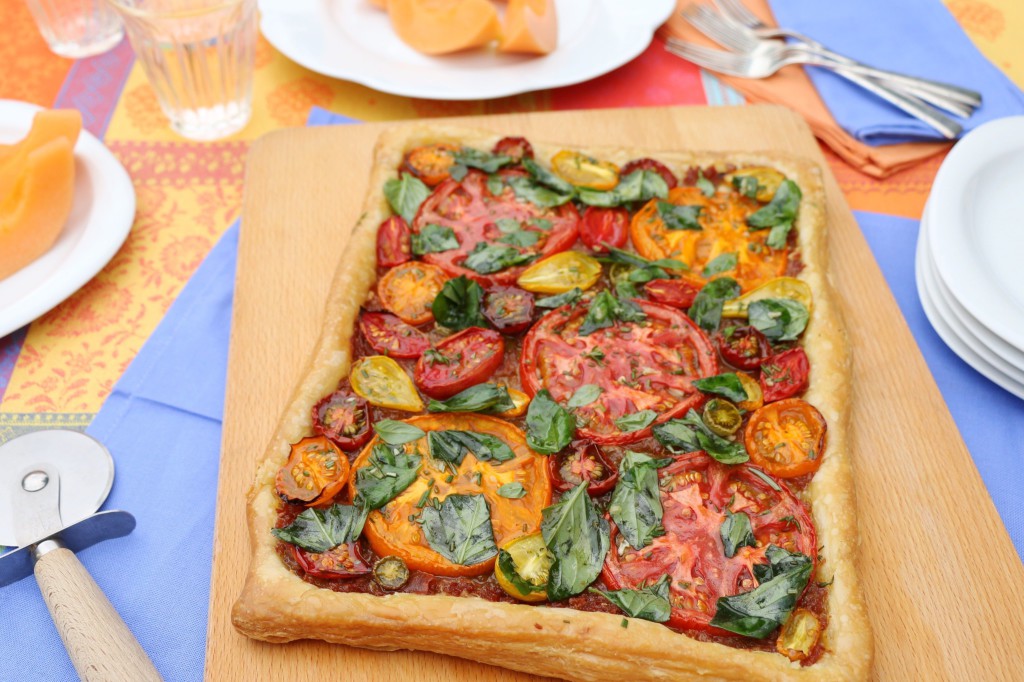 I grew up literally surrounded by the tomato fields of southern New Jersey, and I need tomatoes like people from Derbyshire need hills. Until recently I've felt deprived of my summer tomato fix and had come to regard the specimens here as a different species: nice enough, but not quite tomatoes. No longer do I feel so bereft, for local food heroes like Adrian Izzard of Wild Country Organics are growing superb varieties full of flavour and of excellent texture; and Paul and Doreen Robinson of Waterland Organics are harvesting some of the most charming small yellow pear tomatoes I've ever tasted. I can't tell you how happy this makes me, and I'm not the only one. I've seen the difference in so many peoples' faces when they taste the real thing.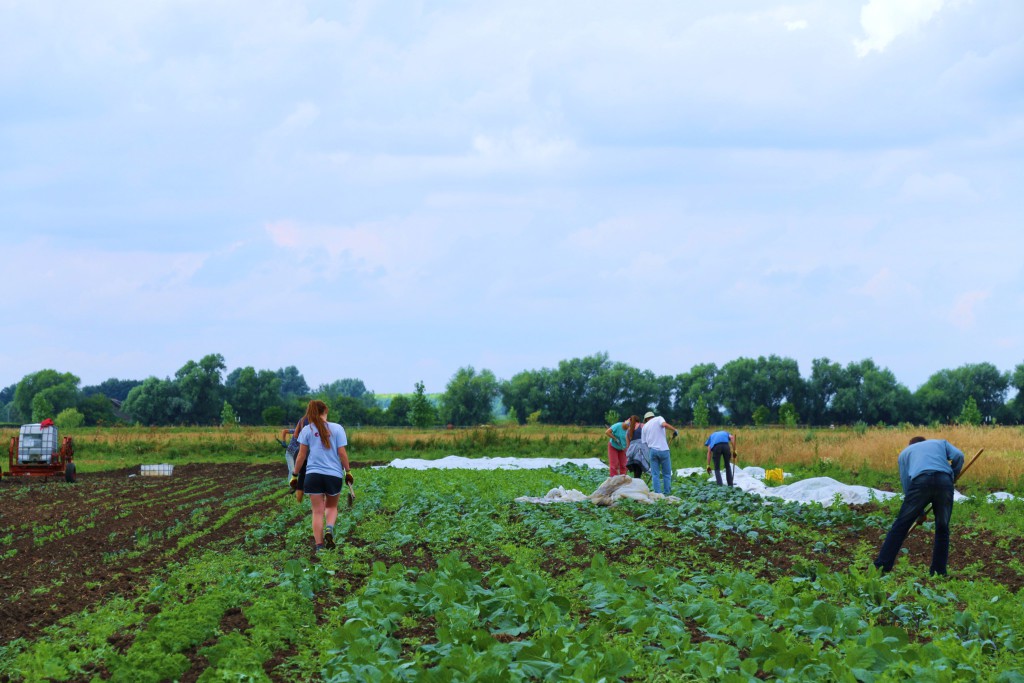 (Above) Cambridge Crop Share volunteers hoeing brassicas at Waterland Organics. (Below) Paul Robinson with white currants from his farm.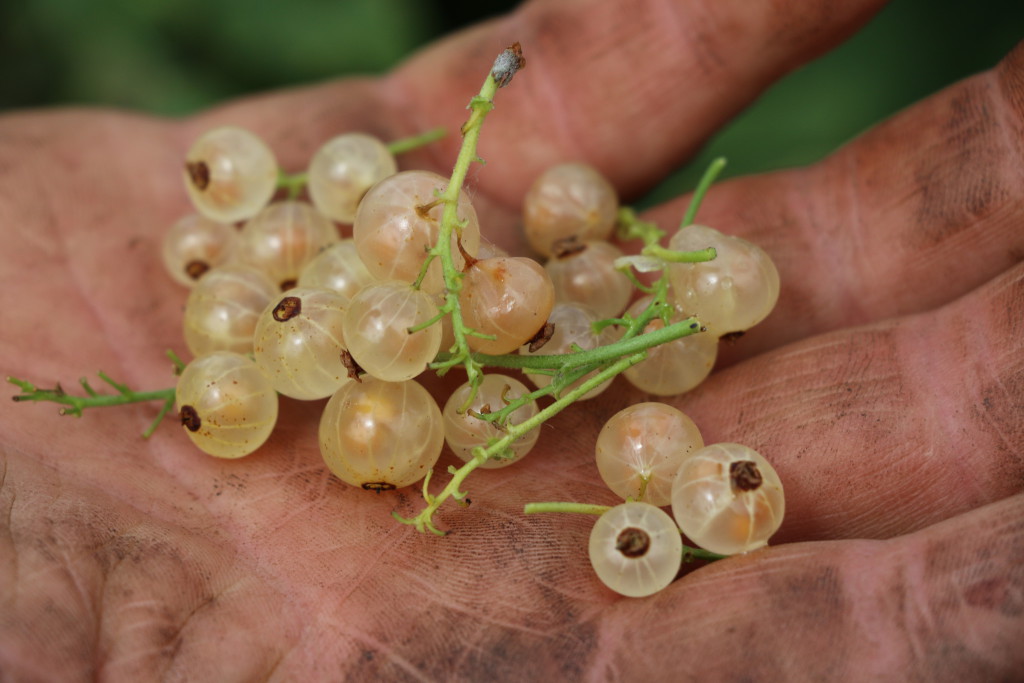 Both of these exceptional local growers sell their wares through a variety of outlets in our area, including Arjuna Wholefoods on Mill Road in Cambridge, and the Cambridge Organic Food Company (COFCO), whose remarkable operation supports every local organic grower in Cambridge by selling organic produce (often picked that day) through their box delivery scheme. COFCO's people pick up daily from the farms, come back to assemble the boxes, and deliver that day to their customers; the same person has contact with both farmer and householder. Compare the length of that food chain with what we are used to.
Such retailers provide a vital outlet for small organic growers who have to struggle to find a reliable market for their wares, and a hugely valuable service for us the public. I'm very lucky in my area of south east Cambridge, as the Abington Village Shop also sells Wild Country Organics' produce, making it easy for us to enjoy produce as good or better than we could grow ourselves. Such outlets are so necessary, for sustainable food also means making it sustainable for devoted growers to carry on doing what they do. If it's not economically feasible for them, we are all the poorer.
It's no accident that the food with the most flavour is often grown by those who practise sustainable agriculture, who care for the soil, which has so much to do with flavour, and who think of the entire eco-system within which they are growing. Waterland Organics is a leader in this thoughtful way of food production, and grows over 40 crops on its 60-something acres. It's the kind of varied market garden that used to be so much a part of the Fens, but which has become a rarity with the prominence of industrialised monoculture.
The sheer energy required to make it work is astonishing to an outsider, but is a way of life and a passion for the Robinson family, and the farm's part-time volunteers through Cambridge Crop Share, who help hoe and sow and harvest. Waterland Organics has its own boxed scheme, too, of produce grown on the farm and delivered fresher than you could hope for without putting in all the hard graft yourself. And it is hard work: Paul will be harvesting apples and other autumn crops soon, and is still planting for later this year and next. Farmers are always thinking ahead, while facing the urgencies of today.
It's a liberating time of year at the table, though, with the exquisite pleasures of eating foods nurtured for us on the principle that growing sustainably equates to growing for flavour. That's progress to celebrate, along with the sunshine.
RECIPES
PRINT
Tomato prosciutto tart with herb oil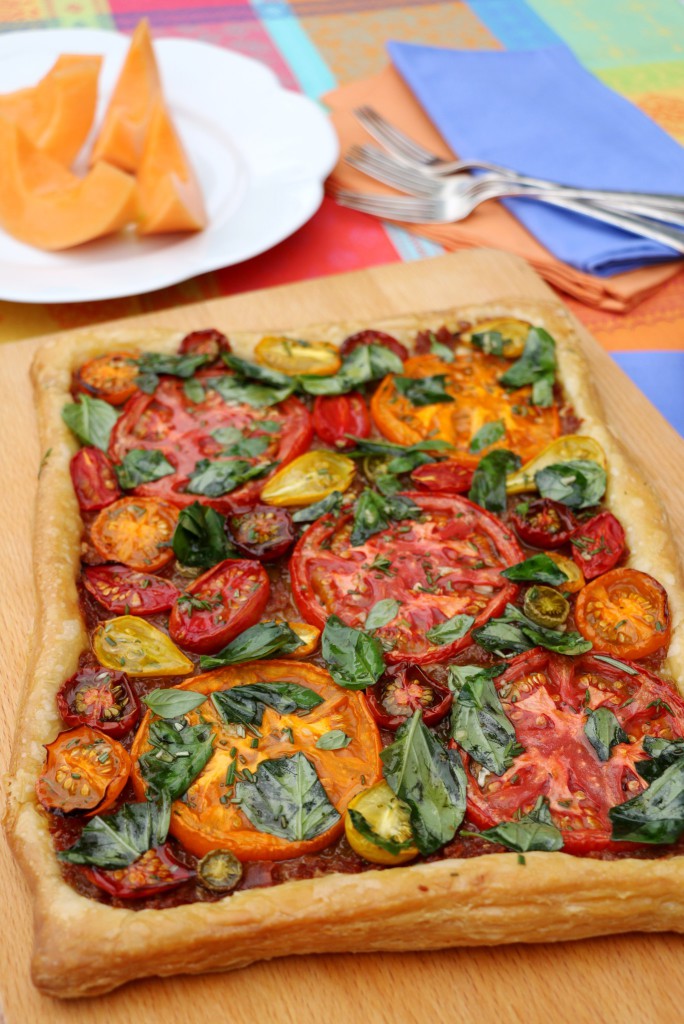 Serves 4
This is one of my absolute favourite dishes to make when tomatoes are at their sun-ripened best. For a vegetarian version, distribute some goat cheese or grated parmesan over the rolled pastry first, and then lay on the tomatoes. Instead of one large tart, you could make individual tartlets, as Tamasin Day-Lewis does in The Art of the Tart. The amount here will give you four round tartlets about 13cm / 5" in diameter (great as a starter or lunch dish), or as many as 8 smaller ones. If making individual tartlets, you can cut down the prosciutto to 8 slices as there is proportionately less area to cover with filling; it's also easier to use all cherry tomatoes, in which case you'll need about 30.
This recipe calls for convenient ready-made puff pastry for the tart's base. I urge you to use the all-butter version. It tastes so much better than the cheaper one made with vegetable oil that it's worth the extra pennies.
Ingredients:
375g (about 13 ounces) all-butter puff pastry
135-150g (about 5 ounces, or 12 very thin slices) prosciutto di Parma ham, roughly torn
125ml (½ cup) extra-virgin olive oil: 50ml (3½ tablespoons) for the filling, and 75ml (5 tablespoons) for the herb oil
2-3 cloves crushed garlic: half for the filling, half for the herb oil
A good handful of fresh basil leaves
1 teaspoon finely chopped fresh rosemary
1 teaspoon finely chopped fresh thyme
Freshly ground pepper
2 large tomatoes plus 15-20 cherry tomatoes
Directions:
Heat the oven to 190C/375F/gas mark 5. Line a large oven sheet with baking parchment.
Roll the pastry on a lightly floured board into a rectangle that will fit your baking sheet, to a thickness of about 5mm (¼"). If it's a little irregular in shape it doesn't matter, but you can trim it with a sharp knife if you like. Transfer to the lined tray, prick it a few times with a fork (this avoids sogginess), and refrigerate for 20-30 minutes (it will puff better and taste more tender if chilled again before baking).
In a food processor, briefly pulse the torn prosciutto, half the crushed garlic, and 50ml of the olive oil, until you have a coarsely textured spread (or chop and mix by hand).
When the pastry has had its resting time in the fridge, remove it and spread on the prosciutto mixture, leaving 3cm (a good inch) clear around all the sides so the edges puff nicely.
Slice the large tomatoes about 5mm (¼") thick, and halve the cherry tomatoes; arrange all the tomatoes cut side up on top of the prosciutto filling, tightly enough to touch, and again steering clear of the edges of the pastry. Grind over some pepper.
Bake for an initial 20 minutes, and during this period attend to the herb oil: combine the remaining olive oil and garlic with the chopped thyme and rosemary in a small bowl to infuse. About 20 minutes before the tart comes out of the oven, tear the basil leaves into the oil as well (the leaves darken if you do this too far in advance). Set aside.
When the tart has had its first 20 minutes in the oven, rotate the tray for even browning and give it another 15-20 minutes, for a total of 35-40 minutes, until the tomatoes are slightly caramelised and still juicy, but no longer wet, and the bottom of the tart is golden brown all the way to the centre. You can test the colour of the bottom by lifting a corner carefully to peak. If the tomatoes are browning too quickly, cover the top of the tart lightly with another sheet of baking parchment. The pastry should be an even golden brown all over.
As soon as the tart is done, brush it all over with the herb oil, tucking in the basil leaves here and there, and serve immediately. Cut using a serrated knife or kitchen scissors. Any leftovers can be refrigerated and reheated next day at 190C/375F for about 10 minutes.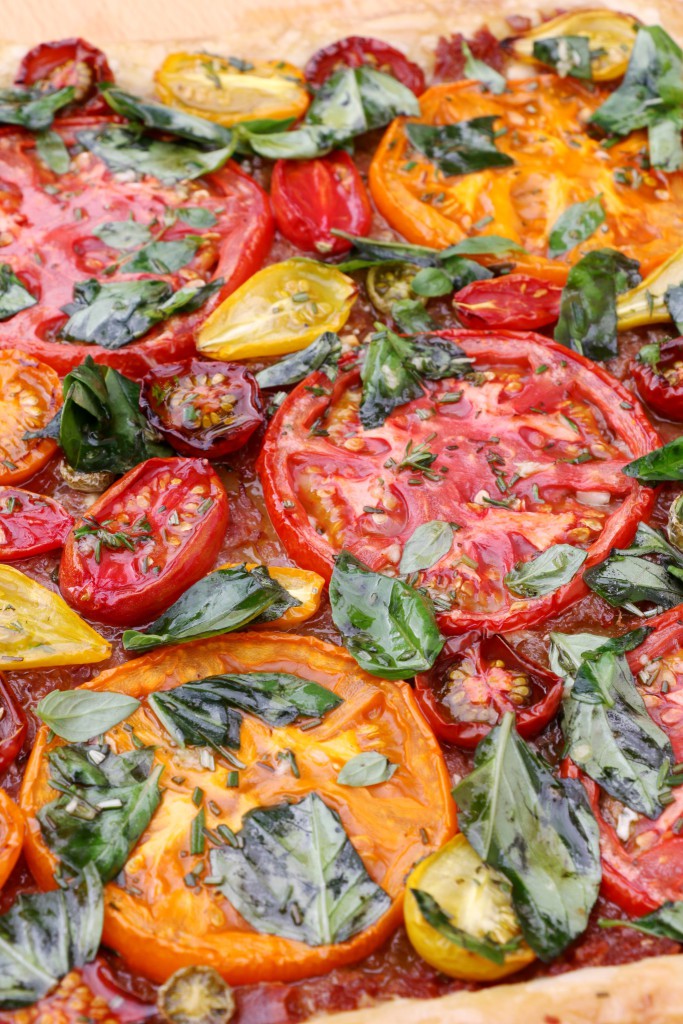 PRINT
PRINT
Serves 6-8        
A dacquoise is a nut meringue, usually layered with cream and other goodies. This version showcases fresh raspberries, glorious when the berries are at their peak. It is straightforward to assemble, despite looking like it comes from a Parisian patisserie. It involves baking one large, thin, rectangular meringue and cutting it into thirds to make a 'loaf' shaped layered confection. The trick is to bake the meringue at low temperature until firm, and to use a serrated knife to cut the layers with a repeated, sawing motion. Should it break there's no need for a hissy fit (I speak from experience here), because you can break it into shards to serve with the raspberries and chantilly cream in individual bowls as a kind of edible homage to Picasso, very artistic and trendy, and no one will be the wiser.
You'll need a large baking tray that measures 35x30cm (about 14×12") or similar; this will produce a cake measuring 25x10cm (10×4"). The exact size isn't critical as you simply divide the finished meringue into thirds. You'll also need a pastry bag and star tip to pipe the cream if you're going for the fine patisserie version. It cuts easily for serving after mellowing for 3-4 hours in the fridge – so no fear of dramas at the table.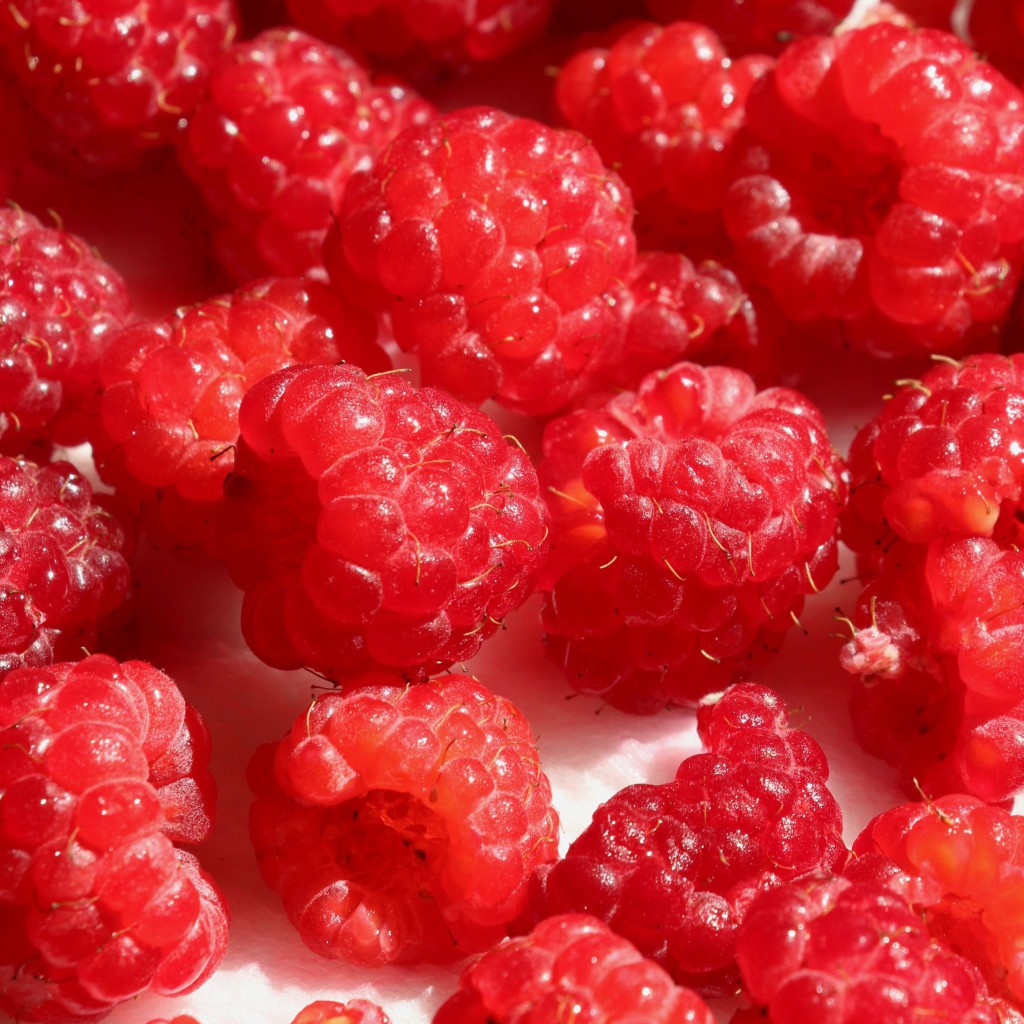 Ingredients:
Dacquoise (almond meringue):
3 large egg whites, room temperature
70g (1/3 cup) caster sugar (confectioners' sugar)
35g (4 tablespoons) icing sugar
100g (3.5 ounces or around ¾ cup) ground almonds
Raspberry icing:
100g (a generous ¾ cup sifted icing sugar)
About 100g (3.5 ounces) raspberries strained for their juices
Raspberry and chantilly cream filling:
600g (about 1 pound and 4 ounces) fresh raspberries
450-500ml ( 16 ounces / 2 cups or a little less) double cream
1 tablespoon icing sugar
½ teaspoon vanilla
Optional garnish: reserved raspberries and/or other fruits and edible flowers
 Directions:
To make the almond meringue layers: 1) Heat the oven to 120C/250F/gas mark ½. Lightly butter a large baking tray measuring about 35x30cm (about 14×12") and line with baking parchment. 2) Sift together the icing sugar and ground almonds into a medium bowl and set aside. 3) In a clean bowl, use the whisk attachment of an electric mixer to whip the egg whites and salt into billowy soft peaks. Add the caster sugar gradually and continue beating until the mixture holds its shape. 4) Gently fold in the ground almond mixture in two goes, just enough to mix thoroughly without deflating the meringue (the almonds will reduce its volume somewhat). Should it collapse, don't worry: bake it anyway. It will be harder and thinner, but still quite usable and tasty. 5) Spread the nut meringue mixture evenly onto the parchment-lined baking tray, making sure it's as level as possible. It's easiest to take the meringue right to the edge of the pan and then run your finger all the way around to create an even edge. 6) Bake for 1½ hours until firm to the touch. It will colour slightly and that's fine, as it helps bring out the flavour of the almonds. Turn off the oven, prop the door open slightly, and leave the meringue in place for another 1 to 1½ hours until it's completely dry and easy to pull away from the parchment paper. Remove the tray to cool completely on a cooling rack. 7) Carefully turn out the meringue upside down onto a cutting surface and peel off the parchment. Turn it right-side-up again and neatly trim all four sides with a serrated knife, using a gentle sawing motion; you may find it easier to score the surface first and then cut deeper. Measure the trimmed rectangle and cut it into three equal pieces about 10cm (4") across and 25cm (10") long. Set aside the best of the three for the top layer.
Mix and apply the raspberry icing: Sift the 100g (¾ cup) icing sugar into a small bowl. Using a strainer, press about half (50g or just under 2 ounces) the raspberries over the sugar to extract their juices directly onto the sugar. Stir until you have a completely smooth icing loose enough to spread easily, but not run. Squeeze more raspberries as needed; you may not need all 100g. Carefully apply a thin layer of icing to each of the three cut layers, using a pastry brush or a metal spatula. Set aside on a rack to set for a few minutes.
Whip the chantilly cream: In a large bowl, add the sugar and vanilla to the cream. Using clean beaters or a whisk, whip only until the cream begins to mound. Don't overbeat: it will thicken further as you put it into the pastry bag and pipe.
To Assemble the dacquoise: 1) Place your bottom layer of iced meringue onto a serving plate. Position three raspberries along the short edge: two on each corner and one in the middle. There should be space between them for the cream. Continue lining up the raspberries across the bottom layer following the same pattern, so you end up with three long rows of raspberries with gaps between them. 2) Attach the star-tip to your pastry bag and fill it with the chantilly cream. Twist it closed. Holding the bag vertically, start from the surface of the meringue and pipe a tall rosette 'column' of cream in the gaps between the raspberries. Raise the pastry bag as you pipe to build height, and aim for the cream to be the same depth as the fruit. 3) Place a second iced layer of meringue on top of the finished raspberry/cream base-layer, lining them up as closely as you can. Repeat the process of placing the raspberries and filling in with cream. 4) Finish by placing your best iced layer on top, and decorate with a few halved raspberries and edible flowers if you wish. 5) Refrigerate until serving, ideally for 3-4 hours to allow the meringues to soften slightly; this helps with slicing. This dessert is best the day it's made, but leftovers can be refrigerated for next day.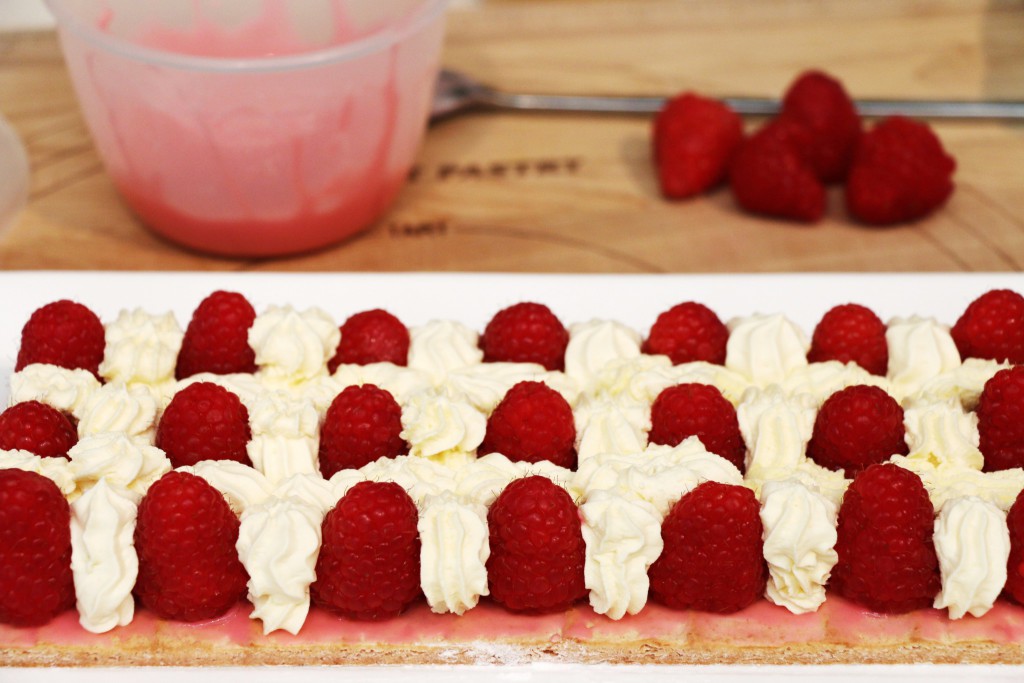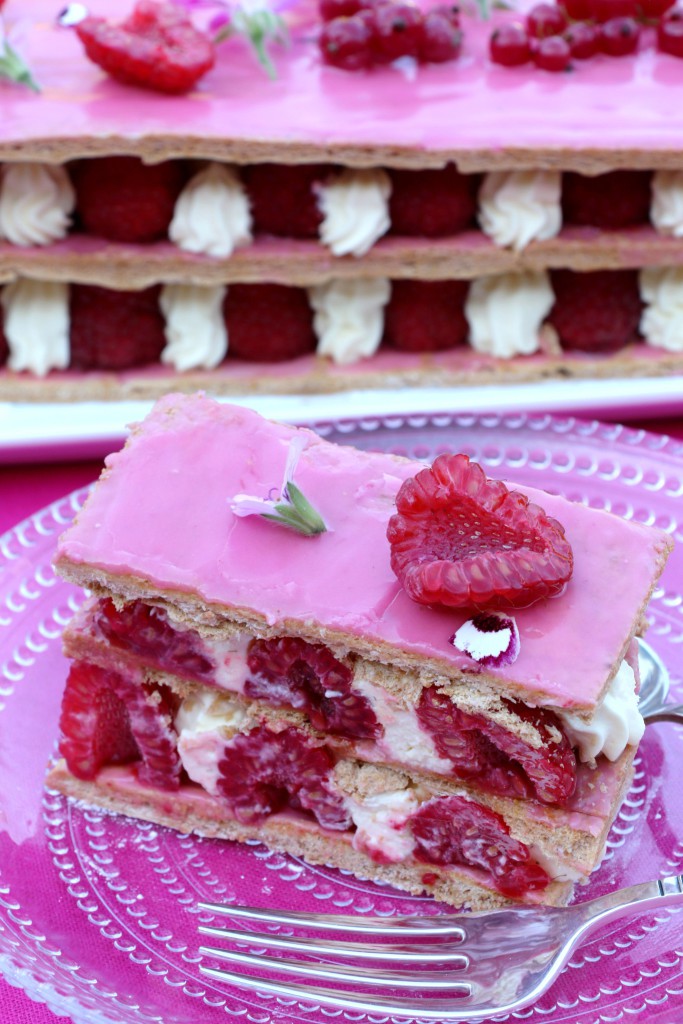 For other meringue and berry extravaganzas on Crumbs on the Table, see Fruit-focussed pavlovas.

PRINT
[This article was one of a series of
Crumbs on the Table
  monthly food columns published in
Weekend
  (editor, Alice Ryan), the Saturday supplement of the
Cambridge News
.]