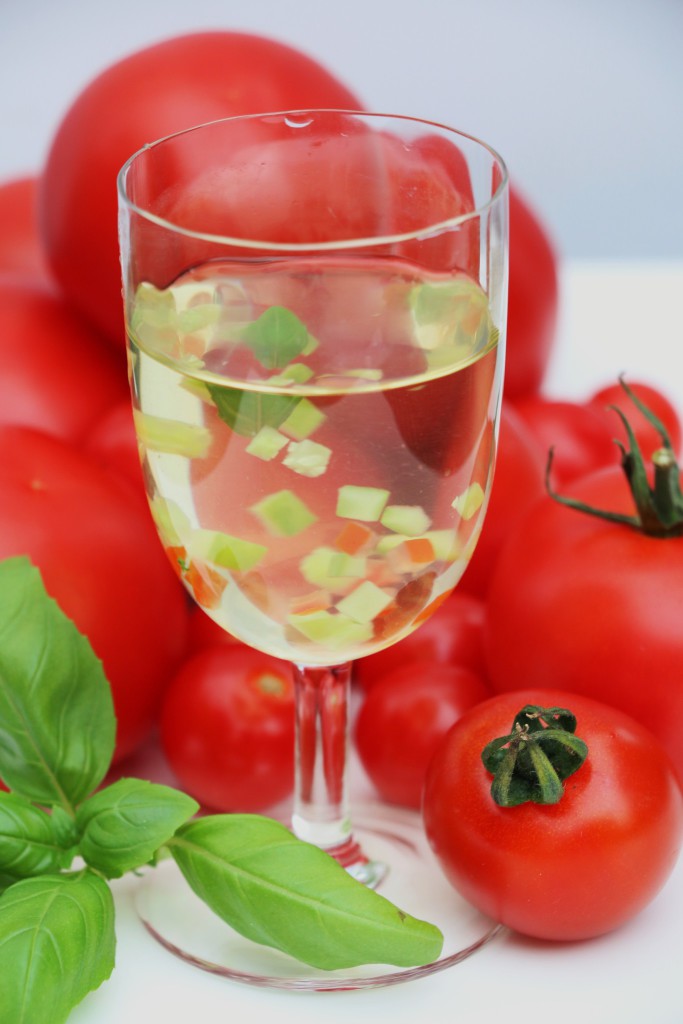 This week I am again singing the praises of the tomato — this time in its simplest form, as a clear golden nectar obtained through the straightforward process of chopping a quantity of excellent summer specimens and letting their juices drip slowly through muslin overnight, the weight of the tomatoes themselves doing the work (just as with the raisiny grapes that make a fine Tokay). The resulting clear tomato liquor will astonish you if you have never tried it, and astonish you again if you have.
This pure, uncooked "consommé" is the very essence of tomato: surprising in its pale colour — for it must not be pink or red (that is something else entirely) — and shockingly intense in taste, so concentrated and pure in its tomato-ness that you may not believe it's possible and suspect an alchemist's trick.  It is more flavourful than the whole tomato itself, reduced like this to its essence.
It is to be sipped with reverence, with time for wonder in between each taste, like the finest wine. It is like drinking sunshine, and mineral-rich earth, and the purest water, all at once — so elegant, and yet so elemental.  A little satisfies, though you may want to drink it forever. It feels like an elixir of life.
A shot glass of this clean tomato intensity, served deep-chilled from the fridge, is a superb way to open a meal, especially on a hot day when a heavier starter has no appeal for cook or diner. As served in the most elegant of restaurants, it is impressive dressed up with a dainty spoonful of cucumber and tomato diced very small, and a few immature basil leaves. It can be seasoned with a drop of sherry vinegar for a gazpacho taste that will spoil you for life, or with nothing more than a judicious pinch of sea salt and a dribble of your best olive oil.
Because this essence of tomato is so intense, it doesn't take much for a serving, which is a good thing, as it takes a kilo of tomatoes to produce enough essence for four or five people. A simple shot glass or sherry glass per person makes a superb amuses bouches (I like serving it in glass so its clarity shines through). Or serve it in chilled soup bowls as a first consommé course when you have a few people and a glut of tomatoes.
Sip and be thankful, for this is a wonder of the vegetable kingdom, and of culinary invention, both. A cook or chef somewhere had the genius to discover that less can be more, that the heart of a tomato isn't red and meaty. I don't know who first made this discovery, or when, but I do know this simple taste gets to essence of things, and it is gem on the menu of many fine restaurants today.
I learned how to make it decades ago at Chez Panisse, where it was served as a broth for langoustines, flavoured with the merest touch of saffron. Raymond Blanc, Jamie Oliver, and other famous chefs all made it, and I had a delicious winter version at Galton Blackiston's Moreston Hall in Norfolk this February, served warm in a small pottery bowl.  I most adore it cold in summer, made with the best tomatoes I can find locally, but anyone who has tasted it, hot or cold, will tell you how special it is.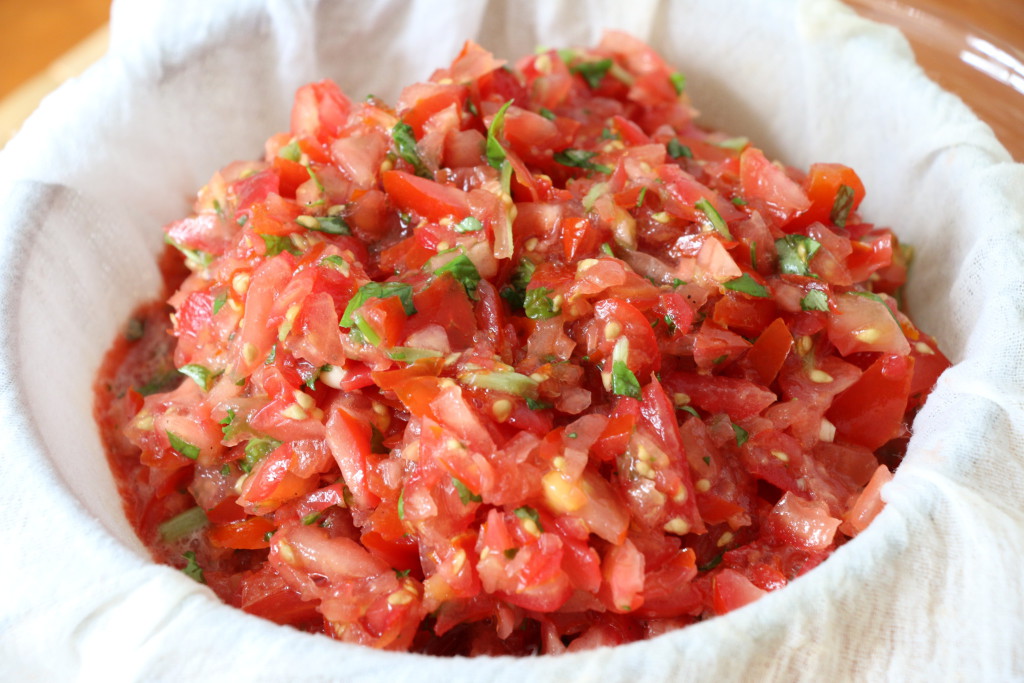 Tomato essence (or "consommé")
Yields about 400 ml ( 1 2/3 cups) of tomato essence, to serve 4 as a light "sherry glass" starter or amuses bouches.  (Double the recipe to serve 4-6 as a larger bowl-portion of consommé, and double the garnishes, too.)
Ingredients
1 kilo (2 pounds 3 ounces) fresh tomatoes
Half a shallot, peeled and coarsely chopped
Half a garlic clove, peeled and coarsely chopped
A handful of basil stems and a few leaves, coarsely chopped, reserving the smallest leaves whole for garnish
sea salt
freshly ground black pepper
1 teaspoon very good sherry vinegar (optional, for seasoning the essence)
1 teaspoon very good extra virgin olive oil (for garnishing)
¼ of a small cucumber for garnish
2 cherry tomatoes, de-juiced and de-seeded (but not de-skinned), minced very finely into dice the same size as the cucumber
Equipment: You will also need a large bowl that can fit in the fridge, a medium-fine strainer, and a double layer of clean muslin with which to line the strainer. A food-processor is better than a blender for processing the tomatoes, or you can chop them by hand.
 Directions (read the "Tips*" first, located below the directions)
Quarter the tomatoes and add to a food processor with the shallot and basil. Season lightly with salt (you will add more later), and more generously with black pepper (this is it for the pepper). Pulse 8-10 times to chop the tomatoes to the consistency of a chunky salsa. Do not puree to a liquid.
Dampen the muslin with water, wring it dry, and line the strainer with a double layer. Place the strainer securely over the bowl and add the chopped tomatoes to the strainer. Do not press down on the tomatoes at any time.
Cover the contents of the sieve and the bowl itself with cling film and leave 8-24 hours to drip slowly through the muslin. Refrigerate if your kitchen is warm. Again, do not press or squeeze the tomatoes, or you will cloud the liquid.
You should end up with a clear, golden-tinged liquid. If you have some pink cloudiness, don't worry; you can easily strain the liquid through another double-layer of clean muslin, which will take a few minutes to an hour to drip through.  Again, don't stir or force the straining process.
Chill the essence if not already cold, if you intend to serve it cold. You can do this overnight, or on the day of serving.
Season your essence carefully, adding sea salt and the sherry vinegar, if using, a little at a time, tasting as you go.
When ready to serve, or an hour or so beforehand, prepare your garnishes: mince the cucumber and tomato and set aside (doing this by hand is best so your pieces are as uniform and neat as possible). You need only about half a teaspoon of each per serving of essence. Select 1-3 immature basil leaves for each serving, and set aside.
To serve, pour the essence into shot glasses, sherry glasses, or bowls, add a spoonful of the minced cucumber and tomato to each, then distribute the basil leaves attractively. As a final touch, drip 3-5 droplets of your best olive oil on top. Serve deep-chilled, room temperature, or warm.
*Tips: There are four essentials to making this consommé successfully:
Use flavourful, juicy tomatoes (cherry tomatoes, slicing tomatoes and heritage varieties are all good; plum tomatoes can be a little dry, so save them for cooking).
Chop the tomatoes coarsely, about the same consistency as for a chunky salsa. Do not purée them to a liquid, or the flavour and colour of the skins will come through and you will end up with tomato juice, rather than essence (also delicious, but something else entirely). If you do over-process the tomatoes at this stage, you can strain the juices through a double layer of muslin again to obtain the purest, clear essence.
Do not be tempted to press on the tomatoes to extract more juice. Any force will cloud the liquid. You simply have to give it time for the weight of the tomatoes to do the work for you. Allow several hours, or overnight. It will literally drip, one drip at a time towards the end, but it will get there.
Seasoning the resulting essence is a delicate matter. I like it best when other flavours do nothing to mask the tomato, but only help to bring it out, so I include some aromatics in the chopped tomatoes, and save the final seasoning for the liquid itself.

You will definitely need salt to bring out the best in your essence, but go slow with it, tasting as you go, and allowing a few moments in between tastes for it to dissolve properly. I urge you to use a pure sea salt.
The same goes for the sherry vinegar if you use it: it will change the flavour of the tomato liquor, so use a very good one, start with little, and taste as you go.
I do not add ground black pepper to the essence itself, as I don't like the grounds to be visible. I do add some ground black pepper to the chopped tomatoes, along with the other aromatics, to flavour the tomatoes without ending up in the essence.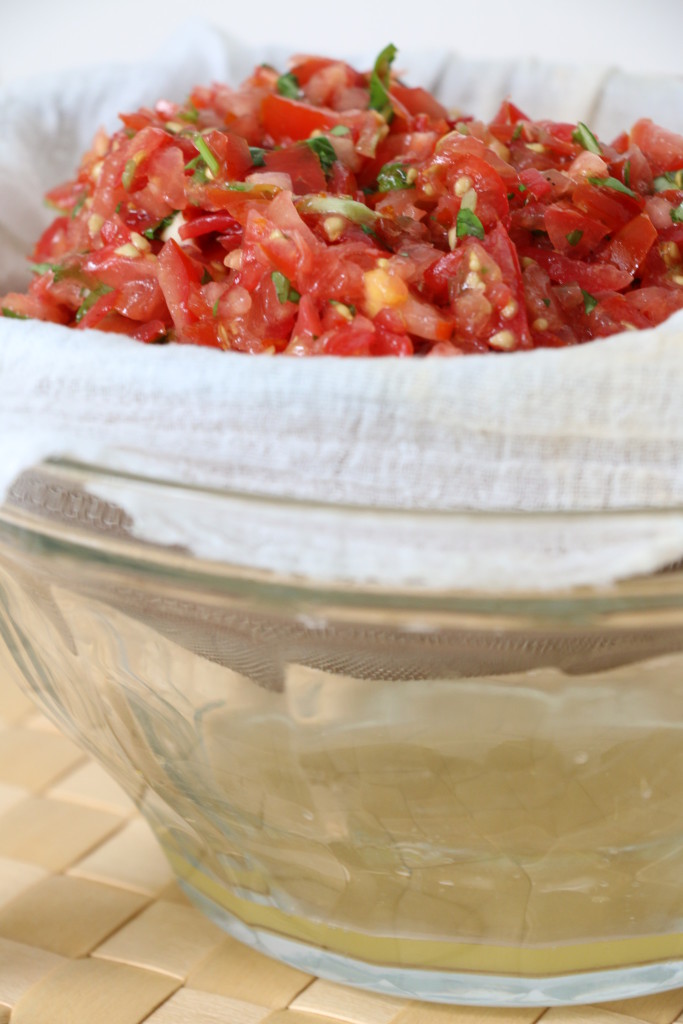 What to do with the leftover tomatoes? Extracting the essence from a kilo of tomatoes will leave you with compressed remains bereft of their most flavoursome juices, but useful nonetheless. I find the best treatments for these leftovers to be:
1) salsa: Add to your chopped tomatoes some minced chili peppers, lots of lime juice and fresh coriander, and a little fresh garlic. Season well with salt, and serve serve with courgette fritters, fish cakes, or tortilla chips.
2) tomato sauce for pasta or aubergine parmesan: You can freeze the tomato leavings and make a quick tomato sauce later: sauté the thawed tomatoes in olive oil until soft, add a jar of sundried tomato paste and a splash of water or wine to bring up the flavour, and stir in fresh basil at the end.
Note: Raymond Blanc published a beautiful recipe in the early 1990s for a tomato consommé that calls for cooking the chopped tomatoes, then straining them for the juices, then clarifying the resulting liquid with egg whites and more tomatoes. This  results in a gorgeous essence, and will give you a greater quantity of juices; but as it is cooked, it also, to my taste, loses some of the fresh intensity of the raw tomato essence, and it is of course more complicated to make.  Raymond has published an updated technique that eliminates the cooking step, as does Jamie Oliver and other household-name chefs, much as I have adapted it above.
Reference:
Raymond Blanc.  Cooking for Friends. Headline Book Publishing, 1991.