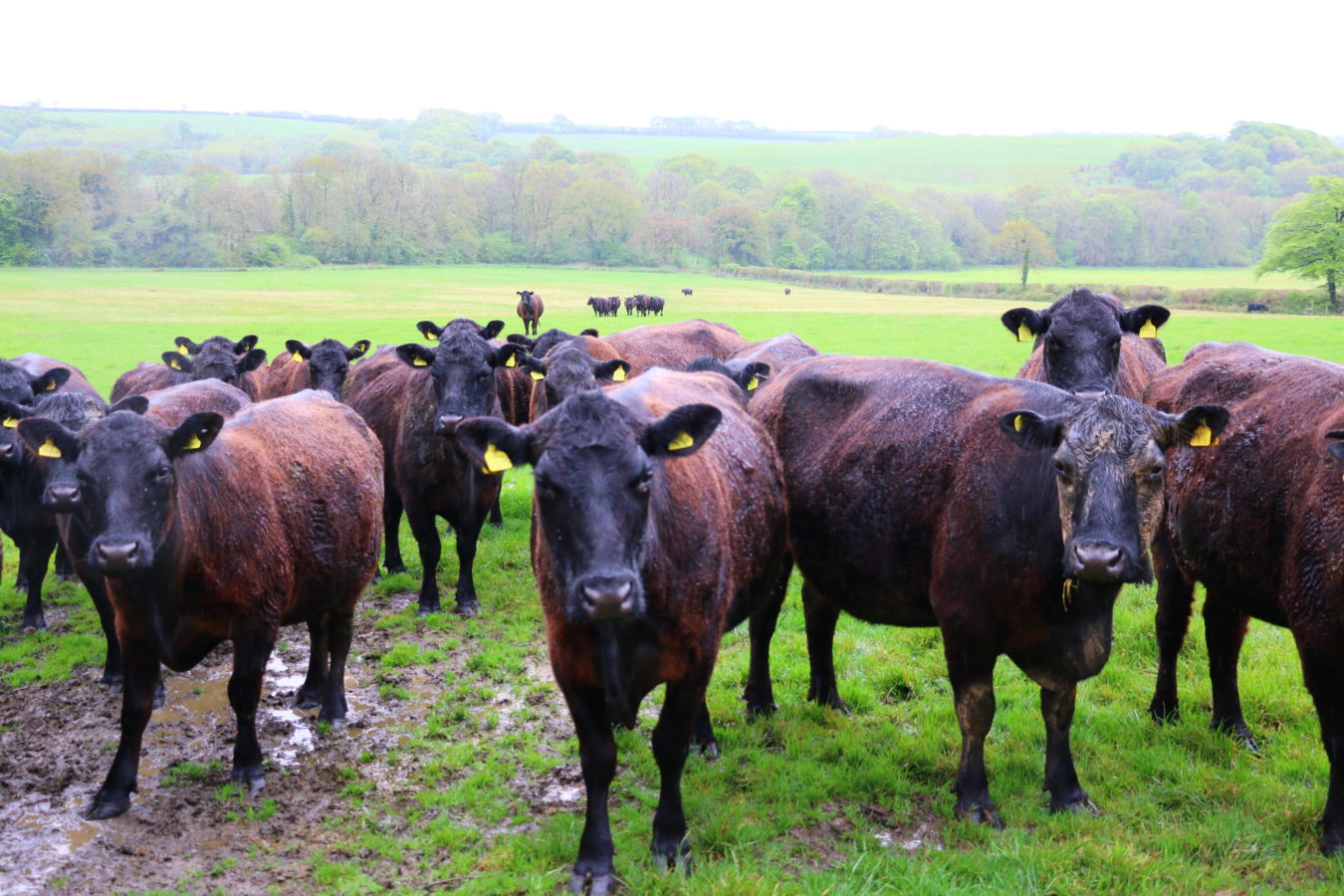 Listen to Laura's podcast of this food essay by clicking the arrow below:
I love January.  Despite its grey tendencies, I relish the fresh start, the hopeful certainty that last year's inadequacies can be redressed by what comes next: that this year's surprises will be of the pleasant variety.
After the indulgences of the holidays, I'm craving energy-giving, mood-lifting food; and in keeping with the usual January spirit, I'm also resolved to get fitter and healthier.  No more joking, "I'll have two, one for each thigh".  So what in the world to eat in this new year, this new decade?
With what we learned in 2019 about climate change, biodiversity loss, plastics in our oceans, food waste and the obesity crisis … the question, "what should I eat?" is more pressing and less purely personal than it's ever been.  It's hard enough to know what's best to do for oneself, much less to carry through with acting on it, but how do we know what to do for our world as a whole, and our patch of it? How do we trust to what's ethical, and sustainable, and recognise what's just pretending to be?  There are so many heartbreaking emergencies, so many mixed messages, so much fervour, that we could be in danger of making mistakes even with best intentions, or simply sticking our heads in the sand or diving into a bucket of donuts.
There are certain home truths that can anchor us:  eating a diet rich in vegetables, fruits and whole grains, is very good for us: they get fibre, and a rainbow of nutrients into us, help regulate our blood sugar, and are good for our gut health.   They also help keep us from eating too much of the wrong thing, like excess sugar and too many processed foods.  We know that "less and better" is also the watchword for meat, and more of us who eat meat are ever more discerning about where to source it.  We know that tackling climate change, biodiversity loss, and many human diseases, requires us to reform how we feed ourselves.
To this end, the UK Government is launching a comprehensive study to help develop the first national food strategy this nation has had since World War Two.  It commissioned food entrepreneur, Henry Dimbleby, founder of the Leon chain, to look at the UK's food system in its entirety, consulting with every branch of government, and in every region of the country with farmers, scientists, manufacturers, the transport industry, wholesalers and retailers, health professionals, conservationists, educators, and the British public.
For as much as our current food system offers us in terms of unprecedented choice, convenience and employment (1 in 8 of us in the UK works in the sector), it's widely accepted that our food system does harm as well as good, and is riddled with unintended consequences.
The global food supply chain is responsible for 20-30% of the world's greenhouse gas emissions.  In the UK itself, production emissions are under 20%, but if what we consume from imported food is added to this, the total rises.  With the increasing use of the world's land for agriculture, we've lost global habitats and wildlife at devastating rates.  In the UK, songbirds decreased in numbers by 54% between 1966 and 2008 – that's just 42 years – and almost all of our wildflower meadows have disappeared, and half our ancient woodlands.
And too much of what our global food system produces is either wasted, or making us fatter and more ill.  In his address to the Oxford Farming Conference earlier this month Henry Dimbleby reported that 18 of the world's largest food companies rely on food and drink portfolios in which 85% of products are regarded as so unhealthy they can't, under World Health Organization guidelines, be marketed to children.
It is to be hoped that sound national food policies will result from this initiative, and it appears to be widely greeted as an opportunity for more solid evidence to come forth, and more collaboration, and for the nuances and complexities of these challenges to be aired more thoughtfully and clearly by a range of voices who will help us understand the facts and choices we face.
Some of these big-picture questions will affect all our lives.  What role do we want government to play in what we eat?   How do we want to use our land?  How do we get the most out of it while restoring and sustaining soil health, human health, ecosystems and wildlife?   What will our landscape look like in a decade, a century?
And what will our food taste  like?  With all these critical challenges, will taste get a look in?  Will breeders select for varieties with flavour?  Will farmers be empowered to grow such crops?  Taste is so often superior in those fruits, vegetables and meat – that are given time, as well as all the right conditions, to grow and mature… and time, of course, needs to be reflected in the price of food.  Is that a reality we are ready to accept?
I'm glad that this initiative acknowledges the pleasure afforded by food, the social value of eating together, the heritage and culture implicit in our food.  Whatever choices we need to make individually, as a nation, and globally, there are ways to factor in  flavour, and ways to factor it out.  That's always a risk.  It's happened often, it happens now, and we need to be alert to that, as we debate how to reform the system.  Good-tasting varieties of fruits and vegetables and breeds of meat, all grown well, with respect for the land, the crops and animals, and those who will one day be eating them, are anything but frivolous considerations.
Flavour isn't just an indulgence, the privilege of a few.  A bias for flavour is built into our biology as part of our reward system.  This can get us into trouble, but it can also help us get out of it.  Plenty of research shows that we make food choices based more than anything on what tastes  good to us, and that efforts to eat less and better work best when food brings us pleasure.
We have many local resources here in Cambridgeshire afforded by those growers, retailers, cooperatives and chefs who are doing a great service in producing and showcasing all manner of local produce grown sustainably and for superior flavour.
I'll be visiting all my favourite local haunts this year for plums, apricots, cherries, soft fruit, apples, pears, celery, tomatoes, asparagus, and all manner of other vegetables, salad crops and herbs, grown right here.  I'm delighted to see fresh produce getting more attention right now, and being used so creatively as the centrepiece of a meal as well as the supporting act, and I'm excited at the signs that British farmers will respond to the growing interest in plant-based diets by growing more of the less-common vegetables, too, like salsify and artichokes.
And if like me you are an omnivore aiming to eat less and better meat, you should know about the local producers who rear small well-husbanded herds of special breed cattle on pasture in and around Cambridge.  These passionate livestock farmerscould not be more different from the intensive animal farming we've seen reported that relies on huge soy-dependent feed lots that displace rain forest.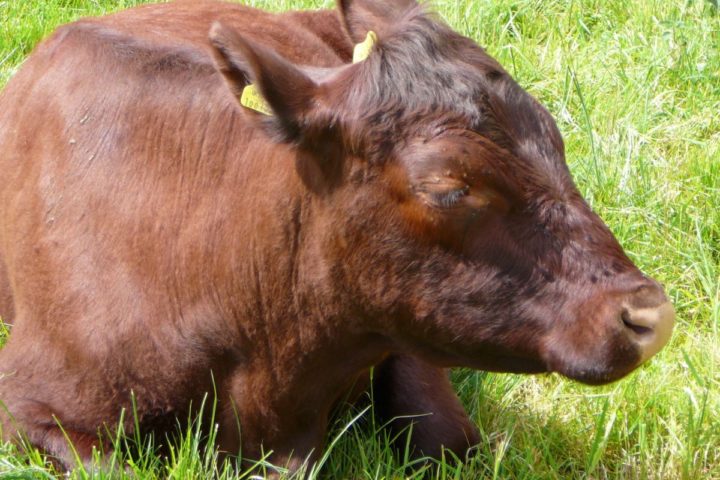 Angelika von Heimdendahl's sixty Red Poll cattle are a familiar site on Midsummer Common in the city, and in the water meadows between Grantchester and the River.  Angelika is one few "Commoner" farmers who still raise cattle on Common land (as many commons around the country were lost in the 18thand 19thcenturies with the Enclosure Acts).  She's a member of the Pasture for Life movement that works to reduce the carbon footprint of cattle farming, and her Red Polls are fed exclusively on grass with no need for resource-intensive cereal feeds.  They forage on the meadow for nine months of the year, helping to keep the habitat from deteriorating into bramble; and in the winter, they're moved indoors and fed on hay (dried grass) and silage (fermented grass). She sells the meat throughout the year through her business, CamCattle, at the Cambridge Market on Sundays.
Sam Taylor of Little Linton Farm also raises Red Polls, that beautiful mahogany-brown breed native to this region.  He sells his beef in mixed cuts by the box, at the farm gate, to a waiting list of customers who prize it for its deeper, beefier flavour and well-marbled texture.  Sam explained that a lot of other breeds need grain to bring them to the required weight quickly, but cows are bred to eat grass, and a grain-rich diet gives their meat a different fat composition, lower in the essential fatty acids that are healthier for humans.  His animals, like Angelika's, are fed purely on grass, and given time to mature at their own pace, typically 24 to 30 months or longer, as opposed to 16-18 months for more conventionally reared cattle.  Sam grazes his low-density herd in rotation on pasture land where they browse not only grasses, but the wild herbs, nettles, brambles and legumes  that also support pollinators and other wildlife.  There's no need for fertilisers, and the pastures extend down to the water meadows along with River Granta, creating a corridor for nature.
You can buy another special breed of beef from Robert Twigden's Longhorn Farm Shop in Cottenham, where he sells the meat from these handsome brown and white cattle raised by farmer Stephen Wright.  Recognised by their distinctive down-turned horns, this 17thcentury breed had become until recently scarce in the British countryside, but thanks to the Rare Breeds Survival Trust and people like Stephen and Robert, it is once again being grown more widely for its superior flavour.  You can buy it, and the lamb also grown on Cuckoo Hill Farm, there at the shop.
For people who want meat in their diet, supporting producers like these is a positive way to encourage responsible livestock farming, while enjoying a special product.
There is an environmental cost to everything we eat:  plant or animal, land or sea.  We have a good opportunity right now to learn, to distinguish between the very different production systems for all these food groups: from intensive monoculture, to greenhouse grown, to organic methods: and with livestock, from intensive mass-production feedlots, to small-herds reared on permanent pasture, or on mixed farms, where they have an important role in improving soils; or on highlands and other terrain that can't support other kinds of agriculture, where grazing animals have shaped the landscape for generations.
So this new year I'll be shopping with my re-usable bags, buying a little less, seeking out honest food from friendly producers, and asking more questions.  It takes effort, but procuring what we eat can be a chore or a pleasure, so when I can, I'll be making it a fun and social way of spending time.
I'm also hoping, as Mr Dimbleby says, for more light and less heat on the hard questions we all face, so we understand better the complex interrelationships we have with our food and food system, and can make informed decisions about how to influence it, and our own health.  I'm sure this new year will be a delicious one here in Cambridge, and maybe 2020 will also be the year of better focus, when we see more clearly.
[This food essay was also broadcast on Cambridge105FM radio's food programme, Flavour.  You can hear the full programme here.]
MORE INFORMATION
National Food Strategy:
Consultations have been underway since autumn, with an interim report to be published this spring, followed by public consultations before a final report with recommendations is submitted to Government in a year's time.  The National Food Strategy website provides more information, and they are inviting anyone who wants to, to register to join this national food conversation.  Hear Henry Dimbleby's address to the Jan 2020 Oxford Farming Conference here.
Some sources of locally and ethically produced meat in Cambridgeshire:
CamCattle:  Buy cuts from Cambridge market on Sundays; elsewhere as mentioned on the CamCattle Facebook page.
Little Linton Farm:  Red Poll Cattle mixed boxes available from Sam Taylor at the farm; contact him via Facebook, at littlelintonredpoll
Longhorn Farm Shop: Visit the shop for Longhorn beef grown there on Cuckoo Hill Farm, on Oakington Road in Cottenham.
More of Laura's food essay podcasts on Crumbs on the Table: