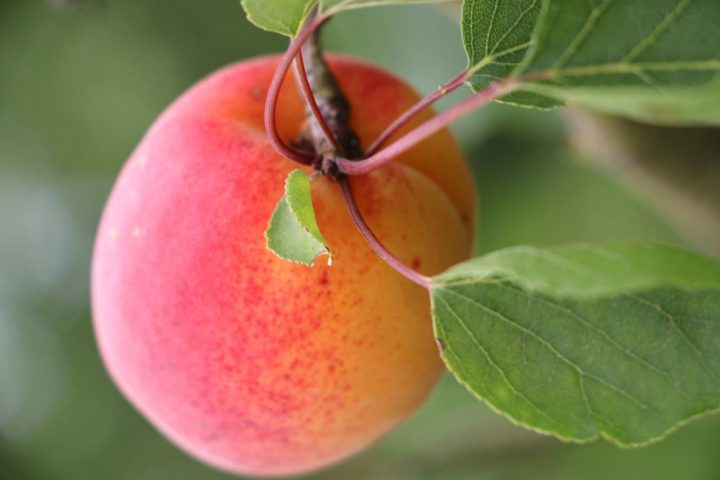 Listen to Laura's podcast of this food essay by clicking the arrow below:
I'll go back to the beginning….
I remember sitting on the backsteps under a punitive August sun, basting a rock, pretending it was a roast.
I was three.  We were visiting my mother's family in rural Texas after a long drive through heat mirage and tumbleweed.  It was a permanently hot, thirsty place. Drinking water had to be pumped by hand into a bucket, and I was afraid of the ladle, with its spot of rust.
I don't know for sure if I could see the apricot tree from those blistering steps, but that's how I remember it:  as the only green thing in view, whose fruits enchanted me.  I was astonished that the things familiar as something I loved to eat were joined to this other thing I knew as a tree.  It was an epiphany: the connection between the one and the other… How could this be?  It must be magic!
Decades later, apricots capture a primal joy for me that comes from that first wonder at the generosity of things that grow.  It is the most ravishing fruit when it's honest, and the most disappointing when it's not, and it makes me actually angry to see those hard, pale rocks in our shops, knowing what they could have been.
I've been chasing the ideal apricot all my life, but it's proved the most elusive of fruits.  It's one of the worst casualties of what I think of as the Great Fruit Con, where so much looks like it should, but tastes of so little.  Commercial varieties of fruit are typically bred to grow fast and prolific, and picked far from ripe so they can stand up to mechanized processing, transport and storage.  The industrialization of our food supply has changed the flavour of much of what we eat, from tomatoes to strawberries to apricots.
A few years back, I happened to be in the right place at the right time to remind myself of what a real apricot tastes like, in season, where it's grown.  My sister and I had a rendez-vous  in Montpellier, France, in the south eastern corner of the country, where it's hot enough for palm trees, which tells you something about what apricots need.
The season began during our stay and we glutted ourselves from the markets, where there were varieties on display from different parts of the country.  Some were smaller and redder than others (these seemed the most intense, if not the juiciest), some rounder and more moist.  We had repeated taste-tests and were undecided.  They were all glorious, the textures just right, not mealy or mushy if you chose well, sweet but not too, and so fragrant with all that sun.
More than once during these feasts we'd recall a story our parents tell of a journey they'd taken in their younger days to Bryce Canyon in southwestern Utah.  They'd driven all day through otherworldly landscapes, arriving hungry after dark at the one-horse town where they were to spend the night outside the national park.  Everything on the single street had shut tight except for the bakery, which was still sweeping up.  They chanced it hoping for something, anything, to find there was one last thing left on the baker's shelves: a single golden-crusted apricot pie.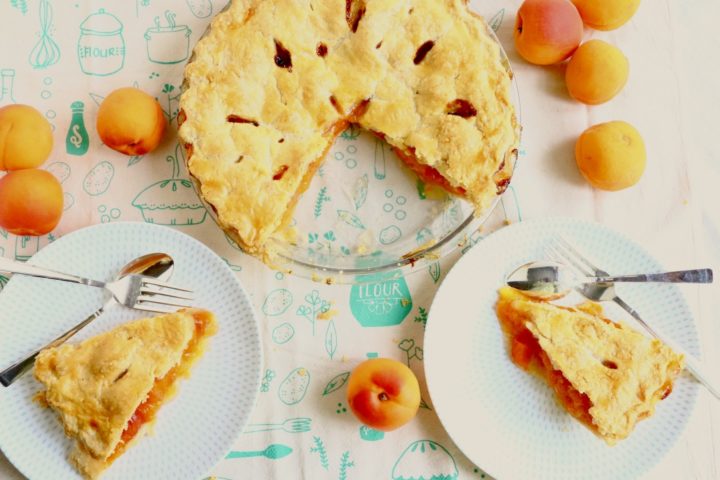 They bought that whole pie and brought it back to their room where they ate it with plastic forks, sitting on the bed, drinking motel coffee.  And they raved, and gave thanks, and demolished that pie like it was the first and last pie created in heaven to set the example for all pies on earth.
Close to the end of our stay in Montpellier, Kitty and I visited a farmer's market under the ancient aqueduct, and there we found a stall dedicated to apricots, mounds of them, sold by the people who grew them six miles outside Montpellier.  These were voluptuous larger fruits, very ripe, perfect at that moment.  They were sold by the kilo in slatted wooden baskets by people with stained hands and worn tee-shirts who seemed anxious to sell: this was their livelihood and it would be a bad day if they had to load those apricots back onto the truck to take home again.
Despite our impending departure next day, I bought a greedy basket not realising it weighed over two kilos until I'd negotiated payment with my halting French.  I was struggling with my camera, two bijou barquettes of fragile raspberries, and a bottle of rosé from a small winemaker to drink with our last night's dinner, so Kitty took custody of the apricots.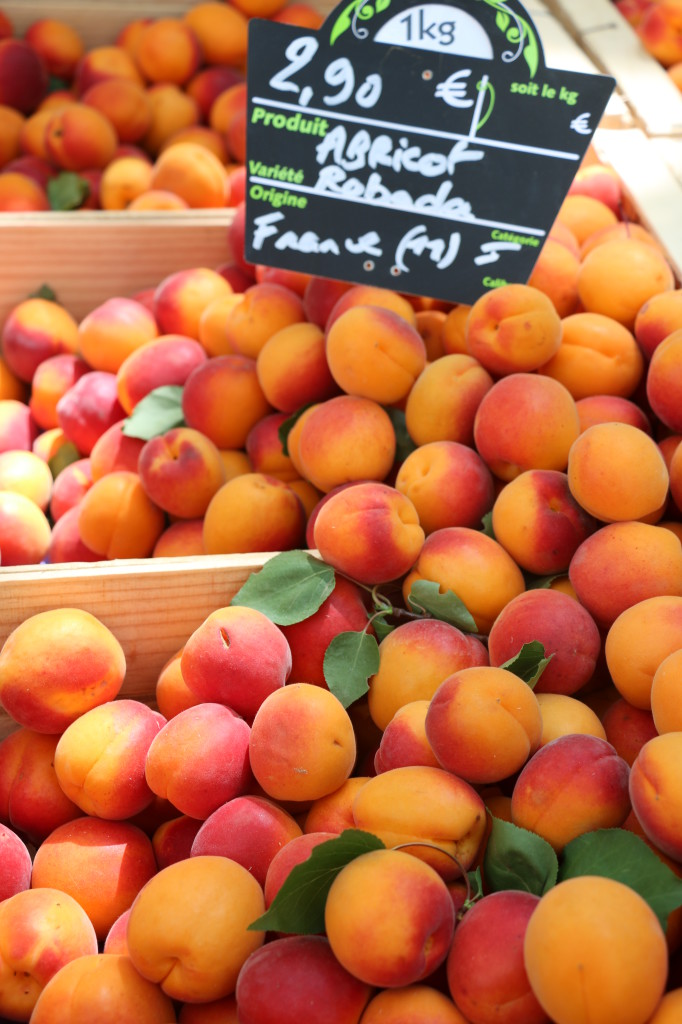 We ended up walking for another few hours in the beating sun, having stumbled across a food festival in the park with white-hatted chefs displaying their wares under white tents to gentlemen in summer suits and ladies in pretty frocks.  By the time we'd been waylaid by that genteel spectacle and a glacé stand, I think even Kitty felt the weight of apricots as this side of burdensome.
While she flew back to the States next day, I got my apricots home to England in my carry-on, wrapped individually in tissue, protected with a fortress fashioned from cardboard scraps.  They made it better than hoped.  Those in best shape were eaten au naturel.  The ones that arrived a little sore for their travels were turned into jam, as intended.
The jam gods were with me.  It was a perfect batch.  It was of course sublime fruit, so I could have done almost anything and it would have been beautiful.  But I'm sure it was also to do with the memories that kept me company as I made it: the thought of those who had grown the apricots and picked them and hauled them to market; the gratitude to Kitty for toting them on her back all day; the mental picture I carry with me of that first childhood tree that started my love affair with apricots and all things that grow; and of course the anticipation of how good that jam would taste on a proper baguette with real butter: the little meal I think I'd choose over any other for my last on earth.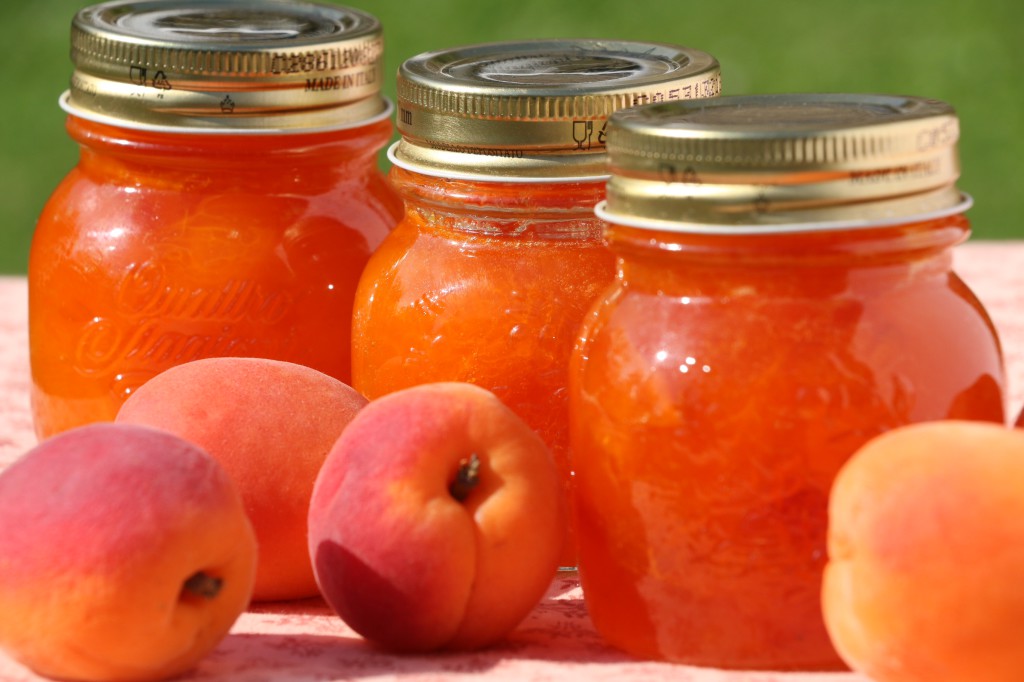 Three precious jars came from this endeavour.  They arrived courtesy of the post a few days later with Kitty in North Carolina, and another with family assembled in California — and everyone's appreciation was all I and the orchard could wish for.
That encounter in Montpellier brought me so close to the apricot, but I never did find the trees.  I left France yearning to see the fruits growing again, and vowed someday to go back and look for them.
So imagine my astonishment when, quite by accident, I discovered one more recent summer, right here in rural Cambridgeshire, a small family fruit farm that grows apricots, virtually in my own backyard.
I'd gone to Willingham, north of Cambridge city, on a search for the Manning Family Farm, where I'd been told I could find heritage variety plums.  When I walked through the doors of the small farm shop, the unmistakable perfume of ripe apricots stopped me in my tracks.  There they were, in full proud view — and yes, they were grown right there on the farm, along with the plums.  I couldn't believe my eyes.
I bought six varieties of plum that day and almost every apricot they had on display, my conscience just stopping me from taking the lot so other people could have some, too, and spread the word.  So I went back again, and a third time, and I made jam, and tarts, and my mom and dad's pie, and we ate the fruits fresh every day for the few weeks of their season.
Being able to taste an apricot in season, where it's grown, when it's been allowed to ripen on the tree, is a rare thing anywhere, and will spoil you for life.  You'll forever know the difference, and never again be content with pale impostors.
Growers who give us this experience do an invaluable service in retaining and rehabilitating our appreciation of flavour, and the collective taste memory we have as a culture, that may, if we continue to value it, help us hang onto fruit that tastes like it should.  They preserve old varieties despite the fact they don't produce bumper crops, or are more susceptible to frosts or disease, because they value them for the flavour, for the heritage, and their genetic diversity.
Three-quarters of edible-plants have been lost globally over the past century.  We're overly reliant on too few varieties, which have become increasingly inbred and therefore vulnerable.  The sacrifice of taste may seem frivolous compared to the need to feed a growing population, but flavour doesn't have to be at odds with commercial realities.  It's only been so because large-scale agriculture has focussed on breeding varieties for yield, transport and storage.  Some plant breeders are starting to look more at flavour these days, as well as crop resilience to changing climates — at least for some major commercial crops — in some cases going back to older varieties and even wild ancestors.  This makes it possible to select traits from a much greater diversity of genetic material, and develop varieties that could have both flavour, and the qualities our modern food system needs.
The Manning daughter, Wendy, tells me there will be no apricot harvest on the farm this year.  The April frosts took the blossom.  Apricots flower early, so they're always vulnerable.  She hates to tell her customers this because she knows how much we look forward to them, but she's philosophical.  There is always something to challenge the fruit grower, and this season it's a combination of last summer's intense heat putting the trees under pressure, a wet winter, and spring's repeated cold snaps.  The apples and pears that are to follow in autumn will have their own challenges from this growing season, too, here in Cambridgeshire, and all around the country.
Growers are always at the mercy of the elements and in the frontline of unpredictable climate extremes — which makes special crops like apricots all the more so when we get them.  Even what we may think of as 'ordinary' crops can't be taken for granted.  It's been like this throughout human history, as long as we've been cultivating what we eat; and yet, as we know, we are entering a new age of climate uncertainty, and are told to expect more of these extremes.  Maybe the fact apricots can be grown in Cambridgeshire at all is partly down to these changes.
I've found my apricot trees at last, and I see them as part of our fragile environment, which is so dependent on us, as we are on it.   The magic of things that grow seems even more miraculous when we think of how rare it is that we get to experience eating something with this kind of honesty, this kind of immediacy.
If you visit Wendy in Willingham this summer you can find a selection of beautiful plums, though their harvest is patchy this year too, some varieties producing as usual, some not so much.  The varieties change every week as some peak, and some go over, and some come in… Get to know every one you can.  And next year, maybe, hopefully, there will be apricots again.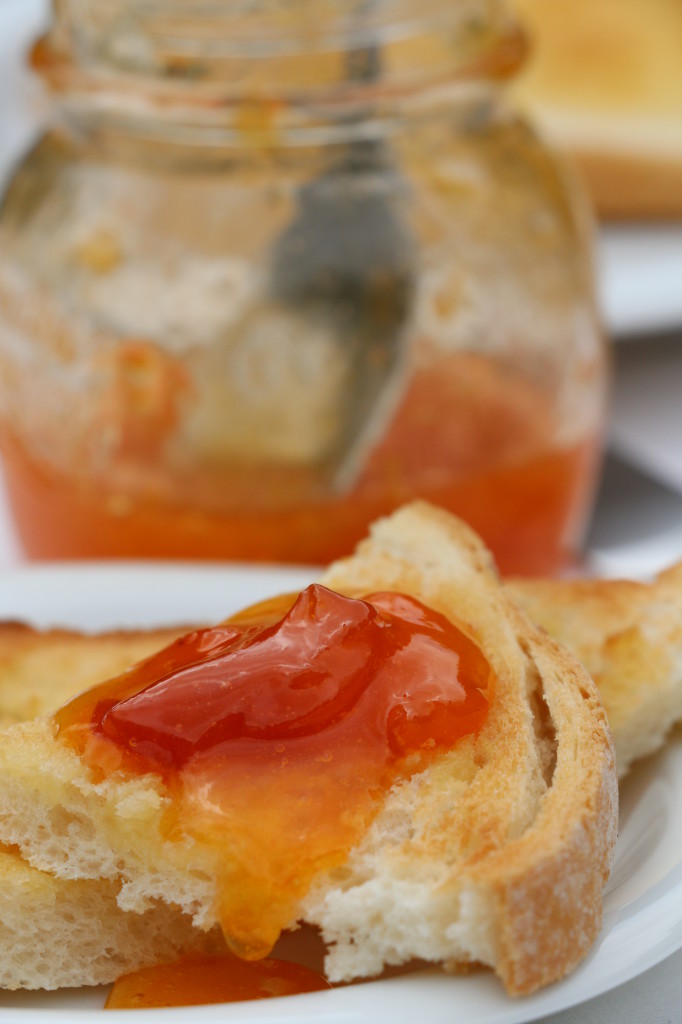 [This story was also broadcast on the radio food programme, Flavour, on Cambridge105FM Radio.  You can hear the whole programme
here.]
More food essay podcasts on Crumbs on the Table:
More apricot stories and recipes on Crumbs on the Table:
For more on heritage plum varieties:
Where to buy apricots grown in Cambridge: