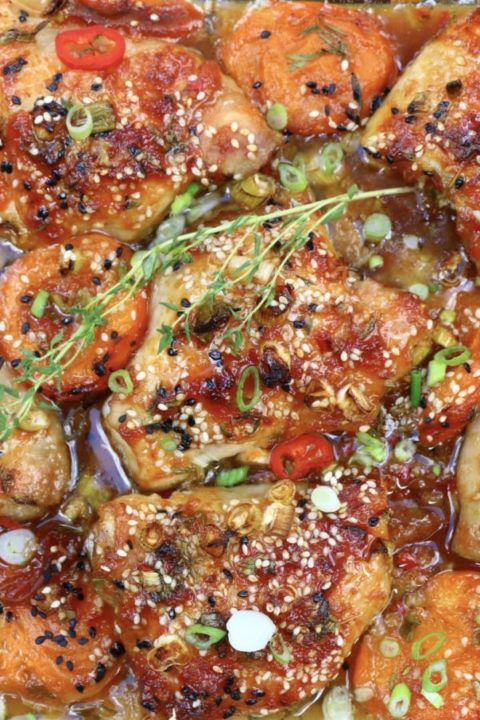 The Cambridgeshire apricots are in, and they are beautiful, despite this very challenging season.  The trees are full of fruit (no frosts at blossom-time and a good spell in spring for the pollinators), but this summer's exceptional heat wave and drought have been hard on the trees and growers.  Fruits are tending to be smaller, so yields are actually lower and harvesting takes longer, with more left unpicked.  The fruits are also ripening on the trees more quickly than usual, making the season shorter.  But here's the good news:  the apricots that are harvested have an incredible intensity of flavour in the absence of rain.  We can benefit from this superior taste, and also help the farmers, by not overlooking the smaller fruits: juicy gifts of nature in dry times.
At home, we're eating them fresh at an indecent rate, and also finding lots of ways to tinker with them, from pie, to jam, to compotes, to this lovely savoury dish with chicken.  This has been a favourite dish of mine for some years, but it's not often I've been able to make it with local apricots.  In some years the frost takes the blossom, or there's too much rain for the pollinators.
The fruits are baked fresh with skin-on chicken thighs, and there is also apricot jam in the delightfully sticky sauce, which is given oomph with a mix of East Asian flavourings:  fresh ginger, garlic, chili, tamari and a little sesame oil. I've used some fresh thyme from the garden as well, as it goes beautifully with apricots; and there are spring onions (scallions) for more freshness, and sesame seeds for a little more crunch on the crispy skin.  This dish has a delicious balance of fruity sweetness, salty umami, and heat from the chili, ginger and garlic.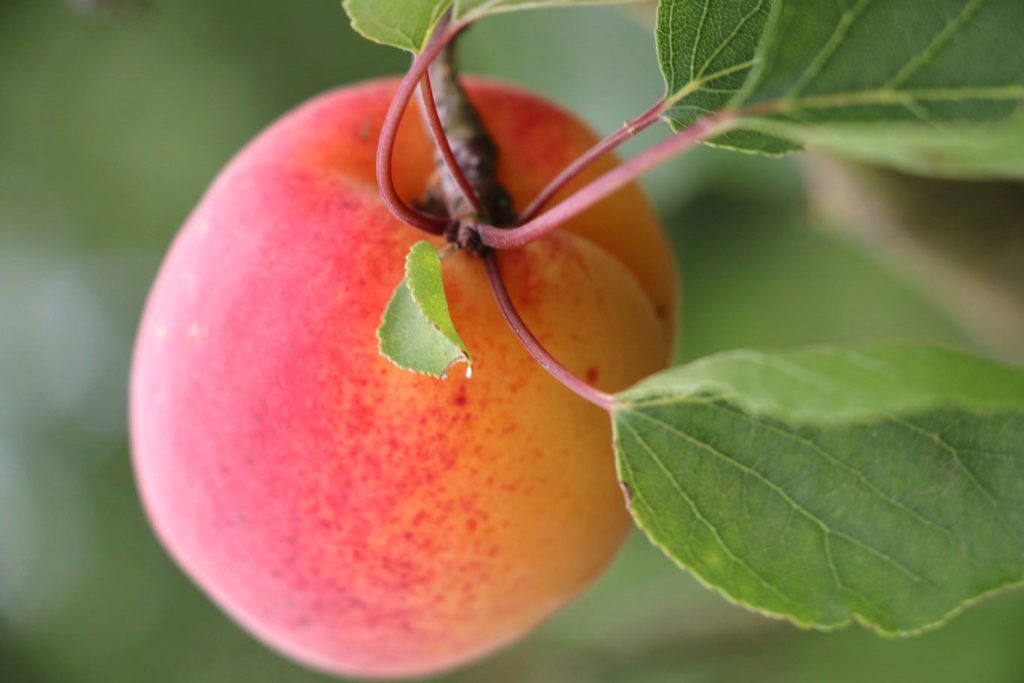 It's an easy dish to throw together.  The marinade requires no pre-cooking and turns into a juicy sauce that goes well over rice as everything cooks together in the oven.  A reliably crispy skin is pretty much guaranteed using thighs, as the hour they need in the oven is enough to create a deep-golden finish.
This is good served with ginger-rice garnished with spring onion (just add some slices of fresh ginger to the rice as you cook it and remove to serve).  For greenery, a salad of Asian greens like mizuna, or a cooked vegetable such as sugar snap peas, French beans, broccoli, spinach or bok choy, would all make for a harmonious feast.  For pudding in this all-too-brief apricot season, would it be too much of a good thing to suggest a bowl of these gorgeously fragrant and colourful fruits to enjoy just as they are?  Or maybe serve them with Greek yogurt with honey and a scattering of hazelnuts; or with homemade vanilla gelato.
I think we are more aware this year than ever of how we shouldn't take for granted that crops will always thrive, that we will always have cheap, plentiful food.  The growers of our beloved apricots also have to worry about what will happen with the later orchard fruits ripening one or two months from now, as the apple and pear trees, too, are showing signs of stress.   Some field crops are in desperate straits:  broccoli, carrots, potatoes, are at risk; and even the wheat crops that look so golden and healthy are drying out in some fields before they fully ripen.
We're hoping for rain here in the UK — something I never thought I'd hear myself say — and counting our blessings for the bounty we receive through the work that's harder even than usual on the part of those who grow it.
I'm celebrating apricots every way I can, and this is one of the best ways I know to do that.
[Picture below:  Harvesting apricots at the
Manning family farm in Willingham.
]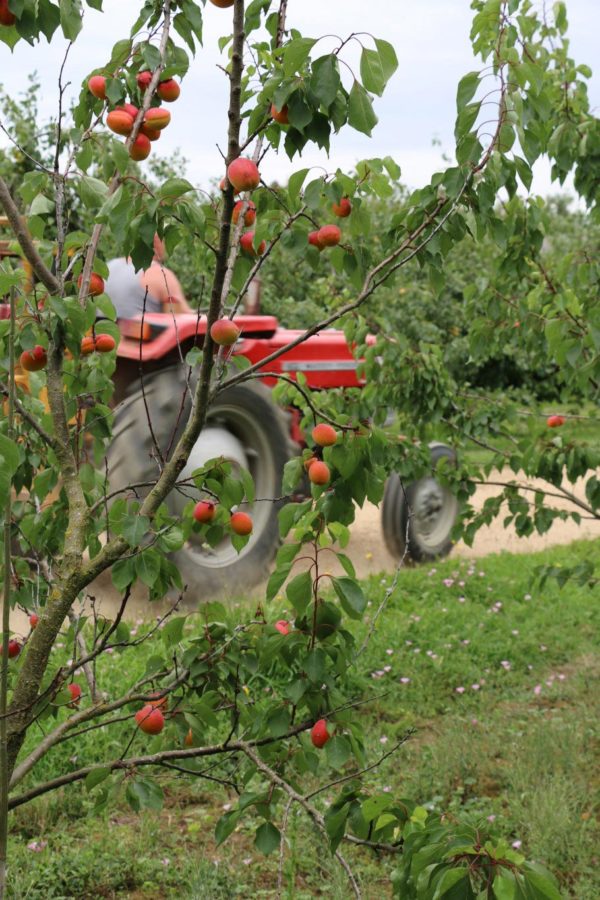 East Asian style chicken thighs with apricots
Serves about 6
Dark meat works best as it needs longer cooking than breast meat, which means there's time in the oven to get a crispy skin.  If you do use chicken breasts, you'll need to cook them for less time — about 20 minutes for small, or 30 minutes for large (check with a skewer to make sure they're cooked through but still juicy).
It's worth taking a few minutes to remove excess fat from the thighs before you cook them, as you want to eat the sauce straight from the pan; this step ensures the juices are lovely and not at all greasy.  (Organic and other free-range birds are less fatty.)  Keep enough skin to tuck the thighs into a neat package, as the skin does shrink in the oven — just remove any excess.
You can also use fresh peaches or nectarines for this dish, and substitute a matching jam for the the marinade/sauce.
Ingredients:
8 bone-in chicken thighs with skin (about 1.5 kilos or 3 pounds)
250g (1 cup) apricot jam
4 large or 8 small fresh apricots, pitted and halved
2 rounded tablespoons finely grated or minced fresh ginger (about 35g) — I use a microplane for this job
4 large cloves garlic, finely minced
2 tablespoons tamari sauce (or use soy sauce)
1 tablespoon vegetable oil for the marinade, plus 1-2 teaspoons more for baking
1 teaspoon sesame oil
A pinch of cayenne pepper
1 teaspoon finely minced red chili pepper (more if you like it hot), plus extra for garnish
15g fresh thyme sprigs (about 15 good leafy sprigs)
1 bunch spring onions (scallions), sliced thinly
2 teaspoons white sesame seeds
optional: ½ teaspoon black sesame seeds
sea salt and black pepper for seasoning
optional to serve:  fresh lime quarters
Directions:
Heat the oven to 200C/400F.  Have ready a large oven-proof dish big enough to take the thighs in one layer.
Mix the marinade/sauce:  In a medium bowl, mix together the jam, tamari (or soy sauce), ginger, garlic, minced chili, cayenne, vegetable oil and sesame oil.
Clean the chicken thighs of any fat and excess skin.  Pat them dry with kitchen towels and place them skin-side down for now into the baking dish, and spread out flat to expose as much of the meaty underside as possible for seasoning.  Sprinkle them moderately with sea salt and black pepper.  Tuck in the fresh apricots here and there.  Strip half the thyme sprigs and scatter the leaves over the chicken and apricots, along with half the spring onions / scallions (see photo, below):
Now add half the marinade and work it in (see photo below):
Turn the chicken over in the baking dish so the skin-side is now uppermost, and tuck in the ends of the thighs to make them neater.  Add the remainder of the marinade and distribute it equally over the tops of the thighs.  Cover everything with most of the remaining thyme leaves, keeping one sprig back for garnish after baking.  Sprinkle on almost all of the remaining spring onions, as well, keeping back a few to add fresh to the cooked dish.  Lastly, sprinkle on the sesame seeds and then drizzle 1-2 teaspoons vegetable oil evenly over the thighs — don't use more, as you don't want the sauce to be oily (see photo, below):
Bake in the hot oven for 50 minutes to one hour in total, rotating the dish after 30 minutes for even browning; you can give the thighs a quick baste with the juices at this point (remove the dish from the oven to do this).  You'll know when the chicken is cooked through when a skewer inserted into the thickest part of the thighs comes out without resistance, when the juices are bubbling well, and the skins are deep golden brown with some caramelisation.  You can also use an instant-read themometer to check the fattest part of the chicken has reached 74C/165F.
Garnish the finished dish with more fresh chili if you wish, and the remaining spring onion and fresh thyme sprig, and serve hot.  Serve fresh lime quarters, if you like, for people to squeeze over the chicken to their taste  (photo of finished dish, below):This dish also freezes well.  Chill it quickly before freezing, and ensure it is fully reheated and serve right away.
Other apricot stories and dishes on Crumbs on the Table:
Other chicken dishes: