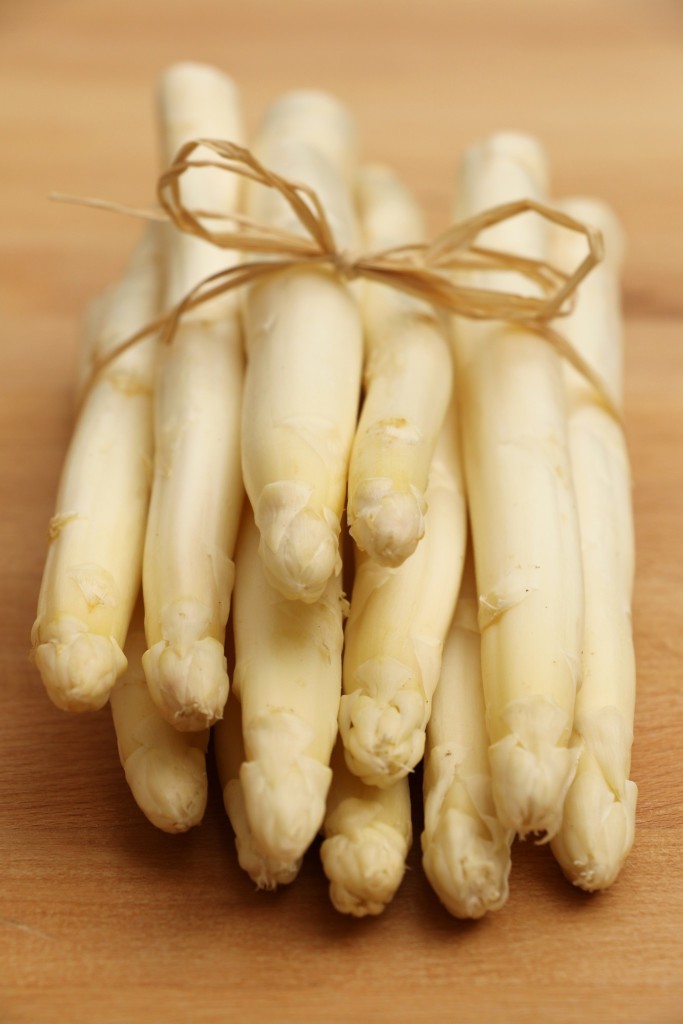 I lucked into some white asparagus at the Norwich market yesterday, flown in from Germany where it is highly favoured.  The 'spargel' season there ('spargelzeit') is a national craze of sorts, with restaurants and cafés offering it multiple ways on a single menu to make the most of the short season, which typically peaks from May through June.
The stall holder who sold me yesterday's pristine bunch told me his customers in this university town are mostly Europeans who go through at least two kilos a week; at £21 a kilo, that's true love (and/or homesickness). The British customers, he tells me, are just as enthusiastic about the green variety, grown a few miles away in the fields of Norfolk — still a seasonal splurge at £8-12 a kilo.
I love both green and white, and they are completely different in taste.  The white asparagus, at its best, is subtle in flavour, meltingly tender and tastes almost buttery, but cleaner — juicy, rather.  It's not at all 'grassy' like the green stuff, and is somewhat stringier.  It has a complex quality, somewhere between earthy and refined, and is less obviously asparagus-like than its green counterpart.
White asparagus is the same plant as the green, but is cultivated in trenches so the spears can be blanched; they are covered with soil as they emerge in order to prevent photosynthesis (and thus the production of the chlorophyl that would turn them green).  The method is similar to the manual method for blanching leeks to produce longer white parts.  Asparagus grows much faster, so it is an even more labour-intensive crop, which along with its short season and popularity, accounts for the price it commands.
If white asparagus is old it can be tough and stringy: check the cut ends to make sure they aren't too woody and dry. You must peel white asparagus, as the outer layer is bitter and fibrous, and trim off the tough bottoms just as you do with green asparagus.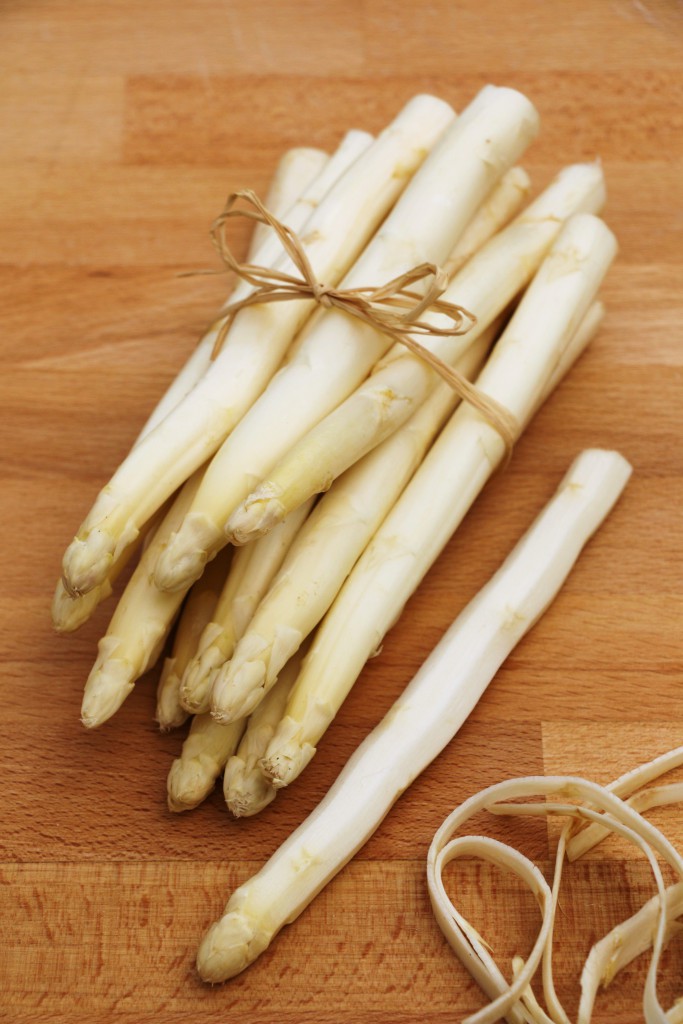 In Scandinavia, white asparagus is cause for celebration in the season, and so well-loved it is readily available jarred for the rest of the year to serve as part of the 'cold table'.
I've bought very good specimens in large, flat tins from Spain, where it is also revered and often paired with that country's superb dried hams.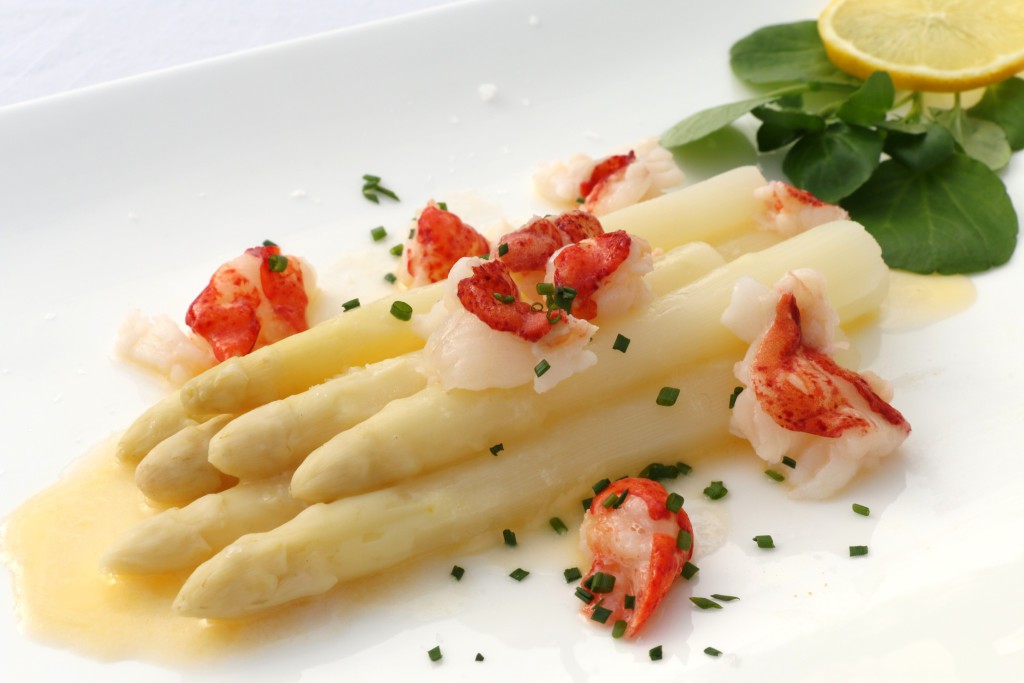 I happened to see a special offer on frozen Maine lobster tails yesterday, too, so I couldn't resist making a lobster butter to serve with my white spears.  It was worth the splurge, and one small lobster tail and one 500g bunch of asparagus did two of us, as the combination made a richly satisfying dish.
I can recommend this as an elegant starter for a dinner with fish as a main course. The white asparagus on its own, with a little butter, or with boiled egg as they serve it in Scandinavia, would be just as delightful as a lunch dish with some rye bread and avocado or watercress.  White asparagus also dresses up new potatoes and a salmon fillet for an exceptional dinner that makes you appreciate those simple ingredients anew.
Room temperature, it's lovely with a home made mayonnaise; warm, it's delicious with hollandaise.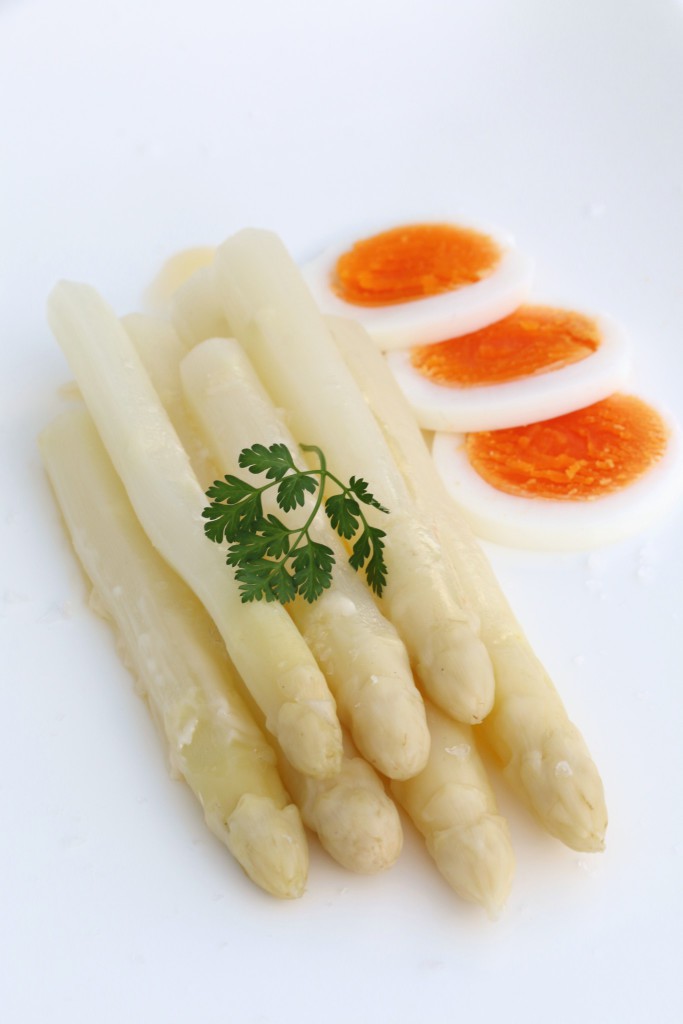 I have seen British-grown white asparagus on sale at Borough market in London and at retailers like Fortnums and Harrods, but it is still a minor crop here.  Locavore restaurants are creating more of a demand in places like London, but the vast majority of white asparagus available in the UK is imported from Germany, France or Spain.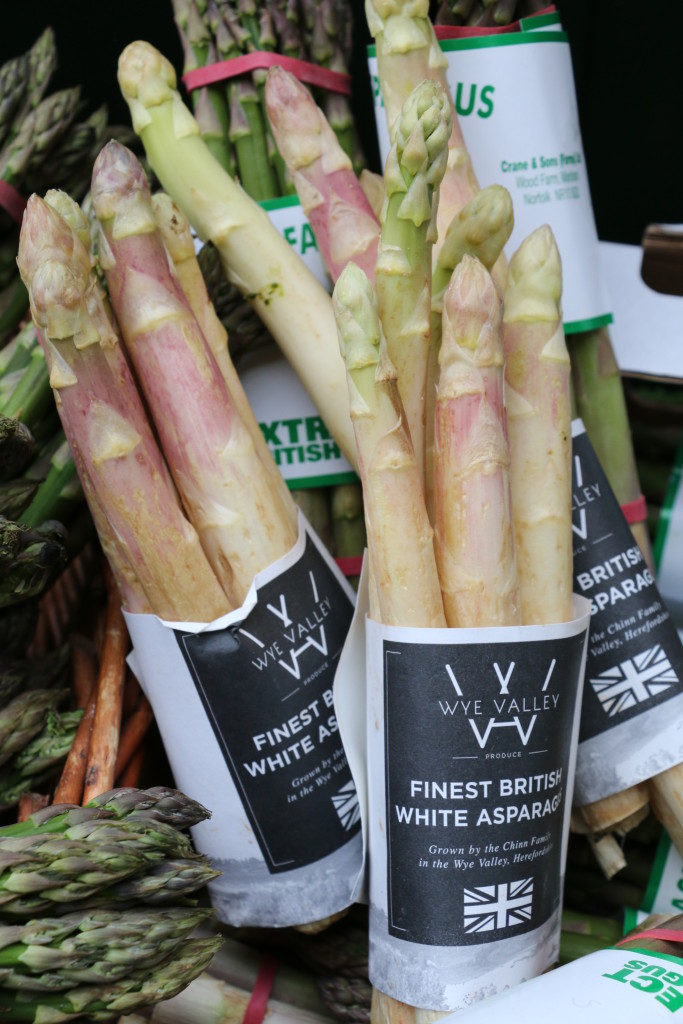 If you can find it fresh, do snap it up and give it a try, simply simmered until tender and served with butter, even if you don't happen to have a lobster tail stuffed in your freezer or an egg in your fridge.  I think you'll be delightfully surprised.
White asparagus is graded for quality, with the thickest, straightest, whitest spears commanding the highest price.
If you can, store white asparagus upright in a little water in the fridge; cut off the ends first so the spears can take a drink.  Cook them as soon after buying as possible.
Always peel white asparagus, starting just under the tip,  as the skin is coarse and bitter.
Trim off the tough bottom ends.
Boil in a large saucepan until tender, about 10-12 minutes, depending on thickness. Bring the water to a rapid boil first, salt it (some people also add a teaspoon of sugar) and then plunge in the asparagus.
If serving it room temperature, plunge it into cold running water as soon as it's tender, to stop the cooking.
Drain it well before serving.
White asparagus with lobster tail butter
Serves 2 as a starter
500g (about 1 pound) white asparagus spears, untrimmed weight
1 lobster tail (frozen is fine)
4 tablespoons unsalted butter
sea salt and freshly ground black pepper to taste
a squeeze of lemon juice
a scattering of snipped fresh chives
Thaw one small frozen lobster tail for each pound (or 500g) of untrimmed white asparagus; pat it dry on paper towels.
Put a large saucepan on to the boil for the asparagus, and peel the spears thoroughly, starting from just under the tip and making sure you get down to the tender under-layer. Trim off the tough bottoms.  Salt the water once it boils and add the asparagus.  Boil for around 10-12 minutes, depending on thickness, until the spears are tender when pierced with a skewer; don't let them get too soft, though, or they'll be mushy.
While the asparagus is boiling, prise the meat from the lobster shell and cut it into chunks.
Gently melt the unsalted butter in a small saucepan over low heat, and warm the lobster through about one minute before the asparagus is ready.  To the butter and lobster, add a pinch of sea salt and freshly ground pepper, and a squeeze of lemon to taste.
Mound the cooked spears on heated plates and pour the lobster butter over them.  Serve with a scattering of snipped chives and a wedge of lemon.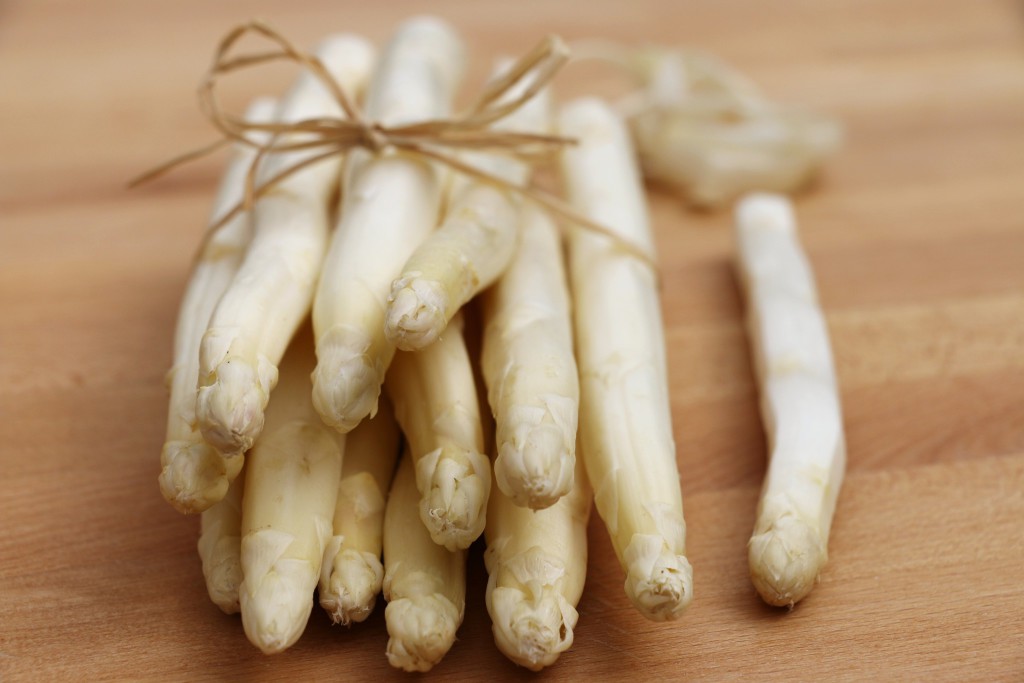 For green asparagus recipes on Crumbs on the Table:
For another way to boil an egg…
For more on spargel in Germany, from a blogger in Germany…