This simple and utterly delicious pasta dish was a revelation when we tasted it at Annarella and Fabio's table outside Noto in Sicily.  We were there to visit the organic farm where they grow lemons, oranges, almonds and olives, one blissfully sunny but not-too-hot October afternoon (read more about their farm here).  Annarella cooked a memorable feast for us using the produce from the farm, and it was the purest, simplest and best food we had all week in Noto, and that is saying something.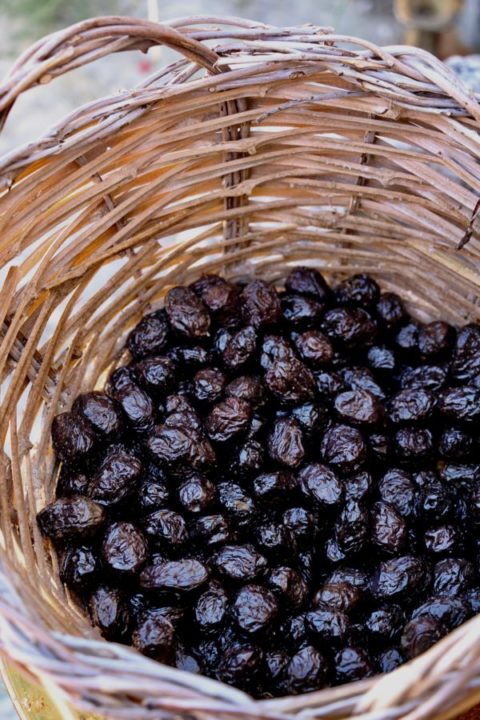 There were the best black olives we've ever had, picked ripe from their trees and cured with sea salt in a basket until tender, salty-sweet and full of juice.  We nibbled these with bruschetta so good they were impossible to stop eating, dressed as they were with nothing more, as nothing more was needed, than the farm's delicious organic olive oil and a sprinkle of dried wild oregano foraged from the Sicilian countryside.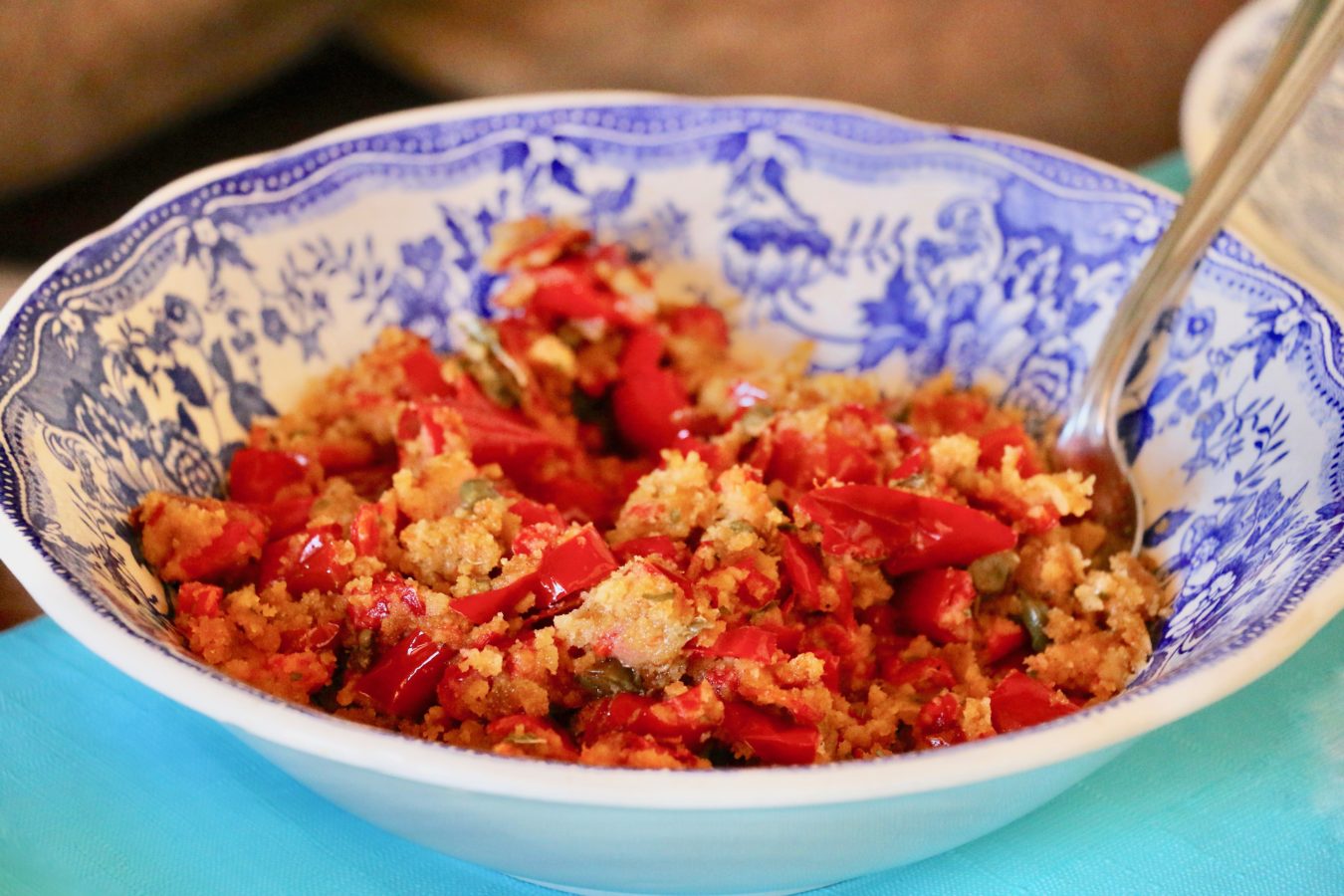 Then there were dishes of courgettes simply grilled and dressed with Fabio and Annarella's excellent lemon zest, extra virgin olive oil, and herbs; and fennel sautéed with onion and fresh sage.   Perhaps our favourite (it was so hard to choose) was a splendid dish of  'Concetta's peppers', named for their friend who made it from roasted sweet red peppers, capers and herbs, bound with bread crumbs, aged sheep's milk Pecorino, and naturally, more of that wondrous olive oil.
There followed bowls of the sunniest, brightest, most satisfying lemon spaghetti, made with their lemons and a wonderful pasta made by another friend in Modica, from the flours of ancient grains.
Annarella called her delicious lemon spaghetti the fast food of Sicily, and it was an exciting discovery that hasn't dimmed with repetition as we've taken to it at home on busy nights back in England.  It always reminds us of those lemon groves and that relaxed table where we first ate this cheering dish, with the purr of Bianca the kitten at our backs, dozing in a basket of almonds and hazelnuts, and her sister kitten and a sleepy dog lazing on the cool flagstone at our feet with their noses to the sunshine.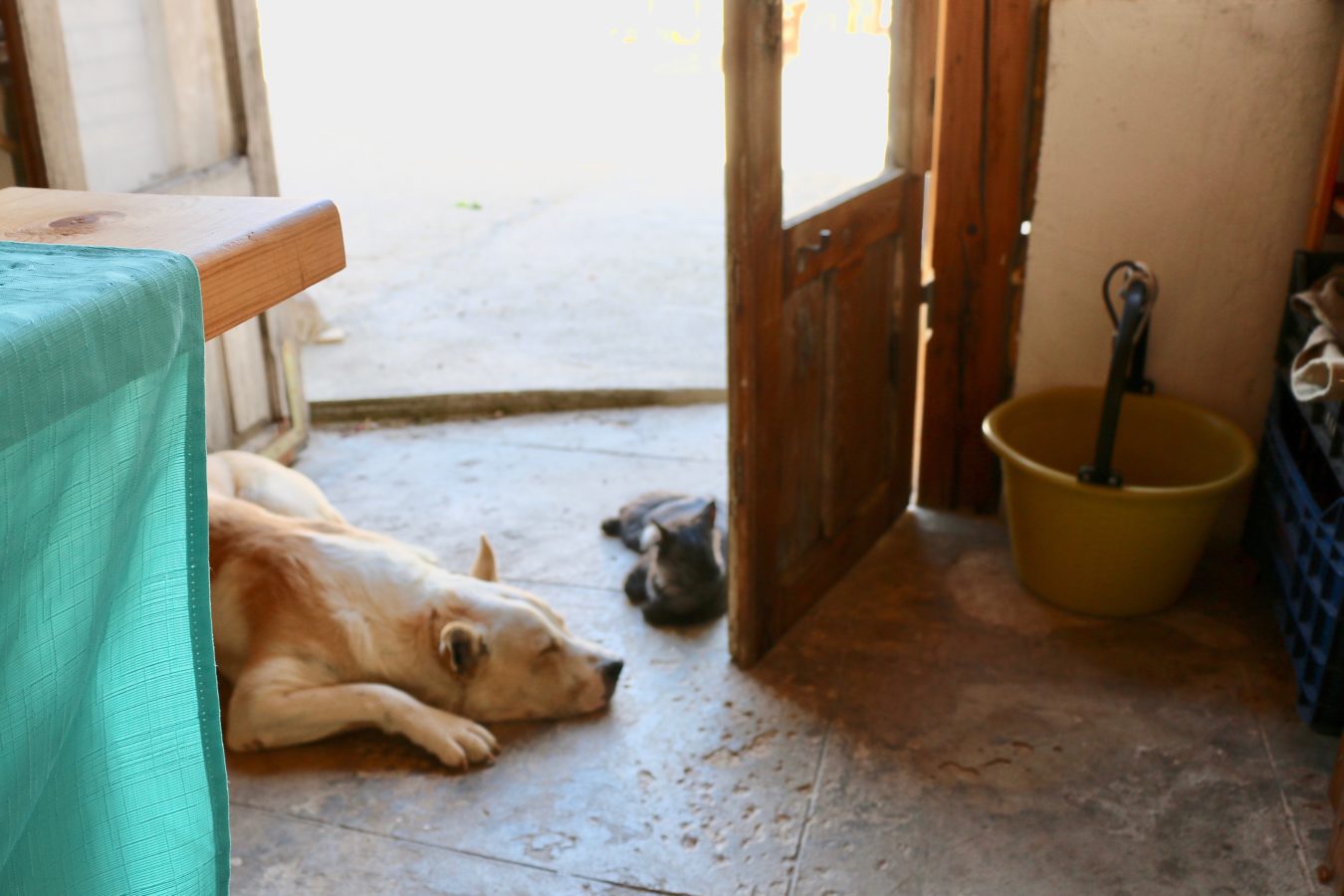 RECIPE
Lemon spaghetti
With thanks to Annarella of Zisolhouse, who first cooked this for us and taught us to make it
This amount will dress 250g of dried pasta, which will generously serve two people as a main course, or four as a starter.  This recipe can easily be scaled up or down.  It's easy to make for one person; just halve the amounts given here.
NB:  Remember to save some of the starchy, salted water you cook the pasta in, as you will need it to finish the dish.  This liquid turns the buttery lemon and cheese into a silky sauce that coats the spaghetti beautifully.
If you like chillis, you can add a chopped fresh red chilli at the stage when you dress the pasta.
Ingredients for two servings 
250g (8 ounces) dried spaghetti
60g (2 ounces) butter, room temperature
60g (2 ounces) aged Pecorino, or Parmesan, grated
the zest of two unwaxed lemons, finely grated
the juice of one lemon
a small handful of fresh basil leaves
sea salt and freshly ground black pepper to taste
optional garnish:  a little extra grated cheese and lemon zest
Directions
In a bowl large enough to take all the pasta once it's cooked, mix together the softened butter, lemon zest, lemon juice, and grated cheese, until well combined.   Set aside.


Bring plenty of water to a rolling boil, and salt it generously.  Boil the spaghetti according to the directions on the packet until just tender (typically around 10 minutes for dried).
While the pasta is cooking, roll the basil leaves up into a bundle and make a 'chiffonade' of them by slicing through the bundle as thinly as you can.  Do this just before using, as the basil discolours once cut.

Scoop out a cupful of the hot cooking water before draining the pasta

, and set it aside.  Drain the pasta and add it to the bowl with the lemon/butter/cheese mixture.  Sprinkle on most of the basil chiffonade.  Using tongs or two forks, quickly toss the spaghetti and basil in the lemon/butter/cheese mixture, and add a tablespoon at a time of the reserved hot pasta water, until you have a silky sauce that coats the spaghetti. It will probably need about 2 tablespoons, or 1 for each serving, maybe a little more.  Season to taste with some sea salt and freshly ground pepper.
Serve onto warmed plates or bowls;  sprinkle with more grated cheese, basil, and grated lemon zest if you like.
Other Sicily recipes and stories on Crumbs on the Table:
Other pasta dishes on Crumbs on the Table: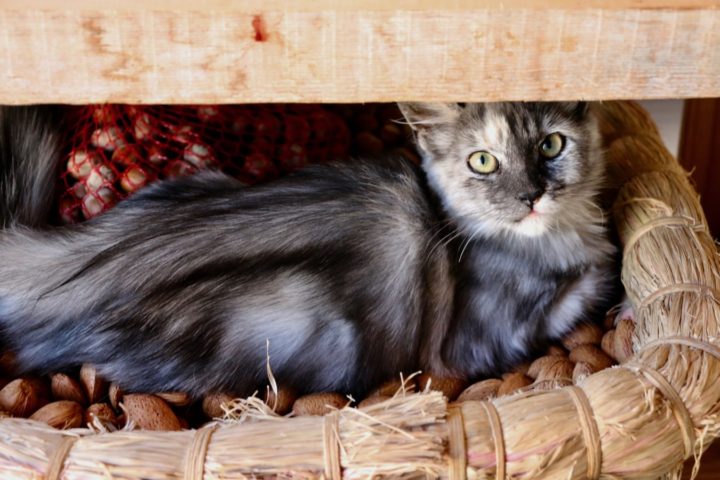 And of course why wouldn't a kitten choose to nap on a bed of almonds and hazelnuts?