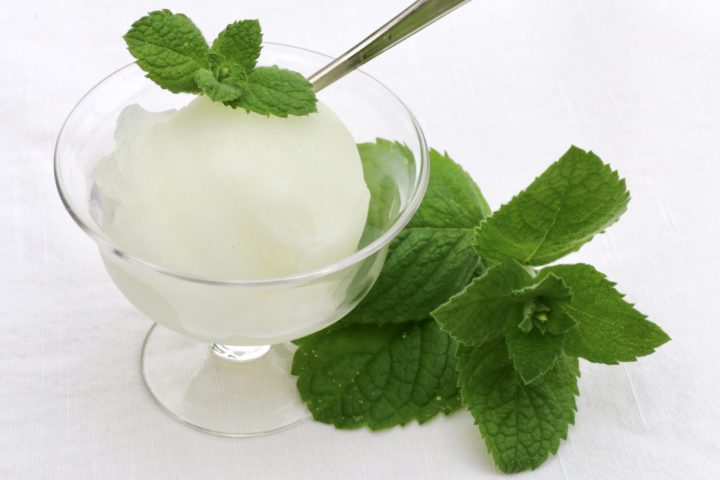 Phew, it's hotter than something that's really hot.  Cambridge reached 100F yesterday, and had the distinction of being the hottest place in the UK, on a day that had its own dubious distinction of being the hottest July day on record.
It's a little cooler today, so I am able to venture safely into my rather stuffy study (we don't do air-conditioning in this country) and tell you how we got through yesterday.  It was all thanks to regular scoops of this tissue-restoring  mint sorbet.  Thank you, thank you  to this glorious herb, and to the freezer.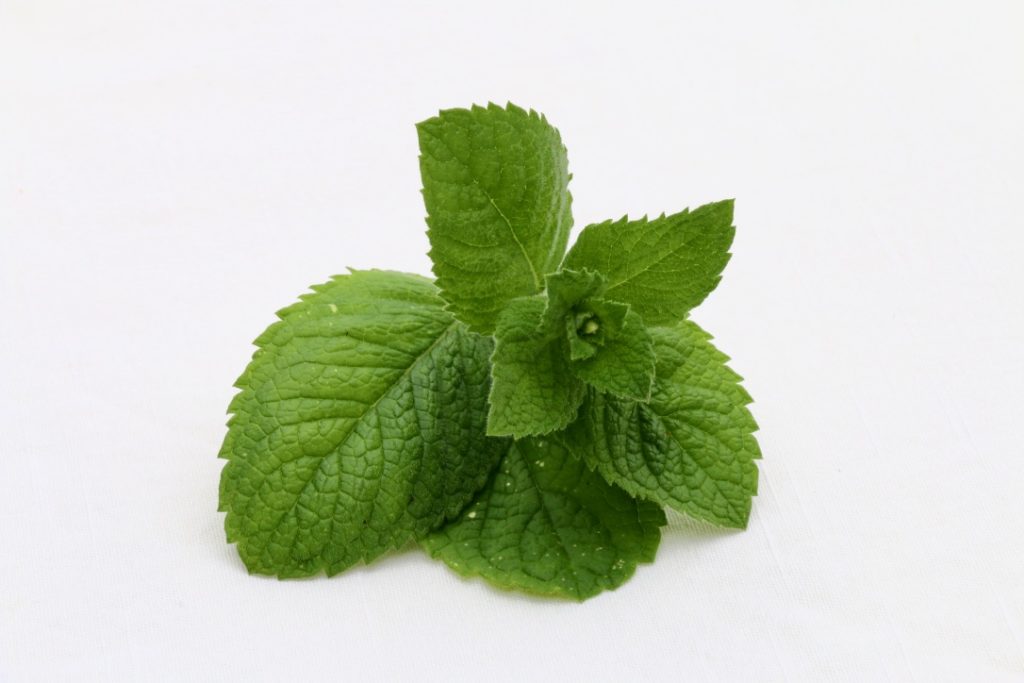 I'd had the foresight to make up the mint syrup the day before and let it chill in the fridge overnight, so all I had to do yesterday was churn it and scoop it up. It actually salvaged a day that would otherwise have been a literal flop.  (Like cats all over the internet, I did at one point find myself collapsed upside down on the sofa in a ridiculous pose not giving a hoot.)
I've been trying for years to make a really good mint sorbet, to live up to one we had at Tour D'Argent years ago on a magical trip to Paris (story here).  This one comes closest, so I'm absolutely thrilled.   It's also the easiest method I've tried, so that's a bonus.  You don't even have to stand over the stove to make the sugar syrup: this method uses a boiled kettle.
It's amazing how what's basically a clear flavoured-syrup can churn up into something so beautifully transformed.
Day saved.
The method is adapted from Ices,  by Caroline Liddell and Robin Weir (Hodder & Stoughton, 1993)
Makes about 1 litre (a little more than 1 quart)
TIPS:
I used my favourite apple mint, but any good culinary mint will work.  Weigh it before washing.  You will need a large bunch; use just the leaves and not the stems.
This recipe makes 500ml (a tad over 2 cups) of sugar syrup, which is exactly what you need to make this one batch of sorbet, without any leftover.  You can of course use 500ml of sugar syrup you may already have to hand: just heat it in the microwave before adding the mint leaves.
To churn the sorbet, you will need an ice-cream maker for a lovely smooth texture (I use an inexpensive model that requires freezing the base first); or you can make a still-lovely though coarser-textured granita by freezing the syrup in a shallow container, and scraping it with a fork every so often as it freezes.
Ingredients
300g (1½ cups) white sugar
300ml (1¼ cups) boiling water
25-30g fresh mint leaves (from about twelve 4-inch sprigs)
500ml (2 cups plus 1 tablespoon) cold water
2 tablespoons of freshly squeezed lemon juice, or a bit more to taste
Directions
Make the sugar syrup:  put the sugar into a medium-large bowl (one with a pouring spout is ideal), and add the boiling water to it.  Stir to dissolve the sugar.  You should have 500ml sugar syrup (a tad over 2 cups).
While the sugar syrup is still hot, add the mint leaves to it, and muddle them in so the leaves are submerged in the liquid.  Give it a stir every so often to help the mint leaves release their flavour.  Let the syrup come to room temperature, and then add the cold water.  Cover and refrigerate the syrup overnight or for several hours until the mixture tastes deliciously of mint, and is deep-chilled for churning.   Try a little sip: the intensity will diminish a little when frozen, so bear this in mind when judging how long to infuse.
Strain the chilled syrup through a sieve to remove the mint leaves.  It's best to strain it into another vessel with a spout so you can easily pour the finished syrup into the ice-cream maker.  Add the lemon juice.  Taste the syrup again, and add a little more lemon if you like it sharper, but go gently so it doesn't dominate the mint.
Make sure the finished syrup is really cold before churning.  Pour it into your ice-cream maker and proceed according to the machine's instructions (or pour it into a shallow freezer-dish if you don't have a machine and want to make granita instead).
Churn until it comes together as a smoothly-textured sorbet (it will lighten in colour).  Either serve it right away while still soft, or freeze it until ready to serve.  (If making granita, scrape it with a fork a few times as it freezes, until it has a spoonable texture.)  If keeping the sorbet (or granita) frozen hard, you will need to let it soften for some minutes and stir through before serving.  It's best eaten within a couple of days.
NOTE:  You can use this same infusion method with other herbs as well; e.g.,  anise hyssop, pineapple sage, edible rose-geranium leaves, basil, etc…  For a more savoury sorbet, you could also substitute half or all the cold water with something like fresh cucumber juice or tomato essence.
Other sorbet and ice cream recipes on Crumbs on the Table:
Other mint recipes on Crumbs on the Table: