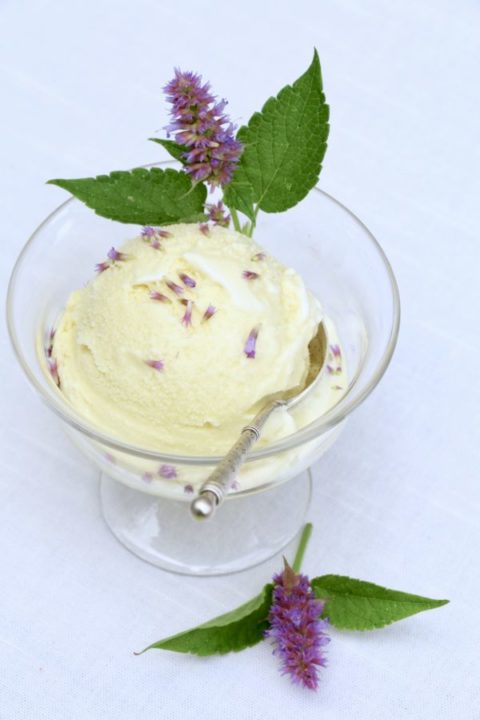 If you don't know it already, meet anise hyssop.  I'm very excited by this delightful new acquaintance, my serendipitous culinary discovery of the summer.  Also known as liquorice mint, its leaves and beautiful purple flowers taste remarkable.  It is actually sweet, which gives its liquorice flavour an instantly more-ish quality that herbs like aniseed and fennel don't have without a bit of treatment.  The liquorice flavour is definitely there in anise hyssop, but not at all macho, and not quite just liquorice: it has complexity, with subtle undertones of mint and something else herbal and wild.  Even if you don't like liquorice, you might very well be seduced by this versatile and surprising herb.
Its leaves and flowers can be used for sweet and savoury dishes, as a primary flavour component or a subtle accent.  I've been harvesting from a pot in the garden to use in beef stir fries; in salads with raw Florence fennel; alongside dill and bronze fennel with fish; and scattered on fruit salads, where it's particularly lovely.  Its poker-like flowerheads are easy to strip into myriad little flowerettes with a gentle stroke, and these have also gone into shortbread, and on top of sliced tomatoes and beetroot.  They're irresistible as an edible flower garnish that actually tastes of something.
Without doubt, however, this refreshing gelato-style ice cream is the very best way I've found to highlight anise hyssop's unique qualities.  It truly is a stunning celebration of this herb, as the dairy medium carries its flavour unimpeded, allowing it to taste of itself.  And who could resist the transformation of such a lovely flavour into a treat so cooling, with such an exquisite mouthfeel?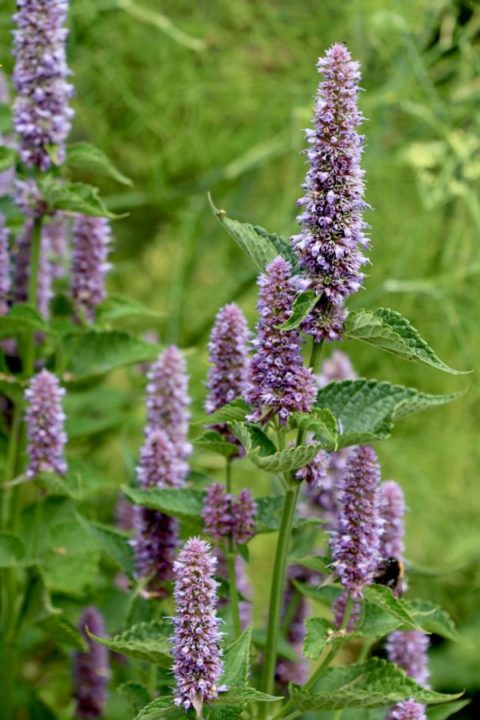 As with this vanilla gelato recipe, the anise hyssop version is made mostly with milk and just a little cream.  This gives the finished product a more refreshing quality than a richer ice cream would have; and milk carries the anise hyssop flavour much better, where the richness of cream would mask it.  It really is one of the best things I've had this hot summer.  Anise is a cooling hot-climate flavour anyway (think anisette, ouzo, Pernod), so ice cream is a perfect way to make the most of this quality, without being anything like as overwhelming as the drinks.  Personally, I'm not a fan of these strong aniseed-flavoured spirits, but I find this gelato truly exquisite: one of the very best ice creams I've had.
Its flavour comes from infusing a good handful of the plant's leaves in hot milk for as long as it takes to acquire a strong enough flavour:  about 30 minutes or a little over.  The milk is then strained and combined with the small volume of cream and a single egg yolk.  I did without the cornstarch / cornflour thickener in Mary Taylor Simeti's recipe for Sicilian vanilla gelato.  Omitting this step makes the anise hyssop version an even easier and quicker gelato, and I've noticed little difference in texture.
The finished ice cream is a superb treat on its own, and also works as a sophisticated accompaniment to a dessert like peaches baked with the leaves of the herb, some fresh apricots, or an individual chocolate soufflé or molten lava cake.  It deserves to be the highlight, or at least equal partners, so I'd recommend serving smaller portions of whatever richer thing you serve with it, and more of the ice cream itself.  (Does anyone else object to the dinky portions of ice cream that tend to decorate a posh restaurant dessert?  More of the cold stuff, I say, and less deconstruction!). But I digress….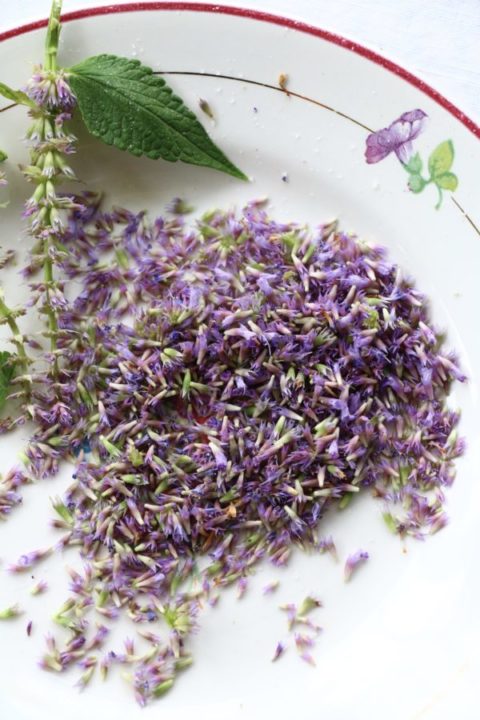 Anise hyssop is excitingly  delicious.  I want to use it in everything right now, and I love the smell of the plant as I brush past it in the garden.  It's easy to grow in a pot, and not easy to find in shops, so try your local garden supplier or herb grower.  Mine grew tall and full in one season, and I'll now have it for a few years yet, fingers crossed.
Recipe
Anise hyssop gelato
Makes about 525ml (one generous pint)
You will need an ice cream maker for this recipe.  A basic model with a separate freezer bowl works perfectly well.
Ingredients
A generous handful of anise hyssop leaves, about 15g (1 generously packed cup)
500ml (2 generous cups) whole milk
120ml (½ cup)  double / heavy cream
165g sugar (¾ cup plus 1½ tablespoons)
1 egg yolk
anise hyssop flowers to garnish
Directions
Heat the milk and cream with the leaves, until just under boiling point.  Remove from the heat and let the leaves infuse for 30-40 minutes or until the liquid has taken on a definite and pleasing flavour of the anise hyssop.  The flavour will taste milder in the cold, finished product, so bear that in mind when you taste.
Strain the milk/cream/herb infusion through a large sieve into a large measuring jug, pressing the leaves to extract as much flavour as possible; discard the leaves.  You should have about 520ml of liquid remaining (2 cups plus 2 tablespoons); a little more or less is fine.
Add the sugar and the egg yolk to the liquid in the measuring jug and stir until the sugar is dissolved and the egg is fully incorporated.
Chill the mixture for several hours or overnight so it's cold when it goes into your ice cream machine.
Churn it an ice-cream machine until thickened.  Transfer to a freezer container and give it an hour or two in the freezer to firm up as required.  Serve slightly softened, with a sprinkling of anise hyssop flowers scattered over.
References 
Harold McGee, writing on Pernod and other aniseed-flavoured drinks, writes that the appealing aroma of anise "comes from a chemical compound called anethole … (which) belongs to a family of chemicals called phenolic compounds, which also includes the molecules that provide the characteristic aromas of vanilla, cinnamon, clove, and thyme."
More gelato and sorbet recipes on Crumbs on the Table: