The softness of these early spring days is heartbreakingly lovely: the birdsong, the quality of light, the gentle but perceptible warmth of the sun; and who could resist the antics of those gangs of new lambs racing in the fields for the joy of it?
The world seems greener and more rambunctious every day, but we're still making the transition.  I've rescued three bees this week, caught out by early morning frosts; and the radish and lettuce seeds I've planted haven't emerged yet, though admittedly I'm late sowing them (as I invariably am).  The lovage, mint, lemon balm and sorrel are, however, starting to take off in sunny patches; and it may surprise you (it did me) to see rosemary in flower.
We're not quite through what used to be known in less plentiful times as the 'hungry gap', when spring crops hadn't quite sprung and winter's stores were lean.  There are still a few weeks to go before we see an abundance of English salad crops replacing our stalwart brassicas and root veg, but they're on their way, and there are treasures of the moment that happen right now, and at no other time.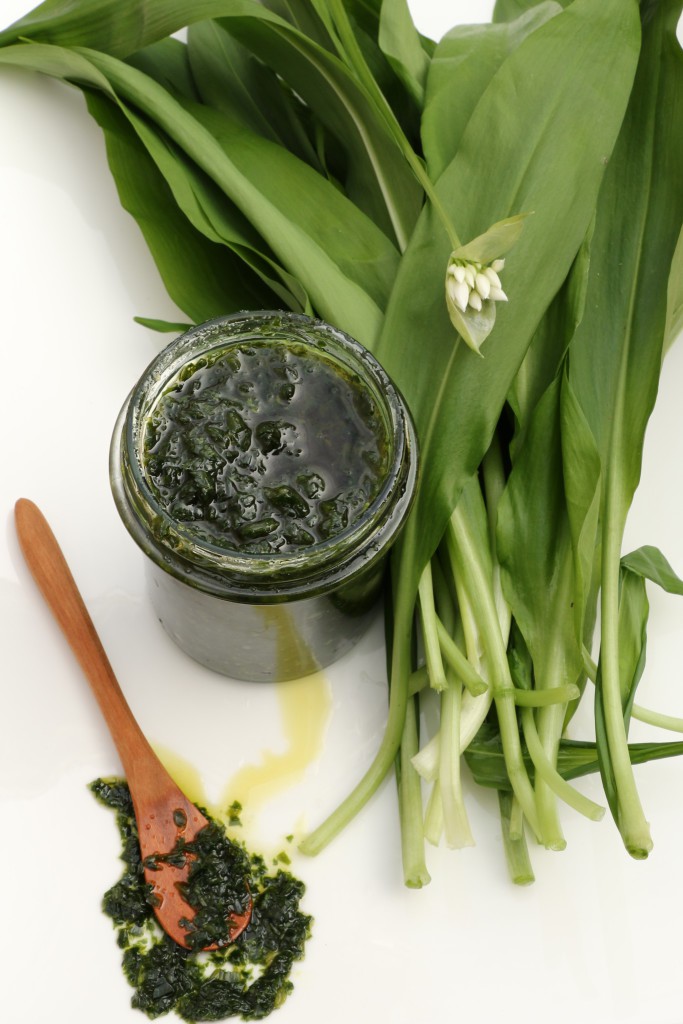 Wild garlic (Allium ursinum) is one of these, and its value in the kitchen is making the humble ransom (also called 'ramps') the height of food fashion after generations of being known best to those who live in countryside where swathes of its broad leaves and starburst white flowers are found in damp woodland shade, looking like fairyland.  Its taste is remarkable and it appears when there are few other newcomers on the local scene (earliest asparagus and rhubarb aside), so it's no wonder chefs love it.
It's worth getting to know even if you eschew culinary trends, for it has the unique qualities of a mild garlic in leaf form, edible as a green vegetable in its own right (as easy to cook as spinach), and extremely versatile for adding to countless dishes in place of regular garlic, with a spring freshness bulb garlic can't match.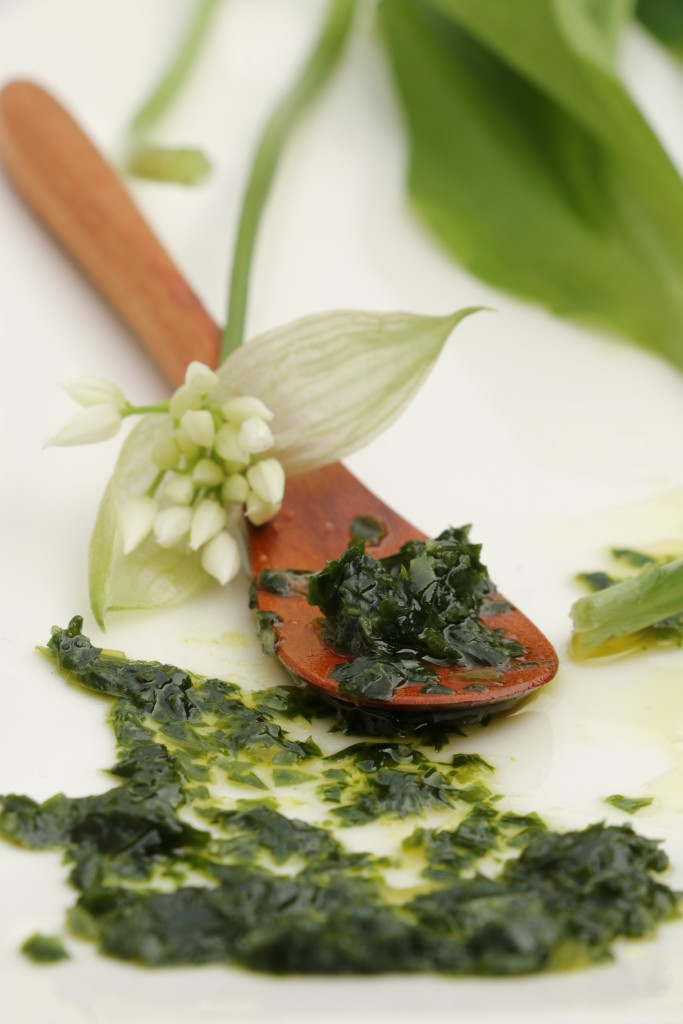 Cook it in soups and soufflés, on pizzas and bruschetta, or simply as a wilted vegetable.  Whiz it into pestos and salad dressings, or preserve a jar in oil to use in mayonnaise, pasta sauces, garlic bread, or – as in this month's savoury dish – in a salad of new potatoes with radishes, spring greenery and ham.
You are most likely to find wild garlic in markets – unless you have a place you can forage legally.  If you do gather your own, leave the bulbs intact for next year and take only a few leaves from each plant.  Make sure it's wild garlic and not poisonous lily of the valley by crushing the leaves to check for a definite garlic smell.
Most British new potatoes are still developing underground, but earthy Jersey Royals are here for their brief appearance, in competition with clean-skinned imports.  Steamed or boiled with a mint leaf or two and dripping in butter, the Royals are certainly a treat.  Their price reflects their timing as well as the cost of harvesting by hand on the steep slopes of Jersey.  You can taste the same variety, International Kidney, harvested later in mainland Britain in the company of Charlotte and other salad varieties – though for some fans this would be like waiting for a favourite author's latest to come out in paperback.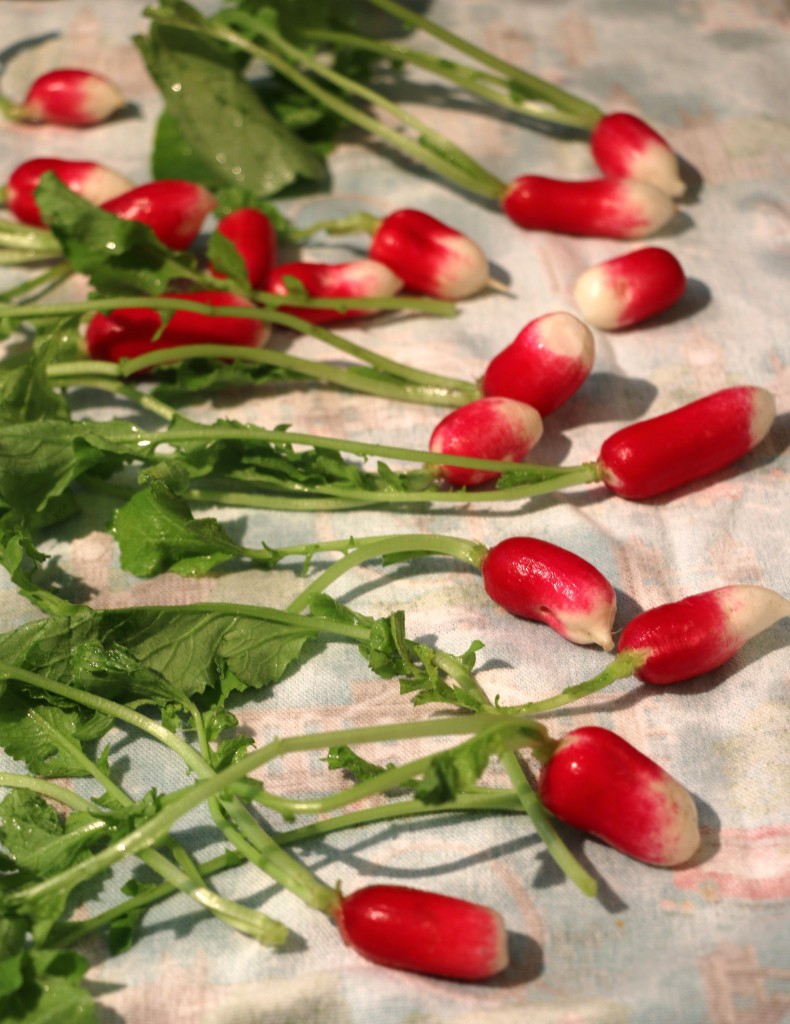 Radishes are no ordinary rabbit food when crisp and full of juice.  You'll know if they are by the condition of their greens: when perky the leaves are also delicious and full of goodness eaten raw or cooked.  And what is prettier than a bunch of cheeky French Breakfast or plump Cherry Belles?  You can keep radishes with their greens fresh for a few days by immersing their root ends in water and keeping them cool out of the sun (but not in the fridge, which is too humid).  Or wash them and dry thoroughly, and store in the fridge tightly sealed in a bag with some air, like a balloon, to keep the leaves from bruising.
Radishes are not commonly cooked in Britain, but they are good sautéed in butter, or as part of a stir-fry.  Or halve them raw, their greens intact, and mix with hot new potatoes and some mustardy butter.  With bread, butter and salt, they are said to be a favourite snack for French school children (though I imagine the chocolate sandwich may run a close race).  I also love their slight heat on roast beef sandwiches (think horseradish), and pickled with a little vinegar and water, sugar and salt – and they get hotter as the season does.
This month's pudding is in honour of our bees, early herbs and wildflowers.  I've varied a classic lemon posset with mint and honey.  The Primula vulgaris  that adorns these simple puds is another of those common treasures of early spring.  Steeped in folklore and magic, they were once used to treat insomnia, arthritis and 'the phrensie'; and were cooked in dishes such as 'primrose pottage' (a pottage was a thick soup in medieval times).  Their natural charm led to other, more whimsical, uses: brush them on your eyelids and you may see fairies; eat one and you may become invisible as a fairy.
This is a blessed time of year when the world is newly magical, yet we also feel the best is still to come. Perhaps that expectation is the greatest gift of all – and that means the best is now, too.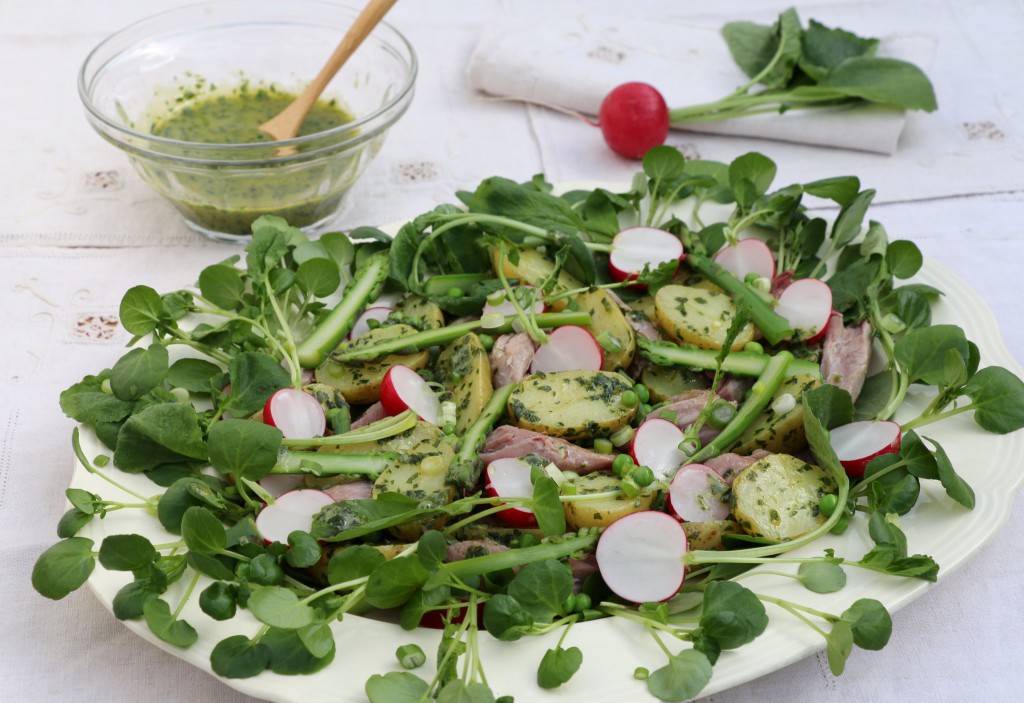 Salad of new potatoes with wild garlic, spring vegetables and ham hock
Serves 4
You can use ready-cooked ham for this salad, but ham hock is a great value and the meat is rich and moist (great for sandwich and omelette fillings and anything else where chunks work instead of slices).  Cooking it also yields a salty stock that's useful for adding to soups and chicken gravy.
Ask your local butcher for an unsmoked hock, about 1-1.5 kilos in weight (around 2.5 pounds), which will yield about 400g of meat (a bit less than one pound).  You'll need to cook the hock the morning you serve or the day before.
For the ham hock:

1 ham hock, ideally unsmoked
1 carrot, 1 leek, some parsley, bay leaves and peppercorns for the pot

Salad ingredients:

500g (1 little over 1 pound) waxy salad potatoes, unpeeled unless necessary
1 bunch radishes, washed and dried, ideally with greens still intact
1 bunch watercress, washed and dried
8-12 stalks asparagus, washed and trimmed
60g (½ cup) frozen petits pois or larger peas
3-4 spring onions (scallions), thinly sliced; OR 1-2 tablespoons chopped chives

For the dressing:

2 heaped teaspoons Dijon mustard
1 tablespoon wild garlic in oil*; OR 1 tablespoon each finely chopped parsley and chives, plus 1 small garlic clove, finely chopped
1 tablespoon white wine or cider vinegar
100ml oil (6 tablespoons) – I suggest half extra virgin olive oil and half rapeseed or other light oil
Generous pinch of sea salt and freshly ground pepper
Put the ham hock in a large pot, just cover it with cold water, and add the pot vegetables and herbs.  Bring quickly to a boil, then turn the heat down to a gentle simmer for about an hour until you can pierce the hock easily with a skewer or fork.  Remove the pan from the heat and let the hock cool in the liquid.  When cool enough to handle, remove the hock and strain the stock to freeze for another day.  Carefully pick off the meat, discarding all the fat, bone and gristle.  Break the meat into bite-sized pieces and refrigerate with a little of the stock to keep moist if you're not proceeding straight away.
Put the potatoes on to steam or boil, and then mix the dressing: add the mustard, salt and pepper, wild garlic in oil (or the chopped chives and parsley) to a small bowl with the vinegar.  Gradually whisk in the oil and continue beating until the ingredients are emulsified; should it separate, whisk with some vigour until smooth.  Set aside until the potatoes have cooked.
The potatoes will need around 15-20 minutes; cook until just tender, drain, and while still hot, turn them onto a cutting board.  Cut them in half as soon as you can handle them, and while still hot, spoon some of the dressing over each cut side to absorb the flavours (whisk dressing again if necessary).  When cool enough to handle, massage the dressing all over so each potato is covered.  Keep aside until room temperature before assembling the salad (or refrigerate if prepping ahead, and remove a few minutes in advance to take the chill off).
Thaw the frozen peas – it's not necessary to cook petits pois, but you may want to cook larger peas just under tender.  Set aside.
Blanch the asparagus in a large pan of rapidly boiling water for 2-3 minutes, just until tender enough to pierce with a skewer, but still with some resistance. Immediately plunge the cooked spears into iced water to stop the cooking.  Set aside on kitchen towels to drain.
Slice the radishes in half lengthways, keeping some of the greenery on each half, if possible.
To assemble the salad:  Lay the watercress onto a large serving platter as a foundation.  Scatter the pieces of ham and the dressed potatoes over the watercress, keeping some clearance around the edges so the watercress 'frames' the salad.  Tuck in the radishes.  Arrange the asparagus spears likewise, fitting them in amongst the other ingredients.  Scatter on the peas.  Drizzle on the remaining dressing and finish with a sprinkling of spring onions or chives.  Serve right away.
*To preserve wild garlic in oil:
Wash the leaves well and dry completely.  Chop them finely, add a generous double pinch of salt, and cover with good, but not-too-strong, olive oil or rapeseed oil in a sterilised jar.  Seal with a sterilised lid, ensuring there is enough oil on top of the garlic to serve as an air-seal.  (You can also blitz the leaves in a blender with the oil, keeping some texture.)  Keep refrigerated.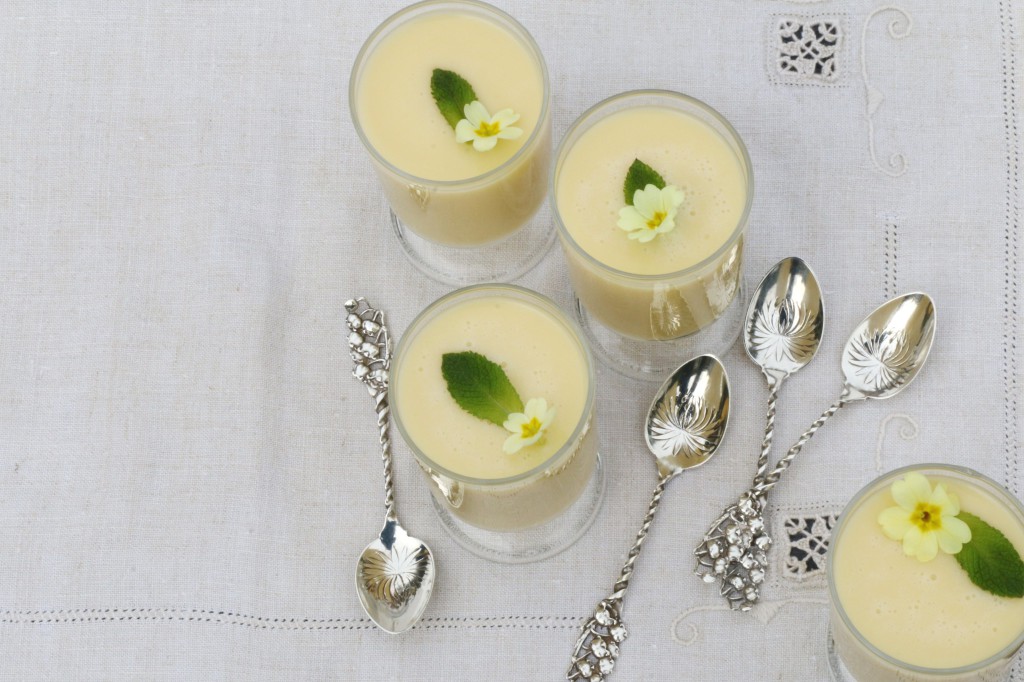 Lemon posset with honey and mint
Serves 4
A posset is such an easy pudding, sumptuously smooth and as good as more complicated desserts.  The honey and mint in this version are subtle, and make this posset especially good with berries.  Leave out the mint and substitute an additional 50g of sugar for the honey if you prefer a pure lemon flavour.  You'll need a few hours for the possets to set in the fridge.
400ml double cream (1¾ cups, minus 1 teaspoon)
70ml (1/3 cup) lemon juice (from about 1½ lemons), plus some peel
50g (¼ cup) caster (granulated) sugar
40ml mild honey (2 slightly rounded tablespoons)
5-6g or about 20-25 fresh mint leaves, roughly chopped
Garnish: berries, mint leaves, Primula vulgaris, or other edible flower
Peel 2-3 long strips of rind from one of the lemons, leaving behind the bitter white pith, and put it in a medium saucepan you'll use to heat the cream.  Squeeze the lemons through a strainer into a measuring jug to obtain 70ml (1/3 cup) juice.  Set aside to add once the cream has cooked.
I find it easiest to measure the rest of the ingredients by putting the saucepan directly onto the scales (just remember to zero it before adding each ingredient).  Into the saucepan, measure the cream, sugar, honey and mint leaves to join the zest.  Transfer to the stovetop and heat the mixture over medium heat, stirring occasionally, until it just comes to a boil.  This should take 10-15 minutes, which allows time for the mint to infuse in the cream.
When the cream just reaches the boil, remove the pan from the heat and stir in the lemon juice.  Let the pan sit for a minute or two and taste the mixture.  If you want the mint to be stronger, let it sit for a few minutes more, stirring occasionally.
Strain the mixture into a clean pouring jug (pitcher) and fill your serving dishes.  Let them cool to room temperature, cover the tops with cling film and refrigerate until set.  Serve chilled and decorate just before serving with berries, mint leaves, or an edible flower.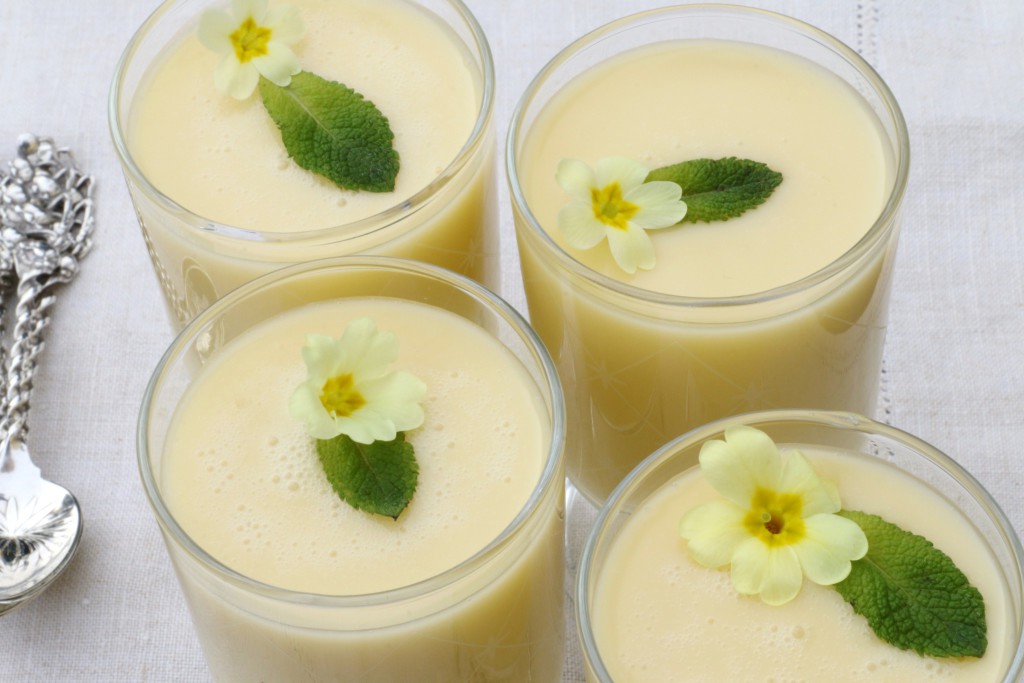 [This article was one of a series of Crumbs on the Table  monthly food columns published in Weekend, the Saturday supplement of the Cambridge News.]
Other spring stories and recipes on Crumbs on the Table: