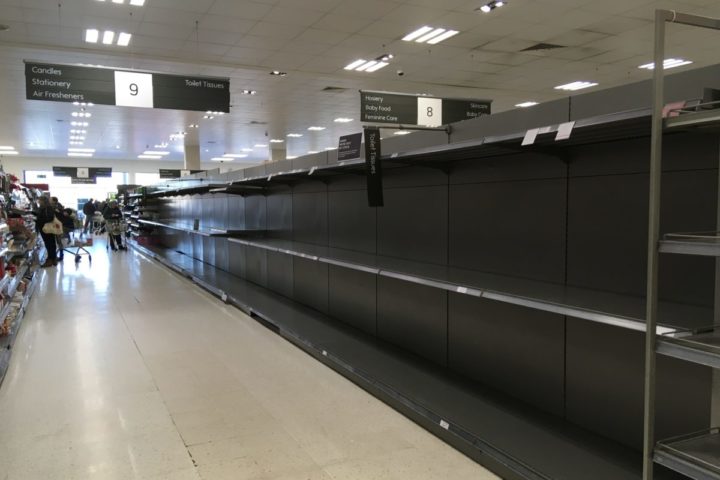 Dear Kind Readers of Crumbs on the Table,
We're all in a time of transition to a new normal/abnormal.  While some of us automatically look to the kitchen for comfort and a sense of routine, I know that many people find having to cook unwelcome or stressful under the best of circumstances — much less right now when we're concerned with how to keep people happy while stuck at home, how to magic up something decent when we have to make do, or how to keep going when we don't always feel up to it.
Most of us will find we're called upon to cook more than we have in a while, or ever — and it's not only cooking, but having to source more food for all those meals that used to be eaten somewhere else.  It's a lot of responsibility, and even confident cooks are probably feeling much more stress than usual about kitchen duties.  I know I have.
But I'm also finding, at last, that some of the initial problems seem to be easing as I find my way through new routines, and get more experience with the particular kinds of problem-solving this situation demands.
For anyone struggling right now with these responsibilities, I hope you can pat yourself on the back from time to time, and remind yourself that you're doing a wonderful job at a terrible time.   What you're doing is worth doing and makes a huge difference.  And you're not alone.  For every one of us cooks, novice or experienced, who sometimes feels under-skilled or under-valued, there are countless fellow cooks rooting for you.
There are a few recipes on this blog that I hope might help right now, and I've listed a few of those below, with notes on how you could substitute ingredients if you don't have the full set.  I've also pulled together some external resources I've found useful, and will endeavour to post more as we make our way through this strange time.
If you need some more personalised advice on how to adapt recipes to limited ingredients, or if you would like to talk through some ideas about what to cook right now (with or without a recipe), I will try to help if I can.  You can leave a question in the Comments section below any post here on the blog, or contact me directly.  Your Comments can help others, too, so I hope you will share your thoughts, tips and questions.
May I ask if you would please consider subscribing to Crumbs on the Table, if you haven't already?  To do this, just enter your email address through the safe portal on the front page of this blog.  I am not a commercial blog, so you won't get any advertising from interacting with me this way; you will get an email notification every time I add a new post.  I don't get money from you or anyone else for your subscription, but I do get more readers, which in turn helps me to get commissions that allow me to keep going.
My only 'advice' right now is to keep it simple, and start with what you enjoy eating, and what you know how to cook.  We always learn by building on what we know, so begin there and adapt or branch out as you need to and want to.
I wish you joys and contentments in this time, and hope you will find things you enjoy cooking and eating.
A FEW RECIPE IDEAS 
If you have a temporary glut of milk: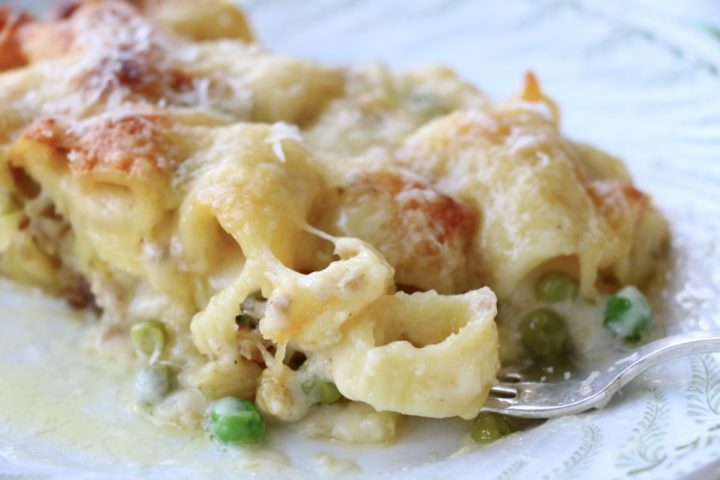 I find that milk right now is like buses:  it all comes at once or not at all.  If you need to use a quantity before it goes off,  consider making a white sauce (béchamel) for this Umbrian baked pasta dish with sausage and peas, or make it without the sausage and peas for a simpler and still-delicious macaroni and cheese.  You could also halve the recipe for the white sauce as given in this recipe, and use it to make a cauliflower cheese (or cauliflower and broccoli) cheese.  If you don't have cheese, you can still make the white sauce and just season it more liberally, use some extra dried herbs to taste, some garlic, and/or mustard — and top your casserole with some bread crumbs instead of cheese for a golden finish.
If you have tinned tuna and tomatoes: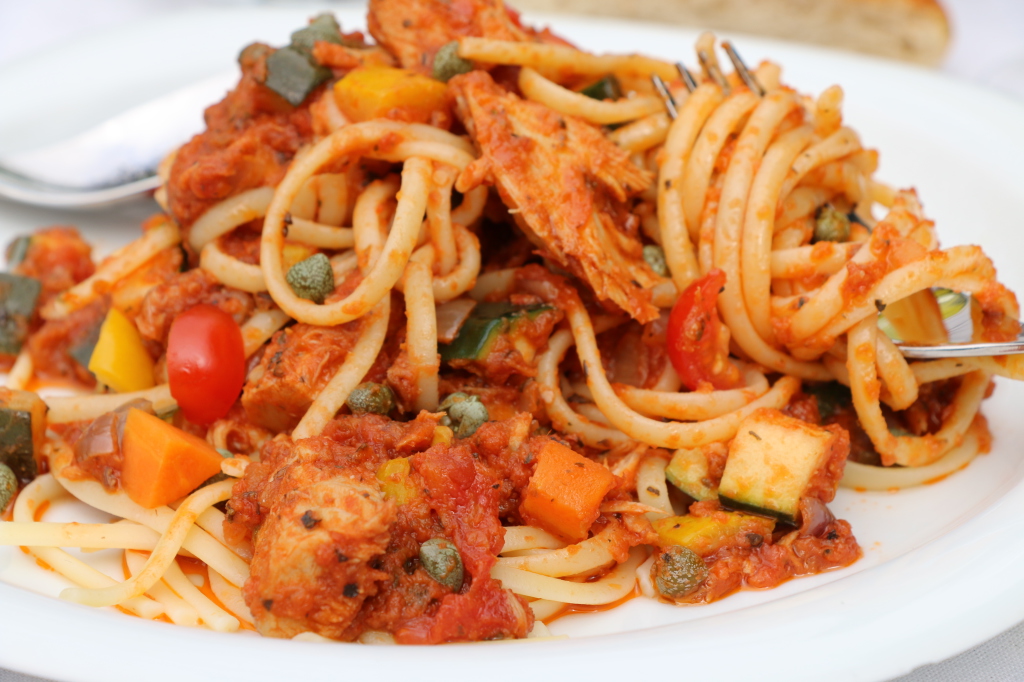 This tuna sauce for pasta is delicious and very versatile.  You can keep it basic, or add some fresh or frozen vegetables like the carrot and courgette called for in the recipe, if you have them.  And if you don't have anchovies or capers, it's still delicious without.  Just bump up the seasoning to compensate for their saltiness, or add a teaspoon of Thai fish sauce instead if you have that.
Another quick and easy pasta dish: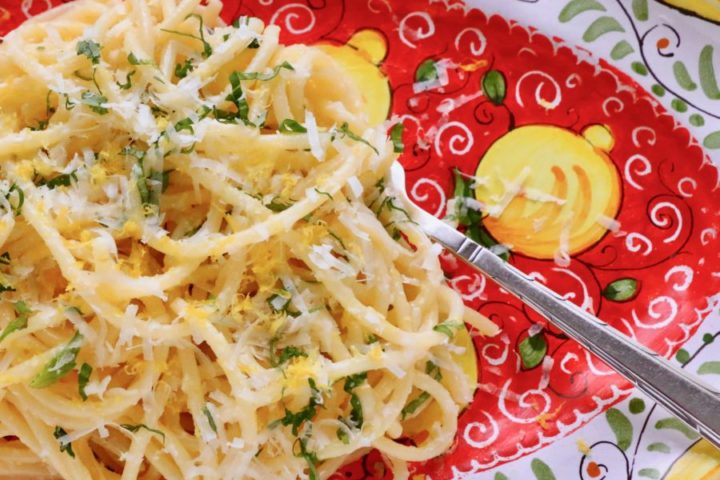 Lemon spaghetti is delicious Sicilian fast-food.  You can freeze lemons, when available, to save for this and other dishes.  Freeze lemons whole if you want to use the zest, as called for here; or extend your stock by halving them before freezing, if you regularly use just a little at a time.  (You can also freeze limes slices for drinks, by the way, which can be a lovely thing if you still have some gin and tonic!)
A really good chickpea soup: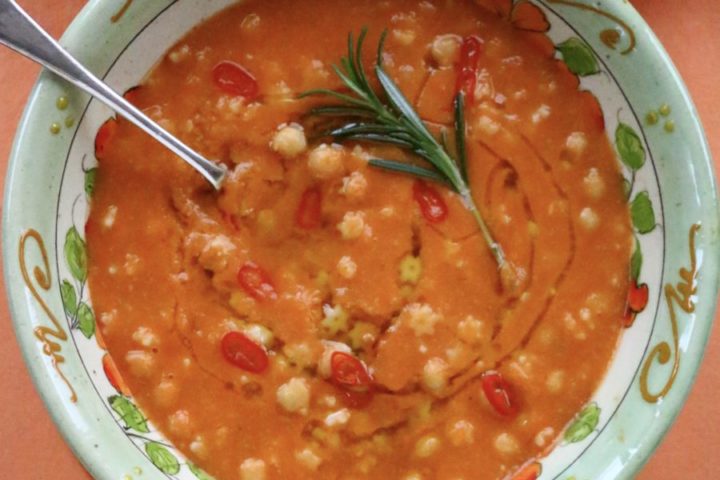 This is a hearty Umbrian soup of chickpeas and pasta that can be made with dried or tinned chickpeas.  Rosemary makes it extra special, but other dried or fresh herbs can be substituted.
If you need a sweet treat, and have peanut butter and rolled oats, but no flour: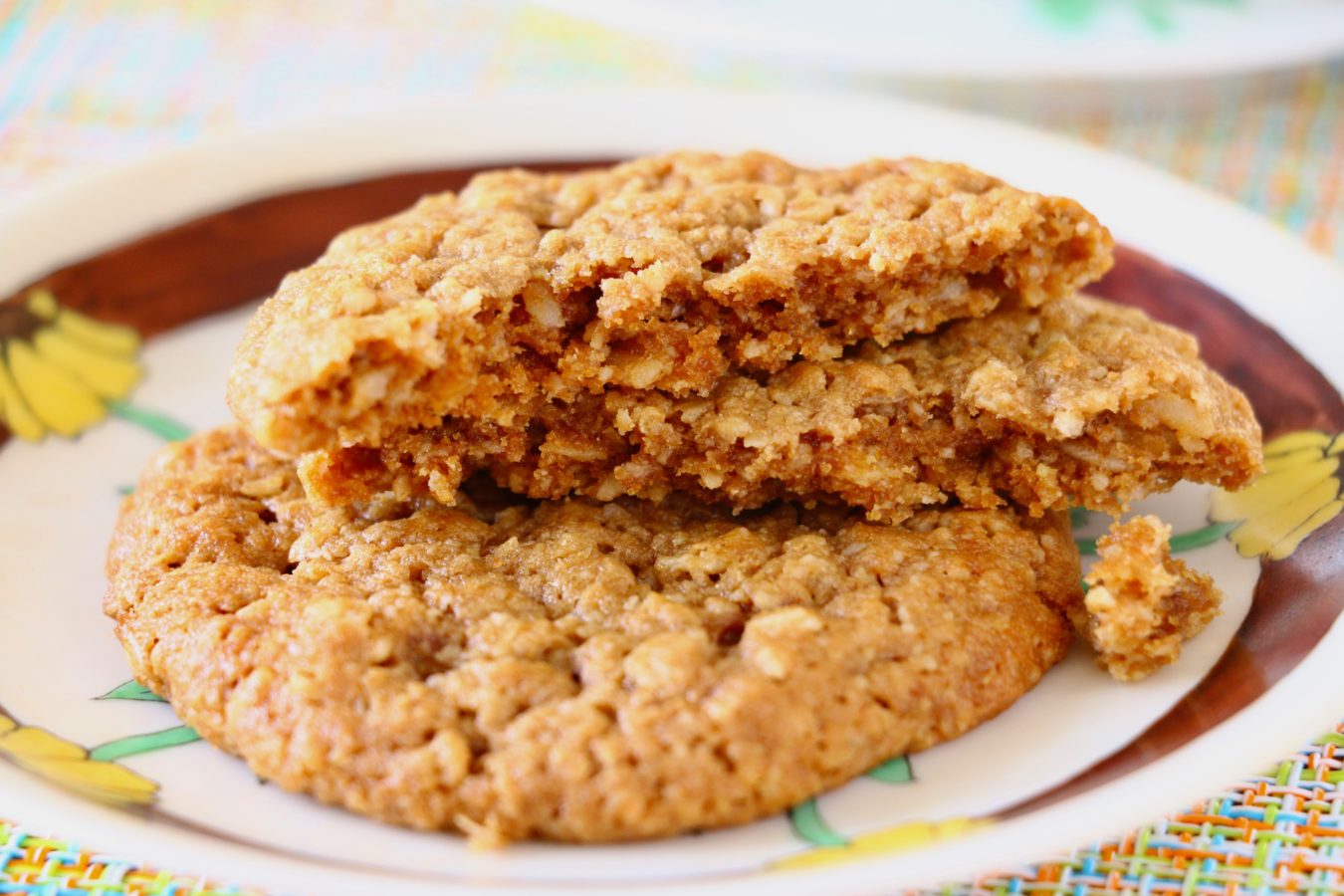 These peanut butter oat cookies are delicious to have on hand as a treat, and they don't require wheat flour.  I've frozen a batch of ready-rolled balls of dough so I can bake just a few at a time when the need strikes.  Freeze the dough-balls in a single layer in a plastic bag so you can easily take out just what you need at one time.
If you don't have dark brown sugar, substitute light brown if you have that, or regular sugar if you have neither.
Oat flour can work well as a substitute for wheat flour in crumble recipes as well, and in some other cookie recipes.  You'll get an oaty flavour and coarser texture, but this can lead to some nice new discoveries.  Substitute oat flour for the same weight in regular flour.  You can make oatflour by grinding rolled oats in a food processor or blender.  You can also use oatflakes without grinding them into flour if you don't mind the flaky texture.
SUBSTITUTING INGREDIENTS
Two good articles here for tips on how to substitute for ingredients you don't have:
SOURCING FOOD SUPPLIES 
I've found it impossible to get provisions through the online supermarket channels, and still haven't succeeded in finding regular, reliable deliveries for some of my family who need my help.  The breakthrough came for me when I discovered local suppliers who are stepping up to meet local needs, where the bigger corporates have failed to cope.
If you too are struggling to find provisions from larger suppliers / supermarkets, try the local small businesses in your immediate area, to see if some of them have adapted to delivery services or safe collection methods.   Some have FaceBook pages or Twitter accounts even if they don't have websites.
In the Cambridge-UK area, I've found a local butcher willing to make doorstep deliveries; an organic grower who now delivers the beautiful stuff he grows just a mile away; and a produce wholesaler who's lost trade to the closed restaurants, cafes and pubs, who is willing to make a weekly drop-off of eggs, milk, fruit and imported veg to our village hall, which we volunteers then deliver to our neighbour's doorsteps (people order from the wholesaler directly online, so individual boxes are already made up and no money changes hands).  We are also lucky in my area of Cambridgeshire to have a beautifully run farm shop, a one-man bakery, and a local asparagus grower, all of whom can be visited a short distance from home for safe pick-ups.   There may be similar resources in your area who would be glad to have your support.
COMMUNITY VOLUNTEER ORGANISATIONS
There has also been about enough time now for new volunteer groups to get organised to do shopping for people who can't get out, so if like me you have struggled to help distant family source their basic needs, this is another avenue worth trying.  Some communities are setting up new FaceBook pages to cope with the Covid-19 crisis.
FOOD SAFETY INFORMATION
The Coronavirus is preserved in cold temperatures, not killed by them, so thoroughly wash supplies before storing in the fridge or freezer.  Clean any original packaging, and if storing food that isn't protected by outer packaging, wash it well before storing:
An article claiming that heating food to 63C makes it 1000 times safer:
FOOD STORAGE
A useful article on what to freeze (and not to freeze), how to prepare foods to freeze, and how long they last:
FOOD SECURITY
Interesting insights into how foreign labour shortages are affecting harvests and future food security:
And the better news that Brits are taking to the fields to work in agriculture, to help maintain food supplies: