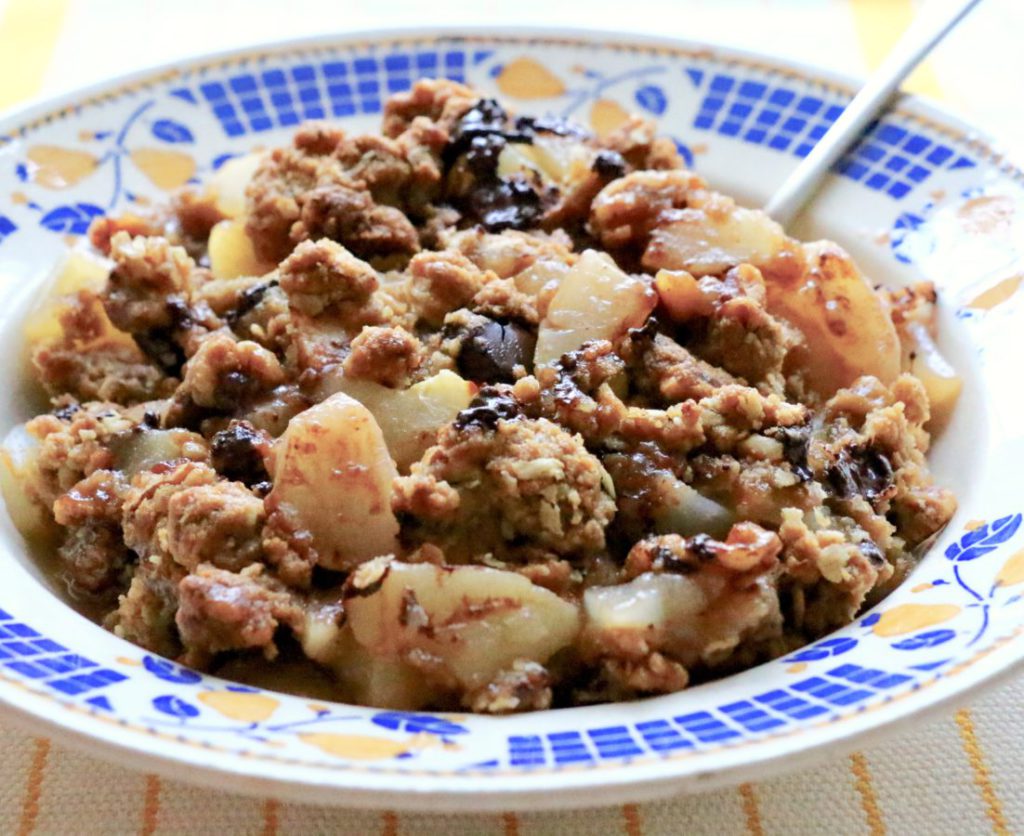 This surprising crumble variation went down really well this week when I brought it along to a BBC Radio Cambridgeshire Food and Drink programme on seasonal produce.  It has a great balance of fresh, really tasty pears, this season's walnuts, some rolled oats along with the flour for body, and just one ounce, or 30 grams, of good quality 100% cocoa solids chocolate, broken into chunks and scattered on with the buttery, sweet crumble topping.
The whole assemblage has a great balance of sweetness and bitterness (and well-judged saltiness), as well as a bit of crunch, a bit of chew and an overall, pear juiciness.  Because the chocolate itself has no sugar, the whole effect isn't icky sweet, while the Muscavado sugar ensures it's just right for those with a sweet tooth.
This invention was declared first rate even by my other half, who normally wouldn't touch crumble.  I have to confess this is so tempting that I couldn't help snitching some at home before I shared it with my lovely radio hosts (just to make sure it was okay).
Use the nicest pears you can find, either ripe or slightly under, or a mix of both.  Also seek out a good 100% chocolate, or an 85% one if you can't find the unsweetened version; and don't be tempted to use more than the one little ounce called for.  It doesn't need more.
Pear, walnut and bitter chocolate crumble
Makes one 20-23cm (8-9inch) deep-dish crumble, serving 4-6
Ingredients
4-5 ripe or slightly underripe pears
juice of half a lemon
100g Muscovado or light brown sugar (2/3 cup lightly, not firmly, packed)
80g plain flour (2/3 cup all-purpose flour, sifted before measuring)
25g old-fashioned rolled oats, not instant (¼ cup, slightly rounded)
60g walnuts, lightly crushed with your hands into fairly large pieces (½ cup, slightly rounded)
1/2 level teaspoon flaky sea salt (e.g. Maldon), or half that in pouring salt
85g (3 tablespoons plus one teaspoon) unsalted butter, cut into cubes
30g (1 ounce) of 100% cocoa solids chocolate, chopped into chunks (not too small)
Optional:  cream to serve
Directions
Heat the oven to 180C / 350F, and lightly butter a 20-23cm /8-9inch baking dish that's at least 5cm / 2 inches deep.
Prepare the pears:  Peel them, or leave the peels on if you want the extra nutritional value provided by the fibre in their skins.  Halve the pears and core them.  Cut into large chunks and place in the prepared baking dish.  Mix in the lemon juice to help the pears keep their colour.
In a medium bowl, mix together the flour, salt, oats and Muscovado or light brown sugar.  Work in the butter using your fingertips, until you have a well-incorporated mixture that sticks together in largish clumps when you squeeze.  Stir in the walnut pieces and the chocolate chunks.  Squeeze the mixture again to get some large lumps of crumble mixture, and spread it evenly over the pears in the baking dish, ensuring an equal distribution of the chocolate and walnuts especially.  The topping works best when there are some larger pieces of crumble mixture, as well as the looser mixture.
Bake at 180C / 350F for about 40 minutes, or until the pear juices are bubbling, and the crumble topping is a deep golden brown.  Serve 5-10 minutes out of the oven, or at room temperature.  Serve with pouring cream, or whipped cream if you like.
Thank you, Chris Mann, for inviting me to share this and other recipes on Mann in the Morning on Monday, 6 November 2017.  It was great fun to eat the season with you and the crew.