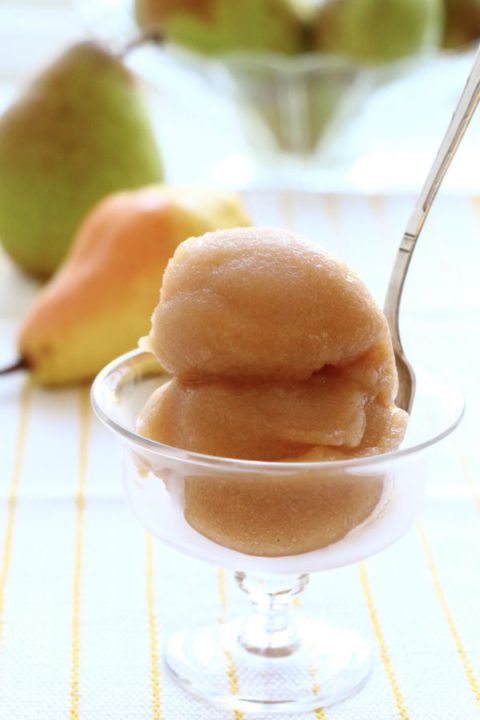 Some years ago I was in Paris for a weekend as a solo traveller, on my way home from Tours, where I had been attempting to improve my French.  I had salvaged some pennies from my student expenses in determination of finding one good French dinner after several weeks of living on carrot soup and bread at my desk.  I did find that one good dinner, and it perfectly fulfilled all my French fantasy requirements:  leeks vinaigrette, followed by a beautifully roasted duck, Pommes Anna, and a bitter salad, in a characterful and not particularly expensive bistro (whose name, alas, I no longer recall).  There was also, I remember, a generous glass of wine that loosened my still halting tongue.  It was all divine, and I expressed my appreciation freely, if imperfectly, to the three handsome young waiters who lavished such attention on me that my meal was anything but solitary.
It was their collective efforts that persuaded me to have a dessert as well, though I was so replete that I had for the first time in my life resisted.  "You will feel better satisfied if you have the pear sorbet," they said.  And they were right.  It was like a kiss of life from all the pears in paradise, and I will never forget that first, melting spoonful, taken rather shyly as all three hovered over my table to judge my reaction.  All self-consciousness was forgotten in a swoon:  I had not expected a simple ice to be so intense, so smooth, so perfumed, so balanced between cold and soft, so restorative.
That dinner was memorable not only for the blissful sensuousness of the food, and the little flirtations conducted in the language of romance, but for a valuable lesson in menu construction as well.  An exquisite sorbet can act as a digestif, delightful as a finalé in its own right, and refreshing too (the reason of course that sorbets are sometimes offered as 'palate cleansers' between courses in an elaborate meal).  I learned later that a sorbet with a savoury element, such as green grape served with roquefort, melon served with prosciutto, or tomato essence sorbet, can also have a place at the start of a meal.  Pears are at their best right now, and a pear sorbet is the perfect end to the kind of meals we like to have in the colder months: a hearty stew or braise, for instance, a pork roast, or anything with duck.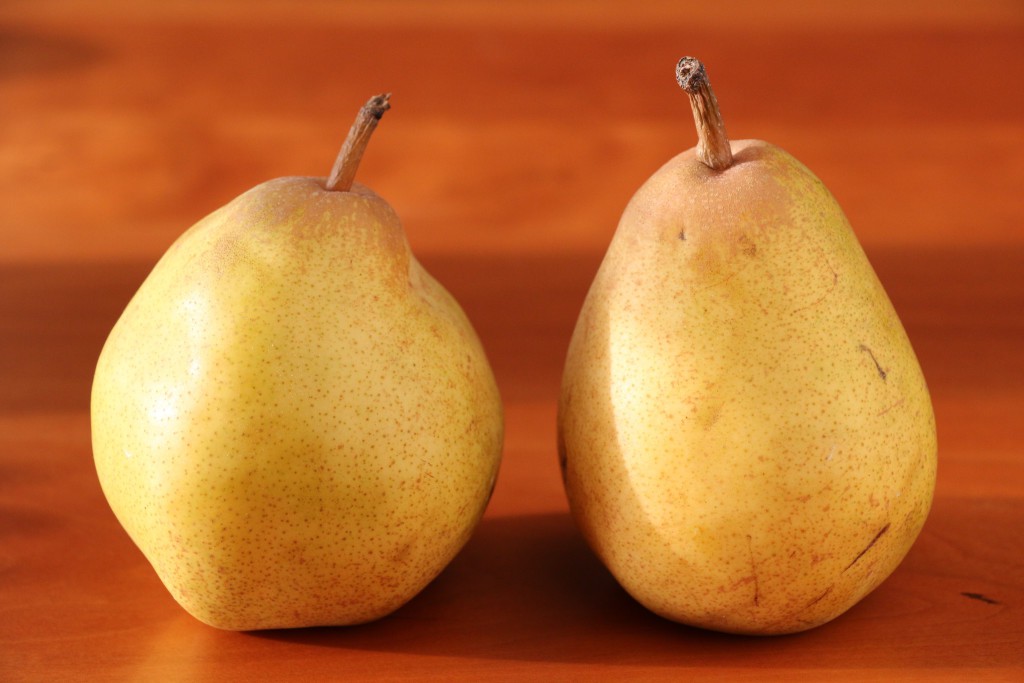 I have loved sorbets ever since this Parisian epiphany, even more than ice creams, as their taste is so pure and of the fruit (or vegetable, or herb) of which they are made.  For me they are like eating the ideal version of the raw ingredient, as the transformation into sorbet smooths out all imperfections.  I think this wonderful pear sorbet is the best of all, as it captures the melting texture and intense flavour of what has to be the best fruit on earth when we can find it: an absolutely perfect pear.
Years ago, I worked on this method for making fresh fruit sorbet, and have made it with many fruits, vegetables and herbs since, and it has always proved reliable.  It requires no cooking of the fruit, so retains a bright freshness.  It's a very practical method, too, as it works easily with any amount of fruit you happen to have, even if it's a handful of precious mulberries, say, or two pears.  You simply purée your fruit with a squeeze of lemon, and add sugar syrup to taste.  No ice cream machine is needed, as you just freeze the resulting mixture and then give it a few pulses in a food processor (or even with a hand-held blender) to smooth it out for serving.  It may not be as scientific a method as a commercial glacier's has to be, but I have always found it to be foolproof and delicious — and it's so easy you can whip up a stunning creation without fuss.
This is something to make when you have pears that are ripe and ready to eat; and it's also handy if you have blemished pears, or some that have started to go a little overripe and need some trimming.  It's a handy recipe to have up your sleeve if you grow your own fruit and need something to make with the useable bits rescued from birds and other critters.
Once you make your own sorbet, I predict you will fall in love and make it again and again.  The method is the same for any fruit you choose; just adjust for tarter fruits like berries by increasing the amount of sugar syrup so it's equal to the amount of fruit purée:  i.e., a ratio of 1:1.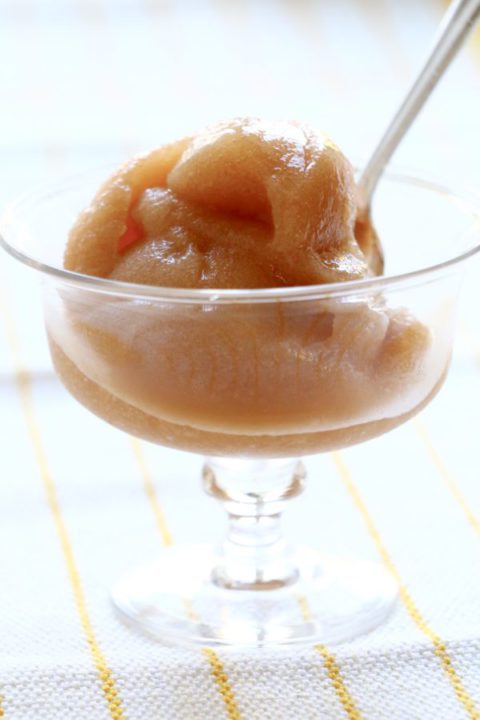 Pear sorbet
The quantities specified in the recipe below will make about one litre (one generous quart) of sorbet, serving 6-8.
However, this method works with whatever amount of fruit you have, so be guided by that and save any leftover sugar syrup for use in jellies or cocktails.  Sugar syrup lasts for 2-3 weeks in the fridge.
With ripe, sweet pears, use the ratio of 1.5 parts fruit purée, to 1 part sugar syrup, and then taste to see if it needs any more.  In other words, for every 1½ cups fruit puree, start by adding one cup of sugar syrup.
As a rough guideline, one average-sized Comice or Conference pear will yield around 100ml of purée once peeled and cored (Williams and Rocha a little less); but fruits vary enormously, so it's important to weigh or measure the prepared purée before determining how much sugar syrup to add.
Ingredients for about 1 litre (or generous quart) of finished sorbet:
5-6 large ripe pears, to yield about 600ml (2½ cups) of pear purée
the juice of half a lemon, or more to taste
350ml (1½ cups) to 400ml (1 2/3 cups) sugar syrup (see recipe below)
Directions
Make the sugar syrup and allow it to chill.
Peel, halve and then core the pears (a melon baller is useful for this latter task).  Remove the stems and cut out the tough little 'cord' that runs inside the pear from the stem down to the core.  Coarsely chop the pears and add the juice of about half a lemon.  This will help the colour; it will still darken as you purée the fruit, but this doesn't matter aesthetically and it won't affect the flavour.
Using a food processor, a blender, or a hand-held stick blender, purée the prepared pear chunks until they are completely smooth.
Transfer the purée to a measuring jug and measure the volume.  You should have about 600ml, or 2½ cups.  Using the

ratio of 1.5 parts purée to 1 part sugar syrup,

 start by adding a little less syrup than you calculate you need:  in the case of 600ml (2½ cups) puree, start with 

350ml (1½ cups)

of sugar syrup.  Taste the mixture, and add

up to another 50ml (3 tablespoons) of sugar syrup

if you feel it still needs more sweetness and lightness (for a total of 400ml sugar syrup, or 1 2/3 cups).  Add a little more lemon juice if it needs a brighter note, but don't overdo it, as it can dominate the pear flavour.
Pour the mixture into a freezer container, cover and freeze for several hours until set through, but ideally not rock hard.  A long shallow dish is best for freezing the mixture evenly, but a bowl is fine.
When set, break up the frozen sorbet mixture and pulse in a food processor a few times until just smooth. Don't over-process, or it will become too airy and loose some intensity of flavour.
You can serve it at this point, or transfer back to the freezer container to store for later.  Allow the sorbet to soften enough before you serve to make it easy to scoop and ready to melt on the tongue (this could take some minutes if it's hard from the freezer).  It will taste best a little on the soft side.
The finished sorbet can be kept frozen for a few days, but ice crystals will start to form fairly quickly and it will lose some flavour, so it does take best fresh.
Sugar syrup recipe:
To make about 500ml (2 generous cups) of sugar syrup — NB: you may not need all of this for the sorbet recipe above.
500ml (2 generous cups) water
200g  (1 cup) sugar
half a vanilla bean, split
two-inch strip of lemon peel, without the bitter white pith
Directions
In a medium saucepan over medium heat, dissolve the sugar in the water.  Don't let the syrup boil until completely clear of sugar crystals.  When it is clear, turn up the heat and boil for three minutes.  Set aside to cool completely and then refrigerate with the flavourings until use.  Strain them out when adding to the fruit purée.
Unused sugar syrup (also called simple syrup) will last in the fridge for 2-3 weeks.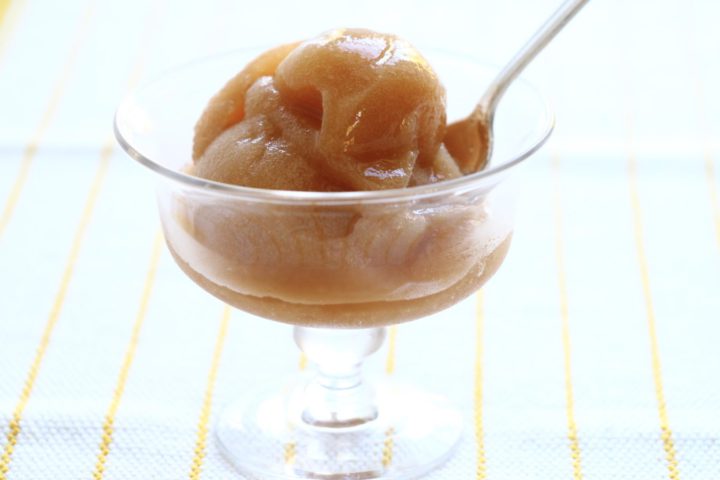 Other pear recipes on Crumbs on the Table:
Other sorbet recipes: