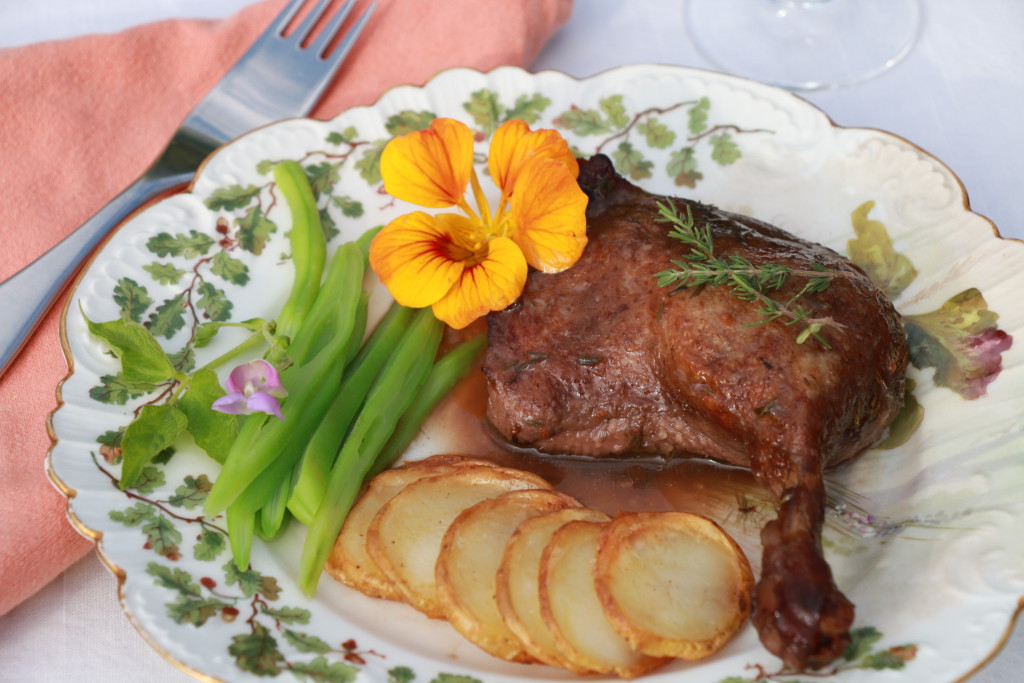 The cooler weather invites those gamier meats that are at their best in autumn and winter. Duck legs from farmed birds are rich and delicious, easy to cook, and not too expensive.  In France they are made into the famous confit, slow-cooked immersed in duck fat until sublimely tender and remarkably ungreasy: a great dish for deep winter if you happen to have a quantity of duck fat to hand.  But when you want something less complicated and no less flavourful, this wine-braised treatment from the Chez Panisse Café is straightforward, clean-tasting and meltingly satisfying.  Use a gutsy red wine in autumn and winter — or in summer, a dry white (e.g., Pinot Grigio).  It makes a good year-round meal.
This dish is an inspired take on coq au vin, which classically treats an old barnyard cockerel to a full bottle of burgundy in the company of bacon, little onions and mushrooms. This duck leg braise relies on the simpler treatment of some good stock, good wine (Zinfandel is used in Alice Waters's original, but a Pinot Noir or Merlot works too), and some fresh thyme. It's easy to assemble and the results are reliable:  it browns to a deep mahogany, giving both falling-off-the bone meat and an appealing skin. It's especially handy when you want to make something ahead, or even to freeze, as it doesn't dry on re-heating.
With such few ingredients, their quality makes the difference, so use good stock with some body (not a salty stock cube), and choose a wine that you would enjoy drinking with it.
I like to serve the duck legs with golden, crunchy potatoes (Pommes Anna, hasselback, or roast British style) and something green (e.g., watercress or French beans).  Commercial duck legs are rich but not huge, so you might want a light starter, nothing too filling, e.g., sauteéd mushrooms, roasted beetroot salad, or as Alice Waters suggests, leeks vinaigrette for a French-bistro-style meal.  A refreshing pudding such as pear or apricot sorbet (the fruit depending on the season) makes a lovely finish.  Ms Waters suggests her apple and brandied currant tart.
I always go for pear sorbet with duck legs because the combination reminds me fondly of a trip to Paris I took some years ago on my way back from Tours, where I had been to study the language. I had saved up for a proper French meal on my way home, determined to experience the real thing.  I nosed out a wonderful bistro that served me duck leg confit with potatoes and watercress in generous proportions.  I declined dessert with great reluctance, but was eventually persuaded to try the pear sorbet by three charming young waiters who assured me I would feel "lighter" if I did, and they were right.  The sorbet served as a digestif and was so refreshing and poetically perfect as an end to that meal I have never forgotten it (or the lesson in menu construction, or the three young men).
RECIPE
Duck legs in red wine
(adapted from Alice Waters, Chez Panisse Café Cookbook)
Serves 4-6
Ingredients:
6 whole duck legs, trimmed of excess fat
Sea salt and freshly ground black pepper
1 tablespoon oil
1 large onion, diced
2 carrots, diced
3 or 4 branches of thyme
2 cloves garlic, minced
Zest of half an orange (or zest of half a lemon if using white wine)
240-300 ml (1 to 1¼ cups) good red wine (or white wine in summer)
360-480 ml (1½ to 2 cups) good chicken stock, hot
1/2 teaspoon potato or cornflour (cornstarch for US cooks)
Optional:  a handful green olives if using white wine to braise the duck
Directions:
Heat oven to a very hot 225C/450 F (it will be turned down later).
Pat dry the duck legs, and salt and pepper them top and bottom; set aside.
In a casserole or roasting pan just big enough to hold the duck legs in one layer, sauté the carrot and onion in the oil on top of the stove until they begin to acquire some colour (be sure your dish can take the direct heat of the stovetop as well as the oven). Remove the dish from the heat, keeping the sauteéd vegetables in place. Scatter over them the garlic, zest and thyme branches.
Arrange the duck legs skin side down in the casserole or baking dish amongst the cooked vegetables and seasonings, and pour over the wine and the hot stock. Use enough of the wine and stock to just cover the meat, maintaining the wine to stock ratio of approximately 1:1.5.  If you use a large roasting pan with a greater surface area, you will probably need the greater amount of liquids; if you use a smaller casserole, you will probably find the smaller amount enough.
Tightly cover the dish with foil; if using a casserole with a lid, put it on over the foil (the foil helps to trap condensation so it doesn't fall into the dish.  Bake for 15-20 minutes until the stock begins to simmer (you don't want it to boil, just lightly simmer).
Reduce the heat to 175C/350F and continue to cook for another 45 minutes, still covered.
Carefully take the dish from the oven, remove the foil, and turn the legs skin side up. Return to the oven, uncovered, for a further 15 minutes to crisp and brown the skin.  After this time, test the tenderness of the meat with a skewer.  It should pierce easily and the meat should be ready to fall off the bone.
Carefully remove the legs — they will be fragile — to a warmed dish and cover to keep warm while you finish the sauce.
Pour the juices and vegetables from the pan through a coarse strainer over a saucepan and push through to extract as much liquid as possible.  Skim off the fat from the surface (if making ahead, cool and then refrigerate the juices at this point, as it will be easy to take off the fat from the cold juices the next day).
Reduce the juices over medium heat until it thickens slightly and has the flavour you want. Taste as you go.  You will probably need to reduce it by about half, but stop when you like the flavour.  Thicken if needed with the starch dissolved in a tablespoon of cold water: whisk it in and bring to a boil.  You can do this just before serving or in advance. When ready to serve, bring the sauce briefly to a boil so it is good and hot, turn the heat down to a gentle simmer, and then add the legs to reheat for about 5 minutes — serve.