The solemn strangeness of this year, and for those of us who aren't managing far worse, the preoccupation with running out, brings back memories for me of another Easter:  one I spent in Denmark many years ago as a 17-year-old exchange student.
The six months I spent in Denmark at that formative age changed my life, and among the moments that stand out most is a meal I was fed on Easter Sunday.  It meant much then and has become emblematic since for me of being lost and found – of salvation.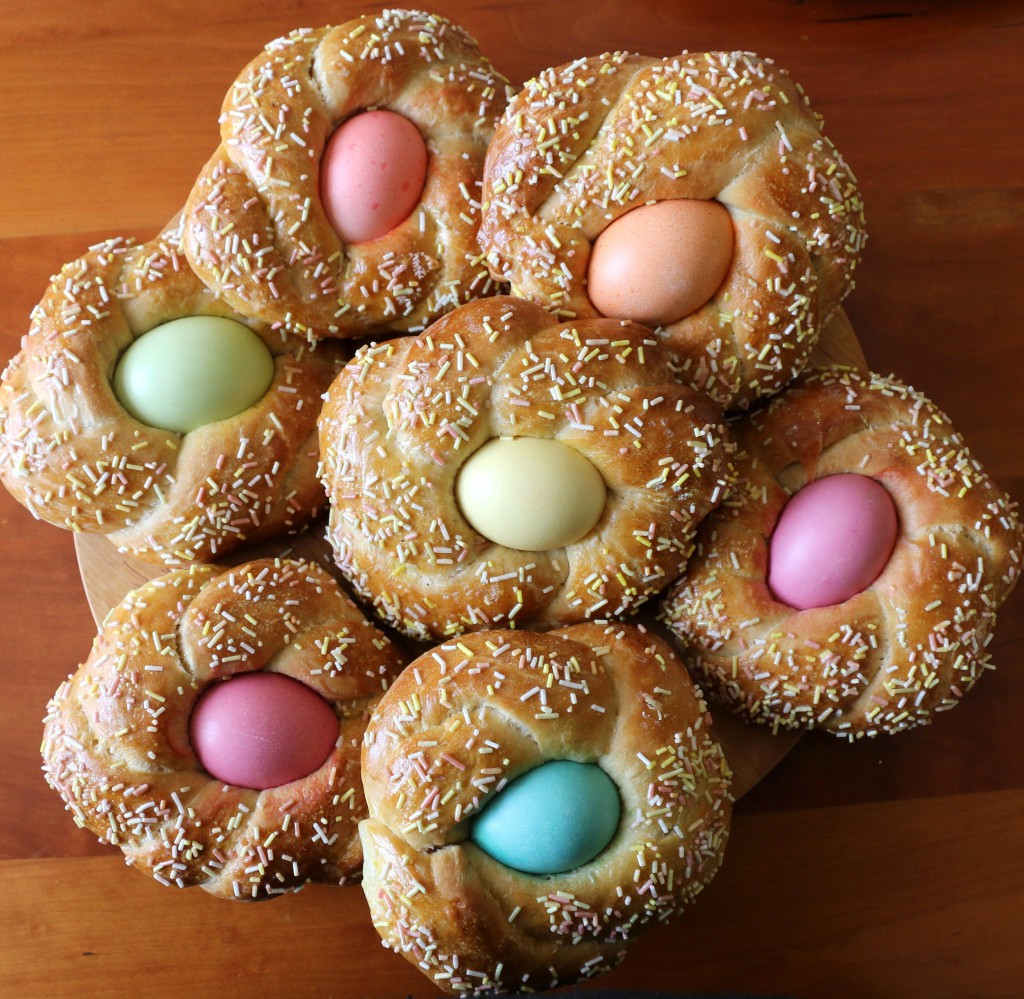 I was backpacking on my own across the continent, over the two-week Easter break, which was a novelty to me as an American.  I had gone rather haphazardly to France, Germany and Switzerland (I don't remember the chronology and the letters home are lost).  I managed not to realise that European banks would be closed for several days and found myself without food or money.
I was a well-cared-for young person whose parents had had the courage to let me take off for a foreign continent in the days when there were no mobile phones, no ATMs, no email – just snail mail, Western Union and leaps of faith.  I was a middle-class kid on a scholarship, not a child living in poverty.  Nevertheless, I experienced hunger on that trip.
I had run out of food by Thursday, and was expecting after only one fast-day to replenish supplies on Friday – Long Friday, I learned it was called in my host country.  When I realised there would be no remedy until the following Tuesday, I headed back to Denmark like a lost dog.  I had a rail pass, so nothing needed to be spent to cover those miles, and I chose an overnight sleeper train so I wouldn't have to face a night without accommodation.
It was cold waiting in those draughty stations and I got ill with something feverish and shivery. I spent a miserable time collapsed on the floor of the train's toilet in desperate straits, other desperate passengers pounding on the door.
I didn't head straight back to my home-from-home in Copenhagen, as we were meant to vacate our rooms over the holiday to give our host families a break.  So I headed to a farmhouse youth hostel on Jutland, which I'd read about in my backpackers' guide with a fancy to its rural location when I was still well enough to pick a destination.
Getting there also involved a rural bus journey and a long walk down a country road.  When I finally got to my destination, exhausted and feverish, the youth hostel was closed – off-season until the first of May – more bad planning on my part; but the landlady was home – this was a family farm operation – and she must have seen something in the situation that couldn't be refused.  She let me into a freezing dormitory in a complex some way from the house, where I had my pick of four metal bunk beds with thin blue blankets.  I was grateful and too shy to ask for more.
There was a sink in the room and I ran the water as hot as it would go, plugged the sink, and used my tea ball – a quixotic bit of kit I carried with loose tea – to brew a lukewarm English breakfast, which I gratefully sipped from cupped hands.
I stole the covers from all the other bunks and stayed in bed for two days sipping my brew when I could, but feeling worse as time passed instead of better.  I began to be obsessed by hunger, too weak to do anything about it.
I woke on Sunday to the sound of children playing in the farm yard and realised it was Easter.  I couldn't bring myself to interrupt the family holiday, but by that evening realised things were getting desperate and that I needed help.  I screwed up my nerve to knock at the farmhouse door and asked if it would be possible for me to buy some food, if I came back later with the money.  The woman seemed concerned, and her kindness encouraged me to admit I was ill and hadn't had anything to eat since Thursday.  By this point I was ready to beg.
She brought me into the kitchen, a warm, steamy place where food smells almost made me faint.  I sat at her working table with a mug of properly hot tea and smiled at the children whose questions I couldn't summon my nascent language skills to understand or answer.  Some minutes later she set before me a clean white plate, and placed on the table a large platter of pink Danish ham, thickly sliced and plentiful; boiled potatoes, about a dozen of them, peeled and pale gold; and a mound of soft, white asparagus.  She collected the children and discretely left me to dig in, which I did with more than ordinary gratitude.
With the fervent thanksgivings of a saved soul I took in the warmth, the smells, and the food itself – potatoes crumbling in my mouth; ham salty and sweet, both; asparagus tasting of life – with the sensation that eating was a miraculous discovery, a novelty I would never take for granted again now that I understood how precious it was.  I ate, and I ate, and as my hunger was sated and I comprehended the vast quantity I had eaten, my teenage embarrassment suddenly returned and I feared I must have misunderstood, and eaten what had been set out for the entire family.  I sat in a panic, my heart now in my mouth, ready to bolt with mortified apologies, but also with the last two potatoes wrapped in a napkin for later.
My kind rescuer returned after a decent interval and met my anxieties with the assurance that the generous platter had indeed been intended for me alone.  I was touched that she had yet one more gift for me: a slice of ice cream decorated with green-tinted coconut and three jellybeans – a little Easter nest for the children, which she had the wisdom to see would charm me, too.  I was moved to be included in their celebrations, or so it felt; to be reminded of my sisters and cousins who would that day be delighting in their Easter baskets. The ice cream soothed my throat, though I was no longer hungry and didn't need it, and I went back to bed feeling safe again, knowing I would never forget the feelings of that Long weekend, nor the kindness of those strangers.
I've been thinking of this long-ago Easter, not just because it's Easter, but because I've been helped by so many people these past days, when getting food has been such a trial.  And I've felt needed by them, too:  the neighbour adding a pint for me to her order with the milkman; a gift of bread-flour from a friend, which I in turn halved with the kind person who shared their milk delivery; a few apples swapped for some potatoes….
Never have we been more aware of the debt we owe to those who feed us, to everyone in that long chain of mutual dependency.
The organic grower whose produce I've been buying at the market for years has this week started doorstep deliveries in our area, of "staples boxes" of potatoes, onions, carrots, cooking vegetables, salads and herbs.  They had a frantic first day of the scheme, harvesting, packing, and finding all of us, while also trying to get the next crops planted, or weeded; and the frantic-ness for them won't end there.  Taking on this massive new effort helps them, too, when their regular outlets have closed, but it's so dependent on good people being willing and able to stretch themselves.
There's a Cambridge city butcher who is also trying to stay afloat by taking on a new delivery service.  It doesn't come so much a surprise as a huge relief that local independents are the ones being most creative and responsive to local needs.
Our small village has had the help of a Cambridge wholesaler in getting a weekly produce delivery to our village hall, which we volunteers then take on to our neighbours' doorsteps.  This has been a godsend for us residents, and it's helped the wholesaler, too, who has lost so much business to the closed restaurants, pubs and cafes.
There is a sense of reciprocity and resourcefulness in circulation right now.  We all have the same basic needs, and it seems we are capable of problem-solving for mutual benefit.
I find I'm enjoying meals more somehow, at least much of the time, despite – or maybe because of — the oddness of some of them.  Never have we all had to put so much effort into preparing and planning and making the most of what we have, and it can all be diabolically frustrating and anxiety-making even for someone who is comfortable in a kitchen.  But sometimes there is also a new pleasure in making a little ritual of a morning coffee, or cup of tea, and the meals, weird or not.
In the years we've begun to think of as 'Before', we always celebrated Easter in our house with Nick Rumble's glorious asparagus, grown under glass on his small holding in the Land Settlements of Great Abington, a mile from where we live.  This year his spears are still breaking through the earth every morning, and he and his son Scott are still bending over to cut them, every single day, one spear at a time.  They are carrying on, selling their fat bundles at the gate, a safe distance from the customers who come mostly one at a time to try their luck or pick up orders. I'm hoping this will be the centrepiece of our Easter table again this year, too, fates willing.
Whatever it turns out to be, our holiday meal will be a ritual of thanks for renewal.  It's spring, and life surrounds us, making more of itself.  We can hear the lambs and ewes calling to each other, the plum blossom is in full froth, and yesterday we witnessed a robin courtship ritual, as secretive and wondrous as any exotic bird of paradise.
It's not so much what's on the table, or even what's lacking, but who is absent from it.  A poem shared by a dear friend has helped me with this sadness, so I'll end my thoughts on Easter 2020 by sharing just a few of the lines from it that speak to me with honesty and hope.  The poet is John O'Donohue, and the poem is called "For Absence," from his collection, To Bless the Space Between Us:
"May you know that absence is full of tender presence. …
…May you be generous in your embrace of loss. …
…May your longing inhabit its deepest dreams
within the shelter of the Great Belonging."
Happy Easter, everyone.
*    *    *    *    *    *
This essay was broadcast today, 11 April 2020, on the food radio programme, Flavour105FM, presented by the lovely Alan Alder, Dr Sue Bailey, and Matt Benton, on Cambridge105FM.  Here is the link to the Flavour programme, where you can listen live when this episode is broadcast again at 2pm UK-time on Easter Sunday: https://cambridge105.co.uk/shows/flavour/)  (podcast to be available, soon).
Doorstep delivery, and safe pick-up resources, in and around Cambridge, UK:
Wild Country Organics is doing doorstep deliveries to areas around the Abingtons and Linton, down to Saffron Walden.  Contact them through their website, wildco.co.uk
Hilary's wholesaler is extending deliveries through their retail business, Fresh in a Box, to help with the current crisis. Contact them at freshinabox.co.uk
Malloy's Craft Butchery in Cambridge has also started a home delivery service.  They can be contacted through their FaceBook page or website:  https://malloyscraftbutchery.com
Cambridge Asparagus in Great Abington is selling asparagus safely from their farm gate. Order online or contact them at http://www.cambridgeasparagus.com