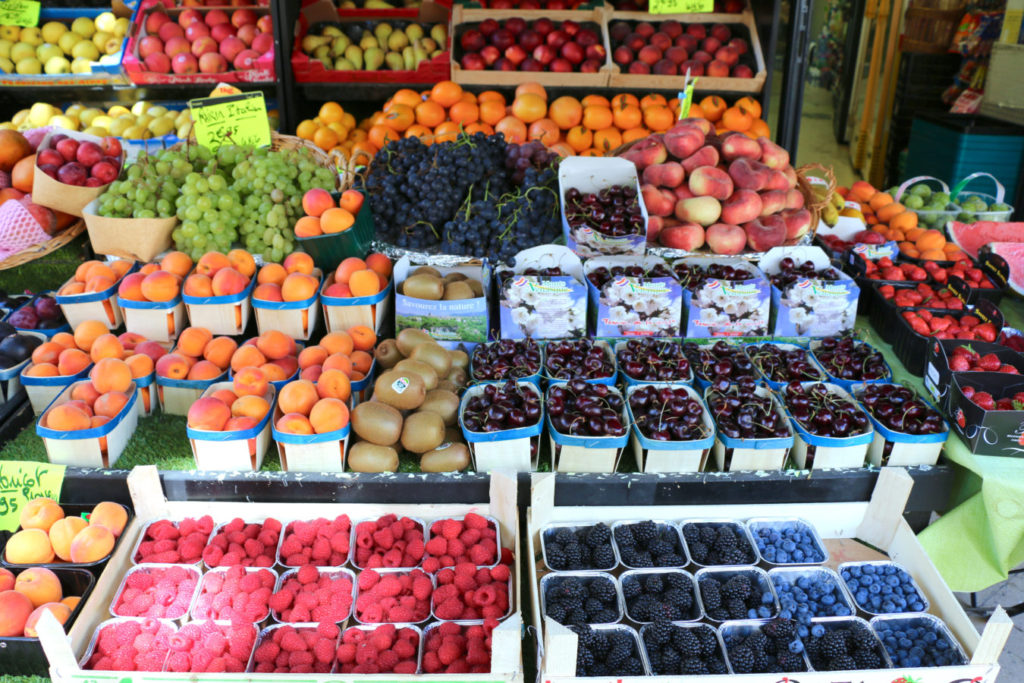 [This article was published in the July 2017 edition of Cambridge magazine).
Summer fruits are irresistible.  Who can look at all that colour and not want to come away with a little of this, a little of that, simply because it all looks so gorgeous?  Our markets right now are at their most vibrant, and we really should give in, because all this bounty is as fleeting as an English sunbeam.
Anyone who has ever picked fruit as a child surely feels a thrill at the first appearance of the real thing – berries that have ripened in the sun, mounds of fragrant cherries, peaches, apricots…  Such scenes remind me of the blissful time I spent cooking at Chez Panisse in California, where fruits and vegetables were arranged instead of flowers like joyful still lifes to welcome guests to a meal cooked with simple respect for good ingredients.  Boysenberries and loganberries, melons and magenta plums, fragile mulberries, alpine strawberries, wild raspberries full of sweetness from the foggy coast, were turned into tarts, pies, compotes, sorbets, bavarois, jellies, to delight the senses.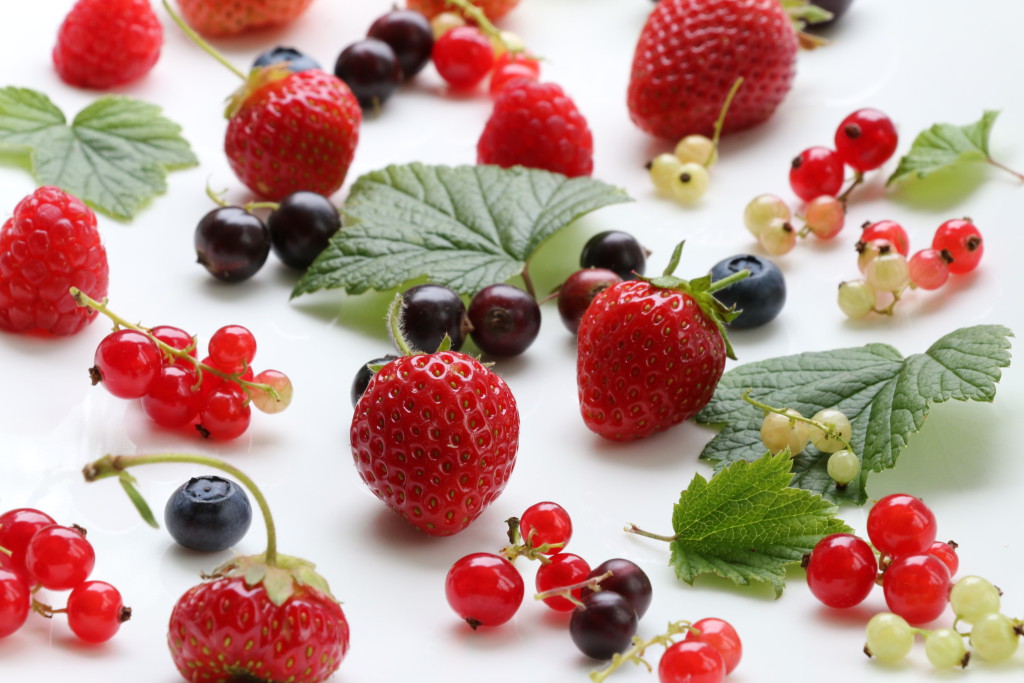 Being surrounded by such generosity conditioned me for life.  I can't pass a summer fruit display without coming away with something – a bijou barquette of ruby-red currants, or blueberries crisp enough to 'pop' in the mouth.  Each purchase is a promise, a way of hanging onto summertime.
It's not always easy, though, to find varieties grown for flavour, or specimens picked when ripe enough to taste of something, even in season. We all know that fruit picked under-ripe for transport has much less chance of ever developing flavour before it goes over (a French friend wryly complains that fruit here is ripe for half an hour); so best to go for ripe fruit that smells like it should, and buy little and often, if you can.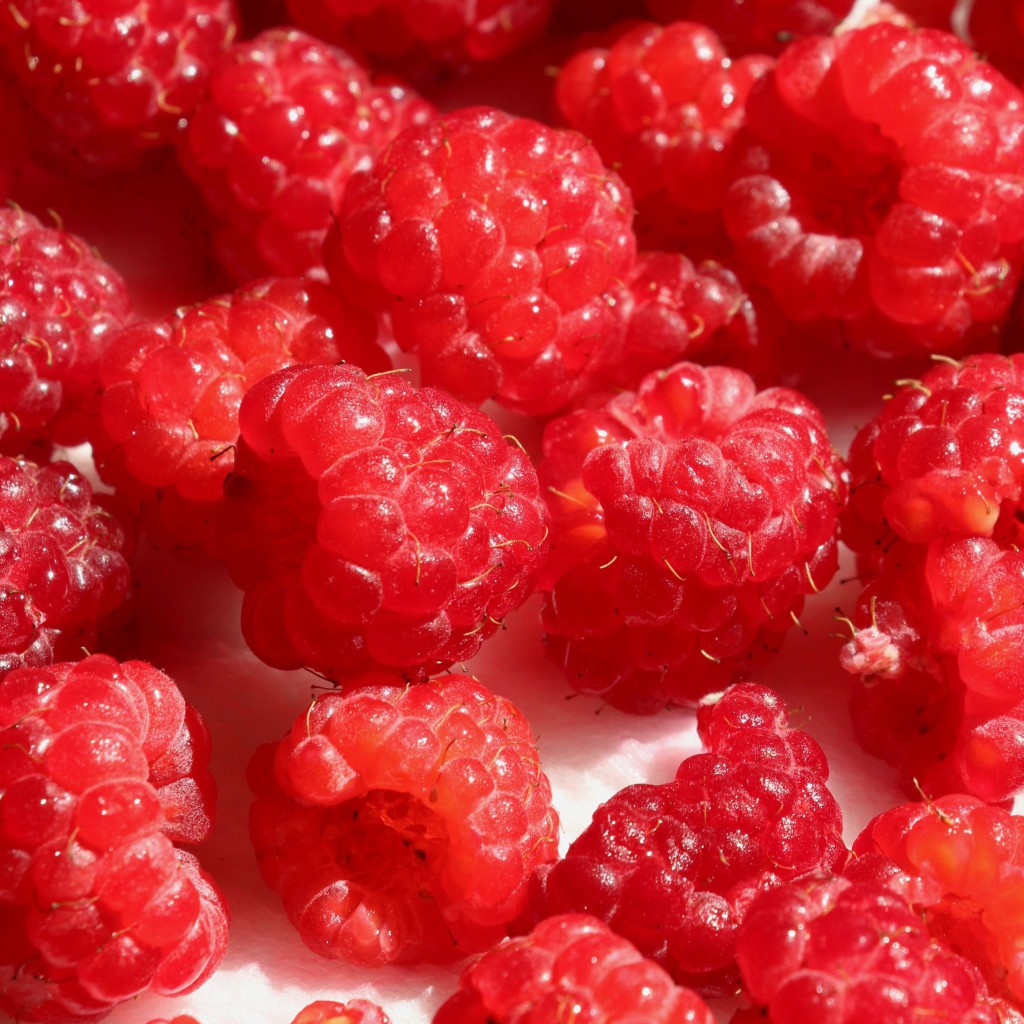 Locally grown has the advantage in this respect, wherever we are in the world, and the trick is always to find what's best in one's own corner and make the most of it.  Here in Cambridgeshire we are blessed with a number of growers who plant varieties with flavour and pick when their crops are ripe enough to taste their best.  Waterland Organics in Lode, the Manning family farm in Willingham (they are keeping fingers crossed for a good apricot harvest this month after the late-spring frost), and the Abington Cherry Orchard in Great Abington, where we can pick our own, to name a few, grow a variety of fruit cultivars, some heritage, some newer, that are picked ripe and sold without having to travel far.
This is the perfect time to 'eat the rainbow'. A varied diet is proving to be more beneficial even than we realised, not least in populating our private gut biomes with a wider range of beneficial bacteria that can improve our health and resilience to disease.
Diversity lends resistence in agriculture, too.  Modern crop biodiversity is shockingly limited, and this presents serious problems, including risks to crop disease resistence and, consequently, global food security.  Seventy-five percent of the food eaten around the world comes from just 12 plant and five animal species, according to the Food and Agriculture Organization of the United Nations; and three-quarters of vegetable biodiversity and a third of livestock breeds have been lost over the past century.  We are overly reliant on too few species, which have become increasingly inbred and therefore vulnerable.  A case in point is the banana: around 99 percent of the world's commercial crop is a single cultivar that is under threat from a fungal pathogen.  This could be catastrophic for the global supply and the millions of people who depend on the banana as a food or income source.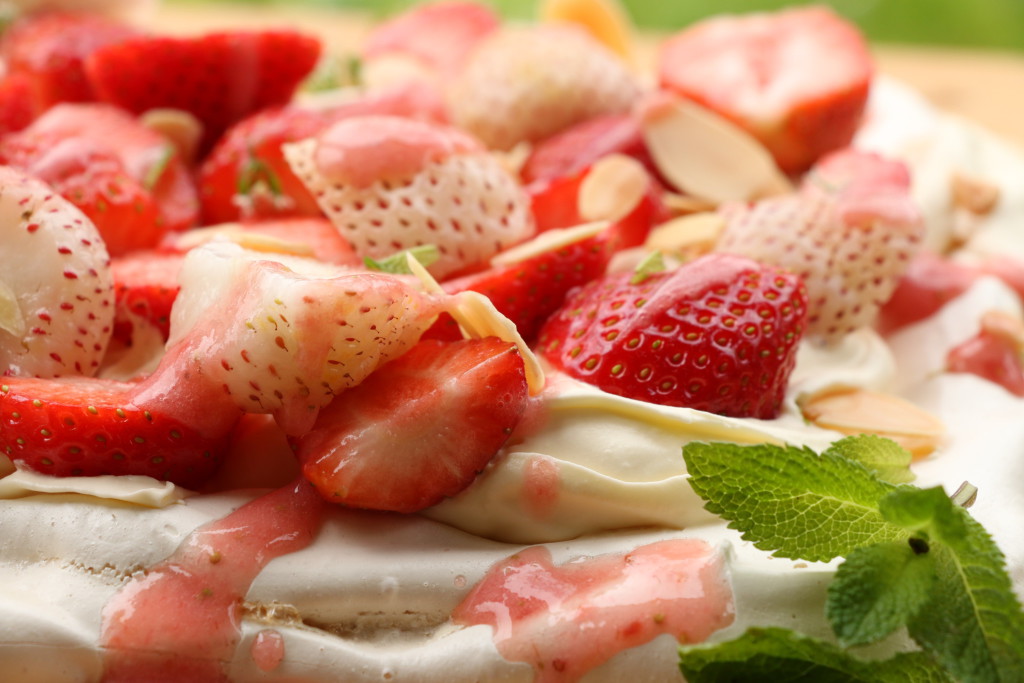 Other casualties of high-intensity monoculture include flavour, our food heritage, and taste memories.  Our grandparents aren't just being nostalgic when they reminisce about the way strawberries or plums or cherries used to taste.  They may be remembering now-rare or lost varieties that were full of flavour, but lacked commercial viability.  Just as we've lost so much biodiversity in our natural world, so too have we lost some fruits and vegetables that were once common in gardens and smaller-scale, more localised, agriculture.
Plant breeders are increasingly looking to older varieties and even the wild ancestors of some high-value crops to develop cultivars that have disease-resistance, higher yields, better shelf-life and transportability, as well as the taste consumers will approve; but the task of preserving our remaining crop diversity, and reclaiming much that is thought to be lost, is a huge challenge, and priorities will inevitably be dictated by commercial interests.  Herein can lie some good news, too, for 'consumer power' is a force to be reckoned with, and flavour will be made a priority if we demand it – and will pay for it.
Our taste memories can have power beyond ourselves.  They can be the guardians of time, of quality and authenticity.  So treat yourself to the best-tasting fruits you can find this summer.  Relish them.  Share them.  Treasure those who grow and sell them.  And remember them.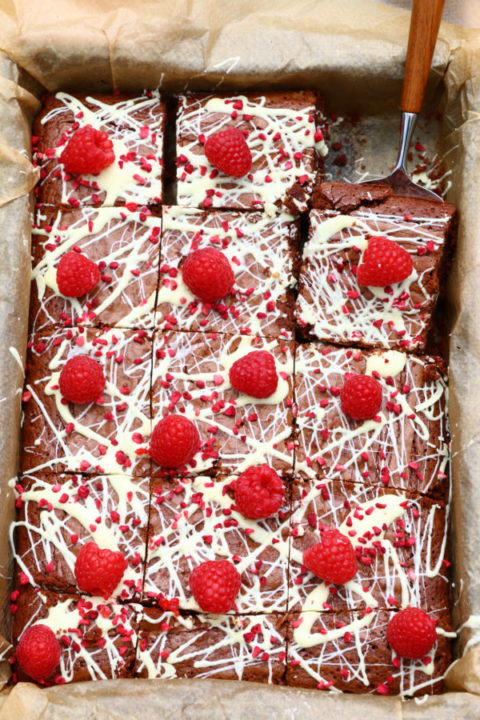 Chocolate raspberry and white-chocolate brownie
Makes 15 large or 24 smaller brownies
These brownies are to my mind just right: not too cakey, not too fudgey;  and the combo of dark chocolate, raspberry and white chocolate is absolute bliss.  Freeze-dried raspberries are brilliant here, as they have an intensity that adds flavour without the excess moisture and pockets of mushiness that baked fresh raspberries would have.  Save those to serve on top of the baked brownie.
The trick is to bake them just enough, so a toothpick inserted in the centre comes out with a few moist crumbs: not completely dry, and not wet with uncooked batter.  This recipe is easy to mix all in one saucepan, no mixer needed.
170g (6 ounces) unsweetened chocolate (100% cocoa butter), coarsely chopped
170g (6 ounces) unsalted butter
400g (2 cups) caster sugar
½ teaspoon cooking salt
4 large eggs, room temperature
1 tablespoon vanilla extract
160g '00' pastry flour (1¼ cups sifted before measuring, or 5 ounces)  — or use plain flour (unbleached all-purpose)
¾ teaspoon baking powder (level measure)
200g (7 ounces) white chocolate, coarsely chopped
20g (.75 of an ounce) freeze-dried raspberries
Optional: 1 small punnet fresh raspberries for garnish
Heat oven to 160C/gas mark 3, or 325F.  Butter a rectangular baking tin 33x23x5cm or equivalent (9x13x2 inches). Line with baking parchment, allowing a little overhang.
Melt the butter and chocolate in a medium saucepan over lowest heat; stir occasionally and be careful not to scorch. When the chocolate is nearly melted, remove from the heat and stir until smooth.
Add the sugar to the melted chocolate in the saucepan and stir until well incorporated. Add the vanilla, and leave the mix to become tepid before adding the eggs.
Add the eggs one at a time, stirring well to incorporate each one before adding the next.
Sift together the dry ingredients, and add in thirds to the brownie mixture, stirring gently between each addition. When stirring in the final third of the flour, add the freeze-dried raspberries, reserving about 2 tablespoons for the final decoration, and 150g of the white chocolate pieces, saving the rest to melt for drizzling on top of the baked brownies. Stir everything together just until no more flour is visible and the white chocolate and freeze-dried raspberries are evenly distributed.
Pour the brownie mixture into the prepared tin and smooth the top. Bake at 165C/gas mark 3, 0r 325F,  for about 20-30 minutes until a cake tester or toothpick inserted in the centre comes out with just a few moist crumbs. Don't overbake. Cool on a rack for about 2 hours.
Melt the reserved white chocolate for about 30-50 seconds in the microwave, stir until smooth, and drizzle over the top of the cooled brownies using a spoon held a few inches above the pan. Sprinkle on the reserved freeze-dried raspberries while the white chocolate is still wet. Let the drizzle set, and then cut into squares. To serve, arrange a few fresh raspberries on top, if you like.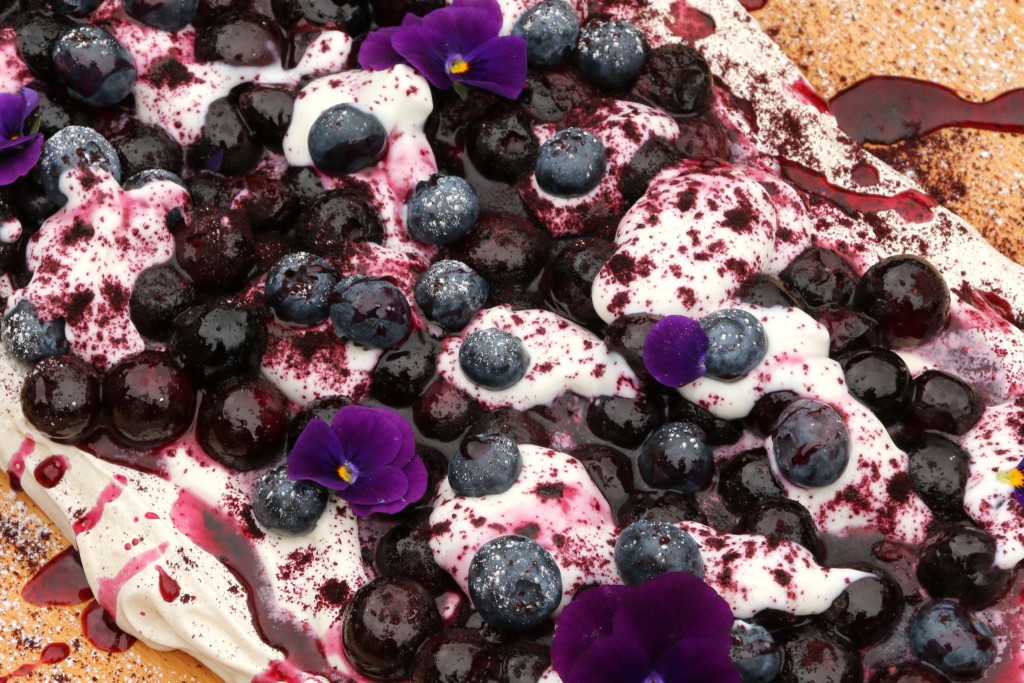 Extra-fruit pavlova master recipe
Pavlova is a favourite way to showcase fruit of all kinds. Sometimes, though, this versatile dessert can be heavy on the meringue and cream, and light on the fruit. I like to make a shallower meringue base that allows proportionately more fruit, shaping it into a large rectangle, and assembling and serving it directly from a cutting board.  It looks really impressive, yet comfortably casual, and slicing it is a breeze.  People like the drama of the presentation and the way you end up with fruit in every bite. The meringue also takes less time to cook and dry in the oven, and it's fun and easy to assemble – there's a larger blank canvas to be creative with, and less worry about structural integrity. I use some half-fat crème fraîche alongside the whipped cream – not just to cut down on the calories – but because the slight tang tastes good and makes for a less rich, while still creamy, pudding.
Choose any seasonal fruits you like, using roughly the proportions of:
450g (1 pound) prepared fruit for one 2-egg-white meringue base (recipe below); sweeten the fruit only if needed, as slightly tart fruits work best with sweet meringue;
250ml (1 cup) double or whipping cream, sweetened with 1 teaspoon sugar, and with ½ teaspoon vanilla extract to flavour;
125ml (½ cup) half-fat crème fraiche, sweetened with 1 teaspoon sugar — or substitute cream for a total of 375ml cream sweetened with 2 teaspoons sugar.
Allow 3-4 hours for the meringue-base to bake and cool completely before assembling the pavlova. The meringue can be made a day ahead and kept on its tray wrapped in cling film. It's best to assemble the pavlova soon before serving.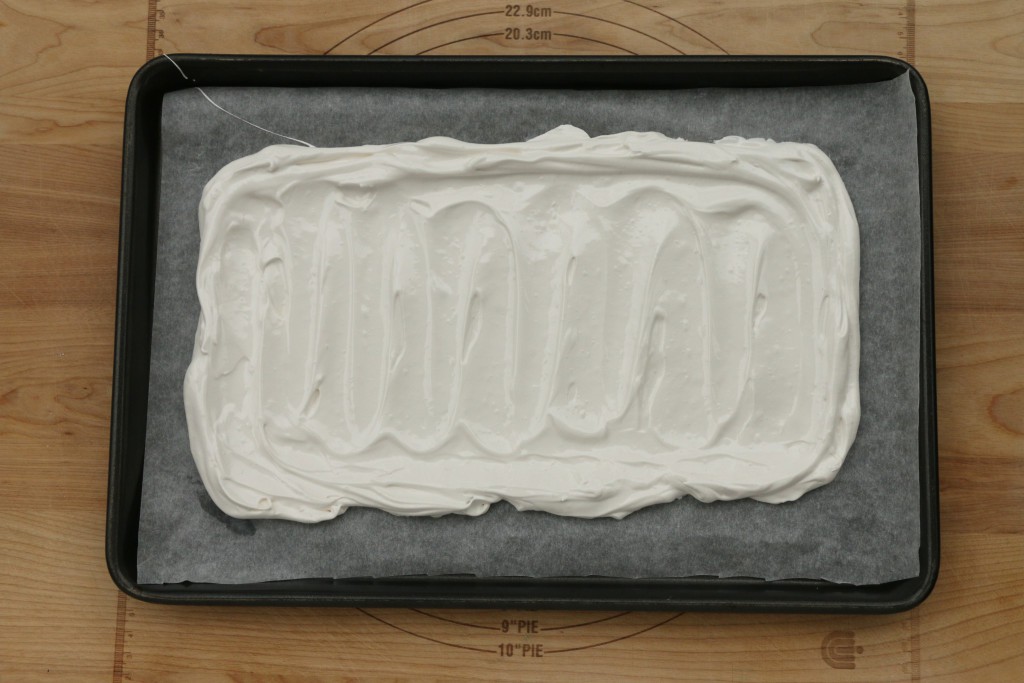 Meringue base for extra-fruit pavlova
Serves 6
(This recipe can easily be doubled to make two pavlovas)
2 egg whites, room temperature
A pinch of salt
50g (¼ cup) caster sugar
75g (½ cup) sifted icing sugar (confectioners' sugar)
1 teaspoon vanilla extract
Heat the oven to 130C/gas mark ½, or 250F. Line a baking sheet with parchment or foil (use two baking sheets if you double the recipe). Make sure your egg whites, bowl and beaters are free of yolk and grease.
With an electric mixer on medium speed, beat the whites and salt until you reach the soft-peak stage (the whites will flop a little on the beaters).
Gradually add the caster sugar and beat until the mixture has increased in volume and just holds its shape.
Add the icing sugar on low speed, and then increase to medium-high, beating until the sugar is incorporated and the meringue is thick and glossy. Mix in the vanilla.
With a large spoon, drop dollops of the mixture onto the prepared tray and spread it with a metal spatula into a rectangle about 30cm x 15cm (12×5 inches) and 2cm thick (¾ inch), leaving a shallow lip on all sides. The meringue will expand in the oven about 3cm (1 inch) in every direction, so bear this in mind.
Put the meringue in the oven and immediately turn the heat down to 110C/gas mark ¼, or 225F. Bake for 60 to 90 minutes, turning once for even cooking, until the meringue is a pale off-white in colour, looks and feels set, and sounds almost hollow when tapped. Turn off the oven and open the door a crack, leaving the meringue to cool gradually in the residual heat.
When completely cool, remove to a large cutting board you are happy to serve from (choose one that fits in the fridge if you need to assemble the pavlova ahead); or leave on the tray and cover with cling film up to one day ahead.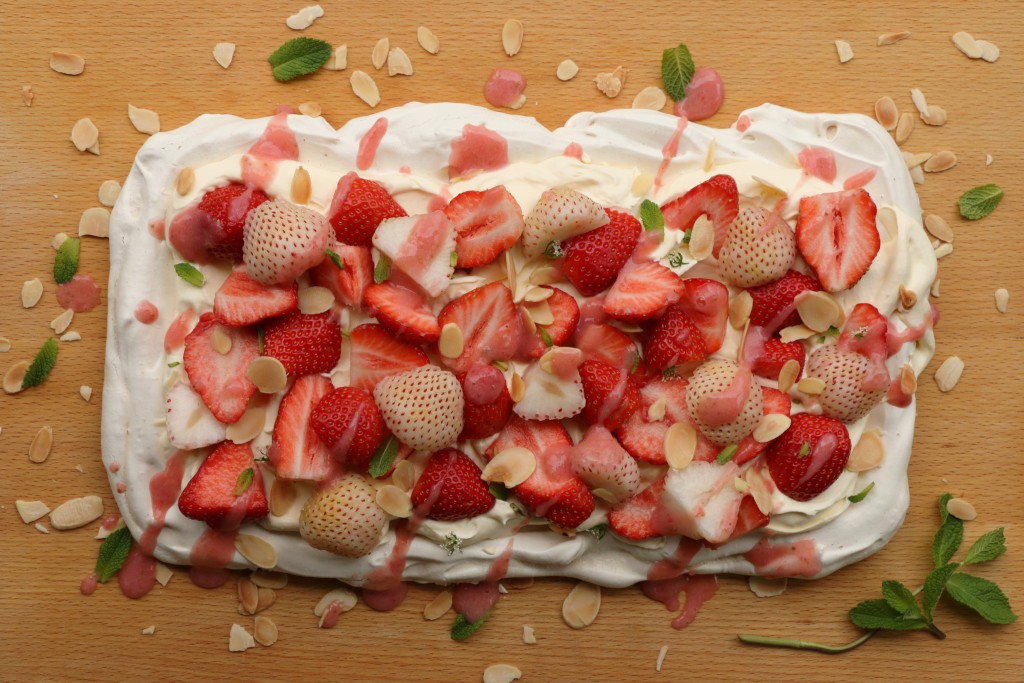 Pavlova with strawberries, pineberries and mint
Serves 6
1 cooked and completely cooled meringue base
400-450g (about 1 pound) fresh strawberries, washed and dried
About 5-6 pineberries (a white variety of strawberry that tastes of pineapple)
250ml (1 cup) double or whipping cream
125ml (½ cup) half-fat crème fraîche — or substitute cream for a total of 375ml (1½ cups) cream
2 teaspoons sugar
½ teaspoon vanilla
Usable trimmings of the strawberries, plus 3-4 whole strawberries and a small piece of banana to make a small purée
A few small mint leaves
30g (1 ounce) toasted sliced almonds
Optional: edible flowers
Hull the berries and cut in half; keep usable fruit trimmings. Make a small purée for garnish by blitzing trimmings and 3-4 whole berries in a mini-blender or food processor with a 3cm (1-inch) piece of banana to thicken it (or simply force through a fine sieve).
Combine the cream, 1 teaspoon of the sugar, and the vanilla in a medium bowl and whisk by hand or with an electric mixer until lightly mounding; it should hold some shape but still be soft, so don't overbeat. Refrigerate. If using créme fraîche, keep it separate from the cream and add the remaining 1 teaspoon sugar to it; stir gently (don't overmix or it will get too thin).
Position your meringue base on the serving board or platter. Spoon the whipped cream onto the meringue, leaving a margin free all around the edges. Dollop over the crème fraiche, if using.
Arrange a layer of halved strawberries, and tuck in the pineberries. Strew the strawberry-banana purée across the pavlova. To finish, garnish with the toasted almonds, a few small mint leaves, and/or some edible flowers if you like. Serve straight away, or refrigerate for up to an hour before serving.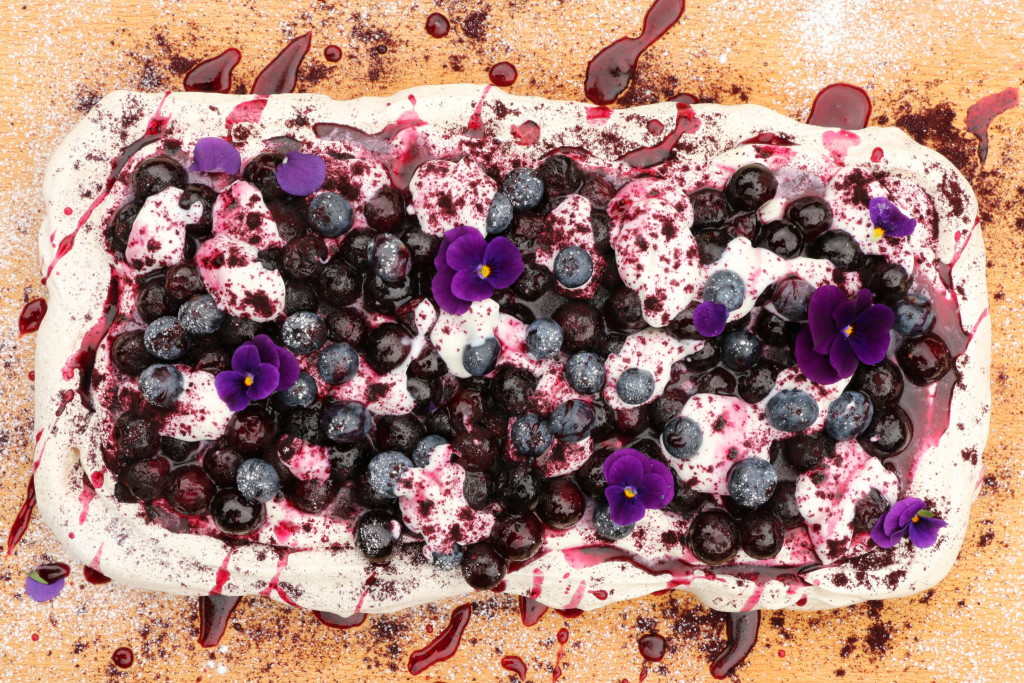 Pavlova with blueberries, blackcurrants and powdered bilberries
Serves 6
1 cooked and completely cooled meringue base
300g (about 10 ounces) blueberries, washed and dried
150g (about 5 ounces) blackcurrants, washed and dried
60ml (scant ¼ cup) maple syrup or honey; or 80g caster sugar
1-2 tablespoons water
250ml (1 cup) double or whipping cream
125ml (½ cup) half-fat crème fraîche — or substitute cream for a total of 375ml (1½ cup) cream
2 teaspoons sugar
½ teaspoon vanilla
About 2 tablespoons powdered bilberries (available from health food shops and some supermarkets)
Put all the blackcurrants and half the blueberries in a small saucepan over medium heat with the water and maple syrup/or honey/or sugar. Cook gently for about 5 minutes until slightly soft, but still intact, and just beginning to give up some blue juices.
Carefully drain off the juices and reserve. Use the juices and a generous tablespoon of the cooked berries to make a small purée for garnish: blitz them together in a mini-blender or food processor until smooth and slightly thick (or simply force through a fine sieve). Set aside the purée, and the cooked berries, to cool completely.
Combine the cream, 1 teaspoon of the sugar, and the vanilla in a medium bowl and whisk by hand or with an electric mixer until lightly mounding; it should hold some shape but still be soft, so don't overbeat. Refrigerate. If using créme fraîche, keep it separate from the cream and add the remaining 1 teaspoon sugar to it; stir gently (don't overmix or it will get too thin).
Position the meringue base on a cutting board or platter. Spoon the whipped cream onto it, leaving a margin free all around the edges. Spoon on the cooled, cooked berries. Drop smallish spoonfuls of crème fraîche over the cooked berries, and sprinkle on the uncooked fresh blueberries. Strew the sauce across the pavlova. To finish, sprinkle on the dried bilberry powder and a few edible flowers if you wish. Serve straight away, or refrigerate for up to an hour before serving.