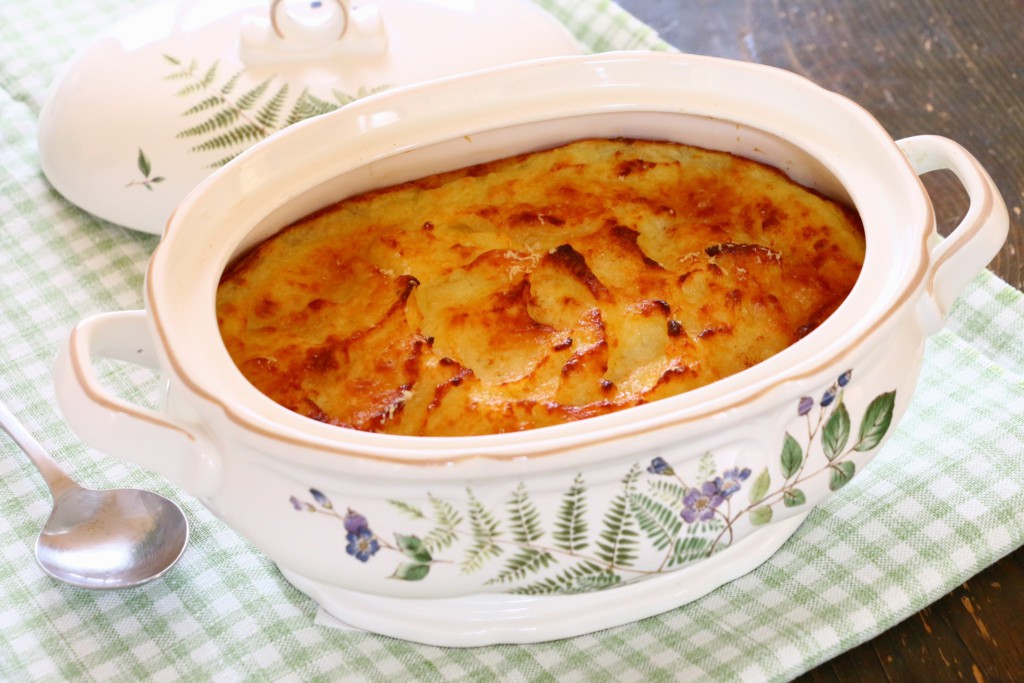 My recipe for this comforting family dish of lamb and vegetables topped with mashed potatoes is offered here by request, with step-by-step instructions.  Simple and familiar as it is, it proved very popular recently with family of all ages for being easy to eat, easy to serve, economical and really very scrummy.  As with any casserole, the work is done ahead, leaving you time to wash up or rest up before serving time − or to enjoy each other's company.
'Shepherd's pie' is a popular lamb dish in the UK, made with either minced (ground) lamb, or leftover lamb roast, or sometimes with roasted lamb shoulder for a chunky version.  (A 'cottage pie' is made with beef and slightly different seasonings and herbs.) Finding a really good shepherd's pie (or cottage pie) is getting harder.  They are often an excuse for sloppy mass-catering with inferior ingredients, and this has demoted their status − a fate they most definitely don't deserve. When homemade with care using well-raised lamb and good vegetables and herbs, they are comforting and lovely to behold, delicious and aromatic.  This kind of family-friendly dish also makes a popular buffet or party dish when it's well made − down home, easy to eat with just a fork, and the kind of food people really like to eat.
The amount given here can easily be doubled (or more) and served in any kind of oven-to-table dish.  I fancied it up on this occasion for a family get-together by serving it in a pretty casserole dish. I sometimes make a batch and freeze individual portions for busy weeknights and to take to other rels who enjoy it.
There are a few tips to help coax the maximum flavour out of these straightforward ingredients:  1)  brown the minced lamb really well so it takes on a good 'brown' flavour − don't just let it turn grey and boil in its own water;  2)  moisten the cooked meat and vegetable mixture which forms the base of the dish with a bit of gravy to give it a silky mouth-feel (a dry shepherd's pie can be disappointingly grainy);  3)  add flavourful fresh herbs and plenty of seasoning; and  4)  brush the mashed potato topping with melted butter and cover in grated parmesan to help it turn a lovely, crunchy golden brown.  These steps will ensure it tastes "proper"  and earn you compliments (my favourite of which, considered high praise in Derbyshire, was: "there's nowt wrong with that" !).
Shepherd's pie  (minced lamb casserole with mashed potato topping)
Serves 4
Ingredients:
For the lamb filling:        
500g (a generous 1 pound) minced/ground lamb
1 tablespoon olive or other vegetable oil
1 cup diced onion (1 medium or ½ large onion)
½ cup diced carrot (about 2 medium-small carrots)
½ cup diced parsnip (1-2 small parsnips)
3-4 garlic cloves, finely minced (about 1 tablespoon)
1 teaspoon fresh thyme leaves
1 teaspoon fresh mint, finely chopped
½ teaspoon fresh rosemary tips, finely minced
½ teaspoon (level) sea salt
2 tablespoons flour
200-250ml (1 cup or a little less) lamb, beef or chicken stock
½ cup frozen peas – no need to thaw
For the mashed potato topping:
800g (1¾ lbs) floury mashing potatoes (e.g., russet, maris piper), peeled and chopped into 5cm (2 inch) pieces
80ml (¹⁄

3

 cup) hot milk, or a bit more as needed
4 tablespoons unsalted butter
1 teaspoon level sea salt
¼ teaspoon freshly ground black pepper
To finish the pie:
1 tablespoon melted butter
about 30g finely grated parmesan cheese
Directions:
Butter a 2-quart oven-to-table dish.  Set aside.  Heat the oven to 180C/375F if intending to cook the shepherd's pie straight away.
In a large skillet, sauté or frying pan over medium heat, cook the chopped onion, carrot and parsnip in the oil, stirring occasionally, until the vegetables are softened and lightly golden in patches – about 10 minutes.  Add the garlic and cook for 1 minute longer or until fragrant – don't let the garlic colour.  Remove the the cooked vegetables and garlic into a separate bowl for now and set aside.  Don't  wash the pan, as the foundation from the vegetables will help to flavour the meat.
While the vegetables are cooking, put the potatoes on to boil or steam (my preferred method is the latter, but please yourself). They will need about 12-15 minutes once the water has boiled to cook until tender.
Raise the heat to medium-high under the pan you used for the vegetables and garlic, and add the lamb to the hot pan, stirring to break up the clumps. Cook for several minutes, stirring occasionally, until the meat has taken on an even, dark brown colour and smells fragrant.  You may have to regulate the heat up or down, depending on the amount of moisture in the meat.  If the lamb seems watery at first, just continue to cook until the water boils off and it begins to brown and caramelise, giving you some crispy bits.  A bit of time at this stage will pay off in flavour.
Reduce the heat of the pan to medium, and stir in the reserved cooked vegetables and garlic to the browned meat, along with the thyme leaves and chopped rosemary.
Distribute the flour over the surface of the meat and veg mixture, and stir it well; allow the flour to cook for one minute to eliminate the raw taste.
Stir in about half the stock once the flour has cooked, and bring the mixture to a simmer, stirring occasionally, until it begins to thicken – about one minute.  Add the rest of the stock gradually, and continue to simmer for a further minute, or just until the meat and veg mixture is well-moistened and the stock has thickened enough not to separate out from the other ingredients.  Add the salt and pepper, and the fresh mint (the mint retains its flavour best if it goes in towards the end, while the thyme and rosemary are robust enough to go in earlier and start working). 
Stir in the still-frozen peas.
Continue stirring over the heat until the mixture is perfectly thickened, no longer soupy – it should have the silky mouthfeel of good gravy and tender meat. This is a good time to taste it for texture, and for seasoning.  When you're happy with both, remove the pie filling from the heat and decant it into the prepared oven dish, ready to receive the mashed potato topping. 
Resuming from step 3, check the potatoes. They are done when soft enough to be pierced easily with a skewer. Drain them well, return them to the hot pan, and add most of the hot milk and butter, reserving a little in case you don't need it all.  Whip the potatoes using your preferred method (*see tips below)  until smooth and light, but still holding their shape – not too loose, as the lamb mixture is already moist.
Top the lamb and vegetable mixture with the mashed potato, and rough up the surface with a fork, as the uneven bits will crisp nicely in places.  Brush the potato with the melted butter using a pastry brush, and scatter on the parmesan cheese.
Bake the pie uncovered for about 40-50 minutes or until piping hot and golden brown.  If the top is browning too quickly, cover loosely with some buttered parchment paper or foil, avoiding contact with the potato so you don't disturb the surface.  Serve on warmed plates with extra peas, carrots or other veg, or some salad – pea shoots make a fitting accompaniment.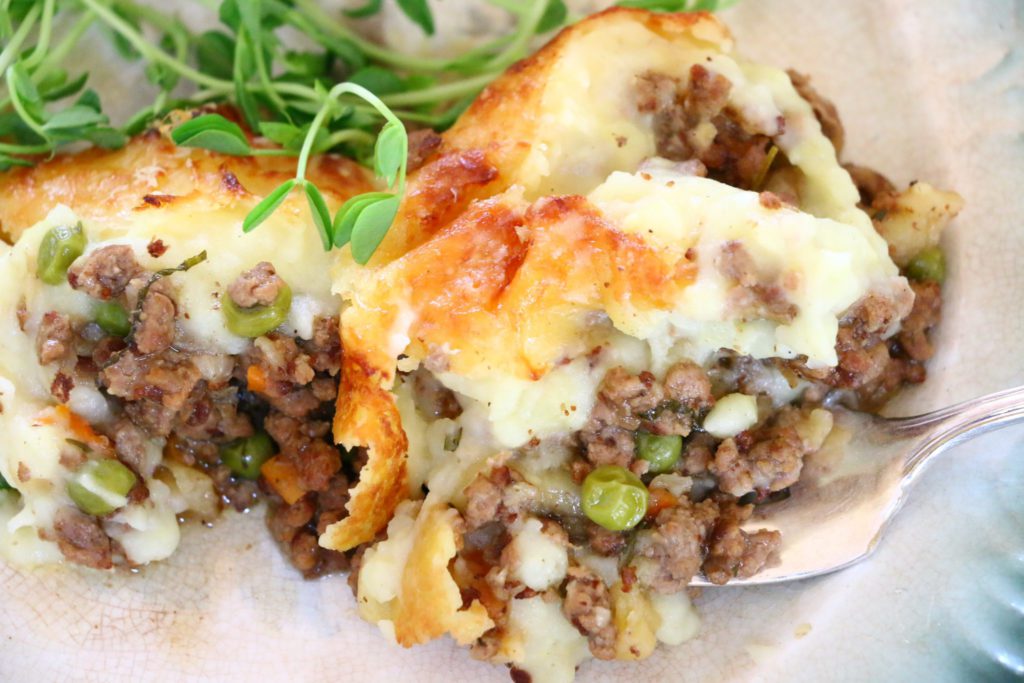 *Tips for mashing potatoes:
Adding hot milk to hot potatoes makes a smoother mash. You can gently heat the milk and butter together in the microwave, but don't allow to boil.
Butter makes mash even smoother and of course richer and more delicious (some restaurants will use generous amounts of butter, and no milk, to achieve a really decadent mash).
For the actual mashing, I get excellent results using a potato masher to crush the potatoes into the milk and butter first, and then swapping to a sturdy pastry whisk to whip them by hand into a light creaminess.  If you like to use an electric mixer, use a potato variety high in starch, make sure the potatoes are thoroughly cooked, and don't overdo the whipping, as excess mechanical action can make some potato varieties gummy. Using a potato ricer is another good way to get a smooth texture, as an alternative to a simple mashing implement.
Don't use a food processor for this job, as it exacerbates the problem of gumminess.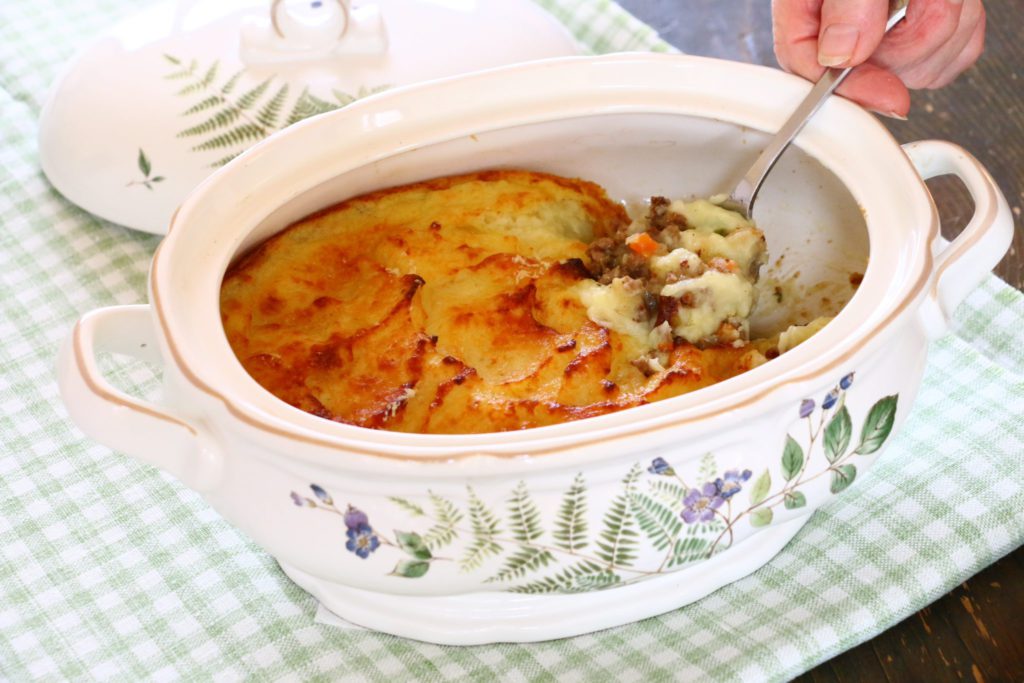 Thanks to my dear mom, Fern Donohue,  who helped with the cooking, serving and photo shoot for this shepherd's pie party.  We had fun!