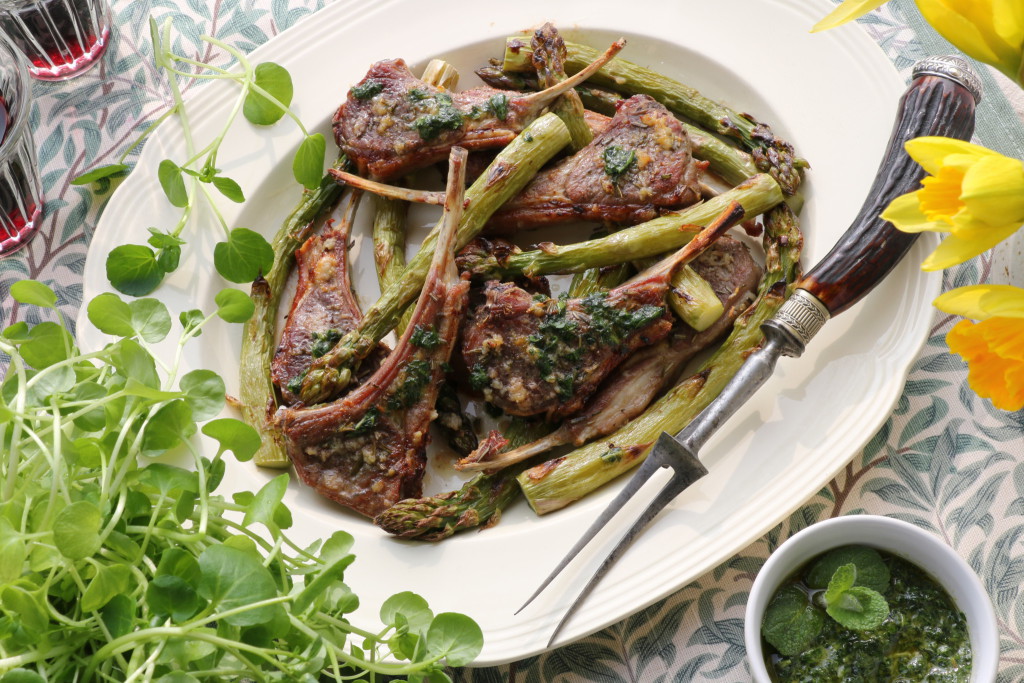 If your thoughts turn to lamb this spring, consider chops, if you are feeding one to four people.  A slow-cooked shoulder, or a roast leg, is a better buy and more manageable when feeding four-plus, but chops are great when you don't want to cook a joint or make gravy and manage all the rest of the roast dinner production.  Good loin chops are fast and delicious, and you can grill the season's local asparagus at the same time for a perfectly partnered, low-maintenance meal.  The mint and parsley pesto makes this a triumvirate of lip-smacking flavours and fills the gravy niche nicely, making for one less last-minute effort as it can be done ahead.
The main thing with lamb chops is to get nicely shaped and meaty ones, at least 3cm (1 inch) thick, trimmed of most of the extraneous fat, but still with a bit of marbling, which will give them succulence.  Ask for the bones to be 'French-trimmed' — scraped clean of all meat and fat so they cook cleanly (you often see this in a rack of lamb).
The barbecue is perfect for cooking these dainty chops in summer, but you can get great results under a hot grill (broiler) when outdoor cooking isn't tempting.  Get your grill/broiler very hot, maybe as hot as it will go, position the chops about 3 inches from the element, and watch carefully. You want them to achieve a good brown colour, but to stay moist and pink inside, so they need to brown quickly.  Chops about 3cm thick will only need 2½ to 3 minutes per side, if that.
The asparagus can go under the grill with the chops, to take on a little colour and soften just enough to taste done. Depending on the size of the spears, they should cook in about the same time as the chops.  Watch though, as ovens and grills vary considerably; yours may take less time or more than the total of five to six minutes suggested.  If the delicate tips of the asparagus are cooking too quickly, tuck them under the chops to hide while the stalks finish.
Roasting the chops and asparagus in the oven is even easier than the grill, but you need a very hot oven indeed to make this work with thinner chops; or, you have to accept chops that are either less brown, or more well-done.  If you choose this one-tray method, it's best to get thicker chops if you want them to take on that lovely brown flavour and still have some pink inside. They will need longer in the indirect heat of the oven than they do under a grill — about 12-15 minutes as a guideline, but check after 10 minutes (see recipe for tips on how to tell when the chops are done).
It's important to rest the chops, however you cook them, just as you would a large joint. Give them 5 minutes under foil to allow the juices to settle.
Mint sauce is traditional with lamb in England, usually made with vinegar, sugar, salt and lots of fresh mint (apple mint is my favourite, but it's difficult to find commercially, so I grow it in a couple of pots on the patio, where it thrives without much attention).  Sometimes a strong mint sauce (especially the commercial ones) can dominate the delicate lamb and dilute a good gravy, so  I am a fan of this mint and parsley version of a pesto, especially with these chops and asparagus.  It has the same herbal freshness as the traditional mint sauce, but in milder form, and also adds moisture to the meat in the way a good gravy does.  No gravy is needed when you have the pesto, so it means everything can be enjoyed either at room temperature or still hot.  This versatility makes this a great platter for a buffet or even a picnic, where the chops are as easy to eat as lolly pops.
Grilled lamb chops and asparagus with mint and parsley pesto
Ingredients:
The chops: Count on three chops per person, depending on their size and your appetite. Ask for French-trimmed loin chops (or 'best-end' chops), at least 3cm (1 inch) thick — or thicker if doing a one-tray meal in a very hot oven.
Season the chops as you like; the following works as a guideline:
About 1 clove garlic, crushed, for every 2-3 chops
A touch of olive oil to very lightly lubricate the chops
Sea salt and freshly ground black pepper
A pinch of finely chopped fresh rosemary and/or stripped thyme leaves for each chop
The asparagus:  If serving a salad or other vegetable with the asparagus, about 5 average spears per person is a good rule of thumb, depending again on their size and your appetite.  If asparagus is your only vegetable, it is not excessive to buy 200-250 grams of untrimmed spears per person (this amounts to about 1 pound or a bit less for two people).  You will also need:
a very little olive oil
Sea salt and freshly ground black pepper
For the mint and parsley pesto, to serve 4 people:
25g bunch fresh mint, leaves only

25g bunch fresh parsley, leaves and tender stalks only

½ a small garlic clove


1 teaspoon Dijon mustard

1 teaspoon sugar

1 tablespoon good vinegar

4-6 tablespoons olive oil for the pesto

¼ teaspoon sea salt and a few grinds of freshly ground pepper, or more to taste



Directions:
 Make the pesto:  Either chop the herbs to a medium-fine consistency and mix them by hand with the other ingredients; or combine everything in a mini-blender or food processor.  Add the lesser amount of oil to start, and aim for a spoonable consistency that still has some texture. Taste and adjust the balance of salt and sweet, acid and oil, and add oil or a splash of water as needed. Cover with cling film and set aside. It can be made a few hours ahead and will mellow as it sits.
Set the grill (broiler) to its highest setting, or nearly highest if your grill is very hot, and position a rack to sit about 3-4 inches under the elements.
Wash and dry the asparagus spears and trim off the tough ends.
Season the chops and asparagus: very lightly rub them both with the smallest amount of olive oil (pour a bit into the palm of your hands and massage it into the chops and spears so the surface just glistens; you only need enough to help the browning process get started).  Season everything with the sea salt and pepper. Then rub the garlic and rosemary / thyme, or whatever you're using, into the lamb chops.
When the grill is very hot, position the chops and spears onto the rack and cook for 2½ to 3 minutes on the first side, or until the chops begin to brown and the asparagus starts to soften and take on colour. Check at this stage to gauge progress: the chops should still be very pink on the other side, and quite soft to the touch.
Turn over the chops and asparagus and return to the grill (broiler). Tuck the tips of the spears under the chops if they show any signs of singeing. Cook for another 2½ to 3 minutes, or less if they've cooked faster on the first side.

Check the chops by giving them the 'touch test'. Give them a good prod with your finger: they should give a little without feeling mushy, and there should be moisture in evidence. They should not feel stiff and unyielding, nor look dry. They will continue to cook as they rest.
Check the asparagus by piercing them with a skewer or sharp knife; there should be some resistance, but not a fight. Keep them under the grill a little longer than the chops if necessary, while the chops rest.

Remove the chops to a warmed plate and cover with foil to rest for 5 minutes.  Serve with the asparagus and a bit of pesto spooned on the chops, with the rest of the pesto on the table for people to help themselves.
The lamb chops and asparagus are lovely with some watercress and boiled new potatoes, which also takes the mint and parsley pesto beautifully. It's a simple and luscious meal, and not too much effort.