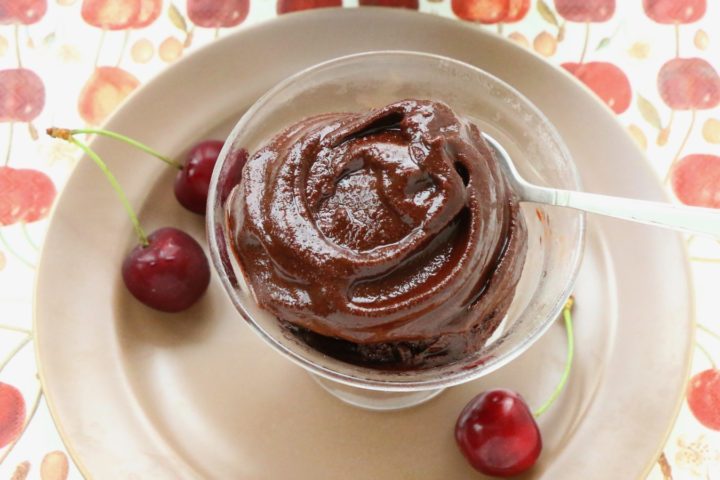 I've been on a quest for a really scrumptious chocolate sorbet for a while.  When it's hot, it hits the chocolate spot like nothing else.
More refreshing than a dairy ice cream, this sorbet is still seductively creamy, with a meltingly silky mouth-feel.  Made with cocoa, sugar and water (with a little extra flavouring from coffee and vanilla), it has a lusciously deep-chocolate flavour, but is also properly sweet.  It's intense, so one scoop is delightfully satisfying (and look at that inviting sheen!).
Superb as it is on its own, this sorbet also makes a perfect foil for all the red summer fruits that are coming in right now.  Cherries and raspberries are divine with it, and so is a companion mint sorbet, or a scoop of vanilla gelato for contrast.   In Italy, I've seen tall parfait glasses of chocolate sorbet served with a long spoon thrust down the middle to make a tunnel, which is liberally filled with whipped cream.
Because it's basically sugar syrup and cocoa, it melts very quickly, so serve it pronto once scooped.  Chocolate sorbets made with solid chocolate are more stable, but I wanted one that was less fussy to put together, and this one met the bill while also tasting terrific.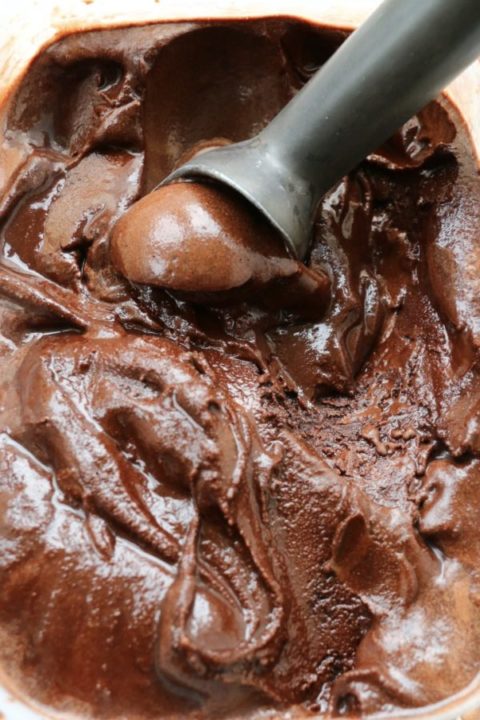 It helps to chill the cups you serve it in, if you are having it on a hot day.  This sorbet makes a wonderful mocha affogato with a shot of espresso poured over it — but let the espresso cool almost to room temperature first so the sorbet doesn't dissolve.
A word on the primary ingredient:  I've used cheaper cocoas, and more expensive ones to make this, and all taste good — though the pricier Vahlrona gave a really exquisite result.  To measure cocoa is of course straightforward by weight, but for those using American cups, I find it most reliable to pack the cup tightly, and then to level it, for the most accurate and consistent measure.
A word on equipment:  You will get the silkiest result using an ice cream machine.  I have a cheap and cheerful model that does the job brilliantly, so you don't need anything fancy.  If you don't have a machine, there are two other options for 'still-freezing', as given in the recipe below, and they too give smashing results.
Chocolate sorbet
Makes about 500ml (about 1 pint)
Adapted from recipes by Sophie Grigson, Caroline Liddell, and Robin Weir
This recipe can easily be doubled;  just allow extra time for chilling and churning.
Sophie Grigson uses a cinnamon stick to flavour the sugar syrup.  I've opted instead for strong coffee and vanilla as background flavourings.  The coffee isn't detectable in the finished sorbet, but it amplifies the taste of the chocolate.  The vanilla adds depth of flavour, too.
Ingredients:
300g caster sugar (1½ cups granulated)
400ml water (1½ cups plus 2 tablespoons)
80ml (5 tablespoons) strong coffee, lukewarm or cooler — as strong as you would drink it
60g cocoa (½ cup, packed and levelled)
1 teaspoon pure vanilla extract
Directions:
 Make a sugar syrup by combining the sugar and water in a saucepan, and set it over medium heat.  Allow the sugar to dissolve completely, and then turn up the heat and bring the syrup to a boil.  Remove the pan from the heat and set aside to cool.
Put the cocoa into a bowl or large measuring jug, ideally something with a pouring spout.  (If the cocoa is lumpy, sift it into the bowl).  Make a well in the centre of the cocoa, and add the coffee a bit at a time, gradually stirring in more cocoa from the sides of the well to make a thick cocoa-paste.  A small spoon and/or small sauce-whisk are good tools for this.
When you've used up all the coffee, start adding the sugar syrup (it's fine to use it quite warm, but best not to use it right off the heat).  Keep stirring the syrup into the remaining cocoa until you have a glossy, smooth cocoa-paste.  Continue mixing in the rest of the sugar syrup, going gradually at first, until everything is nicely incorporated into a thin chocolate syrup.  Scrape the sides and bottom of the bowl to make sure you've mixed in all the cocoa (a flexible silicone or rubber spatula is good for this).
Stir in the vanilla.
Allow the mixture to cool to room temperature, cover the bowl, and then refrigerate.  Deep chill for several hours or overnight before churning it in your ice-cream maker.  It's important that it goes into the machine very cold, or it might not set — especially if you're doubling the recipe.  Churn it until nice and thick, and decant into a freezer container to keep if you're not serving it immediately.  If you want to keep the sorbet frozen for a while, allow it to soften slightly before scooping.  It's best slightly soft, but as mentioned, it does melt faster than most, so don't linger too long.  The finished sorbet will maintain its flavour and texture for at least a week in the freezer.
IF YOU DON'T HAVE AN ICE CREAM MACHINE, you have two options:
Pour the chocolate mixture directly into a shallow freezer container (flexible plastic is ideal), cover it, and freeze until the mixture is almost frozen solid.  Break it up into large pieces with a sturdy spoon, and quickly put the pieces into a food processor.  Pulse a few times just until the sorbet becomes smooth and scoop-able, but don't let it go too far as the sorbet will start to melt quite quickly.  Serve immediately, or decant the smooth sorbet into the same container you used to chill the chocolate mixture, and pop it back in the freezer for a few minutes to firm up enough to scoop.  If you're keeping it frozen for some time, allow it to slightly soften before serving.

If you don't have a food processor

, you can use the hand-stirring method, which will result in an icier granita-style texture that is still delicious.  Start by pouring the chocolate mixture directly into a shallow freezer container, as above, and pop it in the freezer.  After about an hour, use a fork to start stirring the frozen bits of the mixture into the more liquid bits.  Give the mixture another stir every hour or so, 'fluffing it up' with the fork as you go, to encourage even freezing.  This will aerate it and break up the larger ice crystals.  As the chocolate mixture gets quite firm, you can use the fork almost to scrape it into a finer texture, somewhat like a water-ice.  At this stage, spoon it into serving cups or bowls, and serve immediately.  If keeping it frozen, allow it to soften slightly in the container, and then fluff it with a fork, or give it a good mix through with a sturdy hand-held whisk, before spooning it up to serve.
Other sorbet and ice cream recipes on Crumbs on the Table