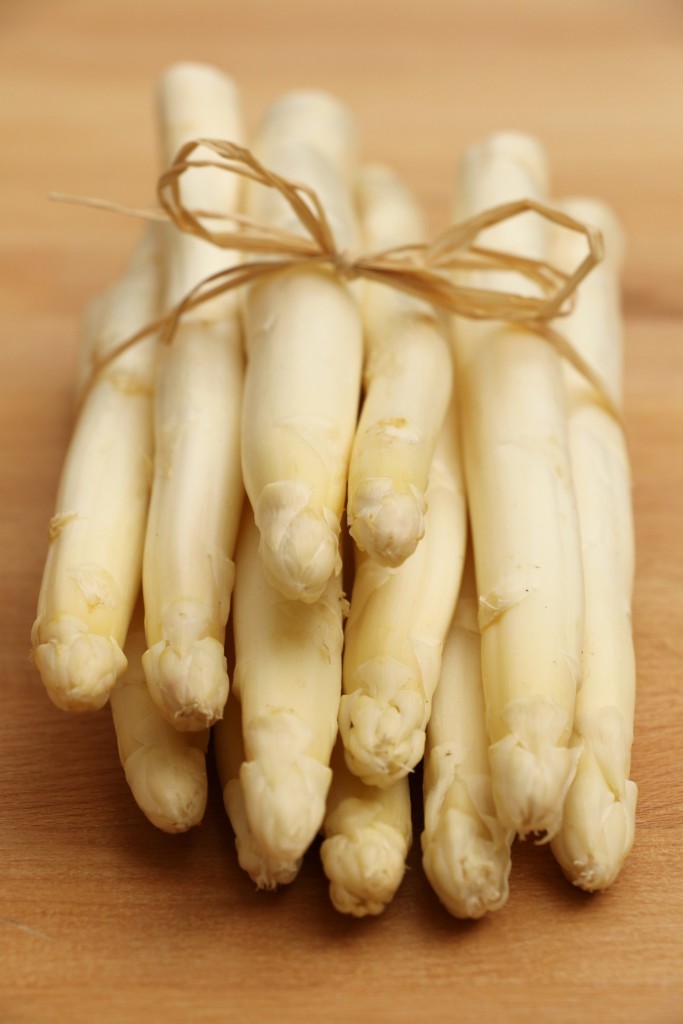 I lucked into some white asparagus at the Norwich market yesterday, flown in from Germany where it is highly favoured.  The 'spargel' season there ('spargelzeit') is a national craze of sorts, with restaurants and cafés offering it multiple ways on a single menu to make the most of the short season, which typically peaks from May through June.
The stall holder who sold me yesterday's pristine bunch told me his customers in this university town are mostly Europeans who go through at least two kilos a week; at £21 a kilo, that's true love (and/or homesickness). The British customers, he tells me, are just as enthusiastic about the green variety, grown a few miles away in the fields of Norfolk — still a seasonal splurge at £8-12 a kilo.
I love both green and white, and they are completely different in taste.  The white asparagus, at its best, is subtle in flavour, meltingly tender and tastes almost buttery, but cleaner — juicy, rather.  It's not at all 'grassy' like the green stuff, and is somewhat stringier.  It has a complex quality, somewhere between earthy and refined, and is less obviously asparagus-like than its green counterpart.
White asparagus is the same plant as the green, but is cultivated in trenches so the spears can be blanched; they are covered with soil as they emerge in order to prevent photosynthesis (and thus the production of the chlorophyl that would turn them green).  The method is similar to the manual method for blanching leeks to produce longer white parts.  Asparagus grows much faster, so it is an even more labour-intensive crop, which along with its short season and popularity, accounts for the price it commands.