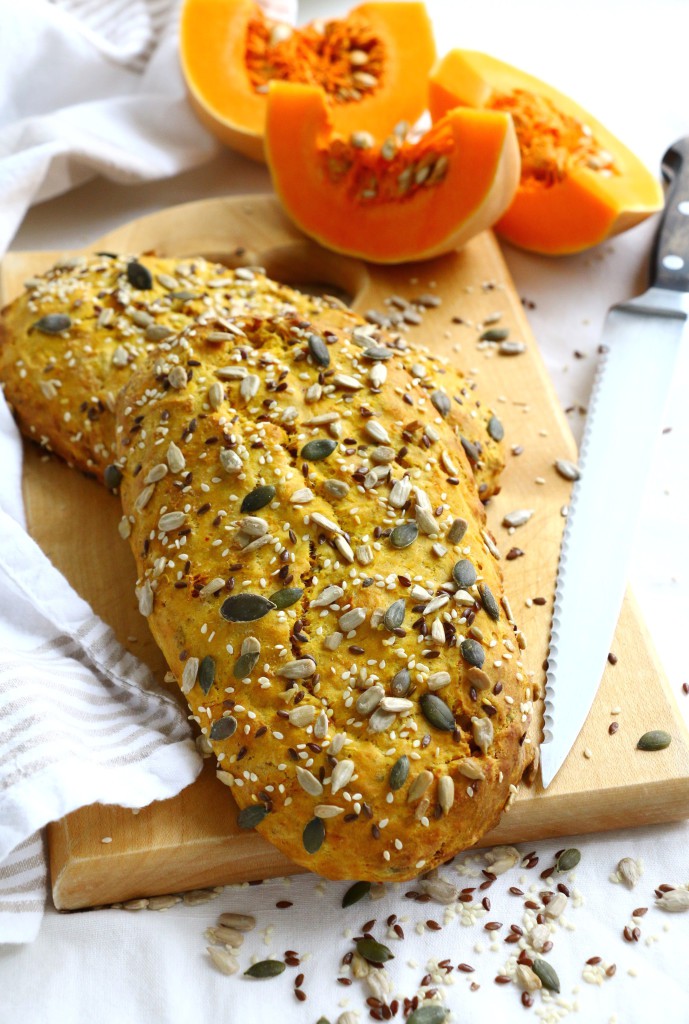 January days so far in our part of England have been mild, grey dishwater days.  That is about to change, with a blast of the Arctic cold that has been freezing mainland Europe, even to the Greek islands.  The North East US is shivering, too, and even North Carolina isn't immune, to the surprise of family there who thought they'd left snow behind when they moved from New Jersey.
This seems the perfect time to share two warming discoveries I've made this year from gardener/cook and former doctor, Sarah Raven.  The first is a pot of celeriac and apple soup, a really excellent soup of substance; and to go with it, a winter squash soda bread that is a thing of genius, the perfect accompaniment to soup and much else.  Together they are energising and wholesome enough to rouse the higher faculties from hibernation and warm the bones.
The soup is one I've made a few times this year and it's consistently excellent: very nicely balanced and more complex than a lot of vegetable purée soups, which as good as they are, can rely somewhat on a single note.  There are depths of flavour in this one from the two kinds of apple, the onion, garlic and celery, and a good stock.  The blue stilton garnish adds a contrasting salty finish.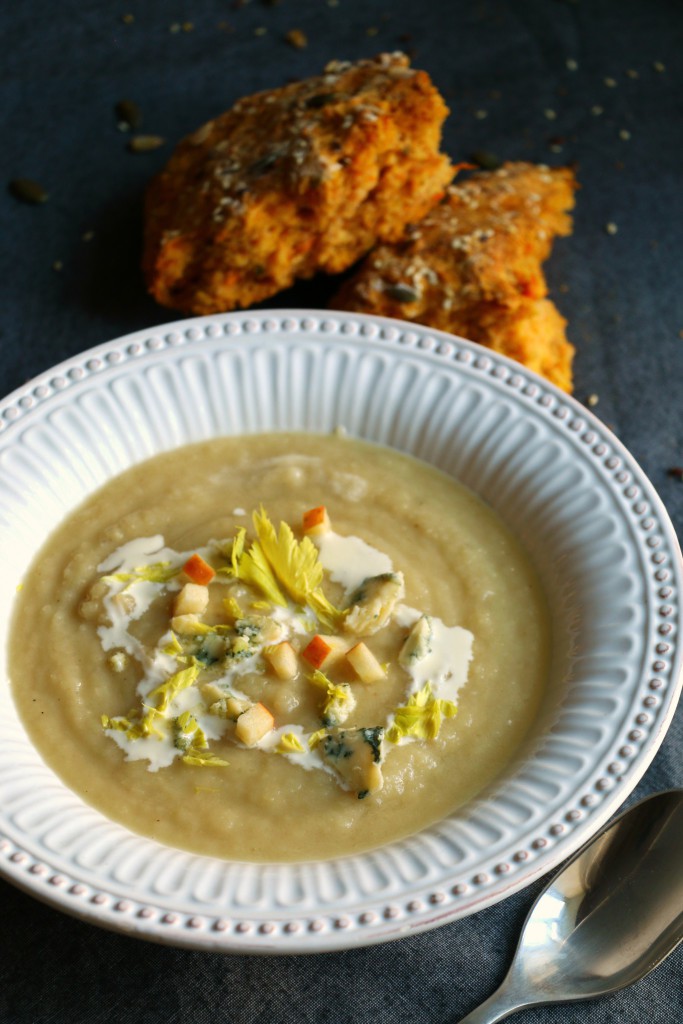 The celeriac (aka celery root)  gives the soup a creamy mouthfeel, though the body of the soup has no dairy in it.  Celeriac is more subtle than celery, so even if you don't like celery you may like its knobbly cousin.  Celeriac is almost as filling as potato, but lighter in taste, higher in fibre and far less caloric:  27 versus 74 calories per 100g (3.5 ounces) cooked.  Celeriac's complex carbohydrates have a lower glycaemic index as well; it releases its sugars more gradually than potato, so is good for those who need to watch their blood-sugar.  I find it a very useful root vegetable also grated raw for a salad with shaved celery, salad cress and pomegranate in lemon vinaigrette (a change from the classic French rémoulade made with celeriac julienne in a mustardy mayonnaisse);  and it's great as a partner to potato in gratins and mash.  I generally use approximately 40% celeriac and 60% potato for a good balance of starchiness and lightness when cooking the two together, and really like the fresh note it brings, so this is not just about substitution for calorie control.  Celeriac is also delicious roasted, cooked in fritters, or mashed on its own (for this latter treatment, simmer it to softness in a mix of water and milk to retain its white colour.)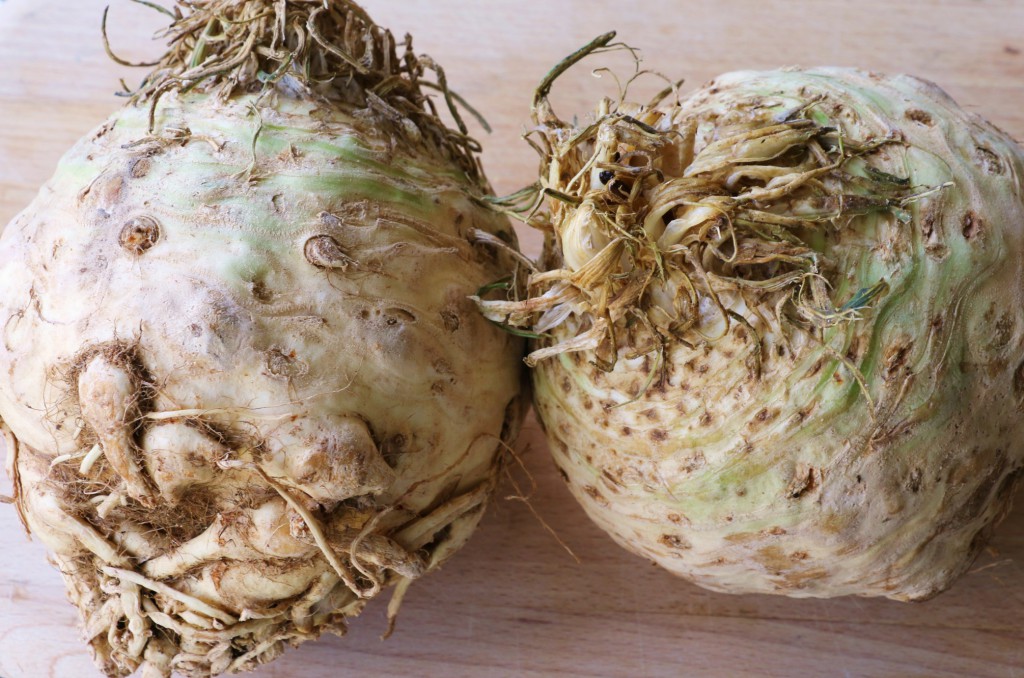 The winter squash soda bread is delicious, moist, light not stodgy, colourful and healthy.  The moisture from the squash makes it last much longer than ordinary soda bread, too, and it's quick to throw together once you've baked the squash.  It requires no kneading and no rising, as it's chemically leavened with baking powder in reaction with the acidic buttermilk (baking powder includes baking soda if you're wondering about the name – see note below on leavening agents).  The toasted cumin seed, fresh sage leaves and pinch of chilli flakes that go into it make a fragrant, nicely spicy and exceptionally flavourful loaf, as do the seeds that are toasted on top.
It's become a favourite bread in our house and with a family member who can't eat yeast.  You can also make it with gluten-free flour for a crumblier and less-risen version, or with half plain and half wholemeal flour for a higher-fibre if, again, less airy, soda bread. This is a really good recipe to have up your sleeve, as it makes this useful quick bread exciting, and offers a delicious way to eat more winter squash, which has numerous nutritional virtues (including anti-inflammatory and insulin-regulating properties).
These are healthy foods without being faddishly worthy, demonstrating that delicious and healthy can be one and the same.  I've got another batch of both in the making as I watch the weather forecast, and have gathered in some logs in case the electricity goes and we need to heat the soup on the fire.  We are lucky.  Thinking of people suffering terrible times already, now in extreme weather, makes me very grateful for this pot of soup and loaf of bread, and for the safe and secure roof over my head.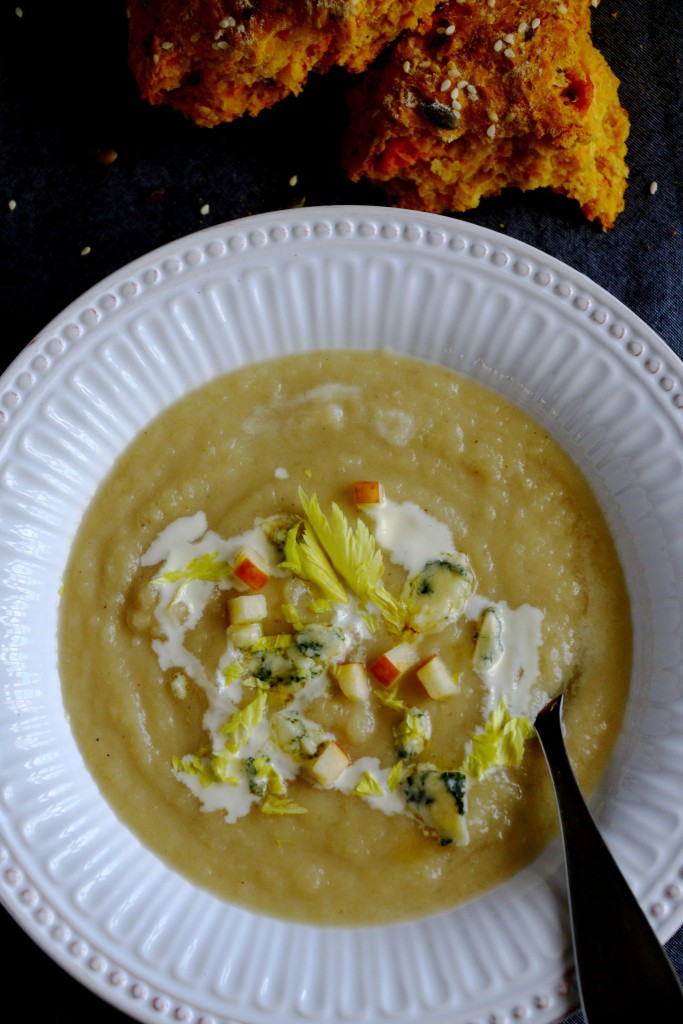 RECIPES
Celeriac and apple soup with stilton
Serves 6-8
Adapted from Sarah Raven's Garden Cookbook  (2007, Bloomsbury Press)
To prepare celeriac.  This knobbly root vegetable can look somewhat inaccessible, but it's not difficult to prepare with a good knife and a chopping board.  If you buy yours at a farmer's market, it may still have the leaves and roots attached and be covered in root-hairs and soil.  If so, give it a rinse;  then laying it steady on its side, cut off the tough crown of leaves, and the roots, so both ends are flat, level and clean.  Set the celeriac securely upright on the chopping board.  Slicing downwards and following its longitudinal curve, remove the peel in vertical strips to reveal the clean, white flesh.  Progress all around the celeriac in this fashion until it's completely free of  soil, roots and skin. Chop as required, and discard any cottony interior.
Supermarkets often sell celeriac already topped, tailed, cleaned and wrapped in plastic, in which case your vegetable peeler may be strong enough to tackle the job in the usual way.  Just make sure to take away as much peel as you need to reveal the white flesh.
Note on equipment:  I find it very handy to use an immersion stick blender to purée soups like this one. They make it easier to control the texture than a blender or food processor, and there's no need to decant hot soup into another appliance and then return it to the heat.

Ingredients:
1 medium-large celeriac, peeled and chopped into 2.5cm (1 inch) pieces
2 medium-large onions, chopped medium
2 celery sticks, chopped about the same size as the onions (reserve the pale inner-sticks of celery, plus the innermost yellow leaves, for garnish)
30g (2 tablespoons) unsalted butter
2 large garlic cloves, chopped or crushed
1 average-sized sweet eating-apple, peeled, cored and roughly chopped (reserve a few small cubes with the skin for garnish, and keep in lemon juice until needed)
1 average-sized tart cooking-apple, peeled, cored and roughly chopped (reserve a few small cubes with the skin for garnish, and keep in lemon juice until needed)

A little fresh lemon juice as above to keep the apple garnish from discolouring

1 litre (a little over 1 quart / 4 cups) good chicken or vegetable stock (or a mix of both)
1 teaspoon sea salt – or about half that, to taste, if your stock is salty or if you use free-flowing cooking salt – and about ½ teaspoon freshly ground pepper
About 100g (3.5 ounces) stilton or other salty blue cheese to crumble on top
Optional: about 2-3 tablespoons single (light) cream to swirl on top
Directions:
In a large pot, cook the chopped celeriac, onion and celery in the butter over medium heat until just softened, about 10-12 minutes; don't allow to colour.  The onion should be translucent.
Add the garlic and cook for one minute more, or until fragrant but still pale.
Add the stock, raise the heat to medium-high, and bring to a boil. Turn the heat down and simmer gently for about 10 minutes.
Add the chopped apples, and the salt and pepper – go gradually with the salt if your stock is salted (and if using cooking salt).  Cover the pan with the lid slightly ajar and continue to simmer for another 10 minutes.  Taste, and add more seasoning if needed, and check the doneness of the apples and celeriac.  Cook for a further 5-10 minutes if required so they are tender.
Purée the soup to the desired texture using an immersion blender-stick, or by carefully decanting the hot soup into a blender or food processor, and pulsing a bit at a time. (I like it best when there are no large lumps, but there's still some body; but if you like it super-smooth, keep going.)
Reheat if necessary, and ladle into warmed bowls. Garnish if you like with a drizzle of cream, and crumble over a bit of the stilton, a pinch of raw inner celery ribs (chopped medium fine), a few of the smallest celery leaves – and finally, a few of the apple dice.  Serve immediately.  (The soup freezes well without the garnish; you can also freeze the stilton separately.)
Makes two 12-cm ( 5-inch) loaves
Adapted from Sarah Raven, Good Good Food  (2016, Bloomsbury Press)
Soda bread relies on chemical leaveners rather than yeast to create the rise.   Often it's just bicarbonate of soda (i.e. baking soda), thus the name, but sometimes, as here, it's baking powder, which is a mix of baking soda and cream of tartar (refined tartaric acid, a by-product of wine-making). Baking soda interacts with acid, in this case provided by the buttermilk, and begins to react as soon as it's introduced to moisture.  Baking powder is 'double-acting', which means it produces a further reaction when it's subjected to heat.  Carbon dioxide gas is produced, just as with yeast, but the reaction is much quicker with soda bread, so there's no need for the dough to rise. In fact, once mixed, soda bread dough should not sit around as the rising power dissipates with time.
If you don't have buttermilk*, you can substitute whole milk acidulated with lemon juice or vinegar.  For the 100ml required in this recipe, part-fill the measuring cup with whole milk, add 1½ teaspoons of lemon juice or vinegar, and top up with milk to 100ml.
Perhaps surprisingly, this bread ends up lighter if you use bread flour, as that has more strength than plain all-purpose flour to support the squash and still create air holes to lighten the loaf as the leavening agent reacts.  The acidic buttermilk helps tenderize the stronger gluten strands of the bread flour, and a light touch in the handling will also ensure an open texture.
The original recipe roasts the spices with the squash, but I like to dry-fry the cumin and add the spices separately to the dough , as I find some get burnt or left in the pan otherwise.  Take your pick of methods.
Use whatever firm-fleshed winter squash you prefer.  It's not necessary (or desirable nutritionally) to peel** Red Kuri (also known as onion squash) or butternut, as their skins are palatable and most nutrients are contained in the flesh just under the surface of the skin.  Another excellent variety is Crown Prince, usually a larger squash the shape of a common pumpkin but with a gorgeous glaucous-blue skin and rich orange flesh that tastes somewhat of chestnuts.  Leave the skin on this one, too, but roast a bit more of it, as the skin isn't edible, and scrape the flesh from the skin when it's cooked.
Aleppo pepper*** is the chilli flake I prefer to use in this bread.  It is a beautiful, dark-red spice made by grinding a special chilli variety that has the seeds removed before roasting, making it milder than most, with a gentle, smoky heat.   It originates in the devastated city of Aleppo, and has been for centuries at the heart of Syrian cuisine.  It is now grown mostly over the border in Turkey and imported worldwide.   Beware impostors, as this treasured spice is another casualty of conflict. To read more about Aleppo pepper in the context of war, see this 2016 article in the National Geographic.

Sarah Raven also makes a spiced soda bread using puréed roasted beetroot, which comes out a bright magenta pink colour.  For that she uses two teaspoons each of cumin and fennel seeds, plus 10 crushed juniper berries, instead of the spices given here for the roasted squash version; all other ingredients and proportions are the same.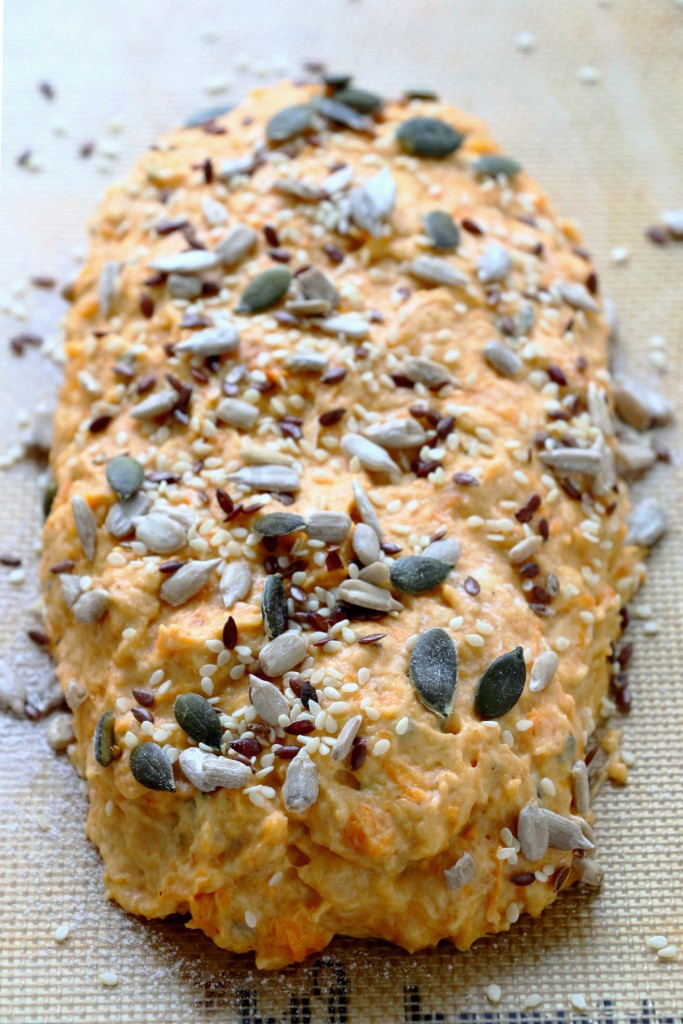 Ingredients:
450g (1 pound) winter squash with a meaty flesh (e.g.,  butternut, Crown Prince, red Kuri or onion squash), to yield 400g (14 ounces) or 1⅔ packed cups of mashed, roasted squash
3 tablespoons olive oil or oilseed-rape oil
A pinch of sea salt and freshly ground black pepper for roasting the squash
2 teaspoons cumin seed
¼ teaspoon dried chilli flakes or milder Aleppo*** pepper flakes
300g white bread flour, plus extra for the board
3 level teaspoons baking powder
1 level teaspoon sea salt for the bread dough
1 teaspoon ground coriander
2 teaspoons chopped fresh sage leaves
50g (a little less than 4 tablespoons) unsalted butter, cut into small pieces
100ml buttermilk (6 tablespoons plus 2 teaspoons; OR ½ cup minus 1 rounded tablespoon). See note above* on substituting whole milk mixed with lemon juice or vinegar)
1 large egg
About 4 tablespoons mixed raw seeds to sprinkle: e.g., sunflower, pumpkin, linseed (flax), sesame
 Directions:
Heat oven to 200C/400F and line a baking tray with foil for roasting the squash.
Cut the squash into approximately 5cm (2-in) pieces and put them on the foil-lined baking tray. (There's no need to peel butternut or red kuri unless you want to, as the cooked skin is edible.) Use about half the oil (i.e., 1½ tablespoons) to lubricate the squash and then sprinkle the pieces lightly with sea salt and black pepper.  Cover tightly with more foil and bake until tender enough to pierce easily with a skewer, about 30-40 minutes.  Turn the oven down to 180C/350F. Let the roasted squash cool until comfortable to handle, and then mash it in a small bowl: some pieces of caramelised skin and lumpiness in the texture is fine.  Measure 400g or 1⅔ packed cups of the mashed squash and put it into a large mixing bowl with the remaining 1½ tablespoons of oil.  Stir through until well mixed.
Toast the cumin seeds by putting them into a small, cold, dry pan and heating over medium heat, stirring frequently, until they begin to smell fragrant and start to colour just slightly; don't let them scorch. Remove from the heat and add to the mashed squash in the bowl.  Also add to the squash the pinch of red chilli pepper flakes or slightly more Aleppo pepper (***see note above).  Mix together well, and set aside.
In a separate bowl, sift together the flour, salt and ground coriander. Set aside.
In a measuring jug, mix the egg and buttermilk just until combined. Set aside.
Butter and flour a clean baking tray, or line it with a silicone baking mat or baking parchment.  Set aside.  Check that the oven is registering the lower temperature of 180C/350F before doing the final mixing and shaping of the soda bread, as it should go in the oven without sitting around.
Add the bowl of dry ingredients to the large bowl with the mashed squash, and then add the butter pieces and the chopped sage leaves. Rub everything together gently with your fingertips until the butter is rubbed into the flour and there are no masses of unmixed flour or squash.  Don't overmix or the bread will toughen.  It should not be a smooth mixture at this stage, but instead look somewhat raggedy, as it will have a final mix when the wet ingredients are added.
Now add almost all of the wet ingredients to the raggedy squash, flour and butter mixture – hold back a tablespoon or two of the egg and buttermilk for now. Using a large spoon, and then your hands, gently bring everything together into a soft dough, working as lightly as you can.  You may need to add the remaining egg and buttermilk to achieve this.  The dough should be about as soft and sticky as consistent with it being workable – a softer dough makes a lighter soda bread.
Divide the dough in half and shape each half into an oval or round loaf as you prefer.  You may find it easier to handle the dough if you moisten your hands.  Place the loaves onto the prepared pan, leaving about 6 inches between them to allow for spreading, and sprinkle liberally with the mixed raw seeds, which should stick to the wet dough.
Bake for 25-35 minutes, or longer depending on thickness, turning once for even browning.  The loaves are done when lightly golden and firm on top and bottom, and they should come off the baking tray easily and sound hollow when knocked on the base.  Cool on a rack to avoid steam, and wrap when cool in a clean kitchen cloth for storage. This bread should last up to three days, and is good fresh or toasted.  It also freezes well: double wrap and thaw still in its packaging so the condensation stays outside.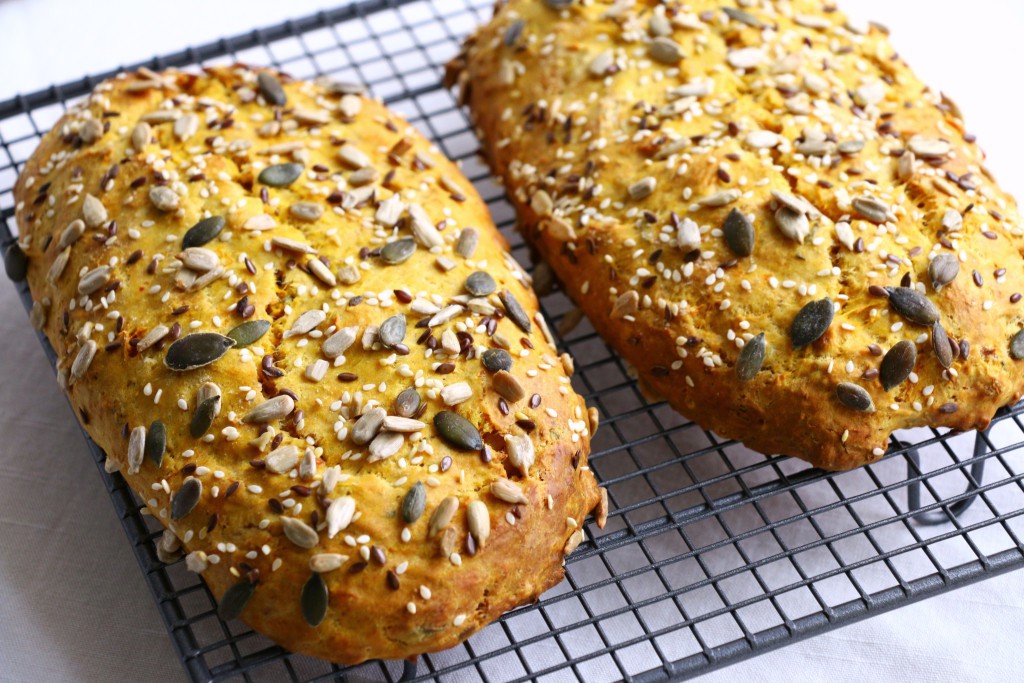 Other winter squash recipes on Crumbs on the Table:
Other soup recipes on Crumbs on the Table:
For more on the differences between baking soda and baking powder: