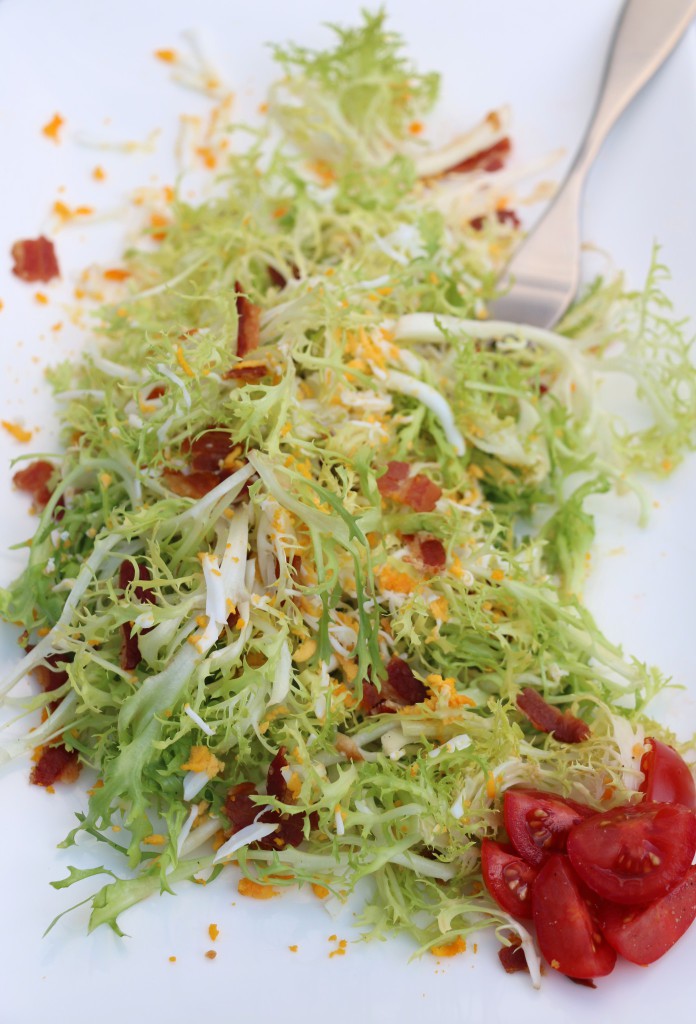 I am a fan of winter salads.  This one is an old favourite my mother used to make when we were kids, using her cast-iron skillet to fry the bacon and deglaze its dripping with cider vinegar for the dressing.  I can still hear that dramatic sizzling as the liquid hit the pan, and smell that chokingly delicious smell of vinegar and bacon.  I loved it when this was on the menu.
It's somewhat difficult here in England to find curly endive, as it is called in the States — or frisée as it's known here. I occasionally see a good head of it in the Cambridge market, blanched to white in the centre with still-fresh outer, bitter darker-green leaves.  When I do, I snap it up and make this salad for a big crunchy dinner, feeling pleased with myself and the world. It's also good with a sturdy head of romaine, when frisée is scarce.
It's a meal in one and a bit like a BLT without the bread —  or like breakfast in a salad, with the "mimosa" grated hard-boiled egg and a few tomatoes on the side. It's not a light meal; the bacon and bacon fat make it quite rich and the leaves are substantial, even a little tough, so it takes some chewing.  But it is a greedy feast.  A childhood friend who adored horses ate this with us once, pretending she was eating hay.  It is kind of like that.  You chomp and chomp until it's gone.  It's not a decorous salad. but these few simple ingredients together in a juicy combination are so satisfying. (I always did like the sound horses make when they're eating.  They sound content.)
RECIPE
Mimosa salad (bacon, egg and frisée with vinegar-bacon dressing)
(serves 2-3 as a main-course salad)
Ingredients:
1 large head frisée, washed and dried (allow one large handful of leaves per person)
about 3 hard-boiled eggs (allow 1 per person)
about 10 rashers streaky bacon (allow 3 or 4 per person)
3 tablespoons cider vinegar
Optional: 3-6 tablespoons extra virgin olive oil as needed to supplement the bacon fat
salt and pepper
Optional: a few cherry tomatoes or chopped tomatoes to garnish
Directions:
1. Discard any damaged outer leaves of the frisée (or romaine) and separate the head into individual leaves that aren't too long, breaking as necessary for comfortable bite-size strands. Put the pieces in a large bowl for mixing.
2.  Cut the bacon into 3cm (1 inch) pieces and fry in a dry pan until crispy.  Set aside the cooked bacon and leave the fat in the pan.  This will become the dressing.
3.  With the pan still hot, deglaze it, fat and all, with the vinegar, standing back as it will sizzle and steam. Taste and add the olive oil as needed, as well as salt and pepper as required (bearing in mind the saltiness of the bacon that will be added). Pour the dressing still hot over the leaves and mix them thoroughly so every strand is covered, but not soggy.  You don't want any excess to fall to the bottom of the bowl; there should be only enough dressing to coat the leaves so they taste lubricated but still clean.
4. Coarsely grate about half the egg over the leaves and then add about half of the crisp bacon pieces and mix them well into the salad.
5. Transfer the salad to your serving platter or plates.  Grate the rest of the egg over the top and finish with the remaining bacon pieces.
6. Serve with some seasoned chopped tomatoes on top, or on the side if you wish, and crunch away.