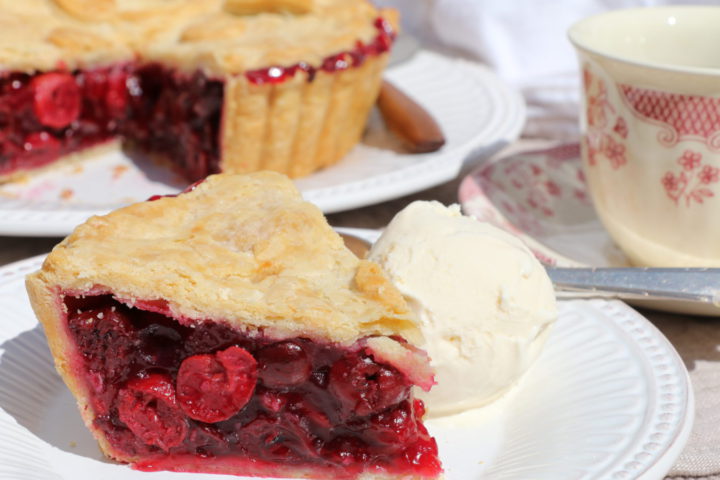 I long for this pie every summer, but hardly ever get it because the sour Morello cherries that make it so lust-worthy aren't often sold fresh in Britain.  Personally, I wouldn't make a cherry pie with anything but a cooking cherry (Montmorency is another sour 'pie cherry' cultivar, but Morello is the one I know and love).  The jarred imports we do get here are good, though they can't compete with my memory of making this pie with fresh fruits.  My childhood friend, Zehra, and I once made the stickiest, most glorious sour cherry pie on a blistering summer's day in southern New Jersey after spending the morning up a ladder in one of the local pick-your-own orchards so common in those days.  I can see and smell the juices bubbling over my mother's glass pie-dish onto the oven floor, now.
Well, raptures!  This year I lucked into fresh Morellos in one of the supermarkets here in Cambridgeshire, sold as a trial from a grower of sweet cherries.  I bought 12 punnets and had a cherry gorge-fest with sauce, jam, and (saving best for last), this million-dollar pie (just thinking about it brings out these repressed Americanisms).  If you see them, don't hesitate.
I'm so hoping Morello cherries catch on here.  Surely anyone who has ever tasted a pie made of these tart beauties would want the experience to become an annual ritual.  Germans and Eastern Europeans understand this.  They make delicious use of them in soups, Black Forest gateaux, pastries, pickles, and savoury dishes.  Morellos are in fact sometimes grown in the UK as pollinators for commercial dessert varieties, but the trees are normally so tall they aren't cost-effective to pick; it will require grafting this sour cooking cherry onto shorter rootstock to make them a worthwhile commercial crop.  Here's hoping….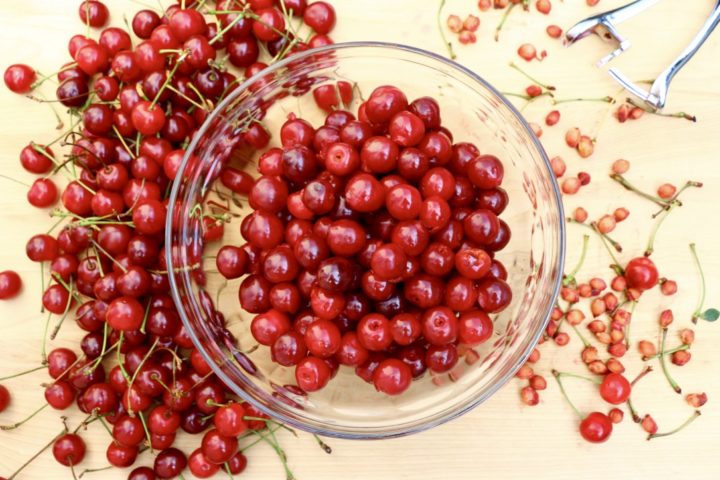 Sweet cherries make a good clafoutis, and they're also good in an almond frangipane tart or fresh atop a chilled tart filled with pastry cream;  but in a classic pie, which is all about the fruit, I'd rather use jarred morellos than fresh sweet cherries, which in my opinion are more often spoiled by cooking and best appreciated au naturel.  If your jarred Morellos are unsweetened and unthickened, you can use them cup for cup as a replacement for fresh Morellos in this recipe; drain them first and measure the juice separately (more on this, below).  In the States, Morellos are sometimes available frozen; just thaw them first, and again, you may need to drain off some of the juice.
Morello cherries are the devil for producing juice as they cook, so they have to have sufficient thickener if you want to slice the pie rather than slurp its filling with a straw.  Tapioca, cornflour/cornstarch, or flour, will all do the job.  I've always favoured quick-cooking tapioca as it sets the filling best, results in a good clear colour, and gives the purest fruit flavour without imparting a starchy undertaste (see Notes** below).  Cornflour/cornstarch will also give a good set and a clear filling. Flour won't cook quite as clear, but it's stable and easy to use.  The important thing for all of these thickening agents is to use just enough, but not too much, and to make sure the filling in the centre of the pie, not just the edges, comes to a boil.  This is necessary to dissolve the tapioca, or cook off any starchy taste in the cornstarch or flour, and to swell the starches so the juices clarify and thicken.
If you do have the fortune to find fresh Morellos, they are worth that greediest kind of fruit pie, the deep-dish variety.  I have therefore scaled the amount of fruit for this recipe to yield a generously filled pie: one that focuses on the tangy-sweet fruit filling while still delivering that special bliss that comes from contact with a flaky, golden crust.
This pie cuts and tastes best when it's rested for a couple of hours after baking.  I know, I know.  But this allows the juices to set further as the thickener cools.  It seems to make a difference to the flavour, too, in my experience — though maybe that had something to do with burning the roof of my mouth… .
Zehra, this one's for you. I've learned how to make a cherry pie that thickens just enough not to spill its way onto the oven floor, but I always think of you and our first attempt that hot, hot, day that we made hotter by baking.  It's a memory full of love and pleasure and pride and laughter.
And it sure makes one damn fine cherry pie that Shelly would have been pleased to serve Officer Dale Cooper at the diner in Twin Peaks.  I'm having mine with black coffee like he did.  And make it à la mode  while we're at it.  Boy, oh boy, oh boy.
RECIPE
Deep-dish sour cherry pie
Serves 8
For a deep-dish pie, use a pie dish measuring 19.5cm (7¾ inches) x 4.5cm (1¾ inches) deep;  OR for a larger, shallower pie, use a dish that measures 23cm (9 inch) x 3cm (1¼ inch) deep.  Baking in ceramic or glass requires longer than baking in metal (though glass has the advantage of showing whether the bottom of the pie has browned).
NOTE*: You will need to buy about 25% more cherries than the amount called for below to allow for pits and stems (i.e., a total of 1.25 kilos, or 2 lbs 12 oz).
Ingredients
1 kilo (2 lbs 3 oz., or 6 cups) prepared, pitted cherries (see note* above for quantity to buy fresh)

If using jarred Morellos, measure 5 cups drained of juice, and then add 1 cup of juice to the cherries for a total weight or volume as above
If using frozen Morellos, thaw them first and measure as for jarred cherries

1 tablespoon freshly squeezed lemon juice
400g (2 cups) caster / granulated sugar, or to taste
¼ teaspoon real almond extract
½ teaspoon real vanilla extract
For the thickener, see note** below, and use either:

40g, or 4 level tablespoons quick-cooking small tapioca, ground fine in a spice grinder if you wish–or use 3½ level tablespoons of tapioca flour;
OR 36g cornflour / cornstarch (4 packed level tablespoons);
OR 50g plain / all-purpose flour (6 level tablespoons unsifted but not packed too tightly)
1 recipe flaky double-crust pie pastry (recipe below)
1 tablespoon milk or beaten egg to brush the top of the pie before baking
Directions
Make the double-crust pastry first, using the recipe below. (See also tips on pastry making)
Set an oven rack one setting up from the bottom, and place a baking sheet on the shelf beneath it to catch any spillage.  Heat the oven to 200C/400F.
Combine the pitted cherries with juice in a large bowl.  Add the lemon juice, almond extract and vanilla extract.
In a medium bowl, mix together most of the sugar and all the starch thickener of your choice (combining them helps prevent lumps when the thickener comes into contact with the fruit juices).  Add the sugar and starch mixture to the fruit and stir until everything is well incorporated.  Let the fruits macerate for about 10 minutes.  Taste it and add the rest of the sugar if needed.  Retrieve the pastry from the fridge about five minutes before assembling to soften just enough to make it manageable, but don't leave it to get room temperature.
Pour the cherry filling into the pastry-lined pie dish, and moisten the edges of the pastry with a little water.  Cover the filling with the top crust, and pinch the edges together with the bottom crust where they meet.  Trim them and pinch together to make a seal.
Brush the top of the pie with the milk or beaten egg to make a glossy finish, and pierce it with a sharp knife a few times in a decorative pattern, and including the centre; this allows the steam to escape while baking, avoiding a soggy crust, and it also makes it easier to see when the filling is bubbling as it should.  Use any scraps to make pastry decorations for the top if you like, and brush them with milk or beaten egg, too.
Bake for an hour, or until the bottom crust is a deep golden-brown, and you see the juices in the middle of the pie (not just the edges) bubbling well; this means the filling has reached the temperature where the starch thickener will set the juices.  It may take longer in a deep-dish pie, or if you use a pie dish made of glass or ceramic instead of metal.  If the top crust is browning too quickly, cover it lightly with foil.
Cool the pie for about two hours before serving.  This also helps the filling to set before slicing.  Serve room temperature, cold, or warmed through in a hot oven for about 10 minutes.  It is traditional in the States to serve this pie with vanilla ice cream (à la mode).  The vanilla gelato recipe here is perfect with it.
**Note on using tapioca as a thickener:
I like to use tapioca flour, or quick-cooking tapioca, the latter ideally ground in a spice grinder for the smoothest result, but this is a refinement.  Do not, however, use the larger-pearl varieties of tapioca as they must be soaked before cooking. And if you do go for tapioca, the grains dissolve best when under cover of a full top-crust, rather than a lattice.
Flaky double-crust pie pastry
Adapted from Chez Panisse Desserts
This makes a dough that is flakier and easier to roll than an all-butter crust.
This quantity will make enough for either size pie dish in the recipe above for sour cherry pie.  The pastry can be frozen for three months.
Ingredients
260g (2 cups sifted before measuring) plain/all-purpose flour
½ teaspoon cooking salt
¼ teaspoon sugar
140g (5 ounces or 11 tablespoons) unsalted butter
55g (2 ounces or 3 tablespoons) vegetable shortening (I use Flora)
3½ tablespoons iced water
Directions
Cut the butter and shortening into the dry ingredients with a pastry cutter or your fingertips until you have a well-mixed consistency with some larger pieces of butter remaining.  It should not be a fine 'sand', but should have some small lumps.
Add 3 tablespoons of the ice water and mix lightly with a fork or knife until the mixture has a texture resembling 'rags'.
Work it a little with your fingertips to bring the dough together, and add the remaining half tablespoon if it's too dry. Don't overwork it, and don't worry about a few lumps, as these translate to flakiness when baked.
Form the pastry into 2 disks, one a little larger than the other, and wrap them in cling film.  Chill for at least half an hour, or up to 24 hours; the gluten will relax, making a more tender dough that's easier to roll and less prone to shrinkage in the oven.
Roll the slightly larger disk to the thickness of a penny, and line the pie dish with it, leaving a bit of pastry hanging over the sides; trim any excess and keep the scraps in reserve.  Chill the pastry in the pie dish while you continue to work.
Roll the other disk for the top crust straight onto a sheet of parchment paper, to a size a little larger than the diameter of your pie dish.  Transfer the pastry, still on the parchment paper, to a baking sheet for stability and chill it, too, while you prepare the cherry filling (recipe above).  You can rest the unbaked shell and top-crust for up to a day or freeze it to bake later. If you do freeze it, wrap it well and thaw it still in its wrappings so the moisture will condense on the outside.
*  *  *  *  *
More cherry stories and recipes on Crumbs on the Table:
More pie and summer fruit bakes:
More on pastry:
And not forgetting the vanilla ice-cream!