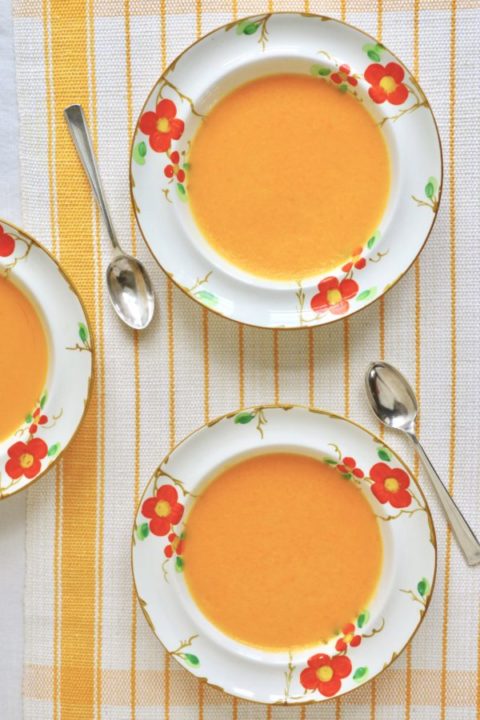 Oh my.
I have a weakness for custards … and there are few things more exquisite than a really good orange in its season….  So I was intrigued by Claudia Roden's recipe for a baked custard — a flan — made with no milk or cream: just eggs, a little sugar, and freshly squeezed orange juice.   I couldn't believe how refreshingly light,  yet deliciously creamy it was; how silky, and also clean-tasting and brightly citrus-y.  With no dairy to dilute the orange intensity, it's like letting the essence of an orange melt on your tongue.  Truly, it's a wonder in the custard and citrus classes, both.
Winter is the time to make it, when oranges are at their finest and we need their cheering disposition most.  For us living under English skies, it's our kindly neighbours to the south who share their sunshine with us in the form of those glorious orange globes.  Thank you, Spain, thank you Italy.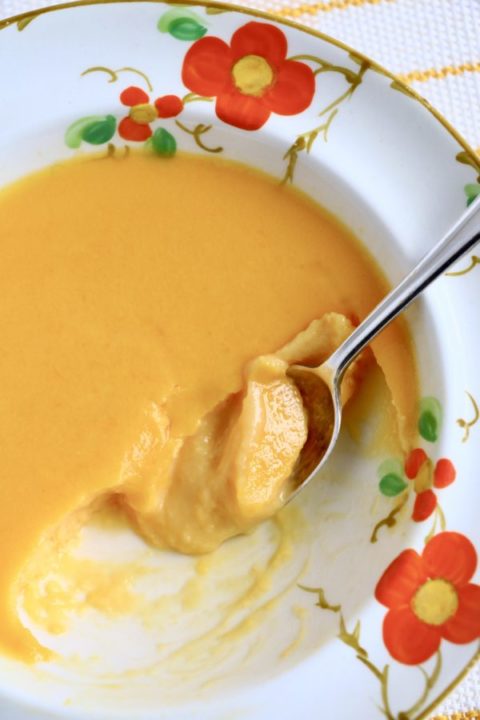 Admittedly there are a lot of eggs in these custards (10 yolks and 2 whole eggs) — thank you, chickens…  This — and baking them gently, gently in a water-bath — is what keeps their texture so smooth.   It is important not to overcook these little puds, or they can separate.   They should be baked just until their outer two-thirds are set firm, but the middle still has a bit of wobble.  Then they need a few hours in the fridge to chill.
I hope you will try this.  It's too good to miss.  It makes an undemanding, surprising, and lusciously satisfying finish to a meal, especially the comforting sort we tend to eat more of in winter.
Thank you, Claudia Roden…  and Darina Allen, who includes this marvellous recipe in her also-marvellous 30th anniversary collection of Ballymaloe recipes.
RECIPE
Claudia Roden's Flan de Naranja — orange flan
(serves 6)
As adapted from Darina Allen's  Thirty Years at Ballymaloe  (2013)
Use freshly squeezed orange juice.  Clementines or tangerines also work beautifully.
You will need 6 ramekins or other oven-proof cups/bowls with a capacity of 175ml (6 oz) each.  To fashion the bain-marie (water bath), you will also need a deep roasting or baking tin that's large enough to take your ramekins or cups; it's also very handy if it has handles to grip with, as this makes getting it in and out of the oven much easier and safer.  You can line it first with a clean kitchen cloth to give the custards extra protection and stability.
Ingredients
600ml (2½ cups) of freshly squeezed orange juice, from 6-8 large oranges, strained of any coarse pulp
125g (½ cup plus 2 tablespoons) caster sugar
2 whole large eggs, plus 10 large egg yolks
Directions
Heat the oven to 150C/300F.  Set the ramekins or custard-cups in a deep roasting or baking tin conveniently near the oven (less far to travel when it's full).
In a medium saucepan or a microwaveable measuring jug, combine the sugar and orange juice and heat gently until warm, stirring until the sugar is completely dissolved.  Don't let the juice approach the boil.
In a medium-large mixing bowl,  break up the eggs with a fork and mix until well-incorporated.  Slowly add the warm orange juice and continue to stir until everything is well mixed; try not to incorporate a lot of air, though, as this would create bubbles.
Strain the custard through a coarse sieve into a jug or bowl, ideally one with a pouring spout, to remove any bits of unmixed egg; don't use a fine sieve, as this could remove some finer orange pulp and diminish the flavour of the flans.
Put a full kettle on to boil.
Pour or ladle the strained custard mixture into the ramekins/cups/bowls, leaving room at the top to avoid sloshing.
Now, with great care, pour the just-boiled water around the custards in the roasting tin, to a depth halfway up the sides of the filled ramekins/cups/bowls.  Transfer the bain-marie to the oven.  [If it works better for your set-up, you can pour in the hot water once you've placed the roasting tin onto the oven shelf.]
Bake the custards for about 20-25 minutes, or until the outer two-thirds are set and the inner third still has some wobble.  Have a peep before you expect them to be ready, as the exact timing will depend on the depth of your cups and the temperature of the custard and water when the bain-marie goes into the oven.  

When done, a knife inserted in the middle should come out with some solid bits of custard, not entirely clean and not entirely wet.  Don't let them cook until they puff or colour.

Carefully remove the flans from the water-bath using a clean cloth, sturdy spatula or tongs.  Cool to room temperature; then cover and chill for a few hours.  These will keep for a couple of days in the fridge.  They are delicious on their own, or with a crisp tuile or similar light biscuit.
More custard recipes on Crumbs on the Table: