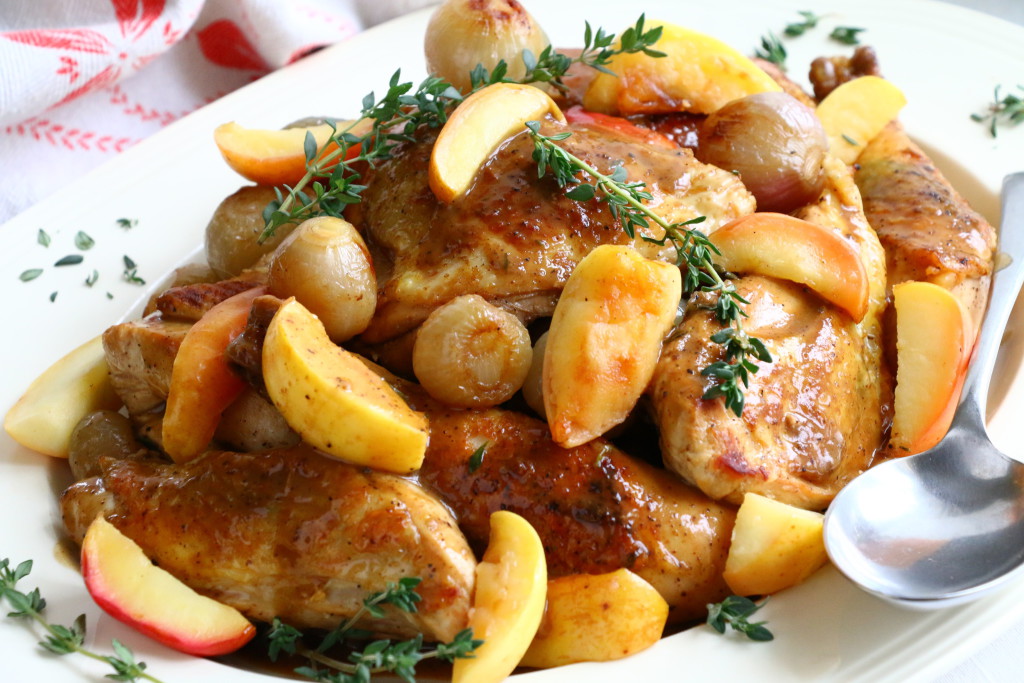 This is such a lovely dish I've chosen it for my seasonal offering to any readers who still have a meal to plan at this busy time of year and need some ideas, and perhaps more than anything, need an excuse to slow down.  Now, this is not a quick dish to prepare, let me say straight off, but it will slow you down, and that might be a good thing.
There are layers of flavour in this simple country dish that can make you swoon, and the process of cooking it is seductive, too.  It is a farmhouse dish of the Normandy countryside where chickens and apples live together, where cider is pressed, where Calvados — the brandy made of apples — is in the cupboard waiting to be flamed in the pot, and where the richest butter and crème fraîche from grass-fed cows are always to hand.  It is one of the most delicious things I know, and one of the most beautiful and fragrant.  This edible pastoral captures the ideals of unspoiled ingredients from unspoiled places, and love around the table.  It is a dish I make when I need to remind myself of how I want things to be.
It is also what I make when I want to fall in love again with cooking, especially at a time of year when there's so much of it, and not all of it is a pleasure.  It's not a difficult dish, but it does require a series of steps that need to be taken with patience and care.  I take pleasure in anticipation of the pleasure it will give others, but I also cook this for myself, because when I do, I enter a state of relaxed concentration that is a kind of joy.  It's not always that way when we cook.  It is only sometimes like this.  But sometimes can be enough.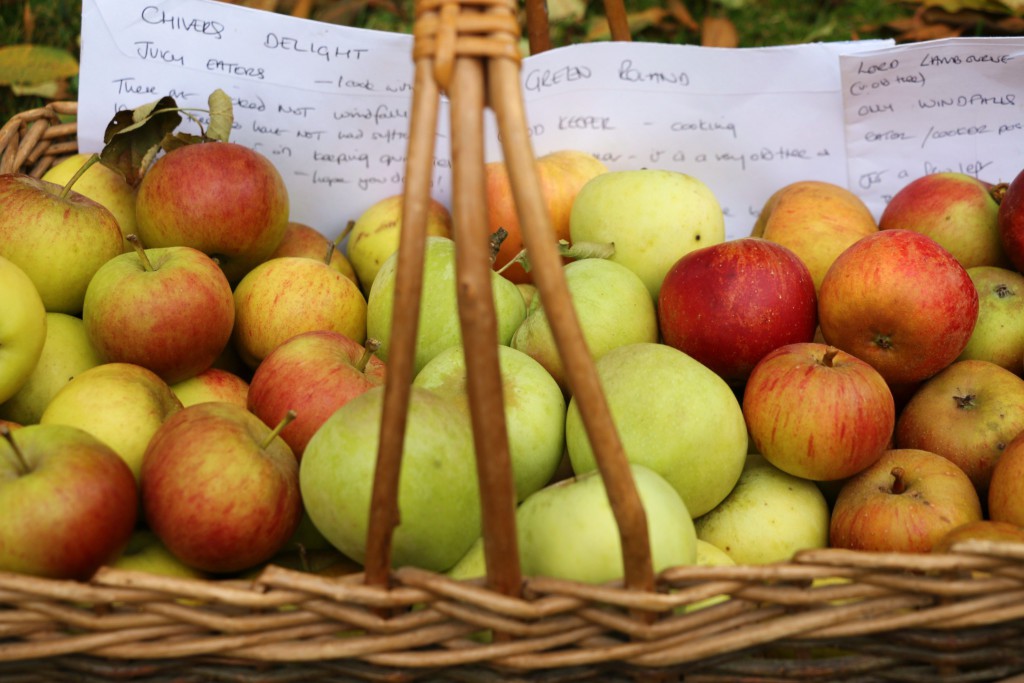 I start with the apples.  I take them from a slatted tray of windfalls and best-picked, choosing a mix of eaters and cookers: Green Rolands, Chivers Delights, a few runt Lord Lambournes — all very small, all charming in greeny yellows and reds, given to me by my neighbour Gwenneth from her gnarled trees, hollow with age.  The apples fit in the palm of my hand.  I quarter them and inspect.  Some I carve around the flaws; some are flawless.  They taste good.  They cut easily, as they've softened a little in storage.  They smell of orchard.  I leave the skins on, as they are too beautiful to lose.
My pan of clarified butter is hot enough now, and I add my cupped handful of apple slices.  They take the gentle heat well.  I resist the urge to mither them.  I wait until I see an edge of brown, the sugars caramelising in the pan.  I turn them one by one with careful tongs, not wanting to break them.  I let them soften a little but not much.  I add some thyme sprigs and move them to a plate where they wait like divas for their entrance.  I love using them like a vegetable, and wonder why we don't do so more often.
Last night I peeled the shallots while resting comfortably in front of the fire, and kept them wrapped until this afternoon.  It's a job I wanted to have done.  Now is their time.  I let them roll around in the same pan I used to cook the apples until they too are caramel on the cuts and flat sides. I know it will take time, so bide mine in wait for the next step.  They are worth it.  They will flavour what is to come.
Then I take up the whole chicken I hope has lived a good life.  I cut with care, to get through the joints without smattering the bones, to clean it nicely. Then when the gruesome bit is done, with pains to save the scraps for the stock pot, comes the pleasure of turning it into a dish to be eaten.  I peel back the skin of each piece to sprinkle on coarse flakes of sea salt and grinds of peppercorns. The sparkle of salt pleases me.  I'm generous with it.  I add some milky garlic now, finely minced through the grater, and a single sage leaf under the skin of each piece from the small stand of herbs by my backdoor.  I make sure I haven't missed any, and roll the pieces in the spilled seasonings on the cutting board so the skin is seasoned, too.
Into the pan I pour more clarified butter:  thick, golden, liquid, and watch it spread, taking in its clarity and colour, knowing it will do its job to flavour.  I place half the chicken pieces in the pan, taking pleasure in the arrangement, leaving them space.  I hear the slight sizzle and know the heat is working.  Anticipation rises of the moment when I see the golden brown that only comes from cooking patiently.  I start to smell garlic, and finally something of chicken.  I check and yes, there it is, the first glorious golden brown, so I turn that piece and check the others.  Still pale, they need longer.  It is worth the time.  I feel no rush.  I know it is taking the time it needs, and I resist raising the heat, as I treasure the bottom of the pan as much as the chicken itself.  I want to safeguard it from burning so it can do its best with the sauce.
At last the chicken is ready and is reunited in the pan with the shallots. Now comes the moment of drama: I add the Calvados to a spitting sizzle and take in the hit of brandy.  I light it with a long match and watch the show of flame for nearly a spell-bound minute.  It fades, and I add the waiting cider.  The smell now is of apples and acid, and sizzle becomes simmer.  Next comes some thyme branches, herbaceous as they hit the applely broth; then the stock, the simmer low now, a fragrant steam rising. I check the pieces of chicken are comfortably nestled, the breast meat raised out of the highest heat.  I sprinkle on some more flakes of salt for good measure.  I feel quiet, good, I've done justice to the process, honed through time, and to the bird I imagine running in the orchard, pecking at the apples.  I feel myself in a French farmhouse, a garden out the back with herbs and fowl.  No back aches, no burdens.  They don't enter the day dream…
The breast pieces are rescued sooner to rest, juicy, waiting awhile. Then out come the thighs, the two long drumsticks, the triangle wings, and the sauce is revealed, brown and rich, thin still, juicy. I let it boil lower in the pan for a minute or two and taste again.  It has promise. It will get there.  I give it a little longer and taste again.  It is good.  A bit more salt, just a pinch, and now it's perfectly strong, perfectly seasoned.  This is the time to thicken it just that little.  Now, do I need the crème fraîche?  Experience tells me it will be even better, and so I add a tablespoon and it is.  It is wondrous.  I know it needs a little more, so another spoon goes in, a modest spoon, and now it is sublime.  This I know is as good as it gets.  The apples are united with the chicken and shallots in the sauce with all the gentleness I can muster, and I arrange everything on the platter quickly, pouring the extra sauce in a warmed jug and we gather, and we eat.
It was the perfect flow, this making of something.  I ask no more.  This painting, song, poem, performance, is a masterpiece of symbiosis, of chicken and orchard, of basic needs and skills that every house once harboured.  In learning them, enacting them, we carry the fire.  We are the dancer and the dance.
Chicken braised in cider with buttered apples
A dish inspired by Madeleine Kamman
Serves 4
A mix of apples is ideal, some tart, some sweet, and ideally those that hold their shape on cooking, but the idea of this farmhouse dish is to use what you have.
This dish relies on building up flavours through the browning process.  To do this, you need to take care so the caramelised bits left behind on the bottom of the pan don't scorch.  Clarified butter allows you to sustain the heat through the browning process without burning, as ordinary butter quickly would.  Clarifying butter isn't difficult, and it means you get the flavour of butter, which suits this dish and makes for the optimum foundation for your sauce.
The braising liquids are also important to the flavour of the dish.  By "cider" I mean alcoholic cider — either dry or medium dry (the alcohol will boil off during cooking).  Don't use non-alcoholic apple cider, or apple juice, as they would make the sauce far too sweet.
This is also a place for proper stock rather than a stock-cube, as you want more body and flavour, and more control of the salt. Look for a salt-free or low-sodium stock if you don't make your own.
A 'beurre manié' is a good way to thicken a sauce when it's achieved great flavour, but needs more body.  Butter is kneaded into flour to make a thick paste, and whisked into the boiling sauce until no lumps remain and the desired viscosity is reached.  Alternatively, you can dissolve a smaller amount of cornflour/cornstarch in cold water and whisk that in too, but this dilutes flavour and cornstarch will thin again with prolonged heat and/or a lot of stirring.  Be careful not to over-thicken the sauce, whichever method you use.  It should flow readily and just thinly coat a spoon, not blanket it.
Crème fraîche has more tang than sour cream and regular cream, so I prefer it in this recipe.  Crème fraîche won't curdle even when it's boiled. Use the full-fat version, which is more stable.
Taste your sauce as you move through the final stages (once the chicken is fully cooked).  Only you can tell what will make it sing, as ingredients vary greatly.  No recipe is more foolproof than your own taste-buds.
Ingredients:
1 whole chicken about 1.5 to 1.8 kilos (3.5 to 4 pounds) in weight, ideally organic — or the equivalent in ready-jointed pieces (with the skin on)
About 450g (1 lb) round shallots, peeled, topped and tailed (you'll need about 24)
About 400g (1 scant pound) of apples, for about 24 slices 1.5cm (half inch) thick (aim for the same number of apple slices as shallots)
1-2 lemons for their juice
100g (3.5 ounces) unsalted butter
3-4 cloves of garlic, finely minced
8 sage leaves, 1 for each piece of chicken
8 thyme sprigs, plus some to garnish if you wish
60ml (2 ounces or ¼ cup) Calvados, Cognac or other brandy
250-300ml (1 cup to 1¼ cup) medium dry or dry cider (alcoholic cider)
250-300ml (1 cup to 1¼ cup) good chicken stock (little or no salt added)
1 tablespoon unsalted butter and 1 tablespoon flour mixed to make a 'beurre manie' for thickening
2 tablespoons full-fat crème fraîche, or to taste
Directions:
Clarify the butter: In a saucepan over medium-low heat, melt the butter without stirring or allowing it to colour, and leave it off the heat to settle:  the white milk solids will fall to the bottom.  Carefully pour off the clear liquid butter into a small jug to save, leaving behind all the milky white whey and solids, as that is what burns.  It's important to make sure you don't carry over any of it.  Set aside the golden clarified butter until ready to cook.  You can clarify the butter in advance and refrigerate it, or even freeze it.  Chilling makes it easier to get rid of the whey and milk solids. If you freeze it, you can wash off the white matter from the solid mass of clarified butter even easier and keep the butter ready to use.
Core and slice the apples just before cooking, leaving the peel on it if tastes good. Add lemon juice to the apples as you slice them, to prevent them going brown.  Heat over medium heat a sauté pan large enough to take the chicken and the liquids.  Add about a third of the clarified butter and then add the apple slices, leaving them alone until they begin to take on a bit of colour, about 5 minutes.  Watch the heat to ensure nothing burns. Turn the apple slices with tongs to cook on the other side, and remove to a plate when they have acquired some colour and have softened somewhat but not so much that they lose their shape.  Set aside, and don't wash the pan.
In the same pan you've used to cook the apples, add a little more clarified butter if you need to and brown the peeled whole shallots for about 20 minutes over medium heat, allowing them to take on as much golden brown colour as you can without them collapsing (they will cook more later in the braising liquids).  Make sure you keep the heat moderate enough that nothing burns – your patience will be rewarded.  Remove the shallots to another plate, separate from the apples.
Cut the chicken into 8 portions: 1) On a large, sturdy cutting board, cut along either side of the backbone with a sharp knife or pair of kitchen shears, making sure not to cut away the 'oyster' on either side of the spine. Set spine aside for stock or discard.  2) Working from the inside of the bird, cut through the breast bone all the way down until you have two halves of a bird.  3) Cut the legs from the breasts, and cut off any excess from the end of the drumstick.  4) Separate the thighs and drumsticks, cutting cleanly through the joint to avoid shattering bone.  5) Remove the wings from each breast by cutting through the joint and taking a little meat with you;  cut out the wishbones.  6) Divide both breasts into two pieces each, so everyone has some white meat.  7) Trim any excess fat etc from each piece of chicken, but leave the skin on.
Season the chicken pieces: peel back the skins and season the flesh of each piece with sea salt and freshly ground black pepper.  Rub on some minced garlic. Place a sage leaf under the skin of each piece of chicken (or in the crutch of the wings).  Pat the skin back in place and season the outside of the chicken, too.
In the same sauté pan you used to brown the apples and shallots, add enough clarified butter to coat the bottom of the pan, and brown the chicken pieces over medium heat, in two or more batches, each taking about 5-10 minutes.  Allow them to take on a golden brown colour but don't cook them through.  Be especially careful with the breast meat, as it should still be very undercooked inside.
When all the chicken has been browned, pour out any excess butter carefully, so you don't lose any caramelised bits or juice.  Return all the chicken to the sauté pan, still over medium heat, and add the shallots.  Pour on the Calvados, give it a few seconds to heat through, and then carefully ignite the hot brandy with a long match (making sure to have the lid to the pan ready to extinguish the flames if necessary, and making sure there is nothing flammable nearby).
When the flames die down, add the cider and allow it to simmer for a few seconds to burn off the alcohol, and then add the stock, and the thyme sprigs. Position the chicken pieces in the pan so the breast meat is receiving the gentlest heat (it will cook quicker than the dark meat).
After 10 minutes, check the breast meat with a skewer: if it goes through easily, it is done. If not, give it another 3 minutes and check again. Bear in mind it will continue to cook as it rests, and it will get a few more minutes in the sauce at the end.  The shallots should be getting tender, but still have some shape. Remove the white meat and the shallots to a warm plate and keep loosely covered with foil.
Continue to cook the dark meat for a further 20-30 minutes or until it is also completely tender when pierced with a skewer. Remove to the warm plate with the white meat while you finish the sauce.
Finish the sauce: Taste the sauce, and if it seems too weak and thin, increase the heat and let it boil down for a minute or two, and then taste again. Season conservatively with sea salt and freshly ground pepper (not too much now as you may need to reduce it further, which will concentrate the salt).  Taste again, and reduce further if needs be for flavour, a minute or two at a time.  Correct seasonings as needed.  When the sauce has a really good flavour, consider whether it needs thickening.  If so, mash together the tablespoon of butter and flour, and crumble about half the resulting beurre manié into the boiling sauce, whisking vigorously to avoid lumps. It will thicken in about 1 minute at a boil.  Add the rest of the beurre manié if needed and repeat the boiling and whisking process.  Now stir in a tablespoon of the crème fraîche , taste, and add another if you feel it needs it.  Taste again for balance, and then reunite the chicken, shallots and apple slices in the pot over medium heat. Bring it to the gentlest of simmers, stirring carefully to avoid breaking the apples. Give it one last taste for seasoning, and serve on a warmed platter with the shallots and apple slices tucked in and around the chicken pieces.  Garnish with some thyme sprigs if you like.  Serve extra sauce in a warmed jug at the table.
TO SERVE:  This dish is delicious with buttered German-style wide noodles or spätzle, or with crispy potatoes like rösti, roast potato, or hassleback — and also with mashed potato.  Lightly buttered cabbage and steamed carrots, and/or julienned sautéed leeks with tarragon are lovely vegetable side dishes.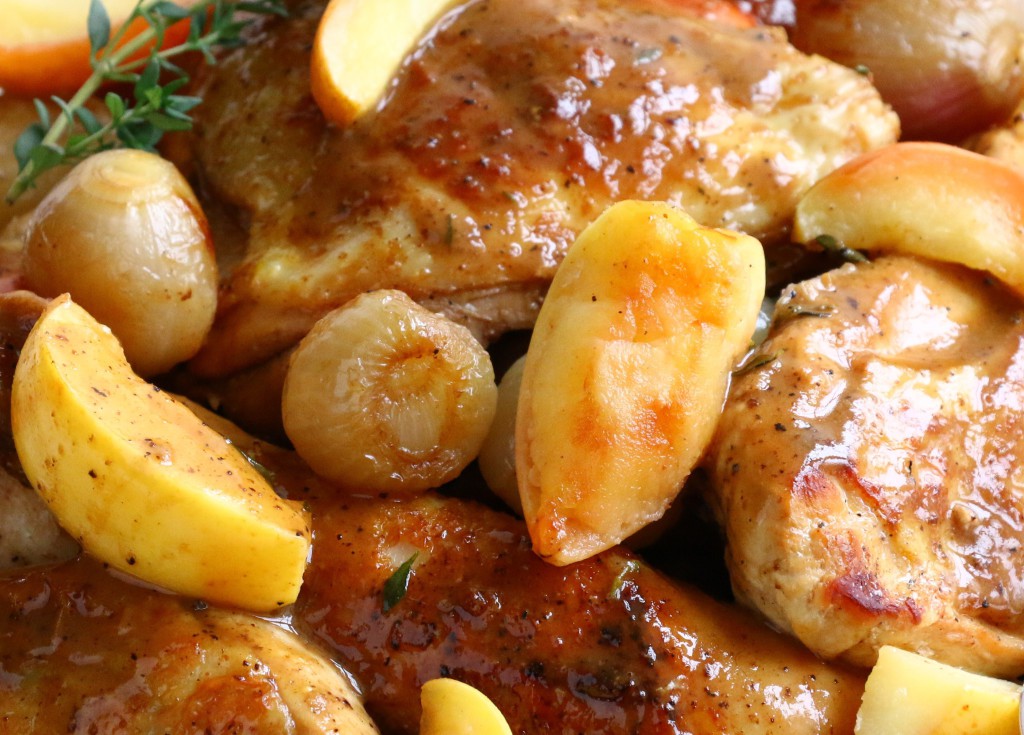 A note on Madeleine Kamman:
This recipe is inspired by principles of braising I learned mostly from Madeleine Kamman early in my cooking career, and especially from making again and again her  wonderful "Poulet de Maman" from In Madeleine's Kitchen:  a dish she describes as her fondest memory of her mother's cooking, and the dish I think I would like to be my last on earth.  It doesn't contain apple, but she does publish in The Making of a Cook  a recipe for Chicken and Apples, which she calls "an American version" of the Valée D'Auge chicken.  I didn't know about this latter recipe until my recent researches on this dish, which I have made for some years based on the principles of the Poulet de Maman and combining it with apples in the season when one is looking for good ways to use them at their best.
I've written more on Madeleine Kamman's cookbooks here.   As part of the "Wiki Food (Mostly Women) Project" — a collaboration between the Oxford Food Symposium, British Library and Wikipedia to better represent women in food – I wrote the Wikipedia entry for Madeleine Kamman, which you can see here.
You might also like: