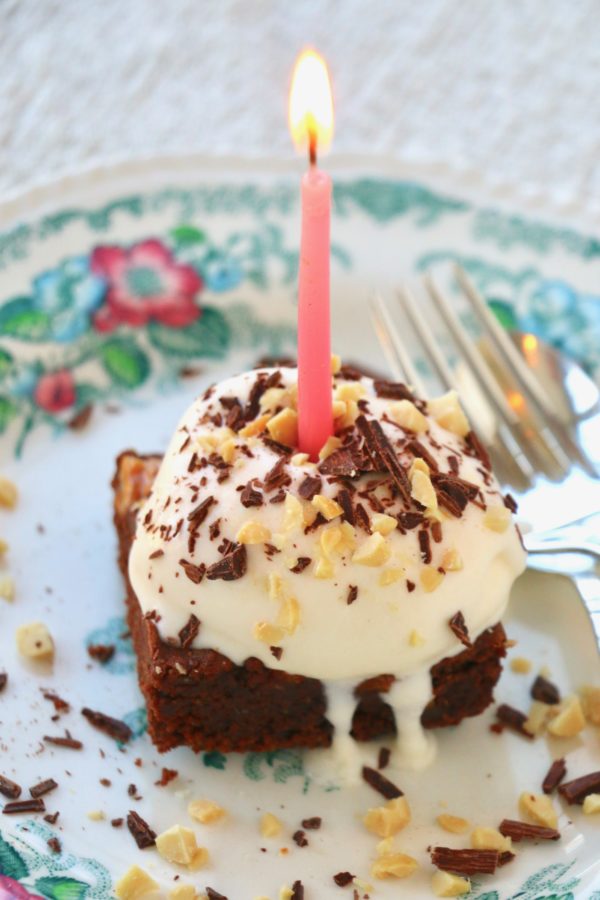 Today is my sister Amy's birthday, and in two days' time it will be niece Caitlin's.  A few days after that it's our Mom's special day.  We were meant to be celebrating all these important dates together this year.  Well, we still are — just across an ocean and a continent.  And we really are celebrating.  That still means something with a candle, and something that looks like birthday cake.
Baking anything right now is a challenge for most of us.  Flour is a scarce commodity, and even if you have lucked into some flour, then you might not have eggs, or butter, or sugar, much less vanilla, chocolate, or any of those other nice things we can mostly take for granted for creating something for a special occasion.
I've been safe-guarding the baking ingredients I have left, and really trying to make them count.  I've already shared some ideas here for baked treats that use oats instead of wheat flour.  But for the birthday girls, I wanted something chocolate, and none of us have enough of anything for a whole, decadent, three-layer birthday cake.  So I halved my favourite brownie recipe, and used rye flour instead of the usual wheat flour.  Rye flour and chocolate are a really good combination, especially in something that's already fairly dense like a brownie.  The texture is a little less smooth, and the effect is slightly less sweet, perhaps, but also a little more toasted or caramel-like.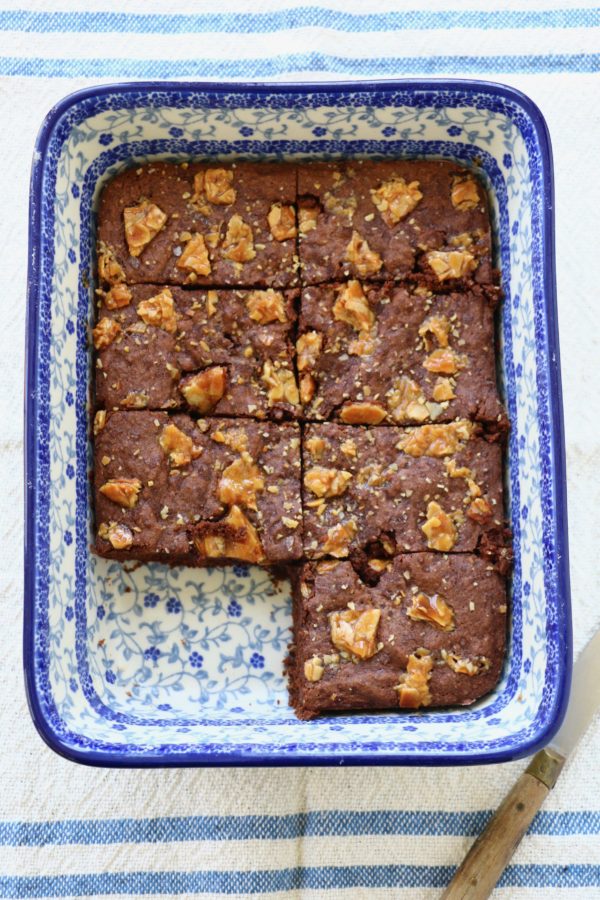 The experiment was worth the chocolate, butter and eggs, as well as the rye flour itself (it only took 80 grammes of it, so that's another plus for this half-batch of brownies).  The combo is good enough to make even when you have the option of using regular flour.
As with any brownie, the most important thing is not to over-bake them, and I've found that to be the case with these rye brownies even more so.  Test them with a skewer or the point of a sharp knife, as these should come out of the oven while still a little gooey in the centre.
If you have a few chocolate chips, or a candy bar of any description that you want to crumble up on top of these before they're baked, the brownies will be even more sweetly decadent.  I happened to find the remains of a packet of almond praline bought I'm not sure how long ago.  It was bendy and stale, but still safe to eat, so I crushed that to sprinkle on top and it melted nicely into the chocolate.
I had made some vanilla gelato with a rare milk glut a little while ago, so was able to approximate the properly gooey chocolate brownie Sundae we used to love on those occasions that allowed for such indulgences.  The recipe calls for a little cream as well, but I used only whole milk this time, and it was still creamy and delicious.
Usually this brownie sundae would have a hot fudge sauce drizzled over it, but I had a couple of squares of chocolate left and pared off some shavings from that instead, which in combination with a few salted peanuts was almost as good.  I just wish I could literally share these with my kind readers and the birthday girls, instead of just sharing the recipe, but I hope it will inspire you to try them, or at least to try out other rye flour and chocolate combinations.
RECIPE
Rye-flour chocolate brownies
Makes 8 brownies.
You'll need a baking tin or dish measuring about 20x15cm (8×6 inches) — or you could double this recipe to make twice the brownies, using a 33x23cm pan (13×9-inches).
This recipe is easy to mix all in one saucepan, no mixer needed.  The trick is to bake them just until the top is set, but the centre is still moist and gooey.
NB: *If you don't have unsweetened chocolate, substitute 100g (3½ ounces) semi-sweet chocolate, and reduce the amount of sugar to 90g (a scant ½ cup).
85g (3 ounces) unsweetened chocolate* (100% cocoa butter), coarsely chopped
85g (3 ounces) unsalted butter, plus more to butter the pan
200g (1 cup) caster sugar
2 eggs, room temperature (ideally large, but medium will do)
1 teaspoon vanilla extract if you have it
80g rye flour (½ cup)  — or use plain flour (unbleached all-purpose)
a pinch cooking salt
¼ teaspoon baking powder
Optional topping:  a small handful of chocolate chips, chopped nuts, or crushed toffee candy to sprinkle over before baking
Optional for serving:  more chopped nuts, shaved chocolate, or some chocolate sauce and/or ice cream
Heat oven to 160C/gas mark 3, or 325F.  Butter a rectangular baking tin 20x15cm (8×6 inches) or equivalent.  Line with baking parchment, allowing a little overhang (or dust the buttered pan with a little extra flour).
Melt the butter and chocolate in a medium saucepan over lowest heat; stir occasionally and be careful not to scorch.  When the chocolate is nearly melted, remove from the heat and stir until smooth.
Add the sugar to the melted chocolate in the saucepan and stir until well incorporated.  Add the vanilla if using, and leave the mix to become tepid before adding the eggs.
Add the eggs one at a time, stirring well to incorporate.
Add the flour, salt and baking powder, stirring gently just until no more flour is visible.
Pour the brownie mixture into the prepared baking dish and smooth the top.  Sprinkle on the chocolate chips, nuts or crushed toffee candy, if using.
Bake at 160C/gas mark 3, or 325F,  for about 15-20 minutes until the top is set, but a skewer (or the point of a sharp knife) comes out with still-moist crumbs when inserted in the middle of the pan.  The centre should not be so moist it's almost liquid, but neither should the tester come out completely clean.  Cool in the pan for about 2 hours before cutting into 8 brownies (or to the size you prefer).
Servings ideas:  These are good just as they are, but you can make them into a decadent brownie sundae with a scoop of ice cream and some chopped nuts, shaved chocolate, or chocolate sauce.
I've taken to portioning any kind of baked goodie I make these days, to spread out the ingredients and calories, and make them last.  For these, I've wrapped them individually once cooled and cut, and put most in the freezer where they can be retrieved for a Saturday night treat, or a long-distance Zoom birthday party!
Heating each brownie (unwrapped) for 10 seconds in the microwave makes them extra gooey.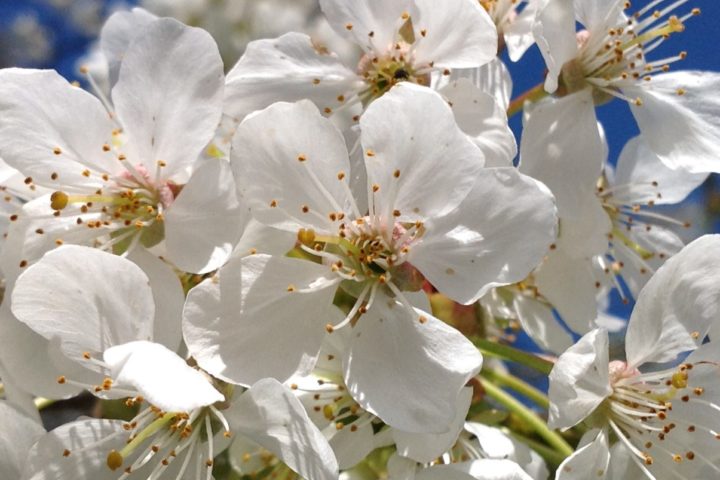 Check here for other recipes and resources for cooking in the time of COVID-19.